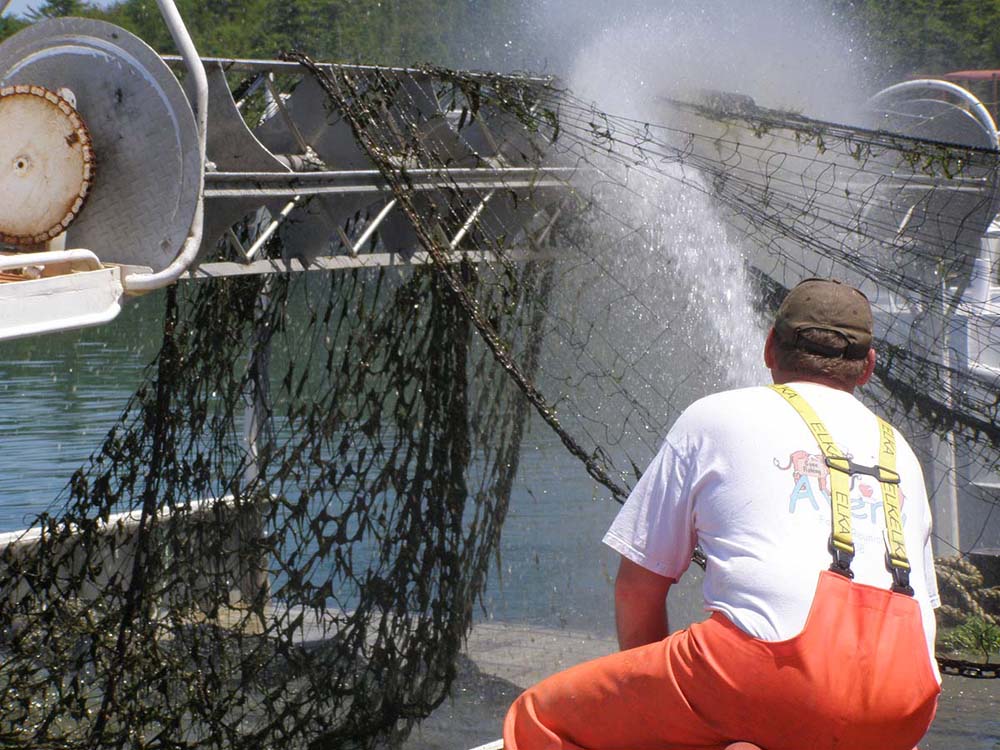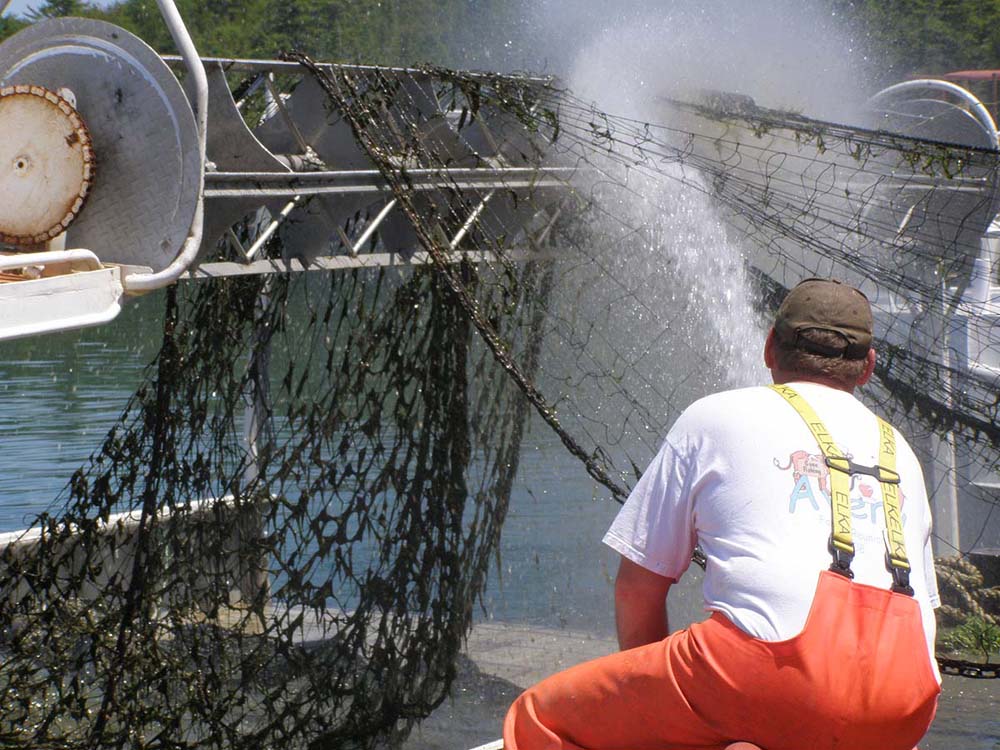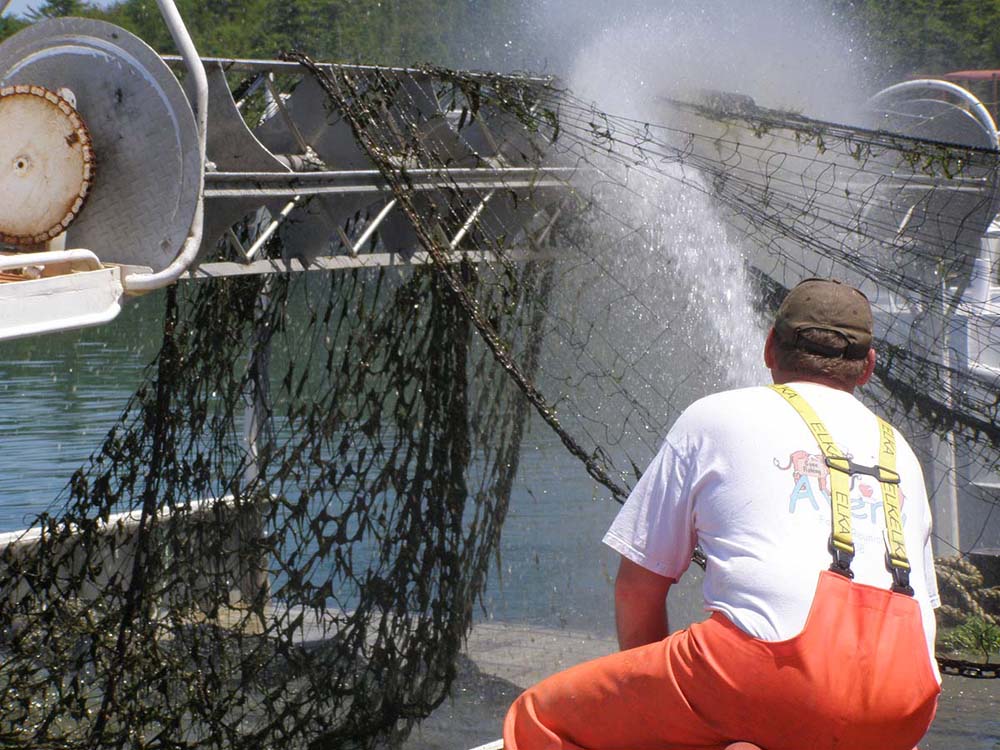 Dana Serafin has been fishing the Great Lakes for the better part of 30 years, and he agrees — at least in part — with data provided by officials at the Department of Natural Resources Fisheries Division that invasive species such as zebra and quagga mussels are having a negative impact on the whitefish population in the lakes.
But Serafin, whose Pinconning, Mich.-based Serafin Fisheries largely fishes Lake Huron and the Saginaw Bay, says the mussels aren't the only problem. Sure, he said, they're a big part of it, but they don't entirely explain why fishers are having trouble snagging whitefish.
The larger problem, according to Serafin, is the presence of such a large number of other fish — primarily predators like lake trout, which Serafin says prey on whitefish.
"The lakes are saturated with lake trout, and they feed on whitefish," Serafin said. "They've got so many predators it's hurt them. We have more predators than prey."
For Denise Purvis, who is based in Ontario and fishes the waters of northern Lake Huron off Manitoulin Island, and a dwindling number — Serafin estimates as few as 13 — of Great Lakes commercial whitefish fishers, the fishery has fallen on hard times.
Whitefish have declined across much of lakes Michigan and Huron, and many scientists and fishers suspect part of the reason is the impact of mussels on the lake's food web.
"The health of our fishery in northern Lake Huron is not healthy whatsoever," Purvis said.
Dave Caroffino is a fisheries biologist in Charlevoix who works in the tribal coordination unit in the Fisheries Division of the Department of Natural Resources.
Since 1985, the agency has collected data on whitefish in lakes Michigan, Huron and Superior.
"The vast majority of the monitoring data starting in 1985 comes from agency staff collecting biological samples from the fish caught by commercial fishers," Caroffino said. "That data wasn't used for a lot of stuff. It was kind of general patterns, general trends."
But now the data shows clear declines in whitefish — declines that coincide with the expansion of invasive mussels.
The agency's estimates of whitefish biomass in northern Lake Huron dropped 45% from a peak in 1997, when the mussels began to widely colonize the lakes, through 2017, when quagga mussels had covered much of the lake bottom.
Invasive mussels and whitefish
Whitefish, which are native to the Great Lakes, are bottom feeders, foraging for invertebrates like diporeia, a relative of shrimp that grows to less than 1 centimeter — 4/10ths of an inch — long. The diporeia live in the sediment of the lakes, feeding on material like plankton.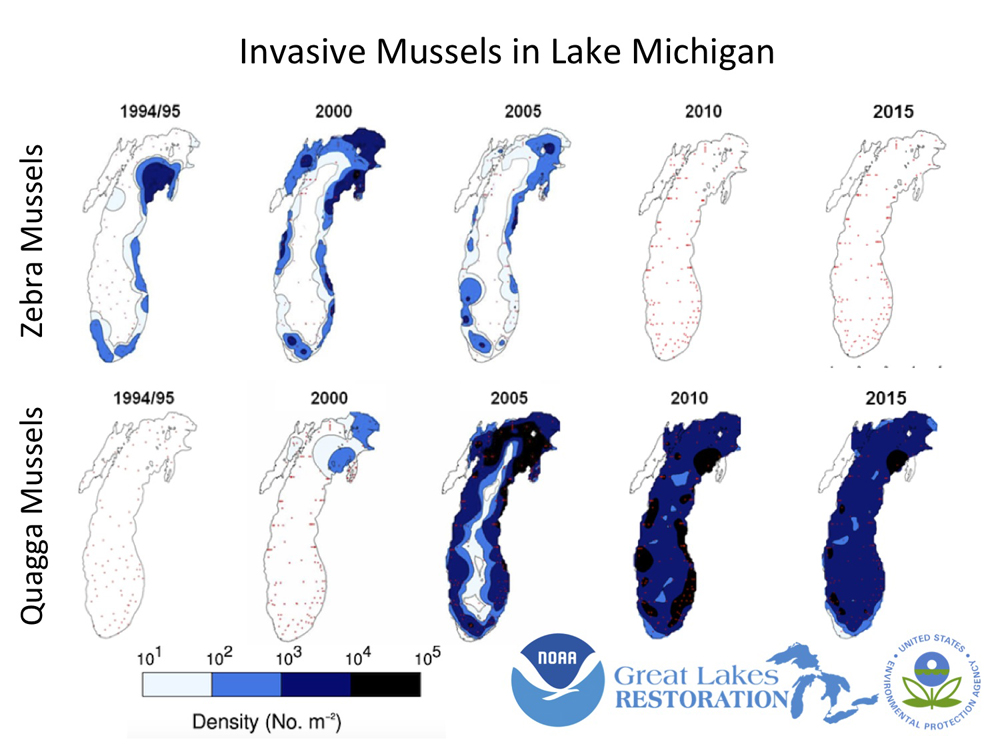 Since the 1990s, diporeia numbers have plummeted in most of the Great Lakes.
Because mussels are filter feeders, pulling plankton out of the water, some experts think the invasives caused the disappearance of diporeia and declines in whitefish.
Steve Pothoven, a fishery biologist at the National Oceanic and Atmospheric Administration's Lake Michigan field station in Muskegon, studies the relationship between diporeia and whitefish.
"Lake Michigan had a spring phytoplankton bloom that would feed the diporeia," Pothoven said.
Now, mussels feed on the plankton all winter.
In Lake Michigan, "that spring bloom is gone now, and that is thought to be a consequence of the mussels," he said.
Is that enough evidence to blame the loss of diporeia and a drop in whitefish numbers on the mussels?
"It seems like it should be really straight forward, if you look at a food web, but it's been really complicated," Pothoven said.
Pinconning's Serafin doesn't think it's all that complicated. The solution, he said, is to harvest the abundance of other fish in the lakes. But he says his suggestions to that end have fallen on deaf ears at the DNR, whom he paints as preferring to sell fishing licenses to sport fishermen rather than supporting commercial fishermen.
In Saginaw Bay, Serafin said, walleye are eating 97% of the hatch of perch. But the DNR's solution, he said, is to "ignore the problem."
"They should harvest (the lakes)," Serafin said. "You're supposed to manage the lake, not let it get out of control."
Ashley Elgin, an ecologist who specializes in the study of water-based organisms and their interaction with the environment, also works at the Lake Michigan Field Station, where her research focuses on quagga mussels.
To understand what's happening on the lake bottom, scientists use a ponar grab sampler, a set of metal jaws that are lowered to the bottom where they snap up sediment and other material. Using this technique, researchers sample 150 sites in Lake Michigan and 100 in Lake Huron every five years.
"We survey 46 sites in the southern third of Lake Michigan and we see (diporeia) in only one site," Elgin said.
That site historically had thousands of diporeia in a grab.
"Now we get excited if we see 20," she said.
Elgin echoes Pothoven in noting the difficulty in blaming the collapse of diporeia solely on the mussels.
"You had diporeia decline in Lake Huron at the same time as Lake Michigan, when the mussel numbers were very low in Lake Huron," Elgin said. "Also, Lake Superior has low food levels but healthy diporeia populations."
Not everyone sees it
On the other hand, not everyone believes the lack of whitefish is a problem — yet.
James "Jamo" Washburne, owner of Scalawag's, a popular Traverse City restaurant, handles at least 100 pounds of whitefish a day, in addition to all the perch and walleye it serves.
"I haven't had a problem (with lack of whitefish) this year," Washburne said. "There's really not a shortage; it's just a matter of catching them. A lot of time when the weather gets warm, the fish head to deeper water. That hasn't happened yet."
Washburne echoed both Purvis and Serafin in noting a "lack of fishermen."
"The thing is … there's a shortage of fishermen," he said. "Guys have done it for years, they're ready to (retire) but the kids don't want the business. It's too hard."
Canada's Denise Purvis is lucky. The company also sells fish wholesale. But these changes in Lake Huron have altered operations at her fishery.
"What's changed for us to stay in business, now we have to buy a lot of fish that we never bought before," Purvis said.
"Now I spend my whole time in the spring looking for people to buy fish. I have a harder time keeping employees and keeping those guys employed.
"My company, in the end, can still make money," she said, but her employees who do the fishing can't.
Kurt Williams of Capital News Service, who also writes for Great Lakes Echo, contributed to this report. Find his entire story at:

https://news.jrn.msu.edu/2019/06/invasive-mussels-slam-commercial-fishery/