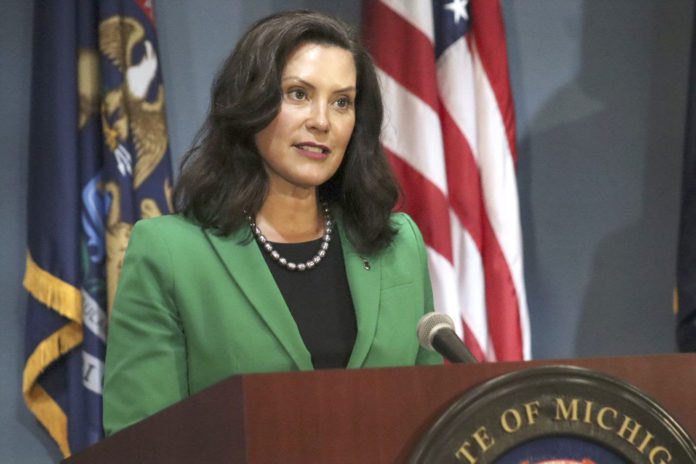 Michigan Gov. Gretchen Whitmer, citing state laws from 1976 and 1945, has issued nearly 200 executive orders as the state has responded to the outbreak of the COVID-19 pandemic since March.
After Michigan's Supreme Court ruled Friday that those laws do not give Whitmer unilateral authority to act, the future of those executive orders is likely in doubt.
Whitmer issued her first executive order declaring a state of emergency in March, then expanded it again in April, over the objection of the Republican-led Legislature, who passed a resolution agreeing with the decision, but wanting it ended April 30.
Whitmer used the Emergency Management Act of 1976 and the Emergency Powers of the Governor Act of 1945, to claim the authority to do so.
The state Supreme Court voted unanimously that the EMA of 1976 didn't apply, and ruled 4-3 disagreeing with her on the 1945 law.
In the majority opinion, the state's high court said she did not have that authority.
"We conclude that the Governor lacked the authority to declare a 'state of emergency' or a 'state of disaster' under the EMA after April 30, 2020, on the basis of the COVID-19 pandemic," Justice Stephen Markman wrote on behalf of the majority. "Furthermore, we conclude that the EPGA is in violation of the Constitution of our state because it purports to delegate to the executive branch the legislative powers of state government– including its plenary police powers– and to allow the exercise of such powers indefinitely."
Whitmer, a Democrat, issued a statement shortly after the ruling came down, calling the decision "deeply disappointing" and noting it was handed down by a "narrow majority" of Republican justices.
More: U.S. Added 661,000 Jobs in September, Unemployment Rate Takes a Dip
More: Under New CEO Farley, Ford Announces Leadership, Operational Changes
More: Experts: Holiday Shopping Will Start Earlier, Offer More Unique Experiences to Lure Customers
"I vehemently disagree with the court's interpretation of the Michigan Constitution," Whitmer said. "Right now, every state and the federal government have some form of declared emergency."
Citing Supreme Court rules, Whitmer said the ruling didn't take effect for 21 days.
"Until then, my emergency declaration and orders retain the force of law," she said in her statement. "Furthermore, after 21 days, many of the responsive measures I have put in place to control the spread of the virus will continue under alternative sources of authority that were not at issue in today's ruling," she added, without specifying those sources.
Ironically, the decision was handed down the same day Whitmer rolled the Upper Peninsula and the upper part of the lower peninsula back to Phase Four of her six-phase restart plan due to a surge in cases in those areas.
"With this decision, Michigan will become the sole outlier at a time when the Upper Peninsula is experiencing rates of COVID infection not seen in our state since April," Whitmer said.
The decision forces Whitmer to work with the Republican-led state Legislature on future decisions. State Senate Majority Leader Mike Shirkey was in the media Saturday saying the Legislature will work with Whitmer, but it's unlikely they're going to uphold mandates for wearing masks and some of the business regulations she's ordered.
He said he'd already reached out to Whitmer to try and set up a meeting for next week. Whitmer's press secretary, Tiffany Brown, issued a statement from Whitmer Sunday saying the governor is "ready to work" with Republicans.
"When it comes to fighting COVID-19, we are all in this together," Brown said in the statement. "The governor is ready to work across the aisle … where we can find common ground, but she won't let partisan politics get in the way of doing what's necessary to keep people safe and save lives. The Supreme Court's ruling raises several legal questions that we are still reviewing."
In his majority opinion, Markman said he hopes the sides will work together.
"Our decision leaves open many avenues for the Governor and Legislature to work together to address this challenge and we hope that this will take place," he wrote.
Shirkey met with other Senate Republicans by Zoom Saturday. He told Bridge Magazine a federal court could rule as early as next week on whether Whitmer's orders are invalid, though the governor has claimed the 21-day wait.
"Technically, the executive orders are still in place, [but] I don't know that anybody's going to enforce them," Shirkey told Bridge. "If you're a gambling man, if you're talking handicapping, it's likely that most of them, if not all, will be terminated."
While Shirkey was saying that, Michigan Attorney General Dana Nessel issued a statement saying, in fact, that her office will no longer enforce Whitmer's executive orders, though a spokesman said that decision "is not binding" on other law enforcement agencies or state departments.
Patrick Wright, vice president for legal affairs at the Mackinac Center for Public Policy, said the court's ruling "restored the voices of 10 million Michiganders" by "reaffirming the constitutional protections of checks and balances. "This important decision was long in the making, but now future COVID responses will have the benefit of including the people's representatives through the legislative process," Wright said in a statement. "As our state continues to face the challenges that come with COVID-19, all of the people of Michigan will have a voice in the decisions that will impact our state in the years to come."