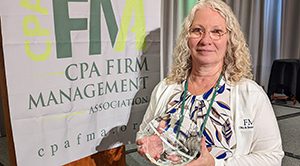 Kim Beare, Firm Administrator at Fenner, Melstrom & Dooling, PLC in Birmingham, is the 2022 recipient of the CPA Firm Management Association's (CPAFMA) prestigious Firm Manager of the Year Award, which honors senior-level firm managers who have significantly impacted their companies.
Selection criteria for the FMAward focuses on leadership, strategic impact on the firm, and the contribution and oversight of programs that contribute to overall growth, profitability, and fostering employee-friendly company culture.
"Fenner Melstrom, & Dooling is a great company to work for. I learn a lot from my involvement with CPAFMA that I've been able to bring back ideas and implement to make our firm stronger," said Beare. In addition to her role as Firm Administrator, she assists the FMD partners on the Management Committee, which is responsible for strategic planning.
Beare holds a degree from the University of Michigan and is an active member of the Michigan Association of Public Accountants. Beare is active with the national and state chapters of CPAFMA and has served on the Board of Directors for the Michigan Chapter for over 10 years.