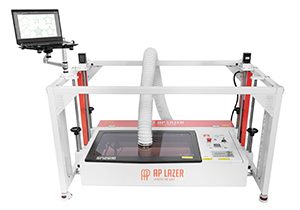 AP Lazer of Lansing, Mich., introduces a new entry-level laser machine, the AP Lazer SN2616LR, featuring a low rider carriage cart, allowing the machine to effortlessly move from its standard position to the floor with a simple press of a button. The new patented model can engrave any object without size and weight limitations.
Designed for profit-seeking hobbyists ready to scale their business to the next level, the new machine targets a large segment of the population who join a growing trend of startup entrepreneurs. The AP Lazer SN2616LR is armed with 60-watt CO2 laser power and a 26-inch by 16-inch cutting and engraving area. While the customization market continues to grow in popularity, the SN2616LR provides the business owner with an entrée to a less competitive part of that market – large object customization, which includes floor engraving.
The new laser machine provides entrepreneurs with the ability to expand in the rapidly accelerating and profitable emotional marketplace.
With a patented open architecture and a low rider carriage cart which moves the laser to any height, SN2616LR can easily engrave furniture and home décor; floors and pavements; doors and windows; and wine barrels and bottles – along with anything a hobby laser can engrave and cut. It can also lead entrepreneurs to enter the funeral market to engrave caskets, cremation urns, granite monuments, memorial keepsakes, and pet memorial products – another fast growing market in recent years. AP Lazer provides 24/7/365 tech support on all their machines, saving time for entrepreneurs to grow the businesses they love.
AP Lazer builds six open architecture laser machine models which engrave and cut wood, granite, brick, acrylic, glass, ceramic, marble, tile, cloth, leather, and other materials.
For more information visit www.APLazer.com, www.facebook.com/lasers or call 1-800-585-8617.