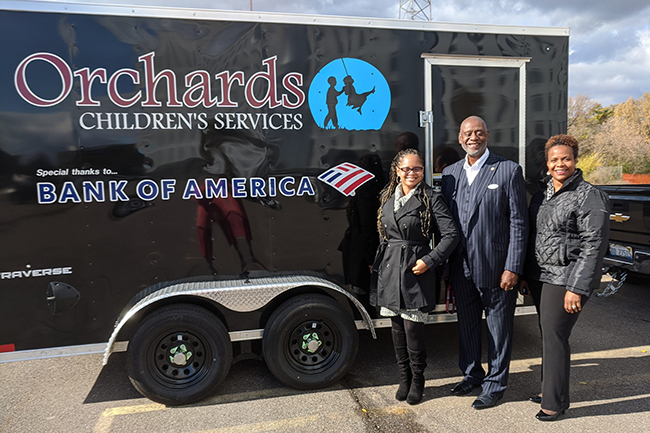 When a trailer owned by Orchards Children's Services was recently stolen from its parking lot in Southfield, Bank of America stepped up. The bank replaced it with a brand new trailer.
Orchards Children's Services, which provides programming for children and families including educational and family preservation services, uses the trailer for donations to needy families as well as helping families move due to domestic violence or other dire situations.
Bank of America also replaced a stolen trailer for the organization 14 years ago. "This is the second time Bank of America has come to our rescue," said Orchards Children's Services President and CEO Michael Williams. "They not only make investments of money, but investments of the heart."
It is our privilege and honor to invest in Orchards Children's Services, supporting the important work they do," said Tiffany Douglas, senior vice president, market executive Bank of America. "We aim to improve financial lives, one connection at a time, and Orchards is one of those trusted partners and connections that continuously delivers for our region – protecting our families and children at all costs. May their work continue on so that we all live better."
Orchards Children's Services provides specialized services for families and children throughout southeast Michigan. For more information go to Orchards.org.