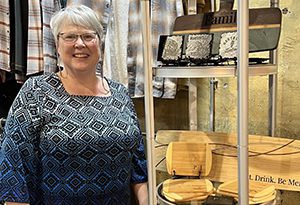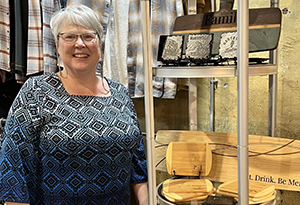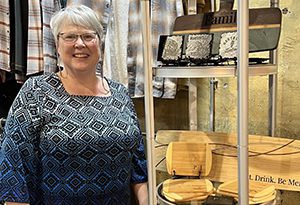 When COVID-19 hit and craft shows were no longer an option, artisan Bonnie Gilbert found a new home to display her unique, personalized laser engraved products, by partnering with a local alterations shop. The success of that partnership, which strengthened the success of both local businesses, became a catalyst for her expansion into local retailers including: a hair salon, cafe, and men's clothing store.
Gilbert, who purchased her AP Lazer engraving machine four years ago, began her business after retiring from her previous career as an accountant. She says retirement has given her the freedom to use her artistic talents to engrave emotion and meaning into a huge variety of merchandise, such as travel cups, cutting and charcuterie boards, and holiday themed decorations. She is also looking forward to engraving wallets and belts for her new menswear customers.
Her retail partners include Patrick & James Menswear, Polka Dot Pandas, Serenity Salon Escape and the Port Huron Cafe — Kate's Downtown.
Gilbert, and the businesses she is collaborating with are getting creative this holiday season to build revenue and foot traffic in the brick and mortars, while enjoying a big competitive edge over online giants. As the shipping crisis continues to hinder on-time delivery, the establishments offer shoppers an opportunity to support local businesses, while purchasing a personalized gift.