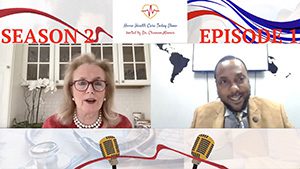 In the first 2022 episode of The Home Health Care Today Show, U.S. Rep. Debbie Dingell discusses her work to improve home health care access.
The bi-weekly podcast/webcast is designed to build awareness of home health care issues important to Michigan residents.
"It is clear our missions align with regard to improving access to quality home health care," said Cleamon Moorer Jr., DBA, host and founder of The Home Health Care Today Show. "The congresswoman and I both believe there is demand for extended, quality care outside of institutions, and that care should be accessible to those who want it. There should be better wages for home health care workers, and the state and national government can help make this possible.
"Ninety percent of those needing long-term care prefer to stay in their own home or that of a loved one, but today's health care system provides obstacles to do so."
Dingell's journey in navigating long-term care began when her late husband, former long-time U.S. Rep. John Dingell, had health issues.
"You don't understand how broken the system is until you have somebody you love who needs help," she said.
In the interview, Dingell encourages listeners to tell their stories to their policymakers — stories of their challenges, roadblocks and difficulties in seeking health care — in demanding change.
Dingell also discusses pending legislation Better Care Better Jobs Act, which she introduced, that expands home care access and supports stronger workforce benefits.
Moorer, also president/owner of a multicultural home health/hospice care agency, said, "We at American Advantage Home Care are able to compensate skilled home health aides and certified nursing assistants at a flat rate of $30 per visit. But there may be need for care longer than an hour. So, yes, help is needed, and we're going to push for the Better Care Better Jobs Act."
The show is accessible at www.HomeHealthCareToday.Show; episode summaries are at https://bit.ly/HomeHealthCareToday-L.