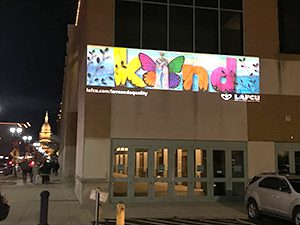 LAFCU continues to raise awareness of the importance of love and equality by sharing the winning artwork in the credit union's Love & Equality Art Initiative during Lansing's Silver Bells in the City.
The art was projected on an exterior wall of the Lansing Center, which is near the annual holiday celebration. The 10 pieces of artwork graphically depict the words: Love, Humanity, Change, Peace, Kind, Empathy, Unity, One, Hope and Heal.
"As a credit union, we want to use our platform for good," said Kelli Ellsworth Etchison, LAFCU chief marketing officer and chief diversity officer. "This is important now, considering what we've collectively experienced the past few years. "The Love & Equality Art Initiative uses the power of art to project messages that words alone cannot. Each piece tells a story of what's truly important in life and serves to connect, inspire and be transformative to the persons seeing it."
Scott Keith, president & CEO of Lansing Entertainment & Public Facilities Authority, said, "We are honored to have joined our friends at LAFCU to present such incredibly positive imagery for the public. The quality of art and conveyed messages combine to be quite powerful."
The art has also been displayed statewide on billboards and LAFCU's social media. Other organizations, including Lansing Lugnuts and The Eaton Theatre, have also shared the images.
Providing technological support for the projection were All Star Media, Lansing, which also projected the art during downtown Lansing's BLOCK:AID in June, and Bluewater Technologies, Wixom.
"The holidays are a perfect time to express our care for each other and to recognize the power of being kind and of understanding another person's point of view," Ellsworth Etchison said. "We can lift up each other through positive exchanges. We hope our healing words spark reflection and make empathy top-of-mind."