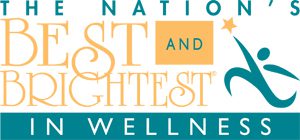 Increasingly, U.S. employers are recognizing that wellness initiatives can lead to a healthier bottom line.
Proof continues to mount that for virtually all businesses, healthy employees cost less. For example, a study by Drs. Richard Milani and Carl Lavie found that every dollar invested in intervention yielded $6 in health care savings.
Clearly, wellness is good business — in more ways than one.
Beyond the internal benefits of wellness programs, operations that help other organizations keep their employees healthy are also thriving, providing another source of employment for health care experts.
The Best and Brightest in Wellness awards celebrates wellness in all its forms. Sponsored by the National Association for Business Resources, the national 2015 awards recognize nearly four dozen winners from all regions of the country.
The program highlights companies, schools, faith-based groups and organizations that promote a culture of wellness, as well as those that plan, implement and evaluate efforts in employee wellness to make their business and their community a healthier place to live and work.
Following are synopses of your 2015 Best and Brightest in Wellness awards.
Able Engineering & Component Services
Able Engineering & Component Services
Mesa, Ariz.
www.ableengineering.com
Since 1982, Able Engineering has helped aircraft operators and fleet owners safely reduce operating costs by providing resourceful solutions. After laying roots as experts in processing turbine engine components for original equipment manufacturers, the company expanded its business in the 1990s to include Federal Aviation Administration-approved parts, along with repairs, overhauls, exchanges and partnerships.
More than 30 years after opening its doors, it continues to extend its capabilities and grow its team. While many things have changed over the decades, the company insists one thing has remained the same: Able's unrelenting focus on being the best-value alternative around for aircraft parts and maintenance.
Altarum Institute
Altarum Institute
Ann Arbor, Mich.
www.altarum.org
Altarum Institute is a nonprofit health systems research and consulting organization. Altarum integrates independent research and client-centered consulting to create comprehensive, systems-based solutions that improve health.
With the rigor of the finest research institution, consulting skills honed for nearly seven decades and an abiding commitment to the public interest, Altarum Institute says that enables better care and better health for all people.
American Academy of Pediatrics
American Academy of Pediatrics
Elk Grove Village, Ill.
www.aap.org
The American Academy of Pediatrics has more than 64,000 members in the United States and over 40 different countries internationally. The mission of the AAP is to attain optimal physical, mental and social health and well-being for all infants, children, adolescents and young adults. To accomplish this, the American Academy of Pediatrics supports the professional needs of its members.
Annese & Associates Inc.
Annese & Associates Inc.
Clifton Park, N.Y.
www.annese.com
Founded in 1970 in Herkimer, N.Y., by Frank J. Annese, Annese & Associates Inc. is now a women-owned integrated communications systems provider in its second generation of ownership and fourth generation of leadership, serving New York State and New England.
With a full-circle approach to integrating communications systems, Annese wraps professional and managed services around cloud, security, mobility, collaboration and data center virtualization solutions. Guided by its services methodology, it designs an end-to-end IT experience for clients.
BDO USA LLP
BDO USA LLP
Troy, Mich.
www.bdo.com
BDO is the brand name for BDO USA LLP, a U.S. professional services firm providing assurance, tax, financial advisory and consulting services to a wide range of publicly traded and privately held companies. For more than 100 years, BDO has provided quality service through the active involvement of experienced and committed professionals.
Butler Snow LLP
Butler Snow LLP
Ridgeland, Miss.
www.butlersnow.com
The Butler Snow LLP law firm says that clients' success is its success. With that guiding principle, Butler Snow has emerged from being primarily a regional firm to one with national scope. It has built a team of talented legal professionals who share a commitment to serve clients — from Fortune 100 companies to emerging-technology startups — in more than 50 practice areas.
Butler Snow has been recognized repeatedly for its teamwork and its clients' successes, across a variety of service areas. Corporate Counsel also ranked Butler Snow as an Innovation Leader in 14 categories, and ALM named the firm a "Go-To Law Firm of the World's Leading Companies 2013." Law360 ranked the firm as "One of the Top Ten Busiest Product Liability Practices" in its Law360 Litigation Almanac. The National Law Journal named Butler Snow to its Midsize Hot List, making the firm one of only 20 nationwide named for demonstrating creative, innovative strategies; developing practice areas; and recruiting and retaining top legal talent.
City of Houston
City of Houston
Houston
www.houstontx.gov
Houston is the fourth most populous city in the nation, trailing only New York, Los Angeles and Chicago. City leaders proudly proclaim that Houston is alive with energy and rich in diversity. It has one of the youngest populations in the nation, and it has the third-largest Hispanic and third-largest Mexican population in the United States. Houston touts itself as a dynamic mix of imagination, talent and first-class attractions that make it a world-class city. Its Theater District is second only to New York City with its concentration of seats in one geographic area.
City of Kennesaw
City of Kennesaw
Kennesaw, Ga.
www.kennesaw-ga.gov
Kennesaw, Ga., is a premiere destination for families and businesses looking to relocate in the Atlanta metropolitan area. The city of 32,000 takes great pride in protecting and managing its historical and cultural resources for future generations. Attractions include the Smithsonian-affiliated Southern Museum of Civil War and Locomotive History, the Smith-Gilbert Gardens and improved public areas and renovated buildings with eclectic shops and restaurants. Kennesaw's Parks & Recreation programs, special events and facilities, efficient street and sanitation services, and environmental initiatives play central roles in supporting and sustaining the city's livability and economic vitality.
Crane Worldwide Logistics LLC
Crane Worldwide Logistics LLC
Houston
www.craneww.com
Crane Worldwide Logistics opened for business in 2008, with a vision to become a global player in the competitive global freight management and contract logistics services sector. Today, Crane Worldwide has grown to more than $680 million in revenues with 113 locations in 25 countries. From the onset, Crane Worldwide says, it set out to be different from the other players in the market by making clients' businesses smarter. Crane says that it provides transparency to global supply chains and provides the best service in the industry.
CVS Health
CVS Health
Woonsocket, R.I.
www.cvscaremark.com
CVS Health calls itself a pharmacy innovation company with a simple and clear purpose: helping people on their path to better health. For more than 50 years, CVS has offered customers the products and services they need to stay on their path to better health. It is now the largest pharmacy health care company in the United States, with more than 9,500 stores.
Daugherty Business Solutions
Daugherty Business Solutions
Atlanta
www.daugherty.com
Daugherty Business Solutions says that it brings a fresh approach to consulting. It rolls up its sleeves and works with clients — collaborating to solve some of their most pressing business challenges. "We're practical, not pompous," the company's website states. "We deliver results, not reports." Founded by the husband and wife team of Ron and Jan Daugherty, the company is closing in on $200 million in revenue with more than 1,000 employees in seven cities.
FONA International
FONA International
Geneva, Ill.
www.fona.com
Founded in 1987 and built on a commitment to excellence, the highest standards of personal integrity, exceptional service and respect, FONA International creates and manufactures flavors for many of the largest food, beverage, nutraceutical and pharmaceutical companies in the world. FONA International is focused on delivering high-value taste, technology and manufacturing solutions that grow consumer acceptance and grow brand preference and loyalty for target customers in the areas of beverage, confection, grain, savory, health care and dairy/dessert.
Fusion OEM
Fusion OEM
Burr Ridge, Ill.
www.fusionoem.com
A production floor can be a noisy place, and we all know that too much of the wrong noise causes headaches — production headaches, that is. Fusion OEM takes the extra noise and headaches off the production floor, letting company's focus on what's next, instead of worrying about reducing costs for has-been legacy products. As seamless extensions of in-house production departments, its outsourced manufacturing solutions meet any production or engineering service needs. Its product development and turnkey manufacturing solutions help cut costs, reduce time investment and eliminate production headaches.
Gables Residential Services Inc.
Gables Residential Services Inc.
Boca Raton, Fla.
www.gables.com
Gables Residential is a vertically integrated real estate company specializing in the development, construction, ownership, acquisition, financing and management of multifamily and mixed-use communities. Gables manages approximately 31,500 apartment homes and 500,000 square feet of retail space and has received national recognition for excellence in development, management, sales, marketing, training, benefits and corporate accommodations.
Hu-Friedy Mfg. Co. LLC
Hu-Friedy Mfg. Co. LLC
Chicago
www.hu-friedy.com
Hu-Friedy's mission is the same today as it has always been — to help dental professionals perform at their best. It concentrates on designing, manufacturing and distributing superior dental instruments and products, which has made it the world's leading dental manufacturer. Hu-Friedy's 10,000 dental instruments and product solutions are sold in more than 100 countries, and it has more than 600 employees representing and growing its brand around the world. Headquartered in Chicago, it has offices and distribution centers in the Netherlands, Italy, Germany, China and Japan, and a sales force spread over 30 different countries.
Human Movement Management
Human Movement Management
Louisville, Colo.
www.humanmovement.me
Human Movement Management's mission is to make your weekends "effing awesome." HMM is an active entertainment company that for the past decade has been producing some of the world's largest running races, beer festivals, triathlons, obstacle races and outdoor events in North America.
Inflow
Inflow
Denver
www.goinflow.com
The Inflow team is composed of T-shaped marketers with expert-level depth in one or more areas such as conversion optimization, search engine optimization, paid search, email, social, PR, content marketing and more. Its team also has a broad understanding of multiple digital marketing channels. This enables the company to provide high-level e-commerce marketing strategies that integrate each channel, as well as tactical implementation and training for client's e-commerce marketing teams.
IQ Solutions
IQ Solutions
Rockville, Md.
www.iqsolutions.com
Twenty-three years ago, IQ Solutions was built on a vision, a mission, and a framework of values that continue to ignite it daily. IQ Solutions applies strategic communications, science and evidence-based research, public health theory and innovation to its blend of content and technical expertise. It uses this expertise to help share knowledge that empowers audiences to improve their well being.
L&L Products
L&L Products
Romeo, Mich.
www.llproducts.com
L&L Products is a technology-driven business-to-business company that has unique expertise in static sealing, acoustics, vibration reduction, structural reinforcements and composite components for automotive, aerospace, commercial vehicle and other industrial applications. Its product and international presence has expanded steadily since it was founded in 1958 by Bob Ligon and Gene Lane.
Marsh & McLennan Agency LLC
Marsh & McLennan Agency LLC
Troy, Mich.
www.mma-mi.com
McGraw Wentworth, Cambridge Property & Casualty and Great Lakes Employee Benefit Services have all joined Marsh & McLennan Agency (MMA), the world's leading insurance broker. As a reflection of its growing team and the expanded scope of services now available to clients, the firms are now operating under one name: Marsh & McLennan LLC, referred to locally as MMA Michigan. Despite the name change, the emphasis remains the same — providing clients with the insight and expertise needed to help them meet their diverse and unique business goals.
McKinley Inc.
McKinley Inc.
Ann Arbor, Mich.
www.mckinley.com
McKinley Inc. invests in and manages residential and commercial real estate nationwide. Founded in 1968, it now has annual revenue of $500 million, a portfolio valued at $4.6 billion, 1,600 employees, a presence in 34 states and more than 55 million square feet under management.
MedStar St. Mary's Hospital
MedStar St. Mary's Hospital
Leonardtown, Md.
www.medstarstmarys.org
Nestled in the waterside community of Leonardtown, Md., MedStar St. Mary's Hospital is a 91-bed, full-service hospital delivering state-of-the-art emergency, acute inpatient and outpatient care. With innovative technology and a dedication to excellence, its staff is committed to providing quality medical care with a compassionate touch. Whether patients receive medical care, utilize rehabilitative therapy or participate in a community screening, MedStar St. Mary's Hospital places a priority on delivering a positive health care experience.
Mission Health
Mission Health
Asheville, N.C.
www.msj.com
With about 10,700 employees and 2,000 volunteers, Mission Health is dedicated to improving the health and wellness of the people of western North Carolina. Mission Health is North Carolina 's sixth-largest health system and the region's only not-for-profit, independent community hospital system governed and managed exclusively in western North Carolina. Mission Health, which traces its roots in the region back to 1885, operates six hospitals, numerous outpatient and surgery centers, post-acute care provider CarePartners, long-term acute care provider Asheville Specialty Hospital and the region's only dedicated Level II trauma center. Its medical staff consists of more than 1,000 physicians and is certified in more than 50 medical specialties and sub-specialties.
Moffitt Cancer Center
Moffitt Cancer Center
Tampa, Fla.
www.moffitt.org
Moffitt is the only National Cancer Institute-designated Comprehensive Cancer Center based in Florida. NCI-designated Comprehensive Cancer Centers are recognized for their scientific excellence. They are a major source of discovery and development of more effective approaches to cancer prevention, diagnosis and treatment. They also deliver medical advances to patients and their families, educate health care professionals and the public, and reach out to underserved populations.
Montgomery College
Montgomery College
Rockville, Md.
cms.montgomerycollege.edu
Montgomery College's first classes were held in the evenings at a local high school on Sept. 16, 1946. Its total enrollment was 186 men and women. Today, the college serves nearly 60,000 students a year as they pursue a wide variety of educational goals.
MSU Federal Credit Union
MSU Federal Credit Union
East Lansing, Mich.
www.msufcu.org
MSUFCU is owned and operated by members of the Michigan State and Oakland University communities. From its opening in 1937 operating out of a desk drawer in the Michigan State University Administration building to the recent construction of a LEED Gold-certified headquarters at 3777 West Road in East Lansing, MSUFCU has experienced many changes. Over the years it has become the largest university-based credit union in the world. With more than $2.8 billion in assets, a membership exceeding 200,000, and over 640 employees, 15 branches and more ATMs than any other institution in the Greater Lansing area, MSUFCU continues to develop in ways that best benefit members and the community.
NASA Exchange Johnson Space Center
NASA Exchange Johnson Space Center
Houston
www.nasa.gov
The Johnson Space Center was established in 1961 as the Manned Spaceflight Center, the home and Mission Control Center for the U.S. human space flight program. In 1973, it was renamed in honor of the late president, and Texas native, Lyndon B. Johnson. The professionals who work at JSC have made advances in science, technology, engineering and medicine. The Johnson Center's $1.5 billion complex occupies 1,620 acres southeast of downtown Houston, in the Clear Lake area. As the center has evolved into one of NASA's largest research and development facilities, the greater Houston area has developed into an aerospace hub with an identity of amazing achievements, hard work and innovation.
National Futures Association
National Futures Association
Chicago
www.nfa.futures.org
National Futures Association (NFA) is the self-regulatory organization for the U.S. derivatives industry, including on-exchange traded futures, retail off-exchange foreign currency (forex) and OTC derivatives (swaps). NFA has developed and enforced rules, provided programs and offered services that safeguard market integrity, protect investors and help members meet their regulatory responsibilities for more than 30 years. Membership in NFA is mandatory, ensuring that everyone conducting business with the public on U.S. futures exchanges and in the retail forex marketplace must adhere to the same high standards of professional conduct. NFA membership also is mandatory for swap dealers and major swap participants. NFA's membership currently numbers approximately 4,100 firms and 57,000 associates.
NYCM Insurance
NYCM Insurance
Edmeston, N.Y.
www.nycm.com
NYCM Insurance is a property and casualty insurance company in central New York that employs more than 800 people. The company was founded in 1899 by VanNess DeMar Robinson. NYCM Insurance continues to provide the outstanding service and security it was built on more than 100 years ago.
PBD Worldwide
PBD Worldwide
Alpharetta, Ga.
www.pbd.com
PBD Worldwide was founded in 1976 by James E. Dockter in Columbus, Ohio, with the goal to provide the best possible storage, distribution and fulfillment services. After relocating headquarters to the Atlanta area in the late 1980s, PBD has expanded to become a national provider of fulfillment services — customer care, order fulfillment, accounting, technology, promotional products, digital distribution and print and mailing services — to nonprofits, faith-based organizations, educational publishers and corporations.
Peckham Inc.
Peckham Inc.
Lansing, Mich.
www.peckham.org
Peckham Inc., a nonprofit vocational rehabilitation organization, provides job training opportunities for people with significant disabilities and other barriers to employment. Peckham provides people with physical, cognitive, behavioral and socio-economic challenges a platform to demonstrate their ability, learn new skills, participate in work and enjoy the rewards of their success. Peckham provides opportunities so clients can experience meaningful employment growth.
Purchasing Power
Purchasing Power
Atlanta
www.purchasingpower.com
Purchasing Power is the leading specialty e-retailer offering consumer products, vacations and online education services through an easy and convenient payment plan. It says customers love it because it makes paying for their purchases stress- and hassle-free. The automatic payments help them to avoid penalty fees and ballooning interest associated with other payment options, while the fixed-payment duration options empower them to budget more efficiently.
Quicken Loans
Quicken Loans
Detroit
www.quickenloans.com
Quicken Loans is the No. 1 online lender and the second-largest retail home loan lender in America. It is also the nation's leading Veteran Affairs (VA) lender and the largest FHA lender. Quicken has helped more than 2 million borrowers finance their homes. It also was voted the No. 1 place to work in technology three years in a row by ComputerWorld magazine.
Retrofit
Retrofit
Chicago
www.retrofitme.com
Retrofit is a personalized, holistic weight management solution that aims to transform lives and workplaces. Retrofit delivers a unique combination of proactive 1:1 coaching, live interactive classes and expert-led online community groups that help employees achieve sustainable weight loss. A high-tech, high-touch approach offers each participant easy access to comprehensive tools, apps and support that integrate into daily lives and that inspire lasting change. Collectively, Retrofit's Advisory Board members have worked with more than 40,000 weight loss clients across the country and include two former directors of the National Obesity Society as well as the co-founder of the National Weight Control Registry.
Ryan LLC
Ryan LLC
Dallas
www.ryan.com
Ryan is an award-winning global tax services firm, with the largest indirect and property tax practices in North America and the seventh-largest corporate tax practice in the United States. With global headquarters in Dallas, the firm provides a comprehensive range of state, local, federal and international tax advisory and consulting services on a multijurisdictional basis, including audit defense, tax recovery, credits and incentives, tax process improvement and automation, tax appeals, tax compliance and strategic planning.
Secure-24 LLC
Secure-24 LLC
Southfield, Mich.
www.secure-24.com
Secure-24's technologists provide solutions in IT operations, application hosting, cloud infrastructure and managed services, helping clients turn their IT challenges into business opportunities. The company says it stands by a few critical principles: that the right technology can strategically grow a business to become more competitive — and more profitable; that an unwavering dedication to every client's success is what sets it apart from the rest; and that it provides the innovation that matters in helping companies succeed.
Sikich LLP
Sikich LLP
Naperville, Ill.
www.sikich.com
Sikich began as a traditional public accounting firm in 1982, and since then has evolved into a professional services firm that continues to expand services, technical proficiencies and geographic reach. Today, it is a leading accounting, advisory, technology and managed services firm. With more than 600 employees in 11 offices, it ranks as one of the country's top 35 largest CPA firms — yet it vows clients receive the personalization and attention they need to grow and experience success.
Stanford Health Care & Stanford Children's Health
Stanford Health Care & Stanford Children's Health
Stanford, Calif.
www.stanford.edu
Stanford University, located between San Francisco and San Jose in the heart of California's Silicon Valley, is one of the world's leading teaching and research universities. Since its opening in 1891, Stanford has been dedicated to finding solutions to big challenges and to preparing students for leadership in a complex world. Stanford Health Care delivers clinical innovation across its inpatient services, specialty health centers, physician offices, virtual care offerings and health plan programs. Stanford Children's Health is the only network in the area — and one of the few in the country — exclusively dedicated to pediatric and obstetric care.
Takeda Pharmaceuticals
Takeda Pharmaceuticals
Deerfield, Ill.
www.takeda.com
Based on the corporate philosophy of "Takeda-ism" (integrity, fairness, honesty and perseverance) developed over its long corporate history of more than 230 years, Takeda conducts activities according to the corporate mission to "strive toward better health for people worldwide through leading innovation in medicine." Gastrointestinal, oncology, central nervous system, cardiovascular and metabolic medicines are its core products.
The CSI Companies
The CSI Companies
Jacksonville, Fla.
www.thecsicompanies.com
From the day they opened their doors in 1994, The CSI Companies have understood that staffing is about much more than simply delivering people to fill positions. It's about delivering business results. And that means clearly understanding clients' objectives on the front end and applying comprehensive talent sourcing capabilities on the back end. The company also prides itself on providing exceptional account management and responding quickly to clients' ever-evolving needs and challenges, which are major reasons for its solid growth.
TriNet Corp.
TriNet Corp.
San Leandro, Calif.
www.trinet.com
TriNet is a leading provider of a comprehensive human resources solution for small and midsize businesses or SMBs. It enhances business productivity by enabling clients to outsource their human resources, or HR, function to one strategic partner and allowing them to focus on operating and growing their core businesses. Its HR solution includes services such as payroll processing, human capital consulting, employment law compliance and employee benefits, including health insurance, retirement plans and workers compensation insurance.
United Way of Southwest Michigan
United Way of Southwest Michigan
St. Joseph, Mich.
www.uwsm.org
United Way of Southwest Michigan is part of a national network of more than 1,300 locally governed organizations that work to create lasting positive changes in communities and people's lives. Building on more than a century of service as the nation's preeminent community-based fundraiser, United Way engages the community to identify the underlying causes of the most significant local issues, develops strategies and pulls together financial and human resources to address them, and measures the results.
Viverae
Viverae
Dallas
www.viverae.com
Viverae is a workplace wellness program provider and an industry thought leader. Its comprehensive wellness solutions help employers build healthy cultures and manage health care costs. Its configurable programs manage engagement and incentives with Viverae's proprietary application, MyViverae. The app integrates third-party claims and member health data to personalize workplace wellness programs and create an engaging experience.
Walbridge
Walbridge
Detroit
www.walbridge.com
Walbridge is an Engineering News-Record "Top 50" U.S. construction company with 15 offices in the United States and international offices in Mexico, South America and the Middle East. Walbridge serves a broad range of markets, including automotive, aviation, commercial, education, government, industrial, industrial process, manufacturing, mission critical, power and energy, and water/waste water. The company is known for managing complex projects with dexterity and offering delivery systems that fit any client's needs, including: general contracting, design-build, construction management, and engineering, procurement and construction. Walbridge, founded in 1916, employs 1,000 people who are committed to sustainable construction and maintaining an injury-free workplace. The company has been recognized by Environmental Health and Safety as one of "America's Safest Companies." Walbridge continues to pioneer advances in the industry with its lean construction practices and continuous improvement techniques.
West Monroe Partners
West Monroe Partners
Chicago
www.westmonroepartners.com
West Monroe Partners' business consultants are driven by opportunities to contribute to clients' commercial success. The company partners with clients to help generate revenue, reduce costs and transform thinking, operations and capabilities. West Monroe Partners also offers deep technical expertise. It is dedicated to building solutions that address the toughest technology and business challenges.
Wittenstein
Wittenstein
Bartlett, Ill.
www.wittenstein-us.com
Wittenstein is pushing the frontiers of mechatronics technology. Products built by Wittenstein North America are found in motion systems that require the utmost precision and system performance. Wittenstein sets benchmarks worldwide in the machine building and drive technology sectors. Wittenstein is constantly creating new motion solutions and services based on the MINI (Miniaturization, Integration, Intelligence) principle.