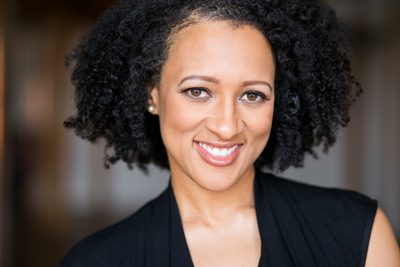 Chris-Tia Donaldson sat in her boss' office 10 years ago and was told what no employee wants to hear.
A lawyer, who had earned undergraduate and law degrees from Harvard University, Donaldson was informed she had three months to find a new job.
But thanks to this abrupt and unexpected push off the path of least resistance, Donaldson found her destiny upon the road less traveled.
Donaldson, 37, is now the founder and CEO of the Chicago-based  hair and skin care company, tgin (Thank God It's Natural). The products are geared toward women and men who choose to use natural ingredients.
In January, tgin became available in more than 500 Sally Beauty locations and in 2015 it was stocked in Target stores nationwide.
Donaldson can now look back at being fired with much relish.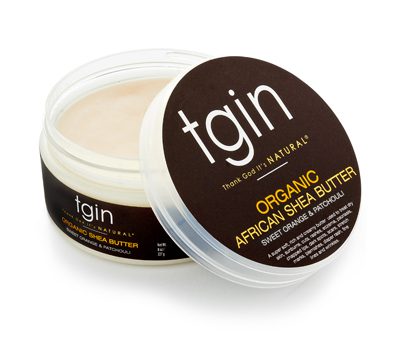 "The head of my department said, 'I have had this conversation with people before and later, they always thank me for it,'" said Donaldson, a Detroit-native, now living in Chicago. "Well guess what? Thank you very much."
In stores, tgin offers products such as the five-step Collection, which includes the Green Tea Super Moisture Leave-in Conditioner and the Butter Cream Daily Moisturizer. Other tgin products at www.tginatural.com include Handmade Natural Olive Oil soaps, Organic African Shea Butter and Shea Butter Lip Balm.
Also available online is hip and chic apparel such as tank tops, hoodies and T-shirts, many of which display the tgin's logo— a silhouette of a woman proudly wearing an impressive afro.
The development of more tgin products is on the horizon but only when they meet Donaldson's standards.
"I am such a perfectionist and the product development process can take awhile," she said. "Some companies will put a product out there and fix it on the back-end but I want it right on the front-end. Our reputation is on the line."
A company's reputation means everything when getting a piece of the ever-growing African American hair care industry.
In 2014, the estimated market value of hair care products formulated for African American consumers or specifically marketed to African American consumers was worth $774 million, reports Mintel, a marketing research firm. In 2019, that number is projected to reach $876 million.
But those figures don't include such factors as general market brand, extensions, independent beauty supply stores, e-commerce and styling tools and appliances which, if taken in consideration, would equal $500 billion.
Reshaping this lucrative industry according to Mintel, are women and some men, choosing to avoid using chemicals and styling aids to change the texture of their hair, referred to as "going natural."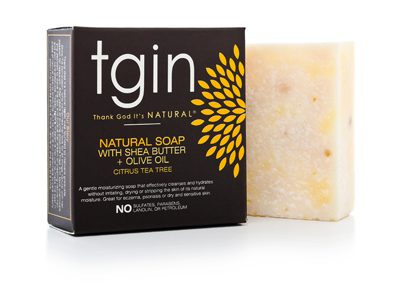 The market for chemical relaxers (a harsh hair product used to temporarily straighten kinky, coily and curly textured hair) has been on the decline since the '90s according to Mintel. In 2013, two-thirds of African American women said they had worn a natural hairstyle.
Sales of relaxers in 2014 were $131.8 million, a 34 percent drop since 2009, which is attributed to the growth in natural hair styles. Relaxer sales are expected to decrease 45 percent before 2019.
Patrice Grell Yursik, creator of the highly popular natural hair, skincare, beauty and lifestyle blog, Afrobella.com, said wearing one's natural texture is still a challenge for women, especially for African American women.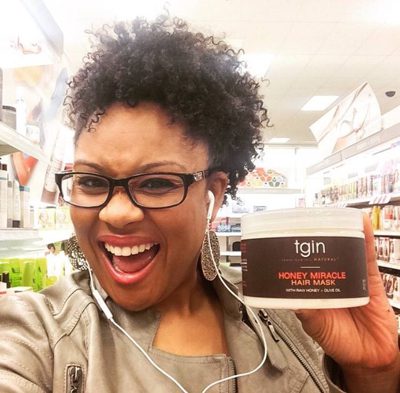 "We have a long way to go before "natural" truly becomes mainstream. Part of that is the learning curve of caring for natural hair," said Yursik, who herself has a beautiful head of natural loveliness. "When more of us begin to cherish healthy hair instead of long hair, and more people realize that caring for natural textured hair can be easier than relaxing, then that change will come."
The long road to natural
Donaldson said she is incredibly grateful and excited to see what was once an idea become available to millions of consumers but the road to the development of tgin products was a long one, which began with her embracing her own natural hair texture.
When Donaldson decided to go natural, there weren't any products in mainstream stores that catered to women who wanted to embrace their hair texture. She then immersed herself in research so that she could help not only herself but other women.
All the knowledge gleaned became Donaldson's book, "Thank God I'm Natural: The Ultimate Guide to Caring for and Maintaining Natural Hair," published in 2009.
The book got the attention of media and those choosing natural hair care. Essence magazine touted it as a "natural hair bible."
Donaldson then began working on the tgin product line, which became available online in 2010. It was soon found on shelves of health and beauty supply stores and at Mariano's, a local chain of grocery stores in Chicago.
Then Target came calling, via email, requesting to meet with Donaldson about an opportunity to expand the distribution of tgin.
"We went into an incubator program where we were tested in certain smaller stores. I guess to see if we could keep up with the demand, perform and see how sales moved," said Donaldson.
Tgin made the grade and became available in 250 Targets across the nation in 2015.
What really matters
More than a decade ago, there was less room for individuality, not just for African American women, but for everyone across the board, said Donaldson.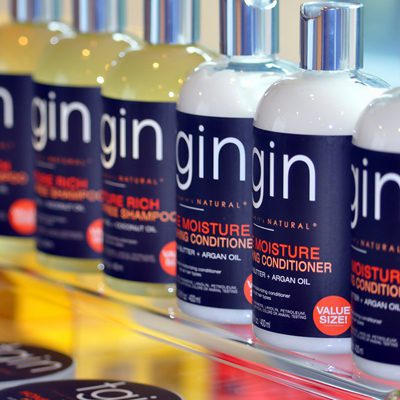 Nowhere was this more apparent than in corporate America.
"You go to school. You study for tests. You fill in the answers, you get As and you graduate," she said. "I shop at Ann Taylor, Banana Republic. I wear a suit. I show up on time–these are things that I thought I needed to do in order to be successful. That is the angle that I came at things."
Beauty standards in corporate America were equally stringent, even when it came to hair. While working at a predominantly white law firm, Donaldson said she spent years using chemicals to straighten her hair and wore wigs when she went natural, in order to blend in.
"Historically, black women in a professional setting always had to wear their hair straight," Donaldson said. "Whether it was a relaxer, a weave, it was always straight, a chin-length bob, a part on the right or a part on the left."
Donaldson's dance with conformity ended when she learned that her impressive curriculum vitae wasn't enough to keep her employed.
"It was like, OK, it doesn't matter," she said, "And it doesn't matter how I wear my hair."
Results, trust and emotions
Donaldson said starting her own product line had always been on her mind but there was a hurdle.
"I feel like I was the biggest obstacle to my own success in terms of getting it done," she said. "I was a lawyer, I wasn't a chemist" and didn't know where to find the people who made hair care products.
Using her skills as a lawyer which included researching, Donaldson soon learned about the business and found a facility to formulate her products.
As the number of hair care product lines targeting African Americans, especially women grows, Donaldson said tgin stands out because it doesn't make exaggerated claims.
"I don't promise that your hair is going to grow to your bra strap but what I did say is that your hair would be softer, moisturized and more manageable," said Donaldson. "That is why women love our stuff because that is all I promise you. Actual results is what makes us different."
Yursik, creator of Afrobella.com, who first met Donaldson, when the tgin founder interviewed her for the book "Thank God I'm Natural," has reviewed many hair products and said she likes tgin.
"I know how much hard work Chris-Tia put into the brand so it makes me an avid supporter," said Yursik. "Her products are really made with good intentions and they work great for my hair."
In addition to living up to promised performance, establishing an emotional connection with customers is also important, said Donaldson.
"It is a connection with feeling like, OK here is a woman selling a hair product and her hair isn't silky straight," said Donaldson. "There is a connection with the images we use."
After doing significant studies, Donaldson said she rejected predominantly using images of African American women with light skin and eyes, and long hair. Instead, tgin celebrates the multifarious hues and features of women of African descent in their social media and online marketing.
"When we would put up pictures of dark skinned women, whatever their features, people would go crazy!" said Donaldson. "We took beauty and said let's make it global."
According to an expert at Mintel in 2013, African Americans consumers are always looking for new hair care products to try. Social networking is an important avenue that has helped to garner trust. Brands have been born and re-born using social networks according to Mintel.
As for most modern companies, social media is extremely important to tgin. The company mines for data and picks up trend using Facebook, Twitter and Instagram for example. Utilizing such data can translate into revenue.
"A lot of my everyday has absolutely nothing to do with shampoo and conditioner," said Donaldson. "It is no longer about your product. It is about digital storytelling and connecting with different influencers."
Authenticity
Donaldson's advice for future entrepreneurs is "trust your instincts" and be true to oneself. Authenticity is something that can be found in abundance in Donaldson's home town of Detroit.
Donaldson grew up on the west side of the city, on 7 Mile and Outer Drive. A graduate of Mercy High School, she headed off to Harvard University at 18. Leaving home not only led her to a new world but it also made her appreciate what she brought to the table, which was a realness.
"I always tell people that people from Detroit just don't put on," she said. "We always keep it real."
Donaldson treasures that realness because it has sustained her through her journey from being let go from her job more than 10 years ago and being her own boss.
"I realized I got to do me," Donaldson said. "Doing anything else but me is a waste of my time."