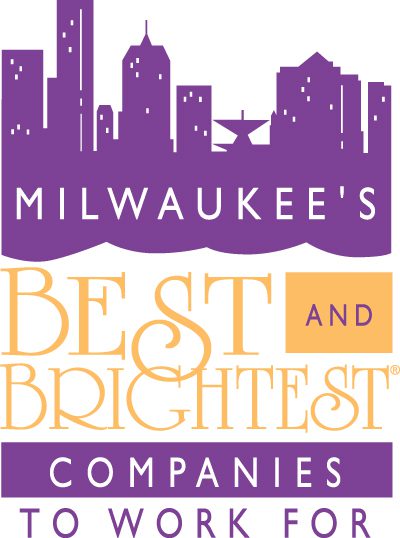 Stand-out companies in human resources practices brought their innovative ideas to The Wisconsin Club in Milwaukee to celebrate their winning status in the 2016 Milwaukee Best and Brightest Companies to Work For competition.
The competition identifies and honors organizations that display a commitment to excellence in their human resource practices and employee enrichment. Organizations are assessed based on categories such as communication, work-life balance, employee education, diversity, recognition, retention and more. All participating companies receive a complimentary assessment report and benefits throughout the year.
The award ceremony highlighted such companies as Impact Networking. They started in 1999 as a team of four with a focus on office equipment. Now 16 years later, Impact is a fierce competitor in the Business Process Automation space employing more than 240 people at nine Midwest locations with headquarters in Lake Forest, Ill. They say that continued "evolution" has brought them success in their industry.
Or consider Sartori Company. The award-winning cheesemaker traces its roots to Paolo Sartori who, along with Louis Rossini, founded the company in 1939. Now in their fourth generation, the company remains committed to family and community. Part of their company crest features the steamer Finlandia, which brought Paolo Sartori to the United States to pursue the American dream. From their leadership and artisan cheese expertise, to their cheesemakers, to their network of patron farmers, they share a deep sense of connection to one another and the land.
We celebrate these resourceful winners.
AllianceStaff LLC
AllianceStaff LLC
Milwaukee
www.alliancestaff.com
AllianceStaff is an award winning recruiting and staffing firm that works with Milwaukee area businesses to identify top talent for their competitive staffs. Specializing in high-end administrative and financial support for businesses in the marketing, health care, construction, insurance, legal, and retail sectors, AllianceStaff works to stay well connected to those hard-to-find professionals for every rung of the hiring ladder. At AllianceStaff, they connect great people with great companies.
Core Vision IT Solutions LLC
Core Vision IT Solutions LLC
Brookfield, Wis.
www.cvits.com
Core Vision IT Solutions provides end-to-end technology services that ensure business integrity for small and midsized clients. From design through deployment, Core Vision is an advocate for its clients to strategically align their business and IT objectives. They design, implement and manage IT solutions spanning computing infrastructure, data storage and recovery, proactive management, VoIP and security. The company has offices in Brookfield, Wis. and Palatine, Ill.
DRS Power & Control Technologies Inc.
DRS Power & Control Technologies Inc.
Milwaukee
www.drs.com
DRS Technologies is a leading innovative technology company. It is a supplier of integrated products and services to military forces, intelligence agencies and prime contractors worldwide. DRS team members are empowered to create the strongest defense solutions imaginable. Company headquarters are in Arlington, Va.
EmPowerHR
EmPowerHR
Milwaukee
www.empowerhr.com
Founded in 1995 and headquartered in Milwaukee, EmPowerHR is a Human Resources Consulting and Professional Employer Organization (PEO). Their services include day-to-day HR consulting support, employee benefits administration, payroll, wage garnishment and state and federal regulatory compliance.
Enercon Industries
Enercon Industries
Menomonee Falls, Wis.
www.enerconind.com
Innovative people. Ensuring your success. Their products are produced by some of the most amazing people in the world. Their client's success is their success. And that's why they are committed to delivering innovative technology solutions with expert personal support wherever worldwide. Enercon manufactures induction cap sealers that are recognized around the world for providing tamper evidence, preventing leaks and preserving freshness with hermetic seals for packagers of food, beverage, pharmaceuticals, health and beauty products, and chemicals and petroleum packages. They also manufacture atmospheric plasma, flame and corona surface treaters that clean, etch and functionalize surfaces for a variety of ink, printing, coating, laminating, painting, adhesive & bonding applications for plastics, polymers, films, foils and metals.
Grant Thornton LLP
Grant Thornton LLP
Milwaukee
www.grantthornton.com
Founded in Chicago in 1924, Grant Thornton LLP (Grant Thornton) is the U.S. member firm of Grant Thornton International Ltd, one of the world's leading organizations of independent audit, tax and advisory firms. Grant Thornton has revenue in excess of $1.3 billion and operates 57 offices across the United States with more than 500 partners and 6,000 employees. Grant Thornton works with a broad range of publicly and privately held companies, government agencies, financial institutions, and civic and religious organizations. Core industries served include consumer and industrial products, financial services, not-for-profit, private equity, and technology. Grant Thornton focuses on serving dynamic organizations that pursue growth holistically — whether through revenue improvement, leadership, mission fulfillment, or innovation.
HNI Risk Services
HNI Risk Services
New Berlin, Wis.
www.hni.com
HNI is passionate about conquering business risk. Risk management (REAL risk management) is about taking a holistic view of your business and identifying the wicked problems that pose a threat to profitability — whether that is your people, your culture, your operations, or your finances. Insurance is a part of this equation, but it's just one piece of the puzzle. The real sources of risk are immensely complex. When it comes to business risk, their website states, "they don't play the game, they CHANGE it."
Hope Christian Schools
Hope Christian Schools
Milwaukee
hopeschools.org/fortis
HOPE Christian Schools opened in 2002 with one school and nearly 50 students. Today, HOPE operates six schools in Milwaukee and Racine, Wis., – five grade schools and a high school. HOPE serves nearly 2,000 students in kindergarten (K4 and K5) through 12th grade with the 3 C's – Christ, College and Character. HOPE offers a rigorous academic program that is focused on raising student achievement in an environment of encouragement and support. They are dedicated to the fact that education is a means to a life that is fuller and spiritually richer. Their teachers use time-tested approaches to academics and are committed to the development of intellectual curiosity, critical thinking and creativity. They are committed to graduating well-rounded individuals. Arts, athletics, enrichment, community service and worship activities complete the student experience.
Impact Networking
Impact Networking
Brookfield, Wis.
www.impactnetworking.com
Impact started in 1999 as a team of four with a strict focus on office equipment. Now more than fifteen years later, Impact is a fierce competitor in the Business Process Automation space employing more than 240 people at its nine Midwest locations with headquarters in Lake Forest, Ill. To get ahead in an industry that has long been declared "flat,'"evolution is key, they say. As clients' problems evolve, so will their solutions. Technological, economic and cultural factors have all changed the space they play in. Impact has been able to achieve significant growth year-over-year by adopting new strategies and technology to reflect the shifting needs of the industry. Their ability to respond to changes by evolving their business model and adopting new business strategies has helped them excel. At the same time, they have stayed strongly rooted in their core competencies, values and culture.
Investors Advisory Group LLC
Investors Advisory Group LLC
Waukesha, Wis.
www.investorsadvisorygroup.com
An independent, full-service financial investment group established in 1985, Investors Advisory Group (IAG) guides clients in making sound wealth management decisions throughout the stages of their lives, with the goal of fulfilling their passions and achieving their dreams. Their client mix of professionals, multi-generational families, retirees, and business owners reflects the varied experiences and skill sets of their talented advisers and support staff. Their team consists of experienced investment professionals who are dedicated to courtesy, accuracy, and exceptional customer service. They take a holistic approach to creating sound plans that address every aspect of their clients' personal financial lives, goals and aspirations.
Lakeside Manufacturing Inc.
Lakeside Manufacturing Inc.
Milwaukee
www.elakeside.com
Lakeside Manufacturing provides more than 65 years of experience. It offers a diverse product line that transports, stores, heats, cools, serves, dispenses, organizes, displays and merchandises. They continually strive to engineer new products and update existing ones to meet customers' needs in the foodservice and health care industries. They believe in an agile organization that has a "can do" attitude that is easy and enjoyable to do business with. They are customer focused, information driven with continuous improvement and a cooperative atmosphere.
Laughlin Constable Inc.
Laughlin Constable Inc.
Milwaukee
www.laughlin.com
Welcome to LC. They are among the top 25 independent agencies in the U.S. Founded in 1976, they have some classic brand invigorations to their credit: Sargento Cheese, Oshkosh B'Gosh, Leinenkugel's and Sharp's Beer among dozens of others. The day after the "information superhighway" was introduced, they hired their first developer. Now, as an agency tooled for the digital age, nearly a half of their staff in some way helps code the ideas they create. LC's culture is creative but steeped in accountability. Every idea they present is vetted for one objective: Will this strengthen the client's brand for the purpose of increasing the client's business? Performance, as it relates to business success, is how they live and judge themselves every day. Marketing innovation, insight, imagination and digital mastery anchor their approach.
M3 Insurance Solutions Inc.
M3 Insurance Solutions Inc.
Milwaukee
www.m3ins.com
The complicated and the simple. M3Insurance Solutions does its best to never confuse the two. Risk management, business insurance, employee benefits – these are increasingly complex. But that's why they're there. M3 advises on these complicated areas and partners with clients to improve their operations, help keep them protected, and save them money. All this happens from a simple idea: Hire great talent and allow them to thrive. And that means clients benefit.
NVISIA
NVISIA
Milwaukee
www.nvisia.com
Founded in 1991 as STR, NVISIA has built a reputation for developing enterprise solutions with leading edge technology. As innovators enabling the early adoption of the corporate LANs, NVISIA founders came to understand the value of distributed computing for corporate clients. Having had numerous Fortune 500 clients, the company was able to develop a deep appreciation for an emerging paradox: adding competitive advantage with custom enterprise software while at the same time managing the risks associated with leading edge technology. To manage this important paradox, NVISIA's founders quickly realized that Object-Oriented Technology coupled with an iterative development process provided an effective means to both deliver applications and manage risk. This approach became the foundation for NVISIA ConnectedDeliverysm services.
Paper Machinery Corp.
Paper Machinery Corp.
Milwaukee
www.papermc.com
Paper Machinery Corporation is the world's leading source of high performance forming machines for paper cups, paperboard canisters and custom paperboard packages. And Barrier Plus machinery from PMC forms the first ever, convolute pre-printed plastic containers. PMC serves the global market with more than 3,000 installations in more than 40 countries. For converters, foodservice and beverage company suppliers, food manufacturers and packagers worldwide, PMC provides dependable state-of-the-art forming equipment. PMC has been honored with an array of awards including The World Trade Hall of Fame, The President's "E" Star Certificate for Exports, and AmeriStar and WorldStar Package Awards. PMC has built a network of agents and distributors throughout the world and supports satellite offices in China and Japan.
Quest CE
Quest CE
Milwaukee
www.questce.com
Quest CE offers a comprehensive suite of compliance solutions for the financial services industry. In addition to offering on-demand insurance and designation continuing education, Quest CE provides a complete spectrum of proprietary technology solutions for managing and supervising risk and compliance exposures. Quest CE's Principles for Success: Provide Exceptional Customer Service; Provide Creative and Customizable Client Solutions; Competitive Pricing. Their belief: "If we execute on these three simple principles, we will prosper and grow."
Sartori Company
Sartori Company
Plymouth, Wis.
www.sartoricompany.com
Sartori is proud that it is a fourth-generation family owned and operated company in the great American tradition. But they are prouder still of the family feeling that runs throughout the entire company every day. From their leadership and artisan cheese expertise, to their cheesemakers, to their network of patron farmers, they share a deep sense of connection to one another and the land. Even the cows are in on it. And now, you are too.
Service Express Inc.
Service Express Inc.
Milwaukee
www.seiservice.com
Since 1986, SEI has been delivering on-site hardware maintenance for mission critical servers. They started as a division of a local IT hardware reseller in Grand Rapids, Mich., before splitting off and incorporating. From one office, one account executive and two engineers – SEI offered customers an alternative to DEC service. Two plus decades later, their expertise has grown and they have expanded their data center supported products to include IBM, HP, Sun, Dell and ProLiant servers, along with EMC, STK, NetApp, Cisco and Hitachi storage equipment. As a third-party maintenance provider, SEI also provides additional service solutions including: Hardware System Solutions, Sales & Upgrades, OS Support, Virtualization and Data Center Relocations. With the demands of growth and the drive for quality control, SEI opened a central warehouse and training facility in Grand Rapids in 2009. Today, SEI maintains servers and storage in data centers for hospitals, manufacturing plants, universities, banks, Fortune 500 companies, financial institutions, government agencies and other organizations.
Sikich LLP
Sikich LLP
Milwaukee
www.sikich.com
Realize organizational goals through the one-of-a-kind solutions Sikich, a leading accounting, advisory, technology and managed services firm, brings to meet challenges and needs. With more than 600 employees in 11 offices, Sikich ranks as one of the country's top 35 largest CPA firms—yet clients receive the personalization and attention they need to grow and experience success. Corporate headquarters are in Naperville, Ill. Get to know Sikich and find out how their extensive list of services, dedicated industry teams and client commitment can create value.
Superior Support Resources
Superior Support Resources
Brookfield, Wis.
www.ssr-online.com
Increase efficiencies. Reduce downtime. Improve communication. Protect assets. These are the ideas that help you do business. They are also the core competencies of Superior Support Resources. The IT firm helps companies align people, process and technology to create competitive advantage.
The American Deposit Management
The American Deposit Management
Delafield, Wis.
www.americandeposits.com
Grounded. Seasoned. Personal. Flexible. Passionate. That's ADM. As a leading treasury management and financial services company, they focus on client needs and desired outcomes. They first listen to clients' business needs and then engage them with industry specific financial tools, processes and support that yield exceptional business results. Who is ADM? They're a highly personable financial services and consulting partner that is passionate about perfecting cash management, fund administration or payment processing strategies.
The Starr Group
The Starr Group
Milwaukee
www.starrgroup.comRobert Starr founded The Starr Group in 1956. More than 50 years later, under the ownership of Tim Starr, CIC, CRM, CRIS, The Starr Group has grown into one of Milwaukee's largest independent insurance agencies. With their convenient Greenfield location, they service Southeastern Wisconsin, including Milwaukee, Greenfield, Franklin, Hales Corners, and the entire Milwaukee metro area. The Starr Group is an insurance/risk management agency with the capabilities of advising clients on everything from their business insurance, including group health, to personal insurance. Starr also provides assistance in human resources compliance, loss control, workers' compensation claims administration, and e-services. The Starr Group is unique in their approach to client services because of the high education requirements for their sales and service personnel. The goal is to not only provide insurance to clients but also to become an adviser who reviews clients' needs and analyzes their total cost of risk.
Vantage Point Corp.
Vantage Point Corp.
Kenosha, Wis.
www.vpcinnovations.comVantage Point Corp. is an IT reseller focusing on a combination of Internet, Face-to-Face, and Phone sales. By leveraging their existing relationships with some of the most prominent IT companies, as well as, up and coming IT manufactures, they are able to strategically work with customers to provide them unique solutions that help address their pain points in their IT infrastructure and streamline their business.