Ford Motor Company recently acquired a new supplier, a Black business owner whose company was going to be a seat manufacturer for the new Ford Bronco and Ranger over the next couple of years.
The company was chosen as part of the supplier diversity program the company has been running in some fashion since 1968. How effective has that program been?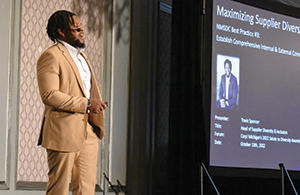 Travis Spencer, the head of Ford's supplier diversity and inclusion department, knows exactly how effective.
The new business owner moved into a facility in downtown Detroit, bringing hundreds of workers with him.
In addition, he's developed a partnership with Detroit Public Schools that brings students a chance to come into the facility and learn about manufacturing and then offering them jobs when they're done with high school.
"Our ability to source that company and help him grow his business created jobs in Detroit, but is also offering educational opportunities and employment opportunities to kids in the Detroit public school system," Spencer said. "So when I say it's important for Ford Motor Company to take supplier diversity seriously, that's the kind of impact I'm talking about."
Ford started its supplier diversity program as a minority program for local businesses, Spencer told the audience at Corp! Magazine's annual diversity event recently, where Spencer was the keynote speaker.
In 1976, it became an official department, began tracking statistics in 1978. Since the department's inception, Spencer said, it has included more under-represented groups.
Those groups, according to Spencer, include minorities, women, veterans, small businesses, those who own businesses that are part of the LGBTQ representation and disabled business owners.
Since the company began tracking such statistics, Ford has spent more than $170 million dollars on its supplier diversity efforts.
In its own ranks, Ford, which Spencer said is operating with a staff that is about 15% diverse, hopes to stretch that to 20% by 2030.
"We are considered one of the best in class, but I would say we still have a ways to go," Spencer said. "Supplier diversity and inclusion is like a seed, planted over 50 years ago in times of racial and economic turmoil. It was an idea that supply and diversity purchases and investments in local businesses from underserved communities could not only transform the automotive industry, but could create, over time, a system that could plant roots and branches that strengthen the economy, social mobility, representation."
In its purchasing operations, Ford controls 13 global locations with more than 3,000 employees and more than 5,000 production supplier sites. Ford spends some $100 billion with more than 10,000 suppliers.
Spencer leads a five-person supplier diversity team, but it's actually much more involved than that. The effort also involves 16 indirect and production business managers and five business advocates.
Spencer appreciates the support.
"Our leaders are very much involved in supplier diversity and they're also invested," he said.
Ford CEO Jim Farley said in a statement included in Spencer's presentation that the supplier diversity plan is "underpinned by the value of caring for each other."
"Our employees, our customer base, dealer network and supply chain are a family where we celebrate our differences," Farley said. "As we work to modernize across our business, we will rely on our diverse supply base to bring fresh ideas and perspectives."
The key to Ford's success in this area is several "pillars" the team has established, and all of it comes down to training.
Ford provides internal education to its employees, frequent supplier diversity training to all of its procurement profssionals and other business units.
"This is probably one of the most essential pillars of them all," Spencer said. "You have to have frequent supplier diversity education to all your procurement professionals … but also other stakeholders involved in decisions."
Spencer called supplier diversity "part of Ford's heritage, part of its history, which is why, he said, "it's important for our company to remain very competitive in the DE&I space.
He also considers it important for other businesses to engage in the same space. In fact, if your business wants to be a big-time supplier for Ford — Tier 1 — the business is required to source dollars to diverse businesses in its supply chain.
"Every impact can make a difference," Spencer said.
Of course, Spencer knows that not every business has the millions of dollars Ford spends in this area.
Still, he said, there are ways to advocate for it without spending buckets of money. Indirect areas — facilities management, health care, construction and site maintenance and legal — can be targets of supplier diversity efforts.
"If you don't have many diverse suppliers in your core business that you can source to, you can always look at the indirect spaces … There tends to be a lot of diverse participation in the indirect space," he said. "Even down to diversifying your workforce to be more representative of the national population is something we consider a win."
Not all businesses consider it this way, but Spencer points out supplier diversity is about more than just community outreach. It's also a metric toward sustainability.
Spencer pointed out that as the minority population grows in the U.S., the per-capita spend among those groups is growing, as well.
Businesses hoping to maintain market share or grow market share have to "make sure your product is representative of the growing segment in America with money," Spencer said.
"It's not only important you're doing DE&I from a 'hey, here's what we're doing, because we care about society (standpoint)," he said. "It's also, 'here's what we're doing to impact the bottom line, to make sure we are gaining those customers who are making more year-over-year because the population is growing."
With the growth in wealth comes the obvious increase in spending. Companies have to learn to tailor their sales toward those groups.
In Ford's market, for instance, purchasing percentages among minority buyers is expanding.
While the F-150 remains the best-selling vehicle in the country, the "segmentation in terms of who's buying it" is expanding.
Year-over-year statistics show sales of Ford's most-popular truck are growing among both Hispanic and Black car buyers. Ford has tailored its efforts knowing that, and Spencer said other businesses have to do the same thing.
"It's going to continue to be that way," Spencer said. "If, in fact, I want to keep selling F-150s and remain the number one vehicle in the U.S., I have to make sure my F-150 is marketed to all segments in America.
"That's why you have to take the consumer into consideration when you're building out the product," he added.