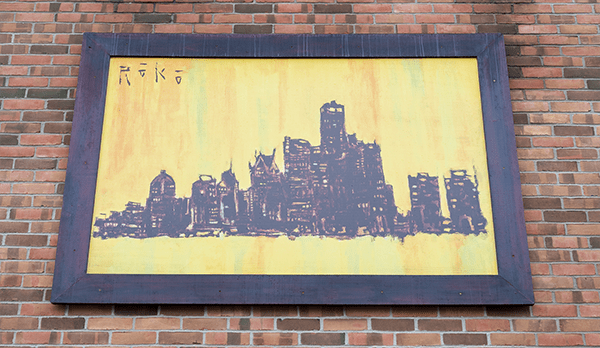 DETROIT — Art Foundation, the nonprofit established by local Detroit artist Tony Roko, has officially launched phase two of its signature Plymouth ArtWalk program. Continuing the program's successful first phase, completed in May 2021, the project activates and beautifies unused spaces into a curated outdoor gallery. The second phase will feature 10 art installations by Tony Roko in downtown Plymouth.
As the official sponsor for phase two, Plymouth-based Community Financial Credit Union (CFCU) has donated $50,000 in support of the program's efforts to use artwork as the catalyst for community engagement. The partnership has unveiled the first two installations, both featured in CFCU's home office in Plymouth. The paintings in the initial installation of phase two are " '66," Roko's rendition of the iconic Ford Bronco, highlighting Roko's background as Ford's artist in residence, and "Cityscape," Roko's depiction of the Detroit skyline.
"Activating unutilized areas of Downtown Plymouth with interesting artwork is part of the Plymouth DDA's five-year strategic plan," said Sam Plymale, downtown development authority director for the City of Plymouth. "Creating community partnerships is critical to the success of Downtown Plymouth, and this next phase of the Plymouth ArtWalk would not be possible without the great community partnership with Community Financial Credit Union and Tony Roko's Art Foundation."
The eight remaining installations are planned for completion by April and will be located in the downtown Plymouth corridor in the alleyways connecting Penniman Ave., Main St., and Ann Arbor Tr. to the parking deck located at 333 S. Harvey St. The project will feature interactive opportunities for the community to engage with the artwork, including a QR code that directs to information about the artwork, Roko's background, a podcast-style audio tour and more.
"Through expressing our collective human experience, I firmly believe that art holds the power to connect us. This is where my passion for bringing my art to my hometown stems from," said Tony Roko. "I'm excited about Community Financial spring-boarding into the future. Our partnership means so much to me because they care so deeply about people and deepening community impact. We are dreaming boldly together."
Roko's background began on the line at Ford's Michigan Assembly Plant, where he was recognized for his talents and named the company's resident artist, painting murals in numerous Ford facilities. Now as one of Detroit's most renowned and successful artists, Roko established Art Foundation in 2017 to provide high-level arts training and arts entrepreneurial training to the most underrepresented populations in metro Detroit.
"During my first few months returning to Michigan, I had the opportunity to meet Tony and immediately knew a collaboration was in our future. Tony's a dreamer and as we bring the impossible to life, partnering with dreamers matters deeply. As a credit union, our philosophies and foundation were born out of the Great Depression to serve humans that are of modest means while shaping their financial dreams. Our purpose is to create joy and ignite Michiganders' impossible dreams, and working with collaborators like Tony and Art Foundation is one way we can achieve this," said Tansley Stearns, president & ceo of Community Financial Credit Union. "We want to create something remarkable for our members, to experience the CFCU brand through all the senses. With the interactive artwork installations at our home office and hosting Tony as the first guest on our podcast, we are proud to launch new and meaningful engagement opportunities unlike anything the community has seen from CFCU before."
In celebration of the launch of the collaboration, CFCU's recently launched podcast – Despite Impossible – features Roko as the first guest. With the show focusing on stories of individuals who have defied odds and don't comprehend the word 'impossible,' Roko serving as the inaugural guest honors the work he has done to benefit the Detroit community and the opportunity the partnership sees ahead.