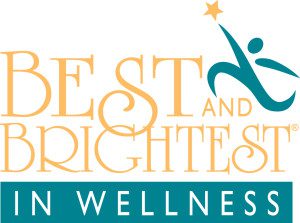 Wellness increases productivity, whether it's for an organization or business. The Best and Brightest in Wellness awards provide companies, schools and churches with the opportunity to gain recognition and showcase their best practices. The program highlights those that promote a culture of wellness, and those that plan, implement and evaluate efforts in employee wellness.
These programs help their employees, businesses and communities thrive. Winners in Michigan's 2015 Best and Brightest Companies in Wellness competition gathered Oct. 8 at The Henry in Dearborn to celebrate their accomplishments. Eight Elite Winners stood out for their employee programs geared to wellness:
Philanthropic-Peckham Inc.
Lansing-based Peckham Inc. has truly embraced workplace wellness. Here are some examples of how they are promoting a healthy workplace: Free fruit is provided every day at work, and employees can dine at an onsite café with fresh grilled selections and a salad bar. They practice stretching and ergonomics, plus they have an onsite Fitness Center with a classroom. Peckham has focused on stress reduction by providing workplace massages, a room for meditation, prayer and yoga, and by being a dog friendly workplace as their focus is on mental and emotional wellbeing. Peckham is a nonprofit vocational rehabilitation organization that serves people with disabilities and other barriers to employment.
Faith Based – Fellowship Chapel
Fellowship Chapel has put together an impressive wellness program. A regular schedule of physical fitness programs are offered throughout the week and include aerobics, yoga, chair yoga, Tai Chi, Zumba and walking. Every fourth Sunday, their Health Ministry provides blood pressure and blood sugar screening. In addition, this Detroit-based organization has a "no vending" machine policy in place, and has put a focus on healthy eating such as offering organic and vegetarian foods. When Fellowship Chapel members meet their wellness goals, they are publicly acknowledged by the pastor and congregation alike.
School Category – Keith Elementary
Keith Elementary in West Bloomfield, Mich., has a focus on helping their students be the best they can be. It all starts with their commitment to help students succeed by offering nutritious meals at an affordable price. A complete lunch includes an entrée, fruit, vegetable and milk … plus students and staff have the option of visiting a salad bar which is loaded with fresh food options. In the fall and spring, the Physical Education team and a group of parents run the Mileage Club, which encourages children to use the onsite track during recess. Kids can run, walk, skip or hop … and when they complete 5 miles, they earn a reward. The school staff also participates in a Holiday against Weight Gain contest and the American Heart Association Fitness Challenge in order to promote weight loss and physical fitness.
Wellness Provider to Individual – Fraser Eye Care
Fraser Eye Care's mission statement is "customer service is our greatest goal." They recently closed their offices for an educational program conducted by the Ritz Carlton Leadership Team, which was attended by their entire staff. Fraser Eye Care, with centers in Fraser and Port Huron, invited area family medical doctors and other eye care providers and their staff to join them for this program. They now use the motto "we are ladies and gentlemen taking care of ladies and gentlemen." In addition, Fraser Eye Care corresponds with other health care professionals regarding visits from any patient with diabetes or glaucoma, as these conditions relate to other aspects of wellness. The full service ophthalmology centers specialize in advanced medical and surgical treatment of eye conditions including glaucoma, cataracts and retinal conditions, as well as laser vision correction.
Wellness Provider to Corporations – Marsh & McLennan Agency LLC
Marsh & McLennan Agency LLC prides itself on providing world-class resources with a local touch. Their wellness services cover the spectrum of benchmarking the region's benefits trends, educating human resources and business leaders as well as their employees about their wellness options. They provide a health management consultant on site to assist clients with their wellness strategies, and offer proactive support for HR internal programs and development of strategic planning and compliance awareness. In 2015, they hosted a seminar titled "The Future of Employee Health Management" as part of an educational series, educating nearly 400 HR and business leaders about the growing interest in the "next level" of wellness. Marsh & McLennan Agency in Troy, Mich., provides innovative and individually tailored cost reduction strategies and tactics in all of the functional elements of group benefit plans.
Small Business Elite – Southwest Michigan First
Southwest Michigan First uses a number of tools to help their team maintain health. Their approach to wellness is holistic and includes physical, spiritual and financial personal health. For example, they have a new health care benefit for employees called, Consult A Doctor, that allows staff to consult with a doctor via phone or Internet o get a prescription or simply ask for health advice for themselves and their families. And when it comes to personal fitness, many Southwest Michigan First team members use FitBit and heart rate monitors, along with apps on their tablets and phones. Wellness coaches, accessible during or after work, are another onsite resource offered to all employees. Kalamazoo-based Southwest Michigan First is an organization of privately funded economic development advisers who act as the catalyst for economic success in Southwest Michigan.
Medium Size Business Elite – Consumers Credit Union
Consumers Credit Union provides weekly educational resources on a website dedicated to all things wellness. Annually they provide vaccinations onsite and their EAP holds seminars on smoking cessation, counseling and debt management. They partner with several local organizations to allow employees to attend wellness events offsite during work hours. They include their employees and their spouse in incentive opportunities. They offer employees a $100 cash incentive to do four activities, which include:
• Taking 3 coaching sessions
• Getting a flu shot
• Completing an HRA
• Attending three educational programs
• Completing two race/walk/bike events
• Stop smoking or
• Join a wellness program such as Weight Watchers or Jenny Craig.
Headquartered in Kalamazoo, Consumers Credit Union has more than $500 million in assets and has averaged 18 percent annual growth for 27 consecutive years.
Large Business Elite – McKinley Inc.
McKinley Inc. truly values the health of each of their employees… and it starts at the top. Their CEO is the champion behind their Healthy Living Program. McKinley has a blog named the Grapevine; it includes valuable information about weight loss, nutrition and exercise. They use a number of methods to help employees reach their best health … like the Healthy Habits Challenges. These challenges help team members adopt healthy habits such as eating breakfast, drinking 64 ounces of water daily, reducing daily sugar intake, getting enough sleep, and fitting activity into their daily routine. McKinley has chair massages available to their team members at the corporate office and at three of their properties available to team members and residents. Founded in 1968 and headquartered in Ann Arbor, McKinley is a leading owner and manager of multifamily and commercial real estate.
Michigan's 2015 Best and Brightest Companies in Wellness:
Advomas
Advomas
Troy, Mich.
www.advomas.com
Advomas sees the transformation of health care as an opportunity to chart a better path by helping providers secure the highest possible payer source for their uncompensated care costs. With decades of experience and a highly trained field force, Advomas works to provide the most comprehensive patient eligibility and enrollment services necessary to ensure clients maximize revenue and optimize cash flow.
Aijalon Baptist Church
Aijalon Baptist Church
Detroit
www.facebook.com/pages/Aijalon-Baptist-Church
Aijalon Baptist Church has been implemeting wellness programs to its congregation for more than five continuous years.
Altair Engineering
Altair Engineering
Troy, Mich.
www.altair.com
Altair empowers client innovation and decision-making through technology that optimizes the analysis, management and visualization of business and engineering information. Founded in 1985, Altair's corporate culture thrives on seeking out business and technology firsts to radically change the way organizations design products and make decisions. They are focused on the development and broad application of simulation technology to synthesize and optimize designs, processes and decisions. Altair has regional operations throughout 22 countries and a staff of more than 2,000.
Altarum Institute
Altarum Institute
Ann Arbor, Mich.
www.altarum.org
Altarum Institute is a nonprofit health systems research and consulting organization. Altarum integrates independent research and client-centered consulting to create comprehensive, systems-based solutions that improve health. Altarum is widely recognized for providing its clients with research and solutions that are technically robust, pragmatic, and carefully aligned with the cultural norms of the populations being served.
Aristeo Construction Co.
Aristeo Construction Co.
Livonia, Mich.
www.aristeo.com
Aristeo is a full-service general contractor offering a full array of self-perform, general/specialty contracting, construction management, and design-build services to companies thought the United States. They continue to meet the changing needs of customers by developing a flexible organizational structure that enables them to grow within a highly competitive construction market. Aristeo assumes ownership and accountability on every commitment, every time. These simple words have guided their company for 38 years.
Arthur J. Gallagher & Co.
Arthur J. Gallagher & Co.
Bingham Farms, Mich.
www.ajg.com
Founded in 1927, Arthur J. Gallagher & Co. (Gallagher) started out as a one-man operation and has grown into a global leader.. As an industry-leading provider of health and wellness benefits brokerage, consulting and administrative services for more than 50 years, they are well positioned to develop and administer programs that support a marketplace advantage for clients. Although they recently passed $2 billion in revenue, they are still very much a family company and maintain a small-business feel.
Austin Benefits Group
Austin Benefits Group
Bloomfield Hills, Mich.
www.austinbenefits.com
Austin Benefits Group (formerly Austin Financial Group) is Michigan's premier full-service employee benefits agency. They specialize in custom employee benefit packages, health insurance, Obamacare compliance and corporate wellness programs.
Awaken Yoga Studio
Awaken Yoga Studio
Detroit
Awaken Yoga Studio was founded in 2006 in northeast Ohio.. It started as a mobile business to do home visits for clients with various therapeutic needs, and group classes at various locations. It then transformed into a private yoga business and Yoga School.
Baudville
Baudville
Grand Rapids, Mich.
www.baudville.com
Baudville, the place for daily recognition, continues to be the leading innovator in day-to-day recognition solutions. Baudville's day-to-day recognition solutions appeal to today's increasingly diverse workforce with contemporary designs and relevant messaging, motivating and engaging workplaces worldwide. Baudville has been declared one of the best companies to work for in its area and strives to create the ultimate work experience for its employees.
BDO USA LLP
BDO USA LLP
Troy, Mich.
www.bdo.com
BDO is the brand name for BDO USA LLP, a U.S. professional services firm providing assurance, tax, financial advisory and consulting services to a wide range of publicly traded and privately held companies. For more than 100 years, BDO has provided quality service through the active involvement of experienced and committed professionals.
Beaumont Health System
Beaumont Health System
Troy, Mich.
www.beaumont.edu
Beaumont Health System is a three-hospital regional health system with 1,778 licensed beds, more than 20,200 employees and 3,100 physicians, including 553 employed physicians in the Beaumont Medical Group and more than 2,500 private-practice physicians. In addition to its hospitals in Royal Oak, Troy and Grosse Pointe, Beaumont has 54 community-based sites of care including medical centers in Oakland, Macomb and Wayne counties, family practice and internal medicine practices, five nursing centers, home care services and hospice. The Beaumont Research Institute has 924 open research studies including 270 clinical trials with more than 7,800 participants. Beaumont is the exclusive clinical teaching site for the Oakland University William Beaumont School of Medicine.
Bell's Brewery Inc.
Bell's Brewery Inc.
Galesburg, Mich.
www.bellsbeer.com
Bell's Brewery Inc. began in 1985 with a quest for better beer and a 15 gallon soup kettle. Since then, they've grown into a regional craft brewery that employs more than 400 people over a 22-state area, in addition to Puerto Rico and Washington, D.C. The dedication to brewing flavorful, unfiltered, quality craft beers that started in 1985 is still with them today. Bell's brews more than 20 beers for distribution as well as many other small batch beers that are served at their pub in Kalamazoo, the Eccentric Café. Their ongoing goal is to brew thoughtfully, creatively and artistically.
Bennett Elementary – Detroit Public Schools
Bennett Elementary – Detroit Public Schools
Detroit
www.detroitk12.org
Bennett Elementary, a neighborhood PreK-5 school in a residential neighborhood in vibrant Southwest Detroit, offers a rigorous elementary curriculum that infuses 21st century technology in all core subjects. Their highly dedicated staff prepares its students extensively for the next level of learning beyond elementary school. Bennett has consistently met and exceeded AYP each year since 2001.
BizStream
BizStream
Allendale, Mich.
www.bizstream.com
BizStream is Grand Rapids' and West Michigan's developer of software, websites, Kentico content management system and custom integrations of systems. BizStream is an energetic group of innovators, obsessed with providing elegant solutions for real-world business problems. They pledge that their team will increase client productivity, simplify systems, and give peace of mind.
Butzel Long
Butzel Long
Detroit
www.butzel.com
Founded in 1854, Butzel Long has played a prominent role in the development and growth of several major industries. Business leaders have turned to them for innovative, highly-effective legal counsel for more than 160 years. They strive to be on the cutting edge of technology, manufacturing, e-commerce, biotechnology, intellectual property, and cross-border operations and transactions. The law firm is named for Leo Butzel, who joined in 1896, and Thomas Long, who joined in 1909.
Cambridge Consulting Group
Cambridge Consulting Group
Troy, Mich.
www.cambridge-cg.com
Cambridge Consulting Group works with clients in developing, implementing and managing workplace wellness initiatives aimed at improving employee health and containing health care costs. They assist clients in understanding their plan and population and designing a wellness strategy that is aligned with their situation. More and more companies are focusing their wellness programs on Quality of Life, rather than ROI. Improving QOL drives engagement in workplace wellness by shifting focus from numbers to people. Their Wellness Connection team helps design and implement effective and coordinated "total wellness" strategies based on each client's needs.
Center for Financial Planning
Center for Financial Planning
Southfield, Mich.
www.CenterFinPlan.com
The Center provides highly personalized wealth management services concentrated in Comprehensive Financial Planning and Investment management.
Chapel Hill Ministry
Chapel Hill Ministry
Taylor, Mich.
www.chapelhillpc.org
Chapel Hill Missionary Baptist Church began in September 1924 when Rev. Father Hill and 24 Christian believers banned together and organized New Hope Missionary Baptist Church. In honor of the first pastor, Pastor Father Hill, the church name was changed to Chapel Hill Missionary Baptist Church.
Consumers Credit Union
Consumers Credit Union
Kalamazoo, Mich.
www.consumerscu.org
Headquartered in Kalamazoo, Consumers Credit Union has more than $500 million in assets and has averaged 18 percent annual growth for 27 consecutive years. Locally owned since 1951, they serve more than 55,000 individuals and businesses through 14 offices and more than 200 free ATM locations in Kalamazoo, Portage, Coldwater, Holland, Lawton, and South Haven, plus 30,000 free Co-op Network ATMs nationwide. A full-service financial institution, they are dedicated to providing personal, professional service designed to support all financial needs through great rates, versatile products, and technology-based enhancements.
Crown Motors
Crown Motors
Holland, Mich.
www.crownmotors.com
Crown Motors is devoted to helping and serving customers to the best of their ability. Whether it's browsing inventory, getting a quote, scheduling service or applying for financing, they are there to serve.
Danboise Mechanical
Danboise Mechanical
Farmington Hills, Mich.
www.danboisemechanical.com
Danboise is a group of individuals who have committed themselves to building the most trusted and professional Mechanical Contractor throughout Michigan, Ohio and Indiana. They have been in business for almost 90 years, and have accomplished that by adapting to, embracing, and implementing, new industry technology for the benefit of their customers. They provide heating, cooling, plumbing and mechanical service and installation to some of the largest companies in the country; including AT&T, Bank Of America, Johnson Controls and Jones Lang LaSalle. And they perform that work, for all of their customers, safely, with professionalism and a dedication to exceeding expectations.
Diplomat Specialty Pharmacy
Diplomat Specialty Pharmacy
Flint, Mich.
www.diplomat.is
Diplomat serves patients and physicians in all 50 states as the nation's largest independent specialty pharmacy. Headquartered in Flint, the company focuses on medication management programs for people with complex chronic diseases, including oncology, immunology, hepatitis, multiple sclerosis, HIV, specialized infusion therapy and many other serious or long-term conditions. Diplomat opened its doors in 1975 as a neighborhood pharmacy with one essential tenet: "Take good care of patients, and the rest falls into place."
Easter Seals Michigan
Easter Seals Michigan
Waterford, Mich.
www.essmichigan.org
Since 1920, Easter Seals Michigan has been proudly serving individuals with disabilities or special needs, and their families, so they can successfully live, learn, work and play in their communities. As the needs of the community have evolved over the years, so has its approach to meeting those needs. At the core of Easter Seals Michigan is a common passion for caring, shared by its 400 staff members and hundreds of volunteers, and by those who support its mission. This heart-felt commitment to helping people with disabilities and their families is what we are all about.
Eaton Corp.
Eaton Corp.
Galesburg, Mich.
www.eaton.com
Eaton is a global technology leader in power management solutions. They make power operate more efficiently, reliably, safely and sustainably. The Galesburg, Mich., location is Eaton's Vehicle Group headquarters. Eaton has approximately 102,000 employees and sells products to customers in more than 175 countries.
Elite Body Training Studio
Elite Body Training Studio
Shelby Township, Mich.
Elite Body Training Studio's focus on personal training is that of individualized attention with a mission to provide professional and courteous service in a comfortable, clean and motivating atmosphere. They guide their diverse clientele in reaching health and fitness goals.
Experi-Metal Inc.
Experi-Metal Inc.
Sterling Heights, Mich.
www.experi-metal.com
Experi-Metal Inc. is committed to providing the highest quality products delivered on time with the goal of continuous improvement. They believe in maintaining standards to ensure complete customer satisfaction from program inception through the evaluation of measurables after completion. They are proactive in suggesting creative engineering, cost and time saving ideas and solutions.
Express Employment Professionals
Express Employment Professionals
Grand Rapids, Mich.
www.expresspros.com
Express Employment Professionals is a leading staffing provider in the U.S., Canada and South Africa. Every day, they help job seekers find work and help businesses find qualified employees. Founded in 1983, Express today employs 400,000 people across nearly 700 franchise locations worldwide. Their long-term goal is at the heart of our company's vision — to help as many people as possible find good jobs by helping as many clients as possible find good people. The Grand Rapids office was founded in 1996 and is proud to serve their community.
Family Victory Fellowship Church
Family Victory Fellowship Church
Southfield, Mich.
www.familyvictory.org
Family Victory Fellowship Church mission is building, strengthening and restoring families.
Farbman Group
Farbman Group
Southfield, Mich.
www.farbman.com
Farbman Group is a leading full-service real estate organization with the ability to handle all facets of real estate transactions. From its inception in 1976, Farbman Group grew by solving the real estate problems of its diverse client base. Today, Farbman Group manages in excess of 25 million square feet of office, retail, multi-family, and industrial space nationally, and is recognized as a leading commercial management and brokerage firm by a wide variety of individual and institutional clientele.
Fellowship Chapel
Fellowship Chapel
Detroit
www.fellowshipchapel.org
Fellowship Chapel is an institution dedicated to the Lord Jesus Christ, seeking to bring people to a personal knowledge of Jesus Christ for the saving of souls and the development and enhancement of a total life that is spiritually, physically, economically, socially and mentally whole.
First National Bank of Michigan
First National Bank of Michigan
Kalamazoo
www.fnbmichigan.com
First National Bank of Michigan understands that time and money are valuable. That's why they believe in putting customers first. From the smallest transactions to life changing moments, they are there to help. What's different about First National Bank of Michigan? They take the time to know customers in order to work together and find the best solutions.
Flowery Mount Baptist
Flowery Mount Baptist
Detroit
Fraser Eye Care
Fraser Eye Care
Fraser, Mich.
www.frasereye.com
At Fraser Eye Care and the Eye Care Center of Port Huron, the mission is to provide quality health care and education to their patients and community. The full service ophthalmology centers specialize in advanced medical and surgical treatment of eye conditions including glaucoma, cataracts and retinal conditions, as well as laser vision correction.
Grand Haven Board of Light & Power
Grand Haven Board of Light & Power
Grand Haven, Mich.
www.ghblp.org
The Grand Haven Board of Light & Power is one of more than 2,000 community-owned electric utilities serving homes and businesses across the United States. They are locally-controlled by a five-member board of directors elected by Grand Haven residents with approximately 13,500 customers in the greater Grand Haven area.
Grand Rapids Label Co.
Grand Rapids Label Co.
Grand Rapids, Mich.
www.grlabel.com
Grand Rapids Label draws its roots from the late 19th century, when the family business helped pioneer the printing industry in Grand Rapids as Seymour & Muir, and in 1901 became Grand Rapids Label. As the decades passed, they produced everything from books of Scottish poetry and Pennsylvania Railroad schedules to posters promoting Harry Houdini. Through this rich diversity of work and experience, the history of the company and the progress of the nation became forever entwined. They take great pride in this heritage, and in a reputation reflecting more than 125 years of satisfied customers.
Hastings Mutual Insurance Co.
Hastings Mutual Insurance Co.
Hastings, Mich.
www.hastingsmutual.com
Hastings Mutual Insurance Co. is an innovative, award-winning property casualty insurance company that focuses on the strength of its employees, the community they live in, and the customers they serve. For well over 100 years, Hastings Mutual has built an outstanding reputation based on quality customer service and needed insurance products, backed by sound company finances.
Herman Miller
Herman Miller
Zeeland, Mich.
www.hermanmiller.com
At Herman Miller, they design and develop furniture and related services and technologies that improve the user environment, whether it's an office, hospital, school, an entire building, or the world at large. In business for more than 100 years, they continue working hard to design and build a better world around you.
Historic Little Rock Baptist Church
Historic Little Rock Baptist Church
Detroit
www.historiclittlerockbc.org
Historic Little Rock Baptist Church offers a wide range of services and an extensive outreach program inspired by their Senior Pastor, the Rev. Jim Holley Ph.D. They are following Rev. Holley's vision for the Kingdom Agenda to edify, employ, and empower the people spiritually and economically.
Historic Motor City Baptist Church
Historic Motor City Baptist Church
Detroit
www.motorcitychurch.org
With God's help and gifts, The Historic Motor City MBC will proclaim the good news of Jesus Christ to the community and invite all people into loving fellowship. They will come to know Christ through worship, prayer, study, service and outreach.
Holy Cross Missionary Baptist Church
Holy Cross Missionary Baptist Church
Detroit
www.hcmbchurch.org
Holy Cross Missionary Baptist Church. Holy Cross Missionary Baptist Church is a medium-sized church in Detroit
Hylant
Hylant
Troy, Mich.
www.hylant.com
Hylant is committed to delivering exceptional long-term results by understanding their clients' business and designing personalized risk management and insurance programs that help them meet their desired objectives. They offer complete risk management services, employee benefits consultation, wellness strategies, loss control, health care management and a wide array of insurance solutions for businesses and individuals. A multi-year winner of Best Places to Work Insurance, Hylant is a full-service insurance brokerage with 14 offices in Ohio, Michigan, Illinois, Indiana, Florida and Tennessee with more than 600 professionals on staff. As one of the largest privately owned insurance brokerages in the nation, Hylant professionals have the flexibility to make long-term decisions that reflect clients' needs, not shareholders' demands.
JARC
JARC
Farmington Hills
www.jarc.org
JARC is a non-sectarian, non-profit organization founded in 1969 by a group of parents concerned about the future of their children with developmental disabilities. Today, JARC is known as a prototype for innovative, high-quality community-based residential and support programs, serving nearly 200 adults in its group homes and various supported independent living arrangements. In 1998, JARC discovered a need in the community for support services for families who have a child with any disability still at home. Through the establishment of the Harris Children and Family Division, JARC is able to provide these services to several hundred families.
Jefferson Elementary
Jefferson Elementary
Redford
www.southredford.net
The Jefferson School Community is dedicated to the belief that all students can learn. They are committed to providing an atmosphere for learning that meets the changing needs of students.
Kadesh Missionary
Kadesh Missionary
Detroit
www.kadeshbaptistchurch.org
The Mission of Kadesh Baptist Church is to be a Holy Place where the complete Word of God is taught to all people. It is their earnest desire to be a church that exalts Christ and provides people with as many opportunities for spiritual growth as possible.
Keith Elementary School
Keith Elementary School
West Bloomfield
www.wlcsd.org
The purpose of Keith Elementary is to advance the learning of all students.
KIRCO
KIRCO
Troy, Mich.
www.kirco.com
KIRCO creates better communities through the development, construction, and management of real estate. They believe the road to true success depends on quality experience and relentless tenacity to navigate the development journey and maintain focus, as well as possessing the rare skills to inspire commitment and ownership at every touch point.
Lacks Enterprises Inc.
Lacks Enterprises Inc.
Grand Rapids, Mich.
www.lacksenterprises.com
As the 4th largest privately held employer in West Michigan, Lacks Enterprises Inc. has been the model of excellence, specializing in Plastic Mold Injection, Chrome Plating, and Spinelle Painting for the automotive and appliance industries for more than 50 years. With the fourth generation of the founding family now advancing into leadership, Lacks Enterprises continues to promote a team-based culture where employees truly feel a bond in their efforts to satisfy customers. Lacks Enterprises boasts a diverse, engaged and highly skilled workforce of nearly 2,800 employees throughout 26 different locations.
Marsh & McLennan Agency LLC
Marsh & McLennan Agency LLC
Troy
www.mma-mi.com
The Michigan health and benefits office of Marsh & McLennan Agency LLC (formerly McGraw Wentworth) is focused solely on helping mid-sized organizations (100 to 10,000 workers) design, implement and manage a group benefit program that: Meets organizational objectives; Satisfies the needs of team members; Controls cost effectively; Complies with governing regulations. Marsh & McLennan Agency provides innovative and individually tailored cost reduction strategies and tactics in all of the functional elements of group benefit plans, including: Health Care Cost Reduction; Proprietary Benchmarking Tools for all Group Benefits; Utilization Analysis and Financial Analysis; Health & Productivity Improvement Programs; Health & Welfare Regulatory Compliance Consulting; Best-in-Class Employee Communication; Voluntary Group Benefits Design & Implementation; Group Benefit Billing and Claim Problem Solving. In short, the Michigan office of MMA provides clients with national and global resources while maintaining a local touch.
Martin Luther King Jr. Senior High School
Martin Luther King Jr. Senior High School
Detroit
www.detroitk12.org
Martin Luther King Jr. Senior High School is a unique comprehensive high school which offers three examination programs within the school: Mathematics, Science and Technology (MSAT), Center for International Studies and Commerce (CISC) and College Preparatory Liberal Arts (CPLA). King is also the first high school designed and certified as a green energy building. MLK offers advanced placement classes in English, Spanish, history, psychology and mathematics. Dual enrollment programs are also available to the students who need and welcome the challenge of taking college courses while in high school. Students also have internship opportunities via several community, business and university partnerships.
McKinley Inc.
McKinley Inc.
Ann Arbor
www.mckinley.com
Founded in 1968 and headquartered in Ann Arbor, McKinley is a leading owner and manager of multifamily and commercial real estate. Currently ranked No. 38 in the National Multi Housing Council Top 50 list of national apartment management companies, McKinley owns and manages more than 35,000 units and 21 million square feet of commercial throughout 34 states. McKinley specializes in solving complex real estate problems for its own portfolio, as well as a select clientele of institutional investors, private equity clients and special servicers.
Meijer
Meijer
Grand Rapids
www.meijer.com
You would expect a company as big as Meijer to be attuned to the importance of employee wellness, and you won't be disappointed. The organization, led by president J.K. Symancyk, partners with their own pharmacy and dietitians to offer an array of information and wellness initiatives to their team members. "Our goal of providing simple solutions to make healthy living easier has always extended beyond our customers to our team members," said Amanda Borths, the Wellness Specialist at Meijer. Access to a wellness portal maintained by a wellness vendor gives team members the opportunity to track their physical activity, join team challenges and win prizes. The company's success is being noticed by external organizations like the American Heart Association, which says Meijer earns its nod as a "Fit Friendly Company.
Metro Health
Metro Health
Wyoming
www.metrogr.org
An award-winning leader in community health care, Metro Health serves more than 250,000 patients annually from across West Michigan – and beyond. In addition to its 208-bed hospital, which provides a comprehensive suite of inpatient and outpatient health care services, Metro Health has a growing number of neighborhood outpatient centers and offices throughout West Michigan, as well as a community clinic for the underserved and student health clinics at Grand Valley State University and Aquinas College. With more than 500 physicians on staff, Metro Health provides a growing number of specialty health services, including cancer treatment, heart and vascular, neurology, pulmonology and others. Many are members of the Metro Health Medical Group. The hospital is committed to promoting health and wellness through the work of the Metro Health Hospital Foundation, Live Healthy community outreach classes and educational programs and more.
MSU Federal Credit Union
MSU Federal Credit Union
East Lansing
www.msufcu.org
MSU Federal Credit Union is a financial institution that is dedicated to providing superior service to each member and employee, allowing them to reach financial security, their goals, and ultimately their dreams. MSUFCU is proud to offer members a wide variety of competitive and convenient products and services including deposit accounts, personal and business loans, IRAs, insurance and mortgages. It also offers service capabilities for members to access their accounts including phone, face to face, online banking, a mobile app, text messaging, e-Chats and e-Messages. MSUFCU has a wide variety of members ranging from MSU and OU students, alumni, faculty and staff and their immediate family members to various employees of select groups or associations.
Neighborhood Service Organization
Neighborhood Service Organization
Detroit
www.nso-mi.org
NSO is Neighborhood Service Organization, a 501(c)3 nonprofit human services agency serving the community's most vulnerable neighbors. NSO has been supporting the community for 60 years with innovative services. Some services are location-based, serving neighbors who come to us for help. Other services focus on outreach, traveling out into the community, reaching people wherever they are. Still other services are offered statewide through help lines and a network of professionals.
New Haven High School
New Haven High School
New Haven
www.mail.nhav.misd.net
New Haven Community Schools is a learning environment in partnership with familes and the community promoting excellence in teaching and learning that encourages high academic achievement.
Oakland County
Oakland County
Waterford, Mich.
www.oakgov.com
Oakland County is composed of 61 cities, townships and villages, and is part of the Detroit-Warren-Dearborn Metropolitan Statistical Area.
Orthopaedic Associates of Michigan
Orthopaedic Associates of Michigan
Grand Rapids
www.oamichigan.com
Orthopaedic Associates of Michigan, OAM, was born out of the merger of two successful West Michigan practices, Orthopaedic Associates of Grand Rapids and the Michigan Hand Center. The goal was never simply to become bigger. It was always to become better — to offer more expertise, more comprehensive patient care, and a network of specialists skilled enough to tackle any challenge, handle any condition. In short, OAM wanted to provide all the medical expertise and capabilities that a large entity brings, delivered with the intimacy and individualized attention found in small practices. The result is an orthopedic powerhouse treating patients from throughout the state. Comprised of eight Centers of Excellence focused on core orthopedic competencies and offering rehabilitative service and diagnostic under the umbrella of one practice, OAM is able to bring first class service to its patients.
Peckham Inc.
Peckham Inc.
Lansing
www.peckham.org
Peckham is a nonprofit vocational rehabilitation organization that serves people with disabilities and other barriers to employment. Its mission is to provide a wide range of opportunities to maximize human potential for people striving for independence and self-sufficiency. Each year they serve more than 7,000 individuals with physical, cognitive, behavioral and socio-economic challenges, providing a platform to demonstrate their abilities, learn new skills, participate in work and enjoy the rewards of their success. Their social enterprises provide paid job training opportunities while also providing high quality goods and services to our customers.
Quicken Loans
Quicken Loans
Detroit
www.quickenloans.com
Quicken Loans is the No. 1 online lender and the 5th largest retail home loan lender in America. With more than 30 years of experience providing world-class client service, they've helped more than 2 million American families finance their homes.
Ramco-Gershenson
Ramco-Gershenson
Farmington Hills
www.rgpt.com
Ramco-Gershenson Inc. is a fully integrated, self-administered, publicly-traded, real estate investment trust. The company's business is the ownership and management of multi-anchor shopping centers in strategic metropolitan markets throughout the Eastern, Midwestern and central United States.
Rehabilitation Masters
Rehabilitation Masters
Livonia
www.rehabilitationmasters.com
Care and compassion on improving the quality for every life they touch. Respect and appreciation for each other. Creativity and innovation to develop effective solutions. Teamwork, honesty and integrity in working collaboratively. These attributes guide Rehabilitation Masters.
Rhonda Walker Foundation
Rhonda Walker Foundation
West Bloomfield
www.rhondawalkerfoundation.org
The Rhonda Walker Foundation was founded in 2003 with a mission to empower inner city teen girls toward becoming strong confident, successful and moral future leaders. Its core program, Girls into Women, is a five-year program for teen girls starting in their 8th grade year and continuing until they graduate from high school.
Rockford Construction
Rockford Construction
Grand Rapids
www.rockfordconstruction.com
Rockford Construction is Building for a Changing World, understanding how the new realities in technology, sustainability, and the global economy affect companies, clients, and buildings themselves. Since 1987, Rockford Construction's reputation for quality, innovative thinking, and collaboration has grown, establishing them as the No.1 contractor in West Michigan, No. 197 on Engineering News-Record's list of the Top 400 contractors in the nation, and one of the Top 100 Contractors in the Midwest. Rockford Construction's experience leads to an understanding of how to create and maintain high performing buildings, adapt to changing business models, and effectively use space.
Roosevelt Primary – West Bloomfield Hills School District
Roosevelt Primary – West Bloomfield Hills School District
Oakland
www.wbsd.org
The West Bloomfield School District educates students to be their best in and for the world. The district's vision statement is to "develop socially responsible citizens empowered to meet the challenges of a rapidly changing global society, and who are characterized by curiosity, creativity, critical thinking and the ability to effectively communicate and collaborate."
Schupan & Sons Inc.
Schupan & Sons Inc.
Kalamazoo, Mich.
www.schupan.com
Schupan & Sons Inc. adheres to the highest environmental standards placed on the industry. They are proactive in understanding how they can best serve customers while protecting the earth. One major environmental concern is waste oils and fluids that contaminate the scrap material. Accounts that have such material are provided with non-leaking boxes. This equipment eliminates unsafe, unsightly oils and fluids. All waste oils are a threat to the environment and are regulated by the Environmental Protection Agency. Schupan & Sons Inc. was incorporated in 1968 as a non-ferrous industrial scrap processor, and now does business on a national and international level, with locations in four states.
Secure-24 LLC
Secure-24 LLC
Southfield
www.secure-24.com
Secure-24 is an industry-leading provider of Managed Cloud Services, Application Hosting and Security and Performance Management as a Service. For more than 15 years, their dedication to providing world-class expertise and advanced technologies has helped businesses worldwide experience superior IT performance. Secure-24 excels in Managed Cloud Services for SAP, SAP HANA, Oracle, PeopleSoft, JD Edwards, Hyperion and other leading applications. Headquartered in Southfield, Secure-24 operates world-class data centers in three locations across the United States.
SEMCO Energy
SEMCO Energy
Port Huron, Mich.
www.semcoenergy.com
SEMCO ENERGY Gas Co., headquartered in Port Huron, is a regulated public utility that delivers natural gas to about 296,000 residential, commercial and industrial customers in Michigan. Service territories include portions of the southern half of the state's Lower Peninsula (including in and around the cities of Albion, Battle Creek, Holland, Niles, Port Huron and Three Rivers) and in the central, eastern and western parts of the state's Upper Peninsula.
Smith Chapel AME
Smith Chapel AME
Inkster, Mich.
smithchapelame.org
Smith Chapel AME Church is a Christian Church located in Inkster and is pastored by Rev. Dr. Cecelia Evelyn GreeneBarr.
Southwest Michigan First
Southwest Michigan First
Kalamazoo, Mich.
www.southwestmichiganfirst.com
Southwest Michigan First is an organization of privately funded economic development advisers who act as the catalyst for economic success in Southwest Michigan. Founded in 1999 on the principle that jobs and wealth creation exponentially affect the region's future sustainability, the organization works across all industries throughout the eight counties making up the Southwest Michigan Region.
The Tough Gym
The Tough Gym
Detroit
www.detroittough.com
The Tough Gym believes in mental and physical toughness and is dedicated to helping people of all ages with personal training in Michigan. They are an open gym that also offers more than 40 classes per week with some of the top coaches in the country.
The Weight Watchers Group Inc.
The Weight Watchers Group Inc.
Farmington Hills
www.welcome.weightwatchers.com
Weight Watchers' mission is to help the residents of Michigan reach and maintain a healthy weight. At the heart of Weight Watchers, are weekly meetings that provide the coaching and tools to help people make the positive changes required to lose weight and keep it off.
Third New Hope Baptist Church
Third New Hope Baptist Church
Detroit
www.thirdnewhope.com
Third New Hope Baptist Church is a faith community of believers in Jesus Christ making the worship of God, Fellowship of Believers, Discipleship and Evangelism their unstoppable mission in the world.
True Rock Church
True Rock Church
Southfield
www.truerockchurch.org
True Rock Church believes that the Bible is the verbally inspired Word of God and is inerrant in the original writings.
Walbridge
Walbridge
Detroit
www.walbridge.com
Walbridge is an Engineering News-Record "Top 50" construction company. Founded in 1916, Walbridge is headquartered in Detroit and has more than a dozen offices across the United States and conducts international operations in Canada, Mexico, South America and the Middle East. Walbridge serves a broad range of markets including automotive, aviation, commercial, education, industrial manufacturing, mission critical, power and energy, and water/waste water. The company self-performs concrete placement, as well as rigging, transport and installation of equipment for various industrial clients. Walbridge employs roughly 1,000 people who are committed to lean, sustainable construction practices and maintaining injury-free workplaces. Walbridge manages complex projects and offers delivery systems to fit every client's need.
Wayne State University
Wayne State University
Detroit
www.wayne.edu
Founded in 1868, Wayne State University is a nationally recognized metropolitan research institution offering more than 370 academic programs through 13 schools and colleges to nearly 28,000 students. Wayne State's main campus in Midtown Detroit comprises 100 buildings over 200 acres; its six extension centers offer higher education to students throughout Southeast Michigan. Wayne State is dedicated to preparing students to excel by combining the academic excellence of a major research university with the practical experience of an institution that by its history, location and diversity represents a microcosm of the world.
Yeo & Yeo CPAs and Business Consultants
Yeo & Yeo CPAs and Business Consultants
Auburn Hills
www.yeoandyeo.com
Yeo & Yeo CPAs & Business Consultants, a Top 100 firm, serves businesses, not-for-profits, education and government entities from nine locations in Michigan. Individuals and businesses rely on Yeo & Yeo for tax, accounting, auditing and consulting needs. Commitment to the community with time, talent and resources is the firm's trademark. Yeo & Yeo supports wellness for its employees by paying a large portion of health care premiums, helping to keep costs low for employees. The firm has a high percentage of participation in its wellness plan/health care premium reduction incentive. Another initiative is the firm's Fitbit Fitness Program. Themed, monthly challenges for individuals and teams, along with prizes and friendly competition, have resulted in a high level of participation. The firm also provides free flu shots and smoking cessation strategies. The focus is to help employees make real changes in their health and lifestyle behaviors.