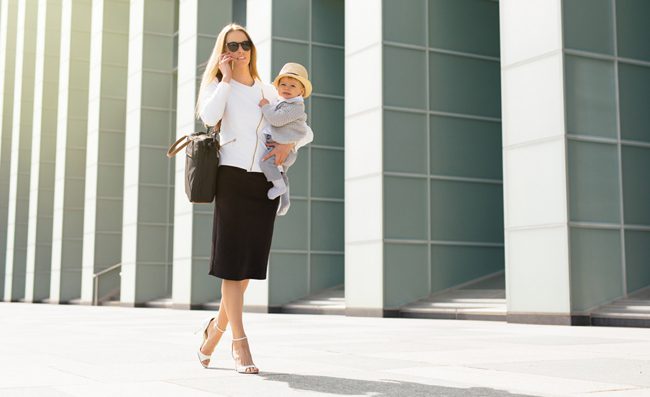 Employers searching for talented individuals who are career minded, excellent multi-taskers and goal orientated are looking to women who chose to focus on caregiving, but are now shifting that initial interest to bringing new skills and energy to the workforce.
Finding highly qualified female candidates can be difficult, however, and companies are working hard to recruit, train and develop women as executives and leaders. Businesses are looking at women-led "onramps" such as Mom Corps, a division of Corps Team, and other placement firms that focus on identifying seasoned females ready to go back to work. They are also holding job fairs and recruiting events aimed at moms and caregivers, revamping human resource policies and practices to seek diversity, as well as developing family-friendly policies and amenities that attract parents who need flexibility and support.
The right attitude
Businesses that are successful at hiring moms back into the workforce have one thing in common: attitude. For example, PricewaterhouseCoopers calls professional women looking to return from career breaks "potential-plus talent," and encourages its divisions to create "career returner programs" that offer an internship-like program that lets women ease back into the workforce and new roles over a three-month period. These so-called "returnships" have gained traction at a variety of companies, including Apple, PayPal, and Goldman Sachs.
Moms looking for ownership opportunities also are starting their own companies through programs such as Build Institute, a self-described entrepreneur academy in Detroit. These businesses create jobs, boost women's earning potential and leverage women's talents for the betterment of the bottom line. Build Institute graduates include April Anderson of Good Cakes and Bakes, a nationally recognized baker (and mom).
Giving women a welcoming place to learn new skills and develop a business plan, while also giving them childcare and schedule-conscious options, such as weekend workshops and nighttime classes, is essential, said Build Institute Executive Director April Boyle, who tells stories of her return to the workforce.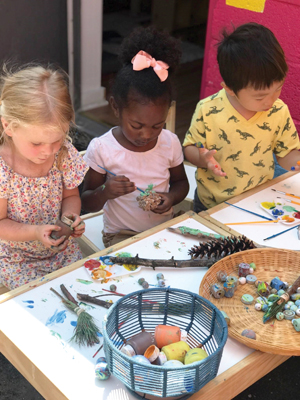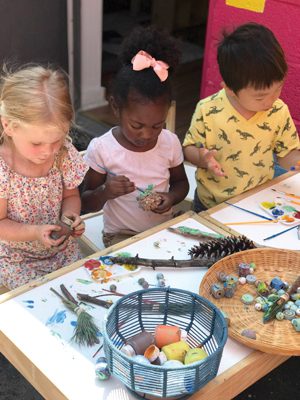 "(As a mom), you're always on the lookout for an opportunity to make a connection, to innovate, to learn and to grow. You can be a lifelong learner and have that entrepreneurial mindset while raising your kids," said Boyle, who is the mother of three boys. "You've just got to be more creative and find the time in different nooks and crannies. That's what we do at Build—we help foster and train that hustle muscle."
The need for talent—especially for that of returning caregivers such as moms—is important to today's employers for a simple reason: They need qualified workers to fill their job openings.
The U.S. jobless rate dropped to 3.9 percent in July 2018 from 4.0 percent in June, a number that has remained fairly steady throughout the year. That also is the lowest unemployment rate for the nation since December 2000. Recruiting in general in a hot job market is tough, so businesses have to look widely for qualified candidates.
Work-life balance still a question
Still, there is a disconnect with how employees, particularly females and those with children, feel about balancing work and family. According to an August 2018 FlexJobs survey of 1,100 parents with children 18 and younger living at home, working parents rank work-life balance (84 percent) ahead of salary (75 percent) when considering whether or not to take a job. About 41 percent of all families in the United States include children under age 18. The labor force participation rate for all women with children under age 18 was 71 percent in 2017, up slightly from the prior year.
Millennials and members of Generation Z will feel sensitive to this fact, so as recruiters look to hire these younger workers, they need to think about how to hire and retain women who want families or take on other caregiving roles, said Denise Chase, director of Strategic Initiatives for the Mom Project. The Chicago-based digital marketplace connects moms with companies that need educated and experienced people for temporary projects, permanent posts or to fill in when an employee goes on maternity leave — something Allison Robinson, founder and CEO, calls a "maternityship," a term the firm has trademarked.
By mid-2018, the Mom Project had boasted more than 50,000 users—a major milestone, considering it was only launched in 2015. While the firm's promotional material refers to mothers as "a major growth engine in our economy," the reality is that some 43 percent of skilled American women leave the workplace after becoming mothers. The Mom Project's goal is to help women remain active in the workforce at every life stage, as well as help employers design a workplace where caregivers of all kinds feel supported.
"Our focus is to support women across their life stages, from when they're anticipating becoming a mom to parenthood to when they're evaluating what kind of commitment they want in later stages of their career," Chase said. "Our platform is designed to help them understand from Day One, and transparently, what their work opportunities are. Some may want to work full time. Some may want project work. Others may want to be meaningfully engaged, but maybe not 12 months of the year or 40 hours a week."
Considering the whole person
Part of what employers need to do is think about what the whole person wants in terms of work, flexibility and benefits, Chase added. For example, the Mom Project helps site users with household duties, introduces them to time-saving services and coaches them through issues such as how to ask for maternity leave and the like.
Having a job makes Angela Patton feel like she's a better woman, wife and mother. Patton stayed at home for a few years after her son was born, but she decided to go back to work not only for her benefit but "to inspire my kids to find a career of which they are proud and that utilizes their skills in the best way possible."
She said being a mom affected everything. "I worked since I was 15, for many years two jobs at once. I lost my job during the recession right before my son was born, and it was a huge adjustment for me. I went on countless excruciating interviews when my son was a baby and, when I wasn't offered a job, I took it as a sign that working full time was no longer what I was meant to do, and that was ok."
Finding a job she loves—she is an adjunct communications professor at Walsh College, where she teaches both written and oral business communications—was worth the effort, Patton said.
"I finally found a job that I love to do, where I help others, and it makes a huge difference in my life," Patton said. "I actually don't mind going to work! Being able to work around my kids' school and sports schedules is something for which I am very grateful, and I hope my kids will think about looking for a family friendly career when the time comes. I still miss a game here and there, but I do my best to show up. I want my kids to have a career that they love, where they can contribute to society, even if it's in a small way."
At the University of Michigan, Jennie McAlpine focuses her job on all 85,000 people associated with the university's multiple work sites and students. "That's a lot of people and a lot of children," said McAlpine, senior director of Work-Life Programs for UM. Finding ways to serve moms, dads and caregivers is essential to maintaining the health, happiness and longevity of that workforce, she said.
Her duties include directing UM's children's centers, work-life resources online and on-site, as well as referral services that help parents find caregivers, childcare and other help with family life. For example, UM has Family Helpers, a service that partners students or retirees looking to help provide housesitting, pet care, elder care, housecleaning, yardwork and more.
"It's a huge win-win because it allows students and retirees to work when they want to work and helps parents with things they need to be able to work," McAlpine said. "The university wants to attract and keep wonderful people, so that means caring for the whole person and their families."
UM is helped by having forward-thinking administration and staff who want unique programs, McAlpine says. It also is important to have the latest in benefits to remain competitive with other colleges. That means offering lactation support, toolkits for employees to talk to their bosses about maternity leave or childcare issues, flexible work and much more.
At United Shore in Troy, Laura Lawson, chief people officer for the firm and mother of two boys, has put a lot of thought into the kind of programs the mortgage and financial-services company offers. That includes making sure there are HR benefits, as well as other niceties that make balancing a family and work a little easier.
The firm recently held a job fair designed to attract moms who were ready to get back in the workforce and has created special training programs to ensure workers who have had a break in their career can get right back into the groove. Plus, United Shore has classic benefits such as dry cleaning services that deliver and a gym on-site. It also hosts "Pizza Fridays," where employees can grab dinner on their way out of work and have one of life's necessities covered as they walk into the door at home.
"It's a 'surprise and delight' kind of thing," notes Lawson. "Everything we do has an intention behind it to make work easier. We also offer training, appreciation and continuous improvement opportunities—but we also understand the importance of reducing stress and that means having pizza on Fridays. I'm a mom—I get it."
Giving women and families a hand
Having help like this, whether it is through Pizza Fridays, lactation specialists or onramp programs, is part of showing moms that you want them at your office. There are events and support programs all around most major cities that are giving women a hand when they want to get work done.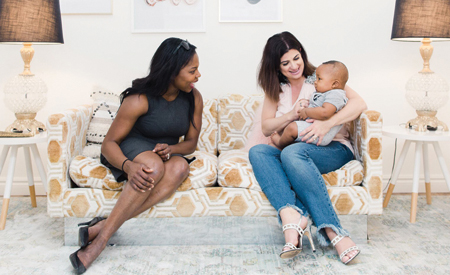 Places like Honey for Moms, an Ann Arbor-based "boutique clubhouse," offers a co-working space with childcare, yoga classes and other services. Krista McClure recently expanded her Detroit Parent Collective, a co-working space with on-site childcare, a cooperative preschool and supportive programming that focuses on family needs.
"It's really mind-blowing how this simple concept has gained so much traction within the Metro Detroit area," McClure said. "Who knew a space for families—where divides are crossed—would grow into something more powerful than I ever imagined. Every strategic move that I've made has been a conscious one: for families."
There also are events, such as Mother Honestly, a summit that aims to "inspire, empower and equip" women with children, giving them the tools to unite their goals as a mom with their hopes as a career person. The event was created by Blessing Adesiyan, a mother of two and chemical engineer by profession who is also working on her MBA.
Having a team to help you get through these years and come up with ways to work well when in the office is an important part of helping moms see that they can be a good parent and a good employee, said Julie Pickens, an Ohio mom who started a saline nose wipe company with a colorful name. With "Boogie Wipes" under her belt, Pickens has since gone on to create myFlipShade, an iPhone accessory that blocks solar glare and provides a degree of privacy for the smartphone user.
"The best advice I could really give to moms or anyone when you want to get back into the workforce or create your own business would be to surround yourself with amazing people that you can learn from, both young and old," said Pickens. "You can't do anything alone and it truly takes a village to get things moving."
For April Boyle, trying new things is among her top words of wisdom for moms. That and networking.
"Join some clubs. Volunteer at your kids' school. Sit on a board as a volunteer," she added. "You'll keep your skills sharp and feel confident when you're ready to go back to work."
Angela Patton agrees. She believes having a job she enjoys and a family she loves is the best of all worlds.
"Everyone has a skill or talent that can help make the world a better place."