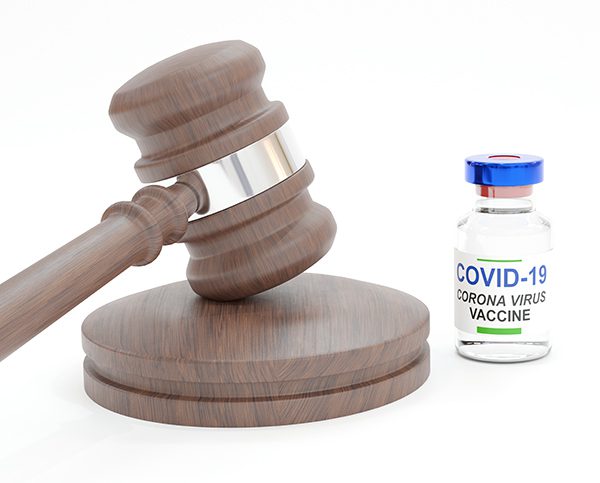 Business groups are applauding a Supreme Court ruling earlier in January that paused a federal vaccine mandate for large employers. But what lies ahead is an uncertain and potentially expensive survey through a muddle of state rules on vaccinations and testing and a protracted court battle likely to come.
The Biden administration announced this week it would withdraw the rule after the court ruling. The mandate is on pause as the Occupational Safety and Health Administration works on developing a more permanent vaccine rule.
Absent a federal decree, multi-state companies are now navigating a jumble of conflicting state regulations or are left to decide whether to create internal rules mandating vaccines for employees. That can be a time-consuming and expensive prospect.
But many businesses and business advocacy groups are still cheering the Supreme Court for blocking the edict this month.
"A majority of companies were threatened by the vaccine mandate for several reasons," said Eric Hobbs, chairman and shareholder of workplace safety group at Ogletree Deakins, one of the largest labor and employment law firms in the country.
"A lot of workers, blue collar, white collar — in a very tight labor market — have been vigorously opposed to vaccination," Hobbs said. "In a tight labor market, the potential of losing them to the company down the street that has fewer than 100 employees and doesn't have the vaccine or test (mandate) … it's very significant."
According to the nonprofit Kaiser Family Foundation, 23 states have required vaccines for certain employers, although the details vary from state to state. Thirteen states have passed laws prohibiting vaccine mandates for employers and 27 have filed lawsuits challenging the federal vaccine mandate, according to the foundation.
About 210.7 million people have been fully vaccinated, or 63.5 percent of the U.S. population, Centers for Disease Control and Prevention data shows. But Hobbs, whose legal group has advised dozens of employers on the vaccine requirement when it was in place, said multi-state companies are now having to invest "an immense amount of time and resources" to navigate differing state and local laws regarding vaccine requirements.
Illinois is one of the handful of states that have enacted their own rules requiring COVID-19 vaccinations for some employers or weekly testing in lieu of vaccines. The state requires vaccines or testing for individuals who work in licensed day care centers.
The Democratic Gov. JB Pritzker said in a statement the rule adds "another level of protection for our youngest residents and preventing outbreaks in daycare centers as more and more parents return to work."
The National Safety Council, which advocates for worker safety, supported the federal rule. Without it, President and CEO Lorraine Martin said in a statement that businesses should still require vaccinations in addition to other safety measures.
"COVID-19 continues to devastate the American people, and employers must play a role in fighting this deadly virus," Martin said.
But others say companies should decide for themselves. The U.S. Chamber of Commerce argues that businesses should implement their own vaccine mandates while the federal rule is weighed.
For the time being, the Supreme Court ruling takes pressure off of employers in a competitive labor market, according to the National Grocers Association, a trade group that represents more than 1,500 retail and wholesale grocers nationwide.
"The ruling is a great relief for our industry as it staves off a burdensome mandate that would have created further disruptions and impaired our members' ability to properly serve the needs of their communities," said Greg Ferrara, president and CEO of the association, in a statement. "We support efforts to increase vaccination rates that will not place added pressure on an already strained food supply chain and labor force."
Many Michigan businesses also were glad to have the requirement paused.
"The court fully acknowledged the sweeping and disruptive nature of OSHA's vaccine mandate and the numerous complexities associated with its implementation," Wendy Block, vice president of business advocacy for the Michigan Chamber of Commerce said in a statement. "We will continue to encourage vaccines and the necessity of maintaining thoughtful safety protocols in the workplace."
A coalition of Michigan businesses which included numerous local chambers of commerce, the Michigan Bankers Association and the Michigan Retailers Association argued that the president's "top-down COVID vaccination mandate" would have had "a devastating impact on employers, employees, jobs and our economy."
Multi-state food retailers and producers believed a federally-enforced vaccine-and-testing regimen would worsen ongoing supply chain and labor challenges. FMI, a trade association for grocers and food producers, welcomed its disappearance.
Some large companies, including Ford Motor Co. have instituted internal vaccine mandates for workers. General Motors Co. has not announced a vaccine requirement but a spokeswoman for the company said GM remains "firmly in support of COVID-19 vaccination" and continues to "strongly encourage employees to get vaccinated," according to The Detroit News. The Dearborn, Mich.-based Carhartt also will continue to require employees to be vaccinated, although Starbucks will not.
A separate Supreme Court order this month ruled that federal Centers for Medicare & Medicaid Services can require COVID-19 vaccinations for health care workers at federal providers. A lower federal district court in Texas later blocked the Biden administration directive on federal employers. The Justice Department appealed the freeze.
Despite the pause, "employers still have a legal obligation to protect their employees from the potential spread of COVID-19 in the workplace," Susan Wiltsie, an attorney with Hunton Andrews Kurth in Washington, D.C., told the Virginia-based Society for Human Resource Management. "OSHA enforces that obligation through its general duty clause. OSHA also has a National Emphasis Program related to COVID-19 that covers certain industries."