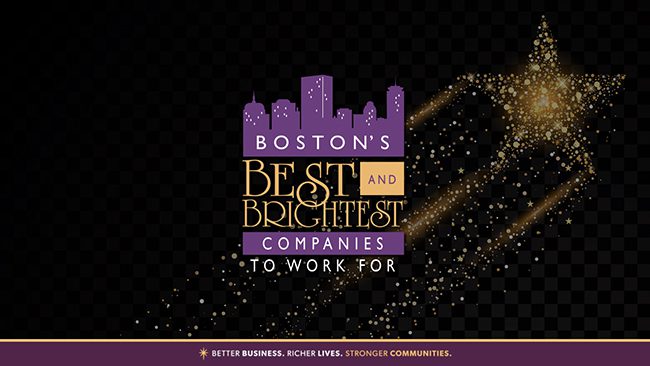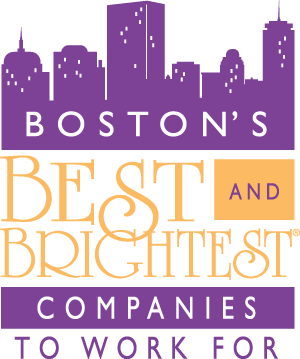 The competition to become one of the Best & Brightest Companies to Work For in Boston is always strong.
And the companies vying for the honor this year didn't disappoint, as the Best & Brightest Programs honored more than two dozen of Boston's best companies.
Winners were honored this week at a virtual ceremony to cap off the 2021 Illuminate Business Summit hosted by Corp! Magazine, the National Association for Business Resources and the Best and Brightest Companies.
"The Best and Brightest is a powerful community of elite leaders who share ideas and practices, and have proven they are employers of choice," said Jennifer Kluge, President and CEO, Best and Brightest Programs. "Best and Brightest winning companies have also been a voice for important actions in creating a sustainable culture that works, ensuring the wellbeing of their employees come first."
The categories applicants were scored on include: Compensation, Benefits and Employee Solutions; Employee Enrichment, Engagement and Retention; Employee Education and Development; Recruitment, Selection and Orientation; Employee Achievement and Recognition; Communication and Shared Vision; Diversity and Inclusion; Work-Life Balance; Community Initiatives; and Strategic Company Performance.
Three companies were honored as "Elite" winners during the ceremony:
· Best of the Best Small Business: UpperEdge, an IT sourcing, negotiation and supplier management company that maximizes the value its clients receive from their key IT supplier relationships by helping them develop and execute fact-based sourcing,
negotiation, and project execution strategies.
· Best of the Best Medium Business: Barnum Financial Group, which provides a full range of investment and risk management products and services to individuals and their families, as well as small businesses, corporations, government entities, and not-for-profit organizations and their employees in all 50 states.
· Best of the Best Large Business: Ameresco, a leading renewable energy company and energyefficiency company offering ESPC-funded energy solutions for public and private organizations.
With over 20 years of experience conducting the Best and Brightest competitions, the National Association for Business Resources (NABR) has identified numerous best Human Resource practices and provided benchmarking for companies that continue to be leaders in employment standards.
This competition scores potential winners based on regional data of company performance and a set standard across the nation. This program celebrates those companies that are making better business, creating richer lives and building a stronger community as a whole.
Here's a shout-out to Boston's Best & Brightest Companies, including:
3 Media Web Solutions, Inc.
Adviser Investments
ALKU
Ameresco, Inc.
Associa
Bald Hill Builders
Barnum Financial Group
Boston Digital
Boston Direct, INC
BusinessOnline
CBIZ
Charles II
Clarus Commerce LLC
Digital Prospectors
Envision Technology Advisors, LLC
Fairmarkit
GiftCard Partners Inc.
Healthcare Financial, Inc.
HealthEdge
HED
Labur, LLC
LightForce Orthodontics
Merchants Fleet
NEI General Contracting
OneDigital
Peapod Digital Labs
Phaidon International
Reliant Medical Group Inc.
Reward Gateway
Service Express
Shamrock Home Loans
Starkweather & Shepley Insurance Brokerage, Inc.
The Channel Company
The Granite Group
Total Quality Logistics
UFP Technologies
UpperEdge
Vertikal6
Wellframe
Winthroop Wealth
Yottaa