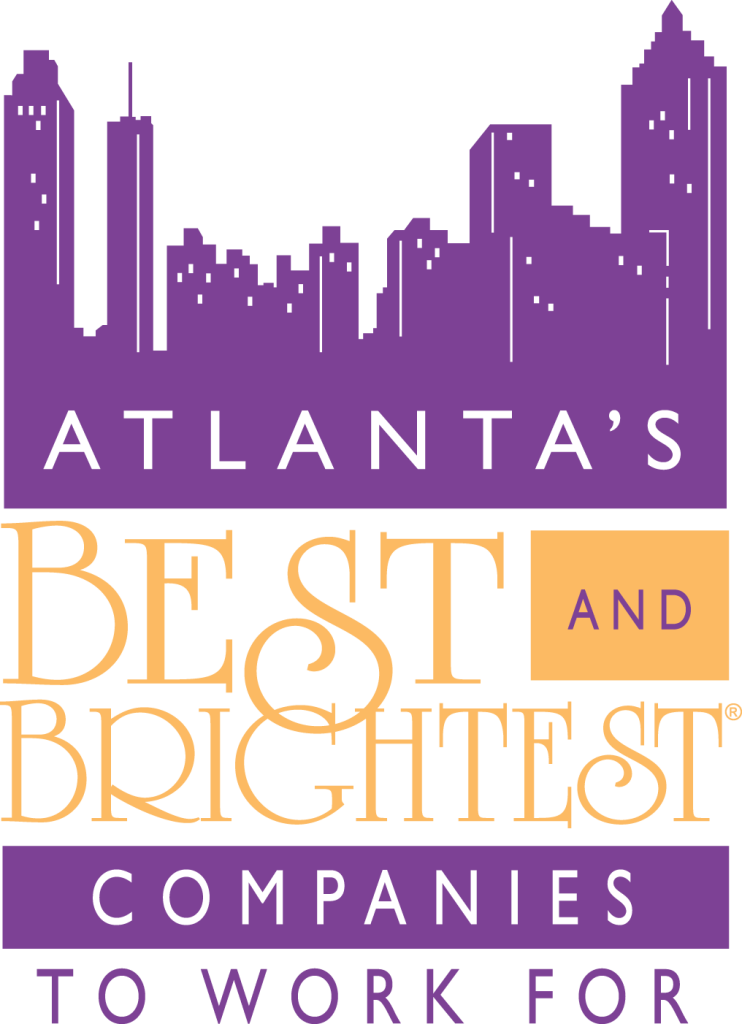 Remember the days when that once-so-cutting edge phrase first began surfacing?
"Our employees are our most valuable assets."
Thankfully, talk like that has largely been relegated to that big bin of clichés.
But that doesn't mean the very best employers in the Atlanta area have dismissed the underlying energy that underscores the power and persuasion of creating a dynamic place to work.
Or, as we prefer, the Best and Brightest Companies to Work For.
The fact is, especially in an increasingly robust economy, being an outperforming employer still makes a difference when it comes to being able to attract and retain those with in-demand skills.
The winners represented in this year's group of Atlanta companies honored certainly know it.
People, after all, have a choice of where to spend the one-third (or more) of their life that focuses on work, making the decision of where that time will be spent a joint one, with benefits, work conditions, atmosphere and culture all becoming part of the equation.
Many employers on this year's list, you will discover, are familiar ones, having dedicated themselves to not only earn a coveted selection but also retaining that position in a competitive environment.
And others are newcomers, having achieved a goal for which they can truly be proud.
But regardless of the individual area of expertise the winners represent, one thing remains clear: They have set themselves apart from the competition by the very nature of how they treat those who work there.
The reality is that spirit of community in the workplace reflects itself in how clients are treated.
In short, treat me well and I'll be sure to do the same for our customers.
The smart firms surely know it. And so do their competitors, although perhaps not with the same level of clarity.
Our bottom line, and one we're proud to share with our readers, is that being a standout company—a member of one of the most coveted lists going—does make a difference, an enduring one, for those who recognize the power it represents.
Atlanta's 101 Best and Brightest Companies to Work For
1Source International
Roswell, Ga.
www.1sourceinternational.com
3C Software
Atlanta
www.3csoftware.com
Adcap Network Systems
Alpharetta, Ga.
www.adcapnet.com
Aerotek
Atlanta
www.aerotek.com
ALL4 Inc.
Kennesaw, Ga.
www.all4inc.com
American Global Logistics
Atlanta
www.americangloballogistics.com
Anisa International
Atlanta
www.anisa.com
Anteo Group
Atlanta
new.anteogroup.com
Arbor-Nomics
Norcross, Ga.
www.arbor-nomics.com
Armedia LLC
Atlanta
www.armedia.com
Ashton Staffing
Calhoun, Ga.
www.ashtonstaffing.com
AT&T
Atlanta
www.att.com
Athenahealth
Alpharetta, Ga.
www.athenahealth.com
AWD Management Services Inc.
Lawrenceville, Ga.
www.awdms.com
Axis Teknologies
Sandy Springs, Ga.
www.axisteknologies.com
BDO
Atlanta
www.bdo.com
Better World Books
Alpharetta, Ga.
www.betterworldbooks.com
Calysto Communications
Atlanta
www.calysto.com
Cardinal Web Solutions
Norcross, Ga.
www.cardinalwebsolutions.com
City of Atlanta
Atlanta
www.atlantaga.gov
Comcast
Atlanta
www.comcast.com
Computer Generated Solutions
Atlanta
www.cgsinc.com
Connectivity Wireless Solutions
Duluth, Ga.
www.connectivitywireless.com
Conway MacKenzie Inc.
Atlanta
www.conwaymackenzie.com
Cooper Carry
Atlanta
www.coopercarry.com
Crane Worldwide Logistics
College Park, Ga.
www.craneww.com
Crowe Horwath LLP
Atlanta
www.crowehorwath.com
CTS Inc.
Atlanta
www.askcts.com
Daugherty Business Solutions
Atlanta
www.daugherty.com
DEKRA North America
Marietta, Ga.
www.dekra-na.com
Digitas
Atlanta
www.digitas.com
DMC Atlanta Inc.
Atlanta
www.dmcatlanta.com
Emerald Data Networks Inc.
Atlanta
www.emeralddata.net
Emory Healthcare Inc.
Atlanta
www.emoryhealthcare.org
EmployBridge Holding Co.
Atlanta
www.employbridge.net
EndoChoice
Alpharetta, Ga.
www.endochoice.com
Every Woman Works
Atlanta
www.everywomanworks.org
Falcon Door Company
Atlanta
www.falcondoorco.com
Fire Inc.
Atlanta
www.fireincatlanta.com
firstPro Inc.
Atlanta
www.firstproinc.com
Flat Fee Merchant Services
Stockbridge, Ga.
www.flatfeemerchantservices.com
Force Marketing
Atlanta
www.forcemktg.com
Futurewave Systems
Atlanta
www.futurewavesystems.com
Gables Residential
Atlanta
www.gables.com
GolinHarris International Inc.
Atlanta
www.golinharris.com
Greenspeed Energy Solutions
Atlanta
www.greenspeedenergy.com
Hall Booth Smith P.C.
Atlanta
www.hallboothsmith.com
Hancock Askew & Co
Atlanta
www.hancockaskew.com
HealthLink Dimensions
Atlanta
www.healthlinkdimensions.com
Hire Dynamics
Duluth, Ga.
www.hiredynamics.com
Hitachi Consulting
Atlanta
www.hitachiconsulting.com
IDology
Atlanta
www.idology.com
Incentive Solutions Inc.
Atlanta
www.incentivesolutions.com
InfoMart Inc.
Marietta, Ga.
www.infomart-usa.com
IST Management Services Inc.
Atlanta
www.istmanagement.com/
iVision
Atlanta
www.ivision.com/
J Smith Lanier & Co.
West Point, Ga.
www.jsmithlanier.com
Jabian Consulting
Atlanta
www.jabian.com
JDC Group
Atlanta
www.jdc-group.com
KMG Inc.
Alpharetta, Ga.
www.kmgatlanta.com
Kinetic Marketing Group
Atlanta
www.kineticatlanta.com
Kingdom Fortunes Development Group LLC
Atlanta
www.kineticatlanta.com
Macquarium Intelligent Communications
Atlanta
www.macquarium.com
Medicus Solutions
Alpharetta, Ga.
www.msinc.com
MiLEND Inc.
Atlanta
www.milend.com
OrthoAtlanta
Atlanta
www.orthoatlanta.com
OxBlue Corp.
Atlanta
www.oxblue.com
PBD Worldwide
Alpharetta, Ga.
www.pbd.com
PM Realty Group
Atlanta
www.pmrg.com
Pollack Shores Real Estate Group
Atlanta
www.pollackshores.com
Premier Logic
Atlanta
www.premierlogic.com
Principle Solutions Group
Atlanta
www.principlesolutions.com
Private Label Nutraceuticals
Norcross, Ga.
www.privatelabelnutra.com
Protiviti
Atlanta
www.protiviti.com
Purchasing Power LLC
Atlanta
www.purchasingpower.com
Pursley Friese Torgrimson
Atlanta
www.pftlegal.com
Quest Group
Atlanta
www.questtravelgroup.com
Reliant Technology
Atlanta
www.reliant-technology.com
Resource Alliance
Alpharetta, Ga.
www.real-hr.com
Satori Interactive
Alpharetta, Ga.
www.satoriinteractive.com
Scout
Atlanta
www.findscout.com
Service Express Inc. (SEI)
Atlanta
www.seiservice.com
SignatureFD LLC
Atlanta
www.signaturefd.com
Savills Studley
Atlanta
www.savills-studley.com
The Community School
Decatur, Ga.
www.thecommunityschool.net
The Hilbert Law Firm LLC
Atlanta
www.hilbertlaw.com
The Icebox
Atlanta
www.iceboxcoolstuff.com
The Intersect Group
Atlanta
www.theintersectgroup.com
The List
Atlanta
www.thelistinc.com
The Renn Wealth Management Group
Atlanta
www.rennwealth.com
ThoughtWorks
Atlanta
www.thoughtworks.com
Valassis
Atlanta
www.valassis.com
VDart Inc.
Alpharetta, Ga.
www.vdartinc.com
Veritas Inc.
Atlanta
www.veritasatlanta.com
Voxa
Atlanta
www.voxa.com
Witt Kieffer
Atlanta
www.wittkieffer.com
XINNIX Inc.
Alpharetta, Ga.
www.xinnix.com
Zifty.com
Atlanta
www.zifty.com