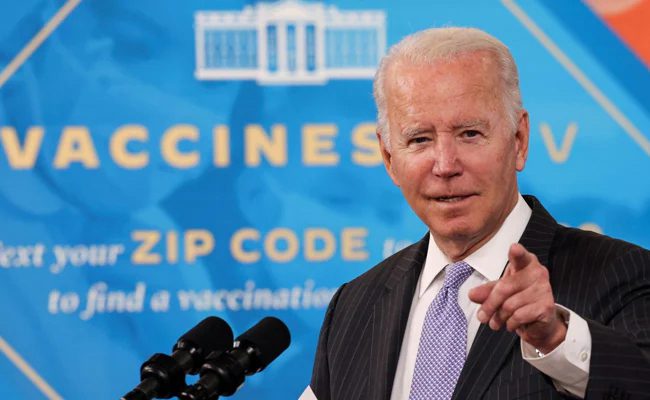 President Joe Biden's effort to have large businesses require either a COVID-19 vaccination or negative test took another legal twist Friday when a federal appeals court reinstated Biden's rule.
The U.S. Court of Appeals for the 6th Circuit in Cincinnati lifted another court's ruling to reinstate the rule that tells businesses with 100 employees or more to require those employees to either get vaccinated or provide regular negative tests.
Pending further litigation, the rule had been set to go into effect Jan. 4, but the U.S. Labor Department announced Saturday the deadline is being extended until Feb. 9 to take into account "any uncertainty" caused by legal challenges.
In a 2-1 majority decision, the Cincinnati court decided it's likely within the authority of the Occupational Safety and Health Administration to implement the "emergency temporary standard" that would require vaccines or testing.
Judge Jane Stranch, appointed by President Barack Obama, and Judge Julia Gibbons, a George W. Bush appointment, voted in favor of the ruling.
"Fundamentally, the ETS is an important step in curtailing the transmission of a deadly virus that has killed over 800,000 people in the United States, brought our healthcare system to its knees, forced businesses to shut down for months on end, and cost hundreds of thousands of workers their jobs," Stranch wrote, according to USA Today.
"Given OSHA's clear and exercised authority to regulate viruses, OSHA necessarily has the authority to regulate infectious diseases that are not unique to the workplace," Judge Julia Smith Gibbons wrote in her majority opinion, according to Newsweek.
Judge Joan Larsen, a nominee of President Donald Trump, wrote the dissenting opinion.
"The Secretary of Labor lacks statutory authority to issue the mandate," Larsen wrote, according to the paper.
Friday's ruling from the Cincinnati court overturned a decision from the U.S. Court of Appeals for the 5th Circuit in New Orleans, which last month called the policy "staggeringly overbroad" and left the implementation of Biden's order in place.
According to Newsweek, Republican Arkansas Attorney General Leslie Rutledge said she'd ask the U.S. Supreme Court to block the order.
"The Sixth Circuit's decision is extremely disappointing for Arkansans because it will force them to get the shot or lose their jobs," Rutledge said, according to the magazine.