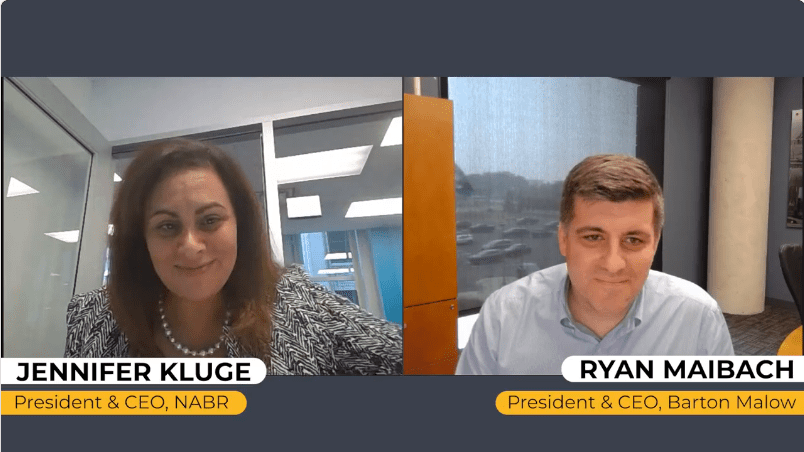 Ryan Maibach has heard it before.
As a representative of the fourth-generation of his family to lead Barton Malow, Maibach knows how rare that is. After all, statistics show that while some 40% of companies make it to second-generation of leadership, that figure drops to 3% when you're talking about fourth-generation leaders.
And while he's currently the president and CEO of Barton Malow, a construction company known for large-scale projects and innovative construction solutions, Maibach knows exactly where the credit for the firm's longevity and success lies.
"I've heard those statistics many different times, and it is interesting," Maibach acknowledged. "Any credit for getting to where we're at goes to my father, my aunts and uncles, who were a part of the business over time.
"My father was one of eight, and seven of the eight were involved in the business at different points in time," he added. "My grandfather and some of the planning he had done … any organization that is multi-generational or multi-decade has to give a tremendous amount of credit and appreciation to leaders and team members who helped create that legacy. It's certainly a challenge to the current generation to maintain that and be good stewards of the organization for future generations."
Barton Malow is based in southeastern Michigan, but also performs work in the eastern half of the U.S., has an operation in Canada and does occasional work in Mexico.
Maibach sat down to talk about a variety of business issues during the most recent episode of "CEO Thought Leadership Series on LinkedIn Live" (CEO Talk with Ryan Maibach final (vimeo.com)), the discussion series hosted by the National Association of Business Resources.
Produced in conjunction with the Best and Brightest Companies to Work For and Corp! Magazine, the series is hosted by NABR CEO Jennifer Kluge and features business leaders from around the country.
Jennifer Kluge: There's a subliminal pressure (in being a legacy) — "It's on my watch." How do you navigate that legacy as far as what is family and what is work?
Ryan Maibach: Sometimes it's positive and sometimes it's not. It's good for any of us to have some measure of boundaries. For my family, holistically, establishing some better boundaries is maybe an opportunity for us.
It's just a part of life for all of us, what you do personally and what you do professionally. We do talk about it (in the family) a fair bit.
Kluge: Barton Malow has worked on some landmark projects. Which of these projects do you feel is the biggest impact project Barton Malow has taken on? What are you most proud of related to your project work.
Maibach: Something we've talked about is the opportunity we see that every project has to be a positive impact on people and communities. That's both the people who have the opportunity to work on the project — people can learn new skills, people can be introduced to the construction industry, people can grow as a result of the experiene – but then ultimately any of the projects we work on are built for a purpose.
That purpose generally has a positive impact on people in the resulting communities. It's exciting for us to be able to look at the positive impact that each of the projects we work on can ultimately have.
Kluge: I would imagine that's a big part of your 'Why do you work there."
Maibach: It's a big part of what attracted me to construction, and it's a big part of what attracted a lot of our team members to the industry. Especially when you're engaged in the work itself … every day is something new and different, and more days than not you're seeing a tangible difference. There's a direct, visible result from the work you're doing. It's a great aspect of our business.
Kluge: Back in 2016, pre-pandemic, your company decided to grow through acquisition. Many businesses do it well, some don't. What was your strategy for growth, and what was your strategy on the acquisitions you made?
Maibach: Some of those (acquisitions) I consider as investments. We're acting as an investor in Construction Robotics, what we believe is transformational technology for our industry. With Flypaper, we acted as an investor to a team member who had a really terrific idea and was looking to potentially spin that off and create a company, and we were able to facilitate that. Alltrade was more of a traditional acquisition where it was an ongoing business and we had developed a relationship with the leadership … and we explored the opportunity to acquire.
LIFTbuild is totally different. It's a really exciting transformational technology looking at really a fundamentally different approach to how you build multi-story buildings. It ties very much into our attempts to assure our relevance in the long term.
Kluge: So you took the long-game approach?
Maibach: We talk a lot about both the pride we have in the construction industry and the positive impact that what we do can have. But we also talk quite openly about challenges we see in our industry. As much as it's driven out of our passion for our industry, it's a big motivator to try to find new ways to add better value, to figure out how we move the needle on the industry as a whole.
Kluge: Did your strategy change through acquisition and investment post-pandemic, and what was the impact with your people?
Maibach: Covid certainly was one of those things we'll be talking about for years to come where there was no real playbook. We had been in a period of relative stability in the economy, and Covid was definitely a big wake-up call.
We have had a history of being transparent in our communications. I had definitely preferred more written communications. Leading up to Covid, the communications team had been trying to push using video, and I wasn't a big fan.
It was critical for us to be able to get timely communication out. There was a time early in Covid where we were doing daily videos and updates, and moved to a bit more sporadic. It was just a communications strategy around 'here's what we know, and here's what we don't know.'
We were fortunate to be in a very strong financial position going into the pandemic, so we didn't have to consider a number of difficult decisions that other firms did around how to potentially do furloughs or compensation modifications, and we're grateful for that.
We were glad to be able to weather the storm without any federal assistance or really substantively negatively impacting our team members at all.
Kluge: If I were an employee at Barton Malow, what would my experience be? What's your culture like? What are some of the things you do that are uniquely yours?
Maibach: Blue and orange are our two colors. Maybe 8-10 years ago we started giving out blue-faced Rolexes for people celebrating 25 years (with the company). It was fun. The first time we did it we did it at an all-company event, it was very unexpected and just fun.
We did it annually at this company gathering, but Covid gave us an opportunity to figure out how to get these watches to people, so today it's been more of a fun attempt to surprise people. It's getting harder to do because people know it's coming, but it's fun.
Kluge: You come from a legacy of leaders. What were some of your defining moments as a leader?
Maibach: Leadership is a fascinating thing. I think every single person has an opportunity to engage in leadership in some form or fashion. It's true in an organization, it's true in a home and it's true in experiences we have on a daily basis out in public.
It's how do you create clarity, how do you get people aligned and focused on common goals and objectives, and those are often tied into some purpose. That purpose can be fairly straightforward and that purpose can be a little more abstract. I don't know that you ever fully arrive, and I don't know you can point back to a specific starting point. It's just things we experience in life.
I've been very fortunate to interact with some really great people of character who've been impactful to me. There's no perfect leader. We can learn from watching and interacting with each other, learn the positive attributes and learn from the mistakes we make and the mistakes those around us make. None of us is perfect.
Kluge: If you had an entrepreneur in front of you who wanted to start their own business, what advice would you give them?
Maibach: First, I would start with congratulations, especially to the entrepreneur who has the courage to start something from scratch. That's really a challenge. That individual is taking a tremendous risk and that's exciting. It's fun to watch some of those success stories.
I think to really make sure, on the whole, that you enjoy what you're doing and are passionate about the work. All of us are going to have good days and bad days, and challenges we're going to have to overcome, but if you really do enjoy the work of the work, the broader purpose … it certainly makes it a whole lot easier.
Kluge: Look into your crystal ball. What do you see in the next six months, based on the knowledge you have of your industry? What trends are ahead?
Maibach: The biggest trend we see that has the biggest impact on our organization is the pivot by the automotive firms into electrification. That, coupled with some of the experiences of Covid, has led to a significant amount of on-shoring of that work. If you think back 5-10 years ago the predominance of battery manufacturing, and even some of the research and development of batteries, was done outside the United States.
To see literally the tens of billions of dollars that are being invested just in the automotive space is really exciting. It's exciting for us as we are trying to figure out how to put together projects that are massive in scale compared to anything we've done historically. And I think it's really exciting for us as an economy.