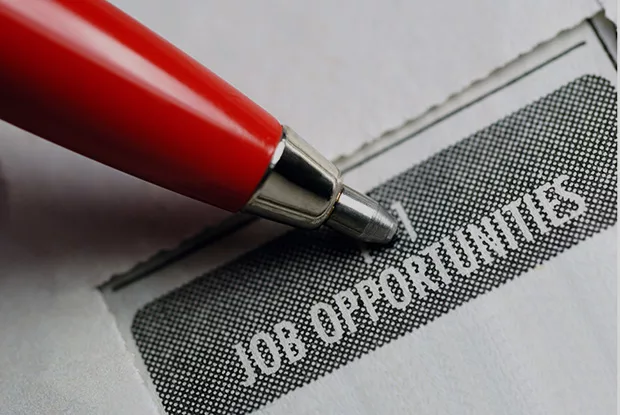 The U.S. economy added fewer jobs than expected in July, but the unemployment rate dipped to within a hair's breadth of a half-century low, and annual wage growth outpaced inflation for a second consecutive month.
U.S. employers added 187,000 nonfarm payroll jobs in July, modestly undershooting the consensus forecast for 200,000 jobs added and following 185,000 (revised from 209,000) in June. With May's job growth also revised down 25,000 to 281,000, there were a sizeable 49,000 in downward revisions to the prior two months' gains. After revisions, the economy added 218,000 jobs over the last 3 months, the slowest growth since early 2021 when the first winter wave of the Covid pandemic stalled the recovery.
The unemployment rate edged down to 3.5% from 3.6% in June and undershot the 3.6% consensus, with employment in the survey of households up 268,000, the labor force up 152,000, and unemployment down 116,000. The labor force participation rate was unchanged at 62.6%, down from a peak of 63.3% in the last cycle, and the employment-to-population ratio edged up to 60.4% from 60.3% and matched March and April for the highest since the pandemic. Labor force participation among workers aged 25-54 was unchanged at 80.9%, the highest since 2001. The unemployment rate for men over age 20 edged down to 3.3% from 3.4%, for women over 20 held steady at 3.1%, and for teenagers rose to 11.3% from 11.0%. By race, the unemployment rate for White Americans was unchanged at 3.1%; it edged lower for Black or African Americans to 5.8% from 6.0%; and unemployment among Asian Americans fell to 2.3% from 3.2%. Unemployment among persons of Hispanic or Latino ethnicity edged up to 4.4% from 4.3%.
The unemployment rate for disabled workers was 6.9% in July, little changed from 6.8% in June and near the bottom of its pre-pandemic range. The BLS does not adjust statistics on disabled persons' unemployment for seasonal variations. There are about three million more disabled persons over 16 in the U.S. than before the pandemic, reflecting Covid-related disabilities as well as an older population. Relatedly, the labor force participation rate of workers over 55 was 38.6% in July, down from over 40% pre-pandemic; this is the main segment of the population where labor force participation is still below pre-pandemic levels.
By industry, the private sector added 172,000 jobs in July, with 18,000 more in goods-producing industries (construction and durable goods manufacturing higher, nondurable goods manufacturing lower, and mining roughly flat). Private service-providing establishments added 154,000 jobs, with over half (87,000) in health care and social assistance. There were 19,000 more jobs in financial activities, 18,000 more in wholesale, and 17,000 more in leisure and hospitality. Average hourly earnings rose 0.4% on the month and were up 4.4% from a year earlier, slightly above the consensus forecast for 0.3% monthly earnings growth and a 4.2% year-over-year increase. Average hourly earnings are down from a peak of 5.9% in year-over-year terms in March 2022, when the labor market was at maximum tightness, but have been steady at 4.3% or 4.4% since March. This is solidly faster than the 3.0% year-over-year rate they averaged in the two years before the pandemic, when the job market was good and inflation was behaving, too.
While business has slowed in some industries, employers are largely reluctant to let workers go out of fears that rehiring may be difficult when the economy reaccelerates. And more workers are choosing to work part time, even when full-time opportunities are available. That's translating into a pullback in the average workweek and slower growth of hours worked across the economy. The average workweek for private workers edged down to 34.3 hours from 34.4 hours in June and tied May for a post-pandemic low. It jumped during the pandemic's labor shortages, but is now back to the bottom of its 2014-to-2019 range. In the survey of households, the share of workers who were part time for economic reasons (i.e. could only find part-time work, or whose hours had been cut) fell 191,000, while people who were part-time for non-economic reasons (family responsibilities, preferred working part time, etc.) jumped 704,000. With modest payroll growth and a shorter workweek, aggregate hours worked across the private sector fell 0.2% in July, and rose a modest 1.3% from a year earlier. Hours worked were about flat (up 0.1% annualized) in the second quarter of 2023 from the first. The second quarter's solid productivity growth of 3.7% annualized in data released yesterday reflected a pullback in private hours worked—measured by a different source than the monthly jobs report—while production of goods and output of services increased.
The Fed will see the July jobs report as reflecting an economy growing fast enough to meet their mandate for maximum employment, keeping their focus squarely on controlling inflation. They've made big strides in that department over the last year, with CPI down to 3.0% in June from nearly 10% in mid-2022. Inflation is likely to slow further near-term as car dealers and other retailers of consumer goods discount products, and as slower increases of new residential leases show up in the government's index of shelter costs. Even so, the Fed will still worry about upside risks to inflation in 2024 from July's jump in gasoline and oil prices, as well as an increase in house price indices in the spring. With the labor market very strong, wages rising faster than inflation for the last two months, and core inflation well above the Fed's target, odds are better than 50-50 that the Fed makes another quarter percentage point policy rate hike in the second half of 2023, most likely at their November 1 decision. That would have the Fed skipping a rate hike at the next decision in September, just as they did in June, in recognition that interest rates are probably near the peak for this cycle.
Bill Adams is a senior vice president and chief economist at Comerica. Waran Bhahirethan is a vice president and senior economist at Comerica.