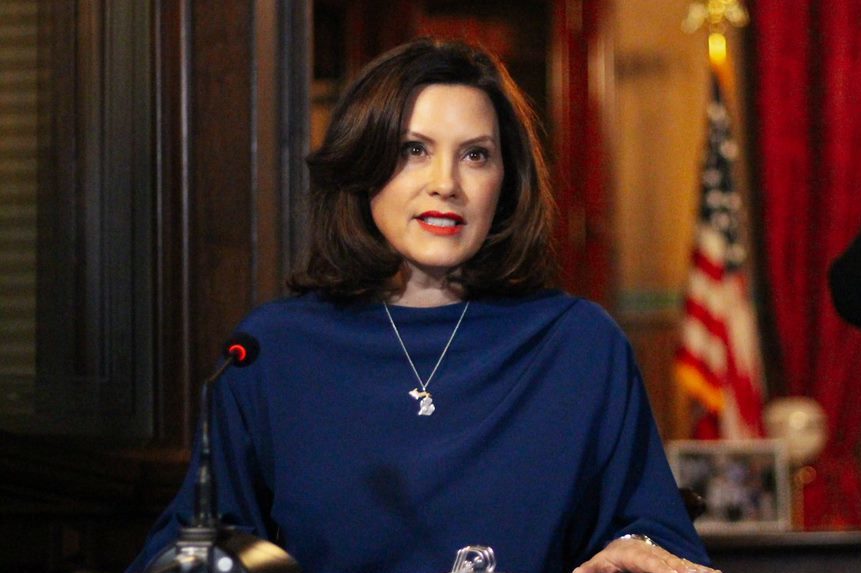 Since Gov. Gretchen Whitmer closed all K-12 buildings last month, questions have abounded about what plan the state will follow as the COVID-19 crisis continues.
Whitmer said she even got a text questioning the plan from her own child Thursday morning.
At a press conference Thursday, Whitmer answered those questions, suspending all face-to-face learning for the remainder of the 2019-20 school year. She signed an executive order closing all K-12 buildings the rest of the year, unless restrictions are lifted.
The order also sets guidelines for remote learning, and allows public school employees and contractors to use buildings to help with learning at a distance while promoting social distancing.
Whitmer acknowledged the decision will put further stress on teachers and students.
"I know this will be tough … It will require creativity and hard work and problem solving," Whitmer said. "I've met educators across the state who are eager to rise to this challenge. I will do everything in my power to support them."
Whitmer said the decision to close schools for the remainder of the school year was not taken lightly, but with 1.5 million students in more than 900 school districts each facing "its own set of challenges," she felt this was the right decision as to "how we move forward."
"At this juncture it would be too dangerous to have our kids congregating in our schools right now, and that will be true for the foreseeable future," she said.
While local administrators are disappointed about the situation, they understand the difficulty of the decision and recognize it keeps the best interests of Michigan students in mind. Andrea Oquist, the superintendent of the 14,000-student Livonia Public Schools, the state's ninth-largest district, said her teachers, staff and administrators "share in the disappointment" and "miss our students very much."
"We need to acknowledge the sense of loss this brings for our students, especially our Class of 2020," Oquist said. "However, we remain positive and hopeful that we will work through this period together and look forward to the day our schools and classrooms are once again filled with our amazing students and staff."
Under the order, each district must come up with a plan to continue learning. Education officials at the Michigan Association of Intermediate School Administrators and the Michigan Council of Charter School Authorizers are developing a template of application for schools to create their localized plan.
Whitmer said plans will be based on district needs, be locally driven and "reflect the best interests of the kids in their communities."
She said plans could include such methods as learning by phone or by mail, via on-line learning, or using paper packets, telephone lessons and "things that can be used as … an alternative mode" of delivering instruction.
If the plan relies on on-line instruction, Whitmer said, the district should make sure every student has access to the appropriate devices necessary with an ability to connect to the Internet. Students who can't participate in the alternative program will not be penalized, Whitmer said.
Other aspects of the decision include:
Educators, teachers, secretaries, para-pros and custodial and cafeteria workers will be paid for the remainder of the school year.
School districts will have the flexibility to adopt a balanced calendar for the 2019-2020 school year and/or to begin the 2020-2021 school year before Labor Day without having to seek additional approval.
Standardized tests previously scheduled for the remainder of the school year, including the M-STEP and the SAT, will be canceled. There will be a date in October for seniors to take the SAT and for other high school students to take the PSAT.
Seniors in the Class of 2020 will be given the opportunity to graduate this year so that they may make a successful postsecondary transition.
"As a parent of two high schoolers … and a senior who's asking the same questions about graduation, we feel it in our own household," Whitmer said. "My personal intent is to ensure and implore all districts to have a plan so that graduating seniors graduate on time."
More: Paycheck Protection Program in CARES Act goes live April 3
More: Trump: 'Very tough two weeks' coming in COVID-19 battle
More: Juggling a job and kids? Here are six tips to make that balancing act work
Whitmer wouldn't make a firm commitment to the 2020/21 school year starting on time, though that's the goal. The continued spread of COVID-19 – Michigan was up to 9,334 cases and 337 deaths as of Wednesday afternoon – makes it hard, she said, to determine.
"We are making decisions based on the best science and best data we can get our hands on … We need robust testing to determine when it's safe to resume life," she said.