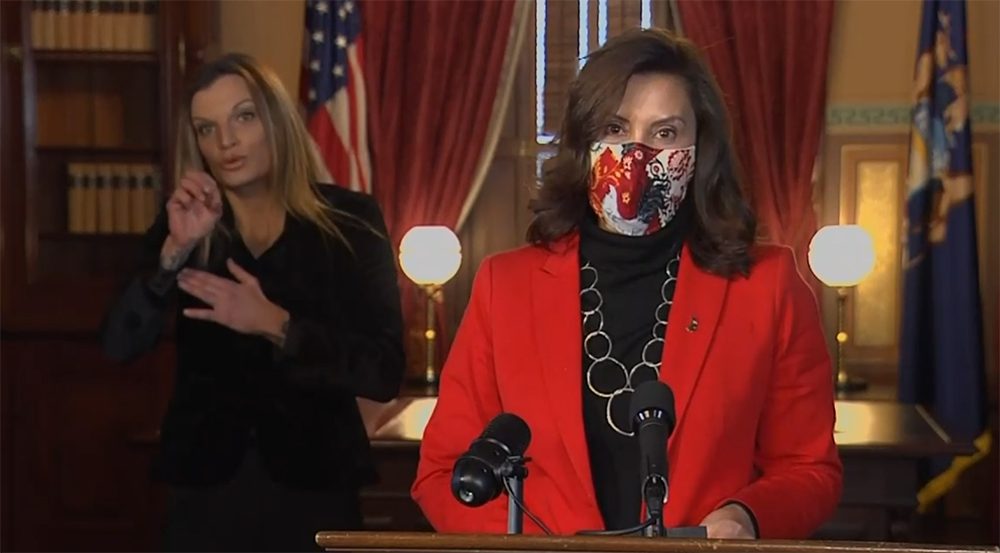 The Michigan State Department of Health and Human Services last week extended a ban on indoor dining – which had been scheduled to end Dec. 8 – through Sunday.
With a recent poll saying a large number of restaurant owners saying they wouldn't make it another six months, Michigan Gov. Gretchen Whitmer was asked Tuesday when they might expect to be allowed to reopen for indoor dining.
Whitmer demurred, pivoting to a repeated call on the state Legislature for a $100 million state COVID-19 stimulus package and other measures, a call she's been making for weeks.
"We know that our restaurants are hurting right now, and it's not their fault that COVID-19 has spread so far and wide across this country and across our state," Whitmer said. "It's the nature of this virus. I'm trying to do everything I can to help these struggling small businesses. That's why I've asked the legislature to take this vote so we can give some resources to people who are unemployed because they're restaurant workers but also for restaurants so they can get through this tough time."
Whitmer said she sent another letter to state legislators Monday, asking them for the same things she sought in a letter three weeks ago:
A $100 million state COVID-19 stimulus package.
Pass a permanent extension of unemployment benefits (the Senate has already passed an extension to 26 weeks through March).
"We really need to work together to pass a permanent extension to protect the countless Michiganders and their livelihoods," the governor said. "The extension of benefits to hardworking Michiganders should not be used as some sort of bargaining chip tied to other priorities of the Legislature."
The Legislature needs to pass legislation to protect public health, "including a mandate that we wear masks until the majority of us have had this vaccine," she said. A recent Detroit Chamber of Commerce poll said that some 68% of the public support such legislation.
More: Talks Appear Stalled on New COVID Stimulus Package
Next week marks the end of this legislative session, and there are no committee meetings on the books that would address Whitmer's requests. Asked if she holds out hope the Legislature will still act, Whitmer said it was possible.
"I know there is bipartisan support for that action," Whitmer said. "I stand ready to sign a bill, but I can't send it to myself. I'd love to see the Legislature take action."
An email to state Senate Majority Leader Mike Shirkey requesting comment had not yet been returned.
The call for legislative action comes as Whitmer and Dr. Joneigh Khaldun, the state's chief medical executive, point out that the "pause" mandated by the MDHHS appears to be working, although the state now reports 437,985 cases and 10,752 deaths related to COVID-19.
Khaldun pointed out that the metrics the state is most watching are all trending down:
The state is reporting 560 cases per million people, a metric that's been dropping for the last 22 days. Khaldun pointed out it's trending down in every region of the state.
Some 18.5% of the state's hospital beds are now taken by COVID patients, also a drop, she said.
The percentage of tests coming back positive – 12.3% — has been falling the last seven days.
While those statistics left state officials "cautiously optimistic" there was no major Thanksgivign surge, Khaldun pointed out the state's case rates "remain alarmingly high" and the rate of positive cases per million people is "still four times what it was at the beginning of September."
"Many Michiganders did their part in keeping spread of the virus down over the Thanksgiving holiday," Khaldun said. "We showed that we care about ourselves, our families and our communities. Now is not the time to let our guard down."
Whitmer, as she has the last few weeks, again asked Michigan residents not to travel or gather more than 1-2 households together for the Christmas holiday, and urged those who already had plans to travel or gather in large groups to "change your minds."
She said officials expect December and January to "be bad months," but noted that continued efforts at social distancing, mask-wearing, etc., have "been working." "That's the good news," she said. "We need to help these small businesses out for this short period of time. This month and next month are going to be tough … but literally every single month in 2021 is likely to be better than the preceding month."