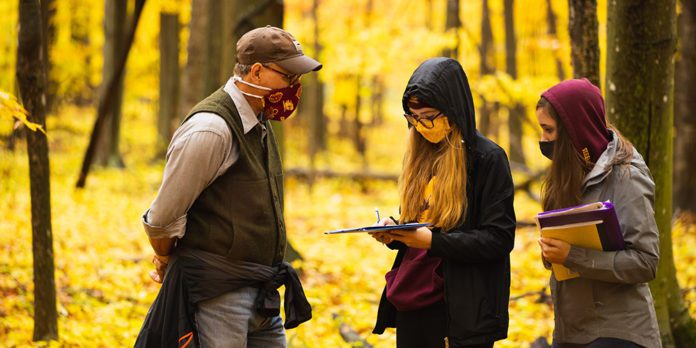 The past nine months have been challenging for people in every walk of life – but college students have had some of the most turbulent times in terms of how to take classes, whether they could live on campus or stay home as well as how to effectively study, research and communicate with professors and classmates during a pandemic.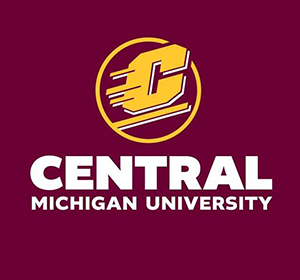 Central Michigan University is among the many Michigan-based, higher-education institutions that had to make fast changes when coronavirus shut down in-person meetings and changed the way education was delivered. Unlike other universities, CMU was able to maintain its in-person class schedule throughout its most recent semester, something that President Bob Davies said he is proud of as CMU's leader.
Davies said the past semester had its highs and lows and everything in between. CMU had great successes as well as new lessons to learn along the way, he noted. Davies himself has a daughter attending CMU right now, so he saw first-hand not only how students were handling the pandemic and related shutdowns, but how it affected his family and, as such, many of the families who choose to send their students to CMU.
"Opening two weeks early put a big spotlight on us as we were the first ones out of the gate," Davies said, with all eyes on how coronavirus might affect the campus and local community. "We wanted that in-person environment, so we had to adjust accordingly. Students took ownership and the faculty got creative."
In a wide-ranging conversation with Corp! Magazine, Davies detailed some ways that CMU got through the past semester, how it has fared throughout the pandemic and how it is looking into 2021 and the future as an institution.
Step One: Get organized. Key to CMU's success has been its Emergency Management Team, Davies said. This team of individuals from all levels of CMU's mid- to upper-level management started getting together from late February to plan out all possible scenarios for coronavirus. This was huge given that everything in the world changed by mid-March.
"They were boots on the ground, but they also had tactical expertise," Davies said. "They all saw it from different perspectives. … As a leader, I gave them the direction that our strategy from the beginning was to make sure CMU remains open and operational. I defined that as all administrative funcitons had to continue and students had to have the foundation to conintue their academic focus."
CMU also had to create parameters to ensure that students and faculty health and safety was paramount in every decision, Davies added. The plan went into place in the spring, and everything went forward fairly well.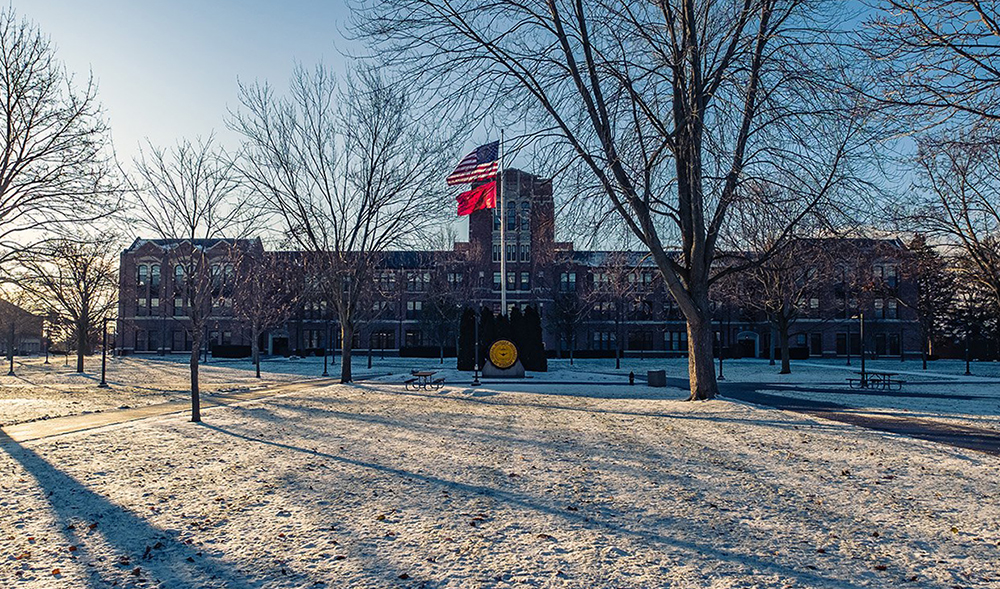 Step Two: Plan for the fall. Getting a plan together for fall began fairly quickly with a long-term goal of making sure students could come back to classes in person. CMU carried the attitude and belief that students learn best in person, so that had to be the goal for everyone's academic progress, Davies said.
More: Talks Appear Stalled on New COVID Stimulus Package
The goal was set: Create a way to be able to learn in person through the entire fall semester. Davies said CMU and its Emergency Team knew there could be a second or a third wave of infections, so they took that into consideration, knowing those waves likely would be timed to holidays such as Thanksgiving or Christmas.
With that in mind, CMU studied its calendar and decided to finish the semester two weeks earlier than usual. This meant they had to decide by June when to begin and end the semester. This was communicated to all parties, especially faculty and students. They knew that finals likely would need to be remote and that classes would need to be a hybrid mix of in person and vritual.
Davies said they also kept in close communication with local, county and state officials during this planning process. They talked to health officials and area representatives about how students could move about and how that might affect the city and related areas near campus. That communication kept everyone on board about the systems in place and ensured success for keeping the campus open and protecting everyone's health across Mt. Pleasant and beyond, Davies said.
"Our faculty really embraced (technology) and innovation. They had to be creative," Davies said. "They had to learn how to engage students, and students had to learn how to learn differently. … The lesson learned was that we had to make decisions for the institution but also to make the best decisions we could for everyone at large."
Step Three: How to handle the future. Davies said students and others appreciated weekly and regular updates on the campus, where everyone stood in terms of adjusting to the pandemic-related shifts in learning and the push for health and safety across the area. This was important given that Davies said he is still relatively new to this job, so he wanted to make sure everyone was on the same page as far as getting information quickly and accurately.
"There is no perfect decision. There is no manual for COVID-19," Davies said. "In accepting that, it allows us to make the type of decisions we need to make when we need to make them. When new data or new thoughts or environment changes, we could be flexible, nimble and open to change."
For 2021, CMU will come back with some virtual school and then an in-person environment by Jan. 19. CMU is canceling its regular spring break and spreading those days out across the semester. It is putting in more "Gentle Thursdays" and "Gentle Fridays," allowing students to meet with faculty and go over information rather than be in a constant learning rush.
There also are going to be Wellness Days – plain, old days off when everyone can recharge without having the pressure of getting to classes, studying or grading. These days are meant to be a complete day off, Davies said, making sure people are taking care of their mental and physical health during the semester.
"We're all in this together," Davies said.