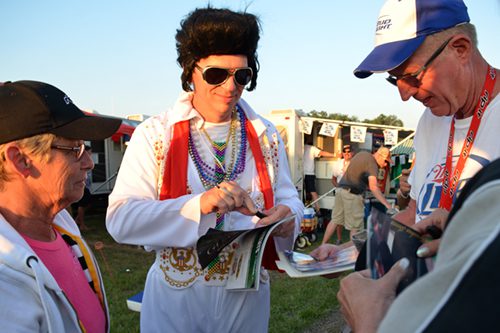 To most, he's Roger Curtis, the president of Michigan International Speedway. To devoted MIS fans, he's best known as "The King."
Once a year, Curtis dresses up as Elvis and makes his way through the raceway, even challenging those in the campground and "The King of the Infield" to a game of cornhole. It's a spectacle that fans and Curtis have grown to love.
It's all part of the MIS and its award-winning Fan Appreciation Program. The program, which began in 2008 as a brainchild of Curtis and MIS staff, has given away thousands of memorable experiences to race fans. These range from camper makeovers to "golden tickets" to taking fans to the NASCAR Sprint Cup Series Awards Ceremonies in Las Vegas.
"I love our Fan Appreciation Program here. It's one of my favorite things to talk about because taking care of our fans and giving them memorable experiences is what we are here for," Curtis said. "Our mission is to create lasting memories for every person, every time, and our Fan Appreciation Program helps us accomplish that."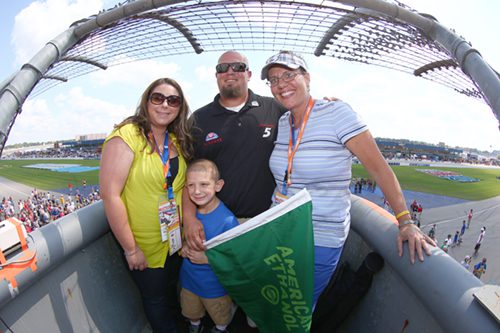 Curtis is at the forefront of the MIS guest-service program, his staffers say. It all started in part because of the 2008 economic downturn; most entertainment venues saw their ticket sales and fan participation drop. MIS decided then to "flip" how it handled its races and fans. They would be treated like distinguished guests.
"There is a method to the madness," Curtis laughs. "We're not making widgets here. We're making memories. When we stepped back and realized that, it really changed our focus from the bottom line driving what we do for the fans to doing what we do for the fan driving the bottom line.
"We act more like Disney than sports facility. Guest services are front and center of what we do every day. It used to be a department; now it's part of our DNA," Curtis added. "We are creating lasting memories for every person, every time. We wear it on our sleeves. We live and breathe it every day. It's very easy to say that – it's much harder to make that a reality."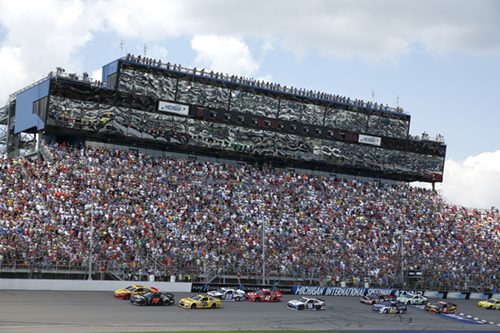 Background: Michigan International Speedway in Brooklyn, Mich., boasts a proud, 43-year history of hosting America's best racing action on its 1,400-plus acres in the scenic Irish Hills. With 18 degree banking and 73-foot wide sweeping turns, Michigan International Speedway provides drivers with three and four grooves to run around the two-mile speedway.
MIS studied every point at which it interacted with fans – and it looked for ways to improve. It starts with its service groups, which all go through a "Bump the Lamp" training, which is based on the Disney customer-service model. Enhancements came across the board, making a huge different in fan life at MIS.
It also created the Fan Advisory Board and Fan Advisory Network to allow its regular visitors to communicate directly with the MIS staff about the guest experience, as well as assist in the future planning of the track. The FAB and FAN are associated with many functions at MIS – planning, advertising, logistics – and members have opportunities to improve all facets of the track.
"We run everything by them from our ticket renewal piece to make sure it makes sense to a fan to T-shirt collars and everything in between. It's a great sounding board to get that cross section of fans to give you guidance on big things," Curtis said.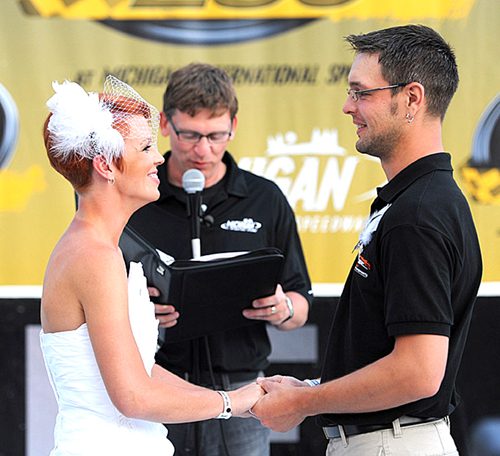 That's where dressing up like Elvis or being a minister to weddings in victory lane comes in. He said being out with the fans is a win-win situation. He likes to be out there with the crowds, and the fans say they appreciate having contact with MIS, the office of the president and the staff making the decisions there.
Curtis said he believes MIS has taken its commitment to the guest experience to new heights and is at the forefront in the racing community. It's the advice and trust from a fellow race fan that makes MIS a real community of families.
Social media also is a large part of what MIS does. Curtis has his own dedicated email, where people can ask questions and he responds. He also has a Twitter account where he can interact with fans.
"I probably answer probably 10,000 emails more or less each year from fans; I've sent out more than 10,000 tweets since I started out," Curtis said.
"It's great not only to hear what they have to say, but it gives them an opportunity to ask questions of me and get straight answers they might not get any other way," Curtis added. "It builds transparent, authentic, credible relationships with our fans. It builds loyalty, and loyalty drives sales."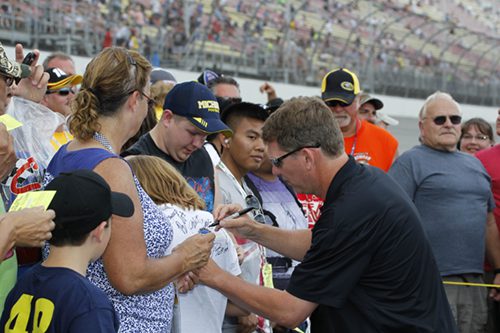 So maybe wearing a jumpsuit bedazzled with gems isn't your average CEO work. And that's exactly what makes Curtis happy.
"The way I look at it is: Most leaders of a company wouldn't delegate strategic planning or the budgeting process. I look at relationship planning as equally important to a business," Curtis said. "You may not like the answer I'll give you, but you are going to get an answer. We're going to reply to you."
MIS will never forgot those lessons it learned in 2008, Curtis emphasizes.
"Even in the best of economic times, people are choosing to spend their money and their time with you. That's a choice. They've also got to buy milk or diapers, and that's what life is like for a business that works with people's discretionary income," Curtis said. "At the end of the day, it's very unscientific to me. We have 100,000 people who are choosing to spend money and time with us. It's very humbling to know we host events like we do."