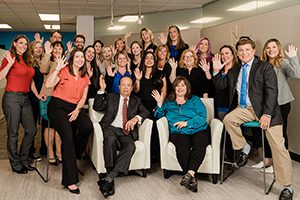 We are so excited for things to get "back to normal" – we have done a brand photoshoot to celebrate and showcase our amazing employees, culture, and office space. We are located in Royal Oak, MI.
Over the past 32 years, we have helped over 2000 businesses to take better care of their people. HRPro believes no one should have to wear many hats in order to stay current and compliant with HR & Benefits Administration.
We have helped organizations simplify processes, identify priorities, provide technology solutions and gain valuable time back, so you can focus on your business.
If you are interested in saving time, money, and resources by setting up your HR Department for success and expanding your business, you've come to the right place.
Collectively, our team of experts have over 200 years' experience in HR and benefits administration. We offer personalized, customized service to all of our clients. With a dedicated account manager and exemplary service, you won't feel like a client, but part of our family. This dedication to our clients is reflected in a 95% client retention rate. Our service reach is national and we work with clients of varying sizes and complexity.
We strive to create a fun, collaborative culture that puts an emphasis on customer relationships and personalized service. Our culture embraces our core values, being client-focused, having personal ownership, and self-awareness.
Our approach is to understand our clients' needs and develop personalized, strategic solutions. From dedicated Account Managers to easy-to-use technology, to compliance expertise, HRPro delivers every step of the way.
We have some cool people, culture, and office space to showcase! We are also hiring! Feeling awesome? Join our team!