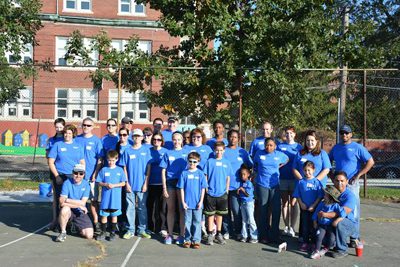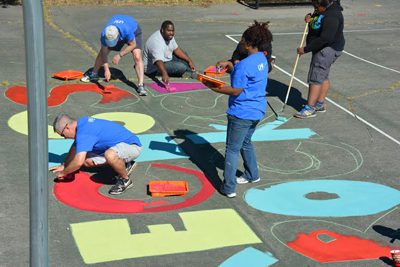 There are some childhood experiences that are universal – that first day of school, losing your first tooth, playing on the playground with your friends.
But not every kid gets a great playground, sadly. That is why certified public-accounting firm UHY LLP in Sterling Heights decided to devote a Saturday to building up something great for a group of Detroit-area kids. It was the kind of play space that kids of all ages would enjoy.
UHY LLP and its partner, UHY Cares Michigan, teamed up in September with Playworks, a 501c3 organization that believes in the power of play to bring out the best in every kid. Playworks creates a safe and welcoming place for every kid on the playground and teaches them how to take positive recreational experiences back to the classroom and their communities.
More than 30 volunteers including UHY employees, their families and friends spent the day at Academy of the Americas School, a Detroit Public School, helping draw and paint the playground with games and graphics. The kids were taught to play in a safe environment and learned how to resolve disagreements by using tactics like rock, paper, scissors.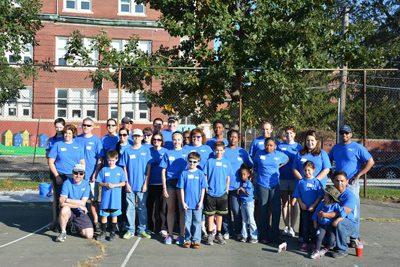 "It is very obvious to me that UHY truly cares about the community," said Jeannine Grant, executive officer of Playworks. "To have over 30 volunteers come downtown on a beautiful Saturday and take on our largest project to date was amazing. We look forward to partnering with them again in the future and truly want to thank them for their outstanding work."
Everyone who participated made comments on what an amazing event it was and how great it was to take part in such an experience with their families. Many brought their children along. Debra Ritter, Director of Human Resources, shared with us a quote from her seven-year-old son that summed it up perfectly, "Mom, it sure does make my heart feel good to help others!"
UHY LLP, a certified public accounting firm, operates its charitable giving activities through UHY Cares, an independent nonprofit 501c3 organization. Cares, which was incorporated more than five years ago, was an idea inspired by employees and is volunteer based.
Through UHY Cares, employees are able to give back to the community, including helping individuals going through personal emergencies or hardships. UHY Cares Michigan has provided assistance to more than 150 local charities and families and continues to grow this list every year.
UHY LLP is a licensed independent CPA firm that performs attest services in an alternative practice structure with UHY Advisors, Inc. and its subsidiary entities. UHY Advisors, Inc. provides tax and business consulting services through wholly owned subsidiary entities that operate under the name of "UHY Advisors."