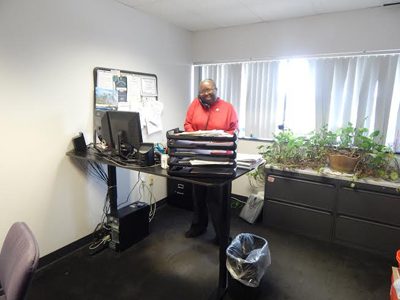 Most employees would agree: Sometimes, you need a new perspective to find a solution or to find a creative way to do your work. That is why standing desks are an intriguing way to invigorate an office on a variety of levels.
The Farbman Group, a Southfield-based real estate company, has begun introducing adjustable standing desks in its company headquarters at the Essex Center. Ann Wiggins, controller at Farbman Group, was among the first to try the adjustable height feature.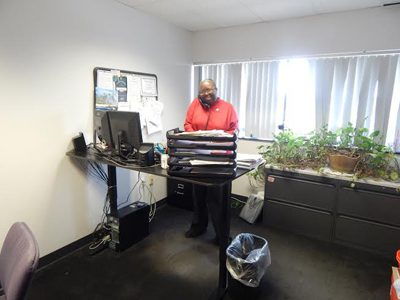 "It's been a great alternative to sitting at a desk all day and I already feel good just because I'm doing something positive for myself to help maintain a healthy lifestyle," Wiggins says. "I can keep active throughout the day. Every little bit helps. It's a great opportunity Farbman has provided."
The company has begun adding treadmill desks to its office to help employees get their creative juices flowing and give them the opportunity to do move around as opposed to sitting all day. "It was a proactive measure," says Farbman President Andy Gutman. The company wants to cultivate happy and healthy employees. They are always looking for ways to do this.
"Creating an environment where team members are happy and healthy is a passion and an investment of the Farbman Group that delivers long-term benefits for all," Gutman says. "We're always seeking proactive, fun and innovative ways to support and encourage health and well-being initiatives in our offices and at our properties. The standing desk has been a hit and we are now ramping up to purchase more!"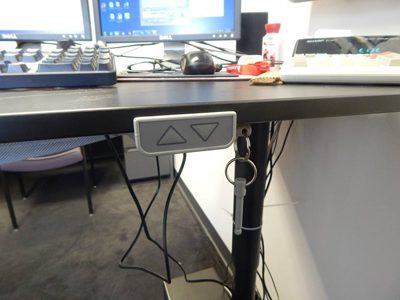 The desks are part of the company's Health & Wellness Committee. Founded in 2013, the group of Farbman employees works to help integrate healthy options into the workplace.  Wiggins also heads the company's health and wellness committee. Other committee initiatives have included:
•    Hosting events and educational seminars on health-related topics
•    Providing healthy snacks/ replacing vending machines with healthy choices
•    Organizing walking contests where employees steps were tracked.  There also was one in which Farbman Group challenged one of its tenant companies.
Farbman Group, which employs more than 200 people, manages in excess of 20 million square feet of office, retail, multi-family and industrial space throughout Southeast Michigan, and is recognized as a leading commercial management and brokerage firm by a wide variety of individual and institutional clientele.
Its mission, according to company executives, is to strive for excellence in all facets of real-estate services in order to enhance its position as an industry leader. Its team is known for transforming forward-thinking ideas into cutting edge applications to achieve maximum results for its clients, company and communities.