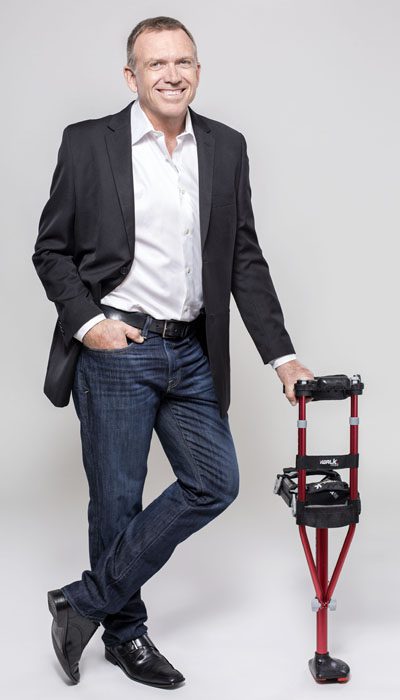 It only took one incident with a badly sprained ankle for Brad Hunter to realize that crutches, while effective, were a terrible solution to a common problem.
Hunter began to search for a better way to get around with a leg injury, and he soon found a product he thought had the potential to not only help him, but improve other people's lives. The company, iWALKFree Inc., had a good first design for a hands-free knee crutch.
"The same day I used it, I got my life back," Hunter says.
Hunter, who joined the company soon afterward, helped design the iWALK2.0, a mobility device people of all ages, sizes and physical conditions can use instead of traditional crutches and knee scooters. What makes it unique, Hunter says, is that it offers more comfort and independence with the hands and arms remaining free.
Most importantly, Hunter says, the device offers people a functional and independent lifestyle as they are recovering from many common lower leg injuries. You can get yourself a cup of coffee, wash the car, go to work, and do everything else that makes everyday life more independent.
"iWALKFree had solved a 5,000-year-old problem," that of using sometimes clumsy and often painful crutches to help people get around. "But it needed to evolve."
The result is iWALK2.0, which is lighter, more flexible and easier to use. Hunter helped redesign the product and find new manufacturers and suppliers in part from his background in high-end bicycle wheel design. That was his first business and first passion project. Now, iWALK2.0 is his dream job.
Since he joined the company around 2010, Hunter has watched as people send in their personal stories of how the iWALK2.0 has changed their lives, as well as seeing the product on everyone from brides to athletes to soldiers. The iWALK2.0 has been designed to help with all types of common lower leg injuries, as well as those with amputations.
Some background: With the iWALK2.0, the leg is doing the same walking motion that comes naturally to it from the knee up. The device is essentially a temporary lower leg, which gives people their independence and mobility back as they recover from an injury. The device is pain-free, and it makes it possible for people to engage in many of their normal routine activities.
It is the company's work with veterans and charitable organizations that brings additional joy to Hunter and the iWALK2.0 staff, he says. According to the U.S. Census Bureau, there are 18.5 million veterans in the country. Like the rest of the population, they experience lower leg injuries, resulting from any number of issues.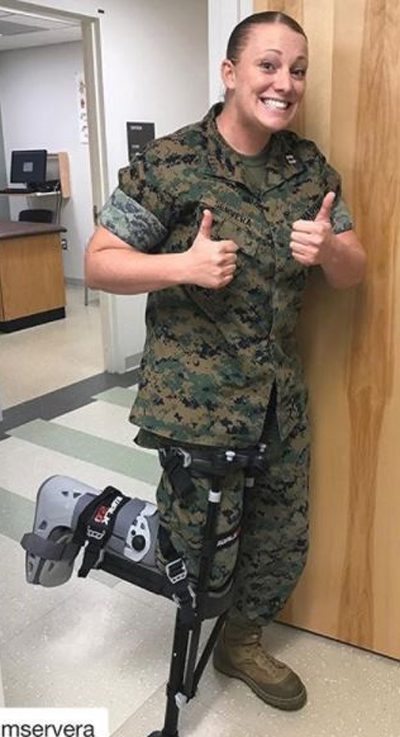 "We are extremely grateful for everything veterans have done for our country," explains Hunter, the chief executive officer of iWALKFree, Inc. "Being able to give back and help them even a little is the least that we can do. We are happy to know that our device helps make their injury recovery a lot more tolerable."
To provide veterans with the iWALK2.0, the company has teamed up with the Travis Mills Foundation. The foundation was created by Retired U.S. Army Staff Sergeant Travis Mills, who is a wounded warrior, having lost portions of both his arms and legs during combat. He became an advocate for veterans and amputees, starting the foundation to help with those efforts.
During 2017, they helped 84 veteran families with being able to attend a healing retreat that included such as activities as yoga, archery, boating, fishing, hiking, painting, culinary arts, and much more.
The program that iWALKFree has in place to give back to those in need provides people with the opportunity to donate their used iWALK2.0 to a variety of charities. Along with the Travis Mills Foundation, they provide devices to the Adaptive Training Foundation, Canada Africa Community Health Alliance, Serving Us Veterans in Need, Globus Relief, Hands of Hope, Physicians for Peace, Limbs for Life, World Rehabilitation Fund, Marshall-Legacy Institute, and Volunteers for Inter-American Development Assistance.
In addition to giving back to veterans to help with their injury recovery, the company also provides help to other charities where they provide free iWALK2.0 units to those in need who do not have the means to otherwise pay for them. The device retails for $149, but their mission with that charity is to help those in need have access to a more comfortable way to recover from injury that will also help them be more mobile.
"We love partnering with organizations that help vet people who need the device," Hunter says. "It's a great service to work with them to get the device out there. We're always looking for other organizations to help us, especially those with veteran connections."
Clinical research shows that patients using the iWALK2.0 heal faster, and they have a higher sense of satisfaction and a higher rate of compliance. The iWALK2.0 sells for $149 and is available online and through select retailers. Some insurance companies may cover the cost of the device. The device can be used with a cast or boot, and it comes with a limited warranty.