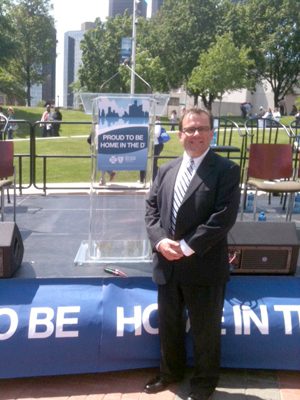 Daniel J. Loepp, CEO of BCBS of Michigan.
Blue Cross Blue Shield of Michigan is "Proud to be Home in the D," said Tricia A. Keith, vice president, Corporate Services and Secretary, for the insurance provider as it marked the official completion of its relocation of 3,400 employees to downtown Detroit from the suburbs.
"It is a pleasure to be delivering on our promise to bring thousands of jobs downtown. "We are BLUnited!" Keith said, kicking off ceremonies and energizing the crowd at 11 a.m. June 6 at the company's offices on Lafayette Boulevard downtown. With the move, BCBS now has 6,400 employees working downtown.
Capping a two-year process, offices are now spread from the riverfront, at Towers 500 and 600 of the GM Renaissance Center, to a BCBSM building on Jefferson and the two building headquarters on Lafayette.
Employees and well-wishers gathered in the courtyard of the headquarters and sat on blue blankets spread across the lawn as speakers marked the relocation. Taking turns at the lectern were George Jackson, president and CEO of Detroit Economic Growth Corp.; Kevin Tolbert, UAW International representative; Wayne County Executive Robert Ficano; Detroit Mayor Dave Bing; and Daniel J. Loepp, CEO of BCBS of Michigan.
An inspiring performance by the Detroit Academy of Arts and Sciences Choir brought the audience to their feet with applause.
Jackson welcomed the workers to downtown by emphasizing the city's entertainment and cultural venues, and that "Detroit is a 24-hour location" and assuring them that there is "a lot to do here, more to come and a lot more to enjoy in the city. You will enjoy being here."
Ficano called the move by BCBSM "courageous" and that it added to the positive image of the city. "When we go any place else in the world and someone asks you where you are from, you don't point out a particular suburb or area, what you say is 'I'm from Detroit.' And that has an image. And you are part of the positive image to say this is where you are from."
Bing said that when he decided to "take the risk" a few years ago and help move the city ahead to what he thought it should be, he had no idea that something this positive would happen.
"A lot of people take what is happening today for granted. But the commitment and leadership is an expression of confidence. And I think that a lot of other companies and leaders will see that this is no longer a major risk. There are many rewards to be gained, and I think with so many companies now downtown we are going to see a renaissance in the city."
CEO Loepp, acknowledging and thanking the collaborative efforts to make the move happen, said, "We are sending a positive message that Detroit is open and ready for the business, and that the heartbeat is strong and ready to go."
For BCBS the move represents an administrative cost savings of $30 million, as well as a strengthening of the workplace culture, Loepp said. He added that what used to take 25 minutes to get to work from Southfield, now takes about 45 seconds on the People Mover. "My guess is that will have a good impact on productivity."
Loepp also cited the Live Downtown program success and that its first year will be marked with a weeklong Live Downtown Olympics July 23-27, 2012. Live Downtown is a five-year initiative that provides cash incentives for employees to move to downtown Detroit.
Blue Care Network, the HMO subsidiary of BCBSM, will remain headquartered in Southfield. Combined with the Blues' facility in South Lyon, the Blues will have 1,400 full-time and contracted employees based in Oakland County.