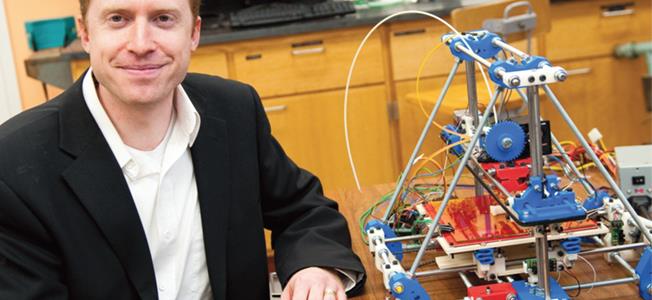 Drs. Scott Hollister and Glenn Green of the University of Michigan are on the forefront of 3D printing, creating innovations such as human airway splints for patients.
Scott Hollister wants to convince his wife that the family needs a 3D printer. His boys in high school could build some small tools and Hollister could print some devices for the home.
He sees himself or one of his sons using the device, which takes a digital file that describes an object in three dimensions. It prints a finished product by laying down layer upon layer of plastic or other material using a head similar to one found on inkjet printers.
Hollister isn't just a curious dad eager for the next high-tech toy. Along with Dr. Glenn Green at the University of Michigan, Hollister devised and created a human airway splint using a 3D printer.
In fact, the professor of biomedical engineering and mechanical engineering and associate professor of surgery printed about 80 different versions of the splint, which was about the size of a thimble, for use in a child to treat severe tracheobronchomalacia, a rare condition that caused the patient's airway to collapse routinely.
Hollister had been developing implantable 3D scaffolds that could encourage new bone and tissue growth and then disintegrate into the body. The pair received emergency approval from the Food and Drug Administration to use the experimental splint.
Before the operation, the scientists conducted a CT scan of the patient's trachea and bronchus and used the images to generate a computer model of his body. Once surgeons implanted the version of the splint that fit best in February 2012, the patient's lungs began to work on their own.
Today, this 3-year-old can do everything a normal kid does thanks to an implantable 3D-printed scaffold that helps hold up a patient's airway. The child has tracheobronchomalacia, a rare condition that causes the airway to collapse regularly.
The patient, now three years old, continues to do well and Green and Hollister recently received a Breakthrough Innovator Award from Popular Mechanics magazine for their life-saving work.
Those innovations are likely to continue in the medical field and Hollister has high hopes for 3D printing, also called additive manufacturing, in the future.
You may not see it in every doctor's office, Hollister said. What I think will definitely happen that this technology will make it economically feasible to produce patient-specific implants. The University of Michigan and its partners are working diligently to bring 3D-printed medical devices into clinical use so that we may improve the quality of life for many more patients.
And while the future looks bright for additive manufacturing in medicine, Hollister says some roadblocks remain.
What 3D printing gives you is the ability to do patient-specific or niche products, but can you find enough of a market to achieve regulatory approval and recoup your costs for these customized products?
A slice of the medical market
Materialise, with its North American headquarters in Plymouth, has found a niche in the medical arena with its software and 3D printing services.
After MRI or CT scan images are uploaded into a computer, Materialise is able to create a 3D model and print a guide that is pinned to the bone of a patient. That guide steers surgeons on where to cut, said Bryan Crutchfield, managing director of Materialise USA, which has already produced tens of thousands of these surgical guides.
We produce custom-surgical devices based on a patient's anatomy, Crutchfield said about the company's work in orthopedics, cranio-maxillofacial and biomedical engineering areas. Medical needs lend themselves better to the technology because every patient is unique.
Using the Mimics Innovation Suite, a software for engineering on anatomy, you are able to design a custom implant based on a patient's medical imaging.
Materialise has been doing additive manufacturing since 1990 and now has two facilities in Michigan: the headquarters in Plymouth with about 55 employees and another facility in Chesterfield Township with 10 to 15 more workers.
While the United States operations focus on medical application of 3D technology, the Belgium-based company with around 1,000 employees offers industrial printing and software solutions. The company also hosts an online site that allows people to create customized objects using 3D printing.
Crutchfield said his Michigan team is pursuing industrial applications of the technology and expects to find success outside of the medical field.
This is going to be another tool in the toolbox to create parts, Crutchfield said. For some applications, 3D printing will be the process of choice. It will become more mainstream and more people will enter the market. Things will get faster and cheaper.
Ready to explode
I think we are the beginning of the eruption.
That's how Joshua Pearce, an associate professor at Michigan Technological University, sees the future of 3D printing. Pearce started with 3D printing a few years ago to find a way to produce cheaper solar cells for student projects. He built a 3D printer out of parts for about $1,000.
Now, he has a new prototype that cost $475 sitting on his desk. He says he can produce a finished product with this prototype that would compare to one that is produced by a $400,000 machine.
I don't care what company you are. You can't compete with that. If your business model is to make things that people can print at home, you need to get out immediately.
Computer-designed pedestals created by an algorithm in Materialise's 3-matic software for lightweight structures.
Printers will be common in people's homes by 2018 and businesses similar to Kinko's will spring up to serve this new market, Pearce said. But instead of printing copies on paper, these service bureaus will print cell phone cases, jewelry, silverware, toys and other consumer goods.
I think we are going to see shops where people will print things for you with better material and higher accuracy.
Patents, intellectual property rights and other issues will be ironed out as the technology becomes mainstream, Pearce believes, and that will pave the way for increased acceptance of this technology in all walks of life.
For a $500 investment, he says people will be able to print thousands of dollars worth of things for their homes.
When you see one of these for the first time, it's mindboggling. We are entering this age where the number of really cool things is expanding faster than before.
Disruptive dozen
Additive manufacturing/3D printing earned a spot as one of 12 potentially disruptive technologies, according to the McKinsey Global Institute, which issued a report on the topic earlier this year. Other disruptive technologies included mobile Internet, cloud technology, energy storage, advanced oil and gas exploration and recovery, and autonomous and near-autonomous vehicles.
Until now, 3D printing has largely been used by product designers and hobbyists and for a few select manufacturing applications, the report said. However, the performance of additive manufacturing machinery is improving, the range of materials is expanding, and prices (for both printers and materials) are declining rapidly, bringing 3D printing to a point where it could see rapid adoption by consumers and even for more manufacturing uses.
The report listed some of the advantages of 3D printing:
• Ideas go directly from a 3D design file to a finished part or product eliminating traditional manufacturing steps and reducing waste.
• On-demand production creates interesting implications for supply chains and parts stocking.
• Objects that cannot be created with traditional techniques can be created.<!–nextpage–>
Working with a relatively inexpensive 3D printer, Joshua Pearce, an associate professor at Michigan Technological University, is helping students create prototypes that are just as good as those produced on much more expensive machines. The red, white and blue partswere printed on another 3-D printer.
The price of home 3D printers has dropped 90 percent from four years ago and additive manufacturing revenue has increased four times in the past 10 years. The report stated 3D printing could prove disruptive to the $11 trillion global manufacturing market and affect the 320 million manufacturing workers who make up 12 percent of the global workforce.
The report also said 3D printing could have major implications for changing patterns of consumption, creating opportunities for entrepreneurs, developing new products and services, and driving economic growth or productivity.
Gartner, an information technology research and advisory company, also listed 3D printing as one of the top 10 strategic technology trends for 2014.
Worldwide shipments of 3D printers are expected to grow 75 percent in 2014 followed by a near doubling of unit shipments in 2015, the report stated. While very expensive 'additive manufacturing' devices have been around for 20 years, the market for devices ranging from $50,000 to $500, and with the commensurate material and build capabilities, is nascent yet growing rapidly.
The consumer market hype has made organizations aware of the fact 3D printing is a real, viable and cost-effective means to reduce costs through improved designs, streamlined prototyping and short-run manufacturing.
Hold the hype
The spin around 3D printing has been good for business, according to a company owner who cautioned people to take a breath and avoid jumping on the bandwagon.
His company deals with 3D printing and the owner wishes to remain anonymous to avoid damaging relationships with clients and suppliers.
There is a whole lot of buzz in the media about 3D printing but not a whole lot of reality to support it, he said. All of it is just a science experiment. How many people do you know who would buy a printer that you can't do anything with? You still need a data set to print. Where can you get that model? What would you print that would justify the time and money? I can't think of anything.
He does, however, see 3D printing remaining an important tool in prototyping and other industrial uses.
You can print a part and try to make sure it fits and identify a design flaw in the process before you start investing in tooling. If you identify one problem, you've paid for the machine.
While caution is still needed, 3D printing holds many opportunities, says Debbie Holton, SME's director of industry strategy.
The 3D printing process also has met with some resistance in connection with a wide range of issues. What happens to someone who prints a replacement part for an appliance or automobile where that part is patented? What if the printed part breaks in use? Who is responsible? The person who printed the part? The printer manufacturer? The print material provider? The website operator who provided the file that was printed?
Another controversy surrounds the ability to print weapons. Philadelphia's public safety committee recently approved a bill that would ban the use of 3D printing of guns.
Additive innovation
Even with all the concern, the 3D printing revolution continues. In August 2012, the Obama administration announced a $30 million federal award to start a pilot institute, the National Additive Manufacturing Innovation Institute, in Youngstown, Ohio. The Department of Energy estimates additive manufacturing could save more than 50 percent in energy use when compared with the subtractive manufacturing processes in use today.
During its first year in operation, Debbie Holton served as the interim deputy director of the additive manufacturing institute and as the director of industry strategy and events at SME, based in Dearborn.
She also cautions people not to believe all the hype surrounding this technology and all the reports and news coverage that extoll its virtues.
At the same time, Holton says additive manufacturing does create a lot of possibilities. Right now, 19,000 parts that are flying on aircraft are made additively.
We are advancing the processes' reliability and repeatability. Will this material behave the same way every time? Will the machine print the same way every time? It does take a while to print a part. The idea that you will call your local GMC dealer and have them print a fuel injector is not really feasible right now.
Materials are still expensive, but costs continue to decrease while public acceptance increases.
People really understand printing and the Star Trek replicator. The best thing people can do is educate themselves and connect with a lot of people who've been in the industry and are using the technology. See what part of that makes sense for their business.
To help companies learn more about the technology, SME will host a conference in June focused on additive manufacturing.
Growing the market
When Paul Parzuchowski joined Linear Mold in Livonia 18 months ago, the director of marketing and business development for the company said 3D printing represented about 10 percent of the business. Today, additive manufacturing accounts for 20 percent and should continue to grow because 3D printing represents the next generation of manufacturing, especially in rapid prototyping and low-run production.
When a patent expires in late 2014, Parzuchowski expects more companies to start manufacturing 3D printers, which will lead to more interest and growth in the field.
Before that happens, though, Linear Mold, which bills itself as the largest privately owned provider of 3D metal printing services in North America, plans to offer training classes. The company is inviting design and manufacturing engineers to its facilities and will help them take one of their products from idea to completion. The first sessions are scheduled to be offered in early December and also will discuss the limitations of 3D printing.
In the short run, I see it complementing traditional mold making. If you want to mass-produce parts, the traditional mold will always be king.
But Parzuchowski sees big things in the future and encourages companies to see what the technology offers in terms of speed and versatility.
Customers are not as keen as to moving into new technology. They are always a little skittish or cautious about getting involved in this. But the people who jump into 3D printing now will have the edge three, four years out.
Examples
A wide range of companies, large and small, have taken the plunge into 3D printing, including:
• GE recently acquired a laser printer that can work with two lasers at the same time and this new machine will increase innovation and let scientists test new ideas and designs faster, said Jon Schaeffer, senior manager for materials and processing engineering. We've been able to embed new technologies into our components without the messy manufacturing steps normally required. We are cutting out months in the development cycle with this technology. There was a time when we could not test new designs and technologies in new parts because we were not able to make them. 3D printing is pointing engineers in the right direction to see if they've got a successful concept. It's really quite exciting.
• EnvisionTEC, based in Dearborn, has partnered with two other companies to create a software and hardware bundle designed for dental offices. EnvisionTEC's Perfactory Micro Ortho offers a compact 3D desktop printer designed to produce orthodontic appliances in an office environment. The average price per full arch ranges from $3 to $5, according to the company.
• MakerBot sells a printer that can print vinyl records from audio files.
• FabCafe in Tokyo can take a scan of a body and turn it into a 3D model that is made into a silicon mold that can be used to make gummy candy replicas.
• New Balance used 3D technology to create custom spikes for athletes. At the New Balance games in January, Jack Bolas became the first ever track athlete to compete in customized 3D spike plates. With 3D printing, we are able to pursue performance customization at a new level to help our elite NB athletes and eventually all athletes, said New Balance CEO Robert DeMartini.
A crown jewel
This winter, Kevin Wixson, will once again teach a course on 3D printing at the Kalamazoo Institute of Arts where students will gain hands-on experience on a RepRap 3D printer and make an object to keep.<!–nextpage–>
Patient CT was data used to create patient-specific, 3D-printed cut and drill guides and physicalmodels of a patient's anatomy to help make surgeries, more efficient and effective.
Students who want to learn more can enroll in his 3D modeling class. That course this semester includes a high school student and an older man who wants to make things to help him with his beekeeping hobby.
I've had students who have gone on to get their own 3D printers and do all kinds of designs, said Wixson, who has been teaching 3D classes since 2011. One student who did a lot of woodworking has taken those skills and translated them into 3D printing and now he builds these intricate clocks with 3D printed parts.
Wixson has three complete printers and one that is waiting for him to assemble. He uses the printers to make tripod mounts, lens hood adapters and other tools and devices for his photographic work.
Makers and artists like Wixson use websites including Thingiverse and Shapeways to make, buy and sell 3D products.
I am very interested to see what the world will be like when we are not limited to the choices that are presented in a store; where we can create things of our own design that meet our own particular needs.