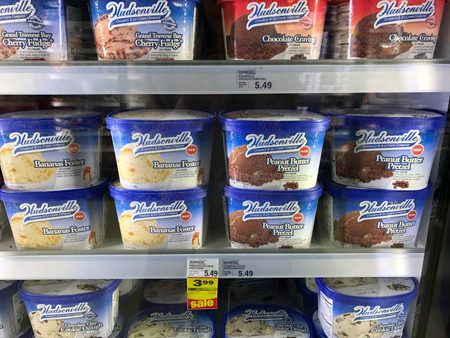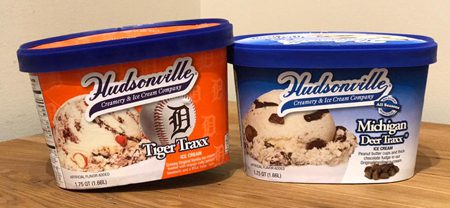 What would you put in an ice cream flavored to represent the great city of Detroit? If you have some tasty ideas, Hudsonville Ice Cream wants to hear from you.
Hudsonville Ice Cream, a family-owned, Holland, Mich.-based company, is calling on metro Detroiters to help create the next flavor of its artisan-crafted ice cream through the Flavor of Detroit Contest, which runs through May 26.
The contest calls on Michigan residents to help Hudsonville expand its family of Michigan-themed ice creams, which includes Grand Traverse Bay Cherry Fudge, Pure Michigan Winter Campfire and the classic Mackinac Island Fudge.
To enter, individuals should visit www.facebook.com/HudsonvilleIceCream and look for Hudsonville's post announcing the contest to enter through the official contest form on Facebook. Contest entries must include a flavor combination and name that best capture the spirit of Detroit. The winner will make Hudsonville Ice Cream history and will receive a $500 cash prize and a year supply of ice cream, with the winning flavor revealed in June.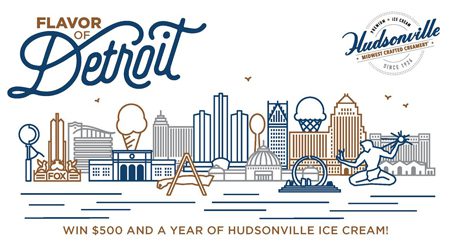 "Hudsonville Ice Cream takes great pride in our Michigan roots and passion for crafting premium ice cream," said CJ Ellens, director of sales & marketing at Hudsonville. "We're inspired by like-minded artisans, and the inventive energy coming from innovators, creators and makers in Detroit is challenging us to think more creatively. We want to harness that energy to develop an ice cream flavor representing the spirit of Detroit and the community as we continue to revolutionize the future of craft ice cream."
The Flavor of Detroit winning ice cream will be made a reality, with an expected roll-out in the fall of 2017.
Hudsonville Ice Cream is the best-selling Michigan-made ice cream statewide, offering more than 50 flavors of ice cream including three new flavors introduced this spring: Bananas Foster, Peanut Butter Cheesecake and Peanut Butter Pretzel. Hudsonville Ice Cream is made with locally sourced ingredients and crafted by a team of artisans who believe in creating genuine goodness and premium ice cream for all to enjoy.
Hudsonville Creamery & Ice Cream Company is family owned and operated, making Michigan's most delicious ice cream for more than 90 years. Hudsonville Ice Cream is beloved by Michiganders, and has recently shared Michigan's best-kept secret beyond the state's borders by expanding into neighboring states in the Midwest.