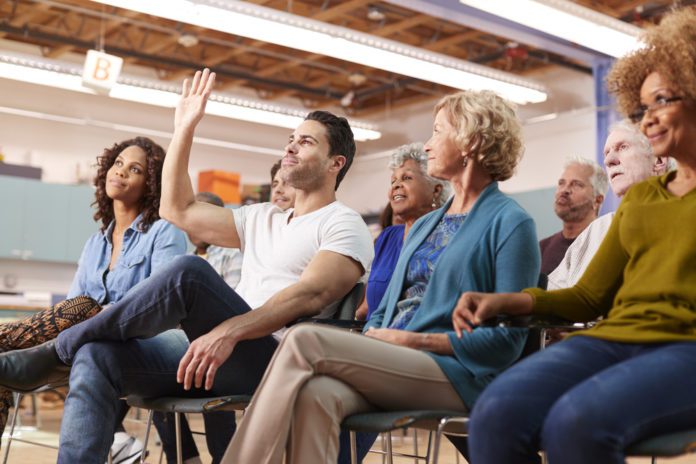 What happens when you blend tried-and-true communication methods with new technology? You create lasting memories and good communication between far-flung employees, according to benefit advisors TRI-AD.
To communicate regular updates as well as long-term messages about core values and company vision, TRI-AD created what it calls a monthly town hall meeting. The CEO shares news about the company and talk about big-picture ideas. The whole thing is captured in real time and shows the whole room to a simulcast shown across the company and its offsite locations.
This "state of the business" meeting takes about half an hour to 45 minutes to complete, said Jacquie Hughes, Director of Human Resources for TRI-AD in Escondido, Calif. The talks from the CEO and other managers highlight any new business, upcoming trainings, new events or updates on employees, including anniversaries and big wins.
"It keeps everybody focused on how we're doing," Hughes said. "It's led by our CEO, but it's a collaboration of sharing versus just one status update. It has many perspectives, and all employees feel like they have a voice."
Giving employees a voice
How important is it to give your employees a voice? Very, according to HR experts. It is key to not only employee retention and engagement, but it also could affect your bottom line. According to author David Grossman, a survey of 400 companies with 100,000 employees each cited an average loss per company of $62.4 million per year because of inadequate communication to and between employees.
TRI-AD describes itself as a "total health and wealth benefits administration firm that serves the unique needs and requirements of mid-market employers." The privately held company was founded 45 years ago by Curtis Hamilton, and his son, Thad Hamilton, serves as CEO.
Employees communicate through other methods as well, Hughes said. TRI-AD uses an online program that allows co-workers to recognize one another through words and monetary rewards. This program gives every employee a monthly budget to "spend" on their team, supervisor or fellow associates, highlighting good work, good deeds or other efforts that tie back to TRI-AD's values, Hughes said.
Spend or save
"It's a way to celebrate our associates," Hughes said. "There's also a personality test that allows associates to see who they have the most in common with at the company – it tells you who you share interests with," letting co-workers get to know one another in real life as well as virtually if they work in offsite locations.
Employees can save up their rewards or spend them on a selection of about 100 different gift cards, Hughes said. Co-workers also can put notes on people's accounts and send them funds for things like birthdays or anniversaries. "It's super easy and fun," Hughes said.
Also, communication happens monthly through one-on-one meetings with every associate, Hughes said. This regular meeting lets associates talk to their managers consistently rather than waiting until a year-end evaluation. TRI-AD puts a sign on the door – "1:1 Meeting in Session" – and they can talk through work issues, highlight personal challenges or set goals for the upcoming months or beyond.
Other special occasions that highlight associate communication include regular symposiums with the company's directors, who talk about TRI-AD's finances and other key topics. Department heads also talk about what the team has accomplished so far and what's new for the year ahead. That day-all event includes lunch and is followed up with a cocktail dinner party, where associates can mingle and get to know one another better, Hughes said.
TRI-AD also does a once-a-year retreat with employees, outlining the company's vision and values, Hughes said. She is part of the four-person committee that puts together this event, which is one of the most fulfilling events of the year, she said.