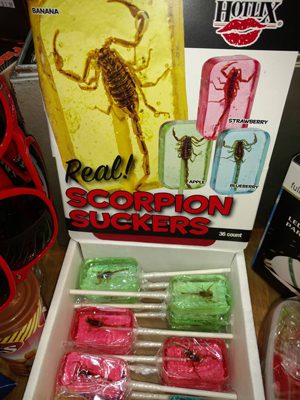 Once Mark Fogarasi heard of a franchise business known as Rocket Fizz, he simply could not get the idea of owning a store of his own out of his mind.
There was the first mention when he saw it on "Undercover Boss," a popular TV show that Fogarasi had not regularly watched but happened to catch an episode featuring the company. He thought the concept of a high-end candy and novelty store sounded intriguing.
Then he saw the name two more times within days of each other. After the third or fourth time, Fogarasi decided it was time to do some serious research. Fast forward a few years, and today Fogarasi and his wife Robyn have a Rocket Fizz store in Novi, a franchise deal to cover all of Southeast Michigan with additional locations and plans to open more in cities such as Detroit, Ann Arbor and Rochester Hills.
It's pretty ambitious for this contractor; friends have started to describe him as a serial entrepreneur. But the Rocket Fizz business fits Fogarasi pretty well – other than he claims he doesn't have much of a sweet tooth. And it might be better that he doesn't because otherwise he'd eat up all of his profits and then some.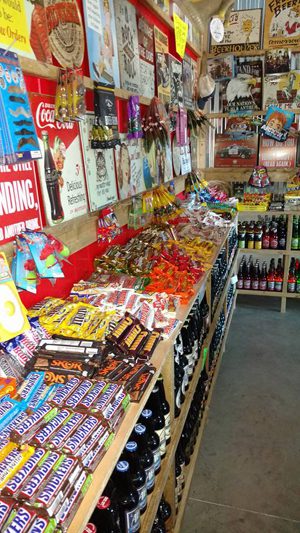 Some background: The Rocket Fizz Soda Pop and Candy Shops LLC—better known as "Rocket Fizz" – opened its first retail store in Camarillo, Calif., in February 2009. The concept was created by Ryan Morgan and Robert Powells, who believe people of all ages and backgrounds want to have a good time in life.
Rocket Fizz Soda Pop and Shops offers one of the largest and craziest selections of glass-bottled soda pops and retro candies for sale in America. The chain prides itself on carrying unique and fun products for people of all ages. Fogarasi said they also make their own soda flavors, adding to what makes Rocket Fizz a destination store for anyone who needs a gift or unique item for a birthday, corporate basket or even wedding favors.
These days, Rocket Fizz makes more than 100 flavors of soda, including unique ones such as Ranch, Pickle Juice and Peanut Butter and Jelly. Rocket Fizz also has the licensing on Kiss Kola, a brand promoted by the famous rock-and-roll band.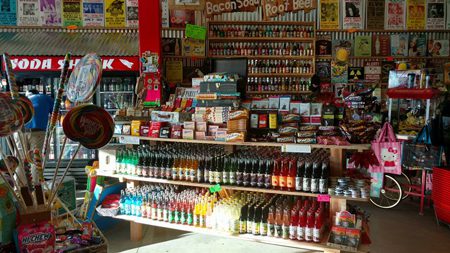 Each store is special because the owner determines what kinds of candy to stock, but each one promises to have thousands of varieties, Fogarasi said. This isn't your typical bulk candy store, though. Everything is individually wrapped and has more variety than you can believe. For example, Fogarasi's store has 60 flavors of taffy in stock at all times.
There also is an international flair to the treats at Fogarasi's Rocket Fizz franchises. You can try candy from Japan, Scotland, Ireland and England all within a few feet of each other. There's a 20-foot section of sour candies. There are nostalgic goodies as well, with everything from Gold Rush to Slow Pokes.
"Our biggest customers aren't kids; it is usually people between the ages of 35 to 80. That's our target market," Fogarasi said. "Kids love it as well, of course. But it's their parents and grandparents that bring them in to try their favorite candies."
The store also carries a variety of novelty items, whether it is two-headed nickels, squirting cameras and rattlesnake eggs. Fogarasi also is proud to say that his Rocket Fizz has the largest selection of fake dog-poop products in the area.
Not enough to browse? How about concert posters, funny masks, comic books, baseball caps, t-shirts and every kind of bacon-flavored product known to man? There's bacon toothpaste, candy, jerky, lip balm, perfume and earrings. The list goes on and on.
"It's fun stuff. It's a very fun store," Fogarasi said. "People walk in and stay for hours because there's so much to see. It's like a museum – you can't take it all in at once. And it's ever changing. We're always adding new stuff and finding out what our customers like and want. At least half of the store is stuff you cannot find anywhere else."
Although the store has many unusual items, like green-tea Twinkies from England – Fogarasi said he wants to stock local manufacturers as much as possible. That's another reason why he has everything from Faygo and Vernors on site in glass bottles (which are favorites whenever he brings them to a party).
"It brings back memories for people. It makes people think about their younger years, and it helps you remember the past," Fogarasi said. "People love coming into the store and trying a new soda or a new candy along with their childhood favorites."