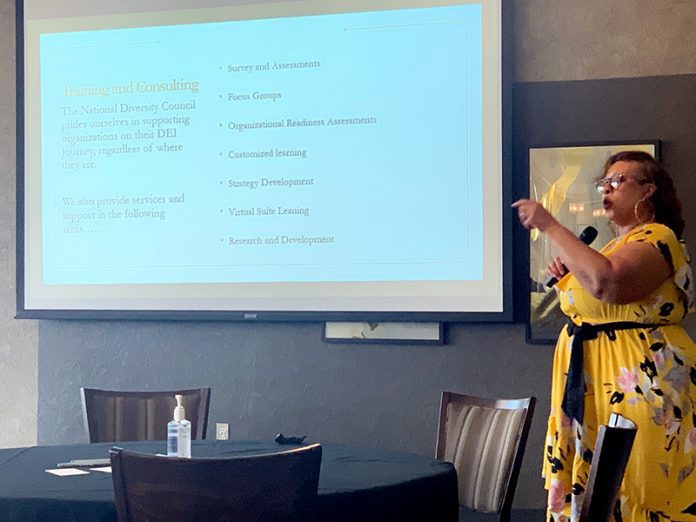 Darlene King knows making any progress in establishing a culture of Diversity, Equity & Inclusion has to start with a "courageous conversation" about why the work is necessary.
Apparently, they're ready to have that conversation in West Michigan.
King, executive director of the National Diversity Council, was in Grand Rapids Wednesday for the first in-person event of the new West Michigan Diversity Council. The WMDC was established in April 2022 to serve under-represented communities around the region.
It was established, King said, because leaders in Grand Rapids and other West Michigan communities were asking for it, including leaders from organizations such as Beaumont Health Spectrum Health (formerly Spectrum Health before a merger with Beaumont Health System) and the City of Kalamazoo.
"It was a request from the community," King said. "We had partners … along with community leaders in the region who said, 'your support is really needed' in the West Miichigan region. If you come, we will support you.'
"It's really about culture, it's about creating atmospheres of psychological safety and spaces of belonging," King added. "That has been a challenge for under-represented communities. It becomes a challenging thing when it does not embrace all that are different. That's the issue."
Dick Sherlock, who sits on the board of the new WMDC, said the number of educational institutions that call the Grand Rapids area home is bringing a very diverse student population to the area, encouraging the improvement in DE&I efforts in the region.
"(Positive) race relations happen because of the universities that come here," Sherlock said. "It's a very diverse group of people … the biggest employers have a lot of diversity."
According to King, the new WMDC brings the same services to West Michigan that the Michigan Diversity Council has spread to its 47 partners around the state for 20 years:
Tool kits that include some 150 webinars on topics ranging from best practices to social and racial justice issues. "We are all about education," King said. "It's the way you change things."
Help with recruiting and retaining a diverse talent pool.
Surveys and assessments.
Strategy development.
Focus groups.
Tarita Johnson, senior vice president-talent & diversity at The Right Place, Inc., the area's largest economic development consultant, said having the new WMDC ease the pressure in doing her job.
"I'm really excited because it makes the work we do easier," Johnson said. "To have a whole tool kit available to us makes it easier to do the job."
What intrigues Lynne Jarman-Johnson, the chief marketing officer for Consumers Credit Union, is the ability to share best practices with the WMDC's other partners.
"You learn from organizations that are doing this work," she said. "One of the things I'm most fascinated with is learning to be authentic. Within our organization, we need to have open and authentic conversations. We can't just be checking a box."
King acknowledges making a difference in the region is "going to be challenging" because the area has been "accustomed to operating in status quo-mode and now we're bringing in a concept to say 'we want to shape status quo that is going to break up that thought process and say 'everyone has a space and everyone has a place.'"
"Do I think we can be impactful? Yes," she said. "I know there are people in this community from a business perspective, from community leaders, who are intentional about being transformational and not just checking a box.
"As long as we're able to continue to pull the interest of leaders in the community, then I think we can make a difference," King added.
Doing that, though, is going to require one of those courageous conversations. King said change can't happen without it.
"We need to have a conversation," she said. "We have to get past being afraid to have conversations about race. That is a hinderer for upward mobility.
"We don't want to be engaged in hard, courageous conversations that are meaningful … Change is people's fallacies about other cultures of people based upon biases, stereotypes or 'isms,'" she added. "We need to have some real conversation about what's really happening and about race. We need to be honest about the data of who's not represented and who is, and what those gaps are."