As the 2022 Women's Leadership in Michigan's Public Companies report released by Inforum earlier this year would demonstrate, Mary Barra's career path hasn't been what most women experience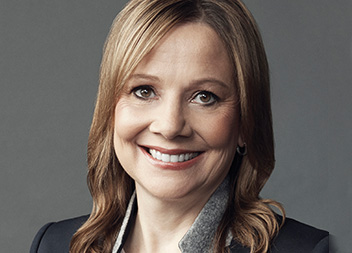 While many women's careers get sidetracked on the way to the corporate board room — the study shows only 24% of C-suite and board of directors positions are held by women — Barra, the CEO and board chair for General Motors, moved around nearly every level at GM before reaching the top.
Barra, GM's CEO since January 2014 and chair of the GM Board of Directors since January 2016, served as GM executive vice president, Global Product Development, Purchasing and Supply Chain, and as senior vice president, Global Product Development.
Previously, she served as vice president, Global Human Resources; vice president, Global Manufacturing Engineering; plant manager, Detroit-Hamtramck Assembly; and in several other executive engineering and staff positions.
Barra began her career with GM in 1980 as a General Motors Institute (Kettering University) co-op student at the Pontiac Motor Division. She graduated with a Bachelor of Science degree in electrical engineering in 1985, followed by a Master of Business Administration from the Stanford Graduate School of Business in 1990.
"I think about my own career, which was made possible by leaders who many years ago saw the benefits of a diverse workforce," Barra said in remarks provided to Corp! Magazine. "Their thoughtful focus made it possible for women like me to pursue opportunities that were not available in the past."
Barra shared remarks offering a variety of insights into issues facing women in the workplace:
Corp! Magazine: Studies show women are making progress in terms of upper-level management positions.
Mary Barra: Two key findings are that women are still underrepresented in the corporate pipeline, especially in senior management, and women are less likely to be promoted to manager, so fewer end up on the path to leadership.
Both findings are reminders that the most important thing we can do to build a strong workforce is provide all — men, women, under-represented — employees with opportunities to advance and contribute to their full potential.
Corp!: When you ascended to the CEO position, you were the first female CEO of an American automaker. What was the reaction?
Barra: I was taken aback that so much attention was paid to my being the first female CEO of an automaker and I came to the conclusion that perceptions of the auto industry were outdated and, in some cases, inaccurate.
Corp!: What progress is being made?
Barra: In the automotive industry, we're making progress to close the gender gap — at General Motors alone, we have women leading core areas such as global manufacturing, electrification, car-sharing, tax and audit, marketing and communications. I'm also working with our most senior GM women to further build our bench-strength. And, I look forward to the day when women CEOs are the norm, not the exception. That will be real progress.
Corp!: Studies show not everyone gets the kind of varied career opportunities you earned. How did it all work for you?
Barra: Being given the opportunity to earn my MBA and broaden my skills by working in different areas of the company, as well as being challenged to take on tough assignments, such as managing an assembly plant, opened the doors of opportunity for me. I was given the kind of candid advice and feedback that helped me grow and, equally important, I was also supported in my decision to start a family.
Helping employees achieve all they can continues at GM today. As a company, we are determined to lead and define the future of personal mobility.
Corp!: Talk about the kind of diversity you believe makes GM a success.
Barra: I'm proud of the women we have in key roles at GM and I'm personally very committed to building a strong bench. That's why … I meet with a good portion of our most senior female leaders to have focused sessions, where we look at our data and brainstorm strategies to increase female leaders at the most senior levels of the company. It's all about providing opportunities for women to broaden their skills and advance.
GM's focus on diversity and inclusion starts from the moment employees join the company. And, in fact, it starts well before that, when we promote STEM education for students looking to find challenging and rewarding careers for themselves and their families.
Corp!: Are you satisfied yet?
Barra: From the boardroom, where half of our members are women, to the conference room, supporting a strong and diverse workforce is a high priority. But we can't stop there. Today, we are doing a better job of giving all employees the opportunity to achieve their full potential and advance through the leadership pipeline. We are making progress, but … we all still have work to do.
Corp!: What's the best piece of advice you can give?
Barra: "My mom grew up during the Great Depression. She taught my brother and me two lessons: There is no substitute for hard work. And work before you play."