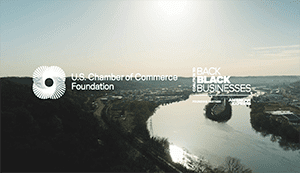 The Coalition to Back Black Businesses (CBBB), co-founded by the U.S. Chamber of Commerce Foundation, American Express, and four leading national Black business organizations have reached the halfway point of a $10 million commitment to fund a grant program over four years to help small Black-owned businesses recover from the COVID-19 pandemic.
Since it was established in 2020, the CBBB has distributed over 1,000 grants to a wide range of businesses, with a portion of the funding going toward mentorship programs, training, and leadership development.
Grant recipient C. Anthony Parker, owner of Elk City Auto Spa in Charleston, West Virginia, said, "With the financial support of the Coalition to Back Black Businesses, I've been able to expand to a second location and hire new people. It's amazing that I'm able to create jobs in my community and together, with the CBBB, we can help grow the economy and help our communities."
Additionally, the CBBB today announced additional financial support for previous grant recipients who are building on their long-term goals. Twenty Black-owned small business owners who received a $5,000 grant earlier in the 2021 grant program are receiving a $25,000 enhancement grant to further support their growth.
Click here to check out the full list of enhancement grant recipients.