Chicago best businesses make it a point to take care of workers. They know that engaged employees are more inspired to innovate and treat everyone right. Those employees are healthier and happier, and the communities in which they live feel the positive impacts of successful businesses. And the bonus is it all translates down to robust business bottom lines.
Chicago's top businesses gathered July 10 to celebrate their successes as winners of the 2015 Best and Brightest Companies to Work For awards. The competition identifies and honors organizations that display a commitment to excellence in their human resource practices and employee enrichment. Organizations are assessed based on categories such as communication, work-life balance, employee education, diversity, recognition, retention and more.
Two Chicago area companies stood above the rest  – the Best of the Best Small Business, and the Best of the Best Overall. Here are their stories: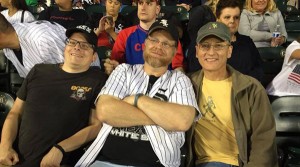 Chicago's Best of the Best Small Business: MotherG
Love your team. Take care of them. Then you'll succeed.
That's Dave Davenport's perspective on what builds a great company. As CEO of MotherG, he says, "Our number one core value is to be a tribe. Our second is love our clients. We believe that if we have a sound, solid team of good professionals who are willing to do what it takes to love our clients, we can solve a lot of other problems."
That's what MotherG is in business to do – solve problems, specifically IT problems, for small business. Davenport hit upon the brilliant idea of "light switch technology" and turned it into a successful, thriving business by asking the simple question, "What does small business need?"
The answer was IT support that gets ahead of the game rather than coming into the picture only when something breaks down.
Davenport realized all of this while in a leadership position at Transtech, an IT staffing company led by his wife, Mary. Big name partners like Symantec and Microsoft "were really vocal about the need at the small business level for good IT support, and I kept thinking, 'How do you serve small business?'"
Just like everyday folks don't really want or need to understand how electricity works – we prefer to flip a switch and the lights go on – Davenport instinctively knew that small businesses wanted to do their own work, not worry about the infrastructure and systems they needed to get that work done. They wanted to, simply, flip a switch and have everything they needed available to them and in top working order, no questions asked.
Mother G – officially Mother Network Guardians, but nicknamed MotherG by clients – works with companies that have 15 to 50 users, setting up systems that serve their business goals, explains Armita Ayrempour, marketing manager. "Kind of like a mother would take care of her children – we are a caring mother looking over all your infrastructure," she says.
Similar to the way the company nurtures its team, MotherG approaches a client with care and concern. Asking about the client's business goals, how the company works on a daily basis, what would make life easier, better, for the people involved, MotherG comes up with a plan and a strategy for IT systems that will support the company's goals and move it toward success.
The company is on a mission to change the status quo. To provide proactive support rather than reactive. To arm small businesses with the tools they need to succeed. It's similar to how the company builds its own ranks, nurtures its own employees. If the formula works, you scale it.
Davenport's desire to build a tribe of happy employees doesn't just happen by chance. There are many steps he and his leadership team take to ensure that this happens every single day.
One is quarterly reviews of benefits, by the whole team. Surveys of employees to determine what they want and need in their work and in their lives, and finding ways to make it happen. "This is a pretty happy company," Davenport says. "We have very low turnover."
Still, they keep asking for input, and employees keep offering it. When they requested monthly one-to-one individual reviews between employees and their managers, MotherG implemented it. They established specific processes for compensation reviews. They created a bereavement policy. Quarterly, speakers come in to engage employees on a variety of topics, both for professional development and personal interest. Monthly meetings celebrate employee success.
"I think our team really loves the company and they have the strength and confidence to speak up if they don't like something," says Davenport. "It's more engaged. They feel a proprietary attitude for the company. That's really key. If you want a strong company, if you want a strong team, the most important thing is to start with the culture and get that right – then it's easy to add things that make employees want to work here and stay here."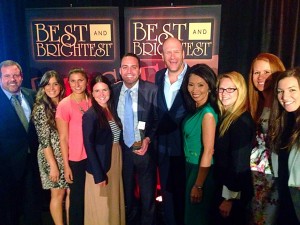 Chicago Best of the Best Overall Award: LaSalle Network
Every day at 5 p.m., LaSalle Network's Kegerator is tapped. Wine and champagne are among the offerings for employees and their friends and family who come to visit at the office, once business hours finish. After a long day of dedicated engagement in the $40 million privately owned staffing and recruiting firm, the least CEO Tom Gimbel can offer his staff is a chance to kick back and relax.
"I consider many on my team amongst my closest friends," says Gimbel, who founded the company in 1998 after the company he worked for was sold and no longer had a place for him. That shift was one of the best gifts he's ever received: the opportunity to go after his dreams and make them a reality.
"I wanted to build a service firm based on culture," Gimbel relates. "The culture would be work hard, achieve results, acknowledge and celebrate accomplishments, and we would teach people, help build their confidence and build a true team. I wanted to have the best aspects of earlier places I worked at and eliminate the negative aspects of where I had been."
Nearly two decades later, he's satisfied that his hunch proved to be a good one, and proud that he listened to that inner voice. Based in Chicago, LaSalle Network has offices in Oak Brook, Arlington Heights and San Francisco, serving businesses and nonprofits through a sales and delivery approach to staffing.
The key, says Gimbel, is knowing "the type of relationship the organization wants to have with its recruiting partner." It's about people relating to people to find the best people for their purpose.
With 140 employees and counting, LaSalle Network promotes a culture of compassion and motivation, Gimbel says. The culture is thick and pervasive, with paid trips to Napa Valley and South Beach for everyone — from assistants to leadership — to celebrate big accomplishments. Promotions happen primarily from within the company; Gimbel is a hands-on leader, traveling between the offices and learning what makes every employee tick.
Bonuses are discretionary and merit-based. Suburban offices receive lunch once a week and complimentary dry cleaning. Gimbel often makes ice cream runs when he's in the office, giving staff a sweet pick-me-up midway through the day.
With a goal of arming their clients with the best people for their teams, it's essential that LaSalle have its own strong team. That happens through a variety of employee perks, benefits and celebrations, whether to mark an anniversary, a holiday (costume contests on Halloween, branded golf balls to all fathers on staff for Father's Day as examples), and parties throughout the year for staff and clients.
Anytime a LaSalle employee gets married, they receive five extra vacation days. "With almost 150 employees, we have a lot of parties," Gimbel says proudly. "Last year we had a party at the House of Blues and invited all family members of our staff. Not just significant others – parents, siblings and grandparents, too. Work and career should be a huge part of your life. Let's share it with those you love."
All of this sounds great, but what really makes the company a success? Gimbel says it comes down to five important things: work ethic and accountability, an active CEO who is involved with the business and the people, sales, training and development, and fun.
"To be successful, you have to do what others aren't doing and also do what others are doing, but be better at it," Gimbel says. "We believe what we preach. We actually care about our people and our fun rewards aren't gimmicks. When you really care about people, it shows, and they know it."
Join us in celebrating the winners of Chicago's 2015 Best and Brightest Companies to Work For:
3Red Training
www.3redgroup.com
3Red is a financial markets trading startup with offices in Chicago and New York. The company leverages technology and math to implement competitive trading strategies while managing risk and responding to dynamic market conditions. Their technologists create all of their trading architecture, risk management systems, and software in-house.
Adage Technologies
www.adagetechnologies.com
Adage was formed in 2001 with a specific focus on providing Web software solutions on the Microsoft technology stack. Today the company builds on its experience with .NET and SharePoint to provide a wide variety of business solutions.
Advanced Resources LLC
www.advancedresources.com
Advanced Resources provides temporary staffing, direct hire placement, and workforce business solutions for a variety of industries in the Chicagoland area. Their recruiters are experts in temporary, temp-to-hire, and direct hire jobs for HR, technology, accounting/finance, health care, and office support professionals.
AIM Consulting
www.aimconsulting.com
AIM Consulting provides technology solutions and services to companies across the United States. The company provides support across the technology spectrum, from IT infrastructure to application development to design.
American Academy of Pediatrics
www.aap.org
Connecting pediatric providers across the AAP, the academy aims to attain optimal physical, mental, and social health and well-being for all infants, children, adolescents and young adults.
ARCO/Murray
www.arcomurray.com
ARCO/Murray is a single source national design and construction firm that specializes in commercial construction and real estate needs for Fortune 500 companies and individual businesses.
Smithfield Foods-Armour-Eckrich Meats Division
www.johnmorrellfoodgroup.com
From a small town beginning in Smithfield, Va., Smithfield Foods has grown into a global food company with a presence in 12 countries. With over 180 years of experience and brands that define the meat industry, their 8,500 employees bring expertise to the following categories: retail, deli, foodservice, direct store delivery, C-store, club store, military and co-manufacturing outlets.
Arrow Strategies LLC
www.Arrowstrategies.com
Arrow Strategies is a nationwide leader in talent acquisition. The company prizes work ethic, attitude, sills, talent and a team player mentality. Founded in 2002, Arrow Strategies has been recognized by Inc. magazine as one of the nation's fastest growing companies for six consecutive years.
ArrowStream
www.arrowstream.com
ArrowStream creates Software-as-a-Service (SaaS) solutions for the supply chain. For the past 15 years, its expertise in foodservice, inbound logistics and technology solutions has equipped customers with supply chain visibility and the tools needed to take action, track progress and measure results.
Aspire
www.aspirechicago.com
Aspire provides bold, pioneering and uncompromising services to kids and adults with developmental disabilities, their families and the Chicagoland community through four enterprises: Aspire Kids, Aspire Living, Aspire Careers and Aspire CoffeeWorks, a social enterprise. Aspire has been pushing the boundaries of what is possible for people with disabilities since 1960 and believes that "Together, We're Better."
Assurance
www.assuranceagency.com
Assurance is among the largest and most awarded independent insurance brokerages in the United States. Assurance places coverage for all lines of business and personal insurance, employee benefits and retirement services.
Astronics Armstrong Aerospace Inc.
www.armstrongaerospace.com
Armstrong Aerospace is an innovative aviation engineering, design and manufacturing company that upgrades aircraft with new technology. The company has successfully installed WiFi Internet, 802.11n wireless access points, moblie phones, satellite TV, and inflight video as well as navigation, communication and flight safety upgrades.
Avant Communications
www.avantcommunications.net
Avant communications provides next generation technologies, from complex cloud design to global wide-area network deployments. The company works with clients on back-office support, engineering guidance, strategic consulting and ongoing training.
BDO USA LLP
www.bdo.com
BDO is the brand name for BDO USA LLP, a U.S. professional services firm providing assurance, tax, financial advisory and consulting services to a wide range of publicly traded and privately held companies.
Be Found Online LLC
www.befoundonline.com
BFO (Be Found Online) is a Chicago-based digital marketing agency that delivers Organic Media, Paid Media, Local Search, and Digital Analytics solutions to medium-sized and enterprise-level businesses.
Bel Brands USA
www.belbrandusa.com
Bel Brands USA manufactures and sells branded specialty cheeses such as The Laughing Cow, Mini BabyBel, Boursin, Merkts and Kaukauna. The company is headquartered in Chicago and is the United States subsidiary of Fromageries Bel, headquartered in Paris, France.
Bell Flavors & Fragrances
www.bellff.com
Since 1912, Bell Flavors & Fragrances has created and delivered flavors, fragrances, botanical extracts and specialty ingredients for a variety of foods, beverages, household care products, personal care products and more.
Blue Plate Catering
www.blueplatechicago.com
Blue Plate provides boutique-style catering services to corporate, nonprofit, social and cultural institutions. Started by a former social worker, the company focuses on cultivating relationships and providing seasonal fare.
Bosch Rexroth Corp.
www.boschrexroth-us.com
Bosch Rexroth is one of the leading specialists worldwide in drive and control technology in industrial automation, mobile equipment and commercial vehicles as well as in renewable energy. It has more than 33,700 associates working at production and customizing sites in 22 countries in addition to sales associates in 80 countries,
Bosch Software Innovations
www.bosch-si.com
Bosch Software Innovations is the software and systems house of the Bosch Group, which globally designs, develops and operates innovative software and system solutions for the Internet of Things and enterprise applications. The company specifically focuses on manufacturing, mobility, energy, smart city, smart home, as well as banking and insurance.
BravoSolution
www.bravosolution.com/cms/us
BravoSolution is a leading global strategic procurement solution provider, with programs that provide spend analysis, sourcing, supplier performance, contract management, collaborative sourcing, strategic services and adoption services.
Brilliant
www.brilliantfs.com
Brilliant specializes in professional temporary staffing, permanent search, and management resources for accounting, finance, and information technology. Brilliant represents professionals in the greater Chicago and south Florida labor markets. Their team of experts is dedicated to making sure its client companies find the best professionals to fit their specific business needs and achieve success.
Bswift
www.bswift.com
bswift is a leader in software and services for human resources and employee benefits administration. Since its inception in 1996, bswift's goal has been to use technology and information to simplify the administration of health care, reduce costs and empower consumers.
Burwood Group Inc.
www.burwood.com
Burwood Group is a technology consulting firm that specializes in IT management and infrastructure solutions. Burwood prides itself in being a trusted business adviser by delivering innovative solutions and superior quality through the employment of exceptional people.
Call One
www.callone.com
As a next-generation communications technology company, Call One offers expert guidance in developing optimal technology solution for business, through consulting services, integration and design services, deployment, support, or managed services.
Care Communications
www.carecommunications.com
Care Communications Inc. is a nationally recognized leader in Health Information Management (HIM) and has served the needs of leading health care organizations since 1976. They are a leading provider of consulting and outsourcing services in the HIM industry, with clients that include hospitals and health care systems, physician practices, cancer centers and reporting agencies, medical research organizations and others.
Celergo LLC
www.celergo.com
Celergo is a leading provider of International Payroll Management Services, supporting the needs of global companies with solutions to meet their payroll requirements in 140-plus countries.
Century 21 Affiliated
www.c21affiliated.com
Century 21 Affiliated is a full service real estate brokerage firm representing residential and commercial properties all across the Chicago metro, northern Illinois, northwest Indiana, Michigan and southeastern Wisconsin markets.
CityStaffing
www.citystaffing.com
City Staffing is a WBE and WBENC certified staffing agency with an outstanding reputation for connecting fabulous companies with talented professionals. Services include contract and temporary employment, temp-to-hire and direct hire placements across fields such as administrative, creative, marketing, accounting, finance and customer service.
Clique Studios
www.cliquestudios.com
Clique Studios LLC is a digital design and development agency that specializes in creating digital experiences in the industries where it makes the most impact: education, health care, startups, non-profits, eCommerce and finance.
Comcast
www.comcast.com
Comcast Corp. (Nasdaq: CMCSA, CMCSK) is a global media and technology company with two primary businesses, Comcast Cable and NBCUniversal. Comcast Cable is the nation's largest video, high-speed Internet and phone provider to residential customers under the XFINITY brand and also provides these services to businesses. NBCUniversal operates news, entertainment and sports cable networks, the NBC and Telemundo broadcast networks, television production operations, television station groups, Universal Pictures and Universal Parks and Resorts.
ContextMedia
www.contextmediainc.com
ContextMedia Inc. owns and operates a suite of digital health care networks delivering condition-specific programming at point-of-care in all 50 states. The company empowers health care professionals to engage patients while curating content personalized for each member practice.
Continental Automotive Systems
www.continental-corporation.com
Continental Automotive Systems develops intelligent technologies for transporting people and goods. The international automotive supplier, tire manufacturer, and industrial partner provides sustainable, safe, comfortable, individual and affordable solutions.
Conway MacKenzie Inc.
www.conwaymackenzie.com
Conway MacKenzie is the premier restructuring and financial advisory firm to the middle market, delivering hands-on financial, operational and strategic services to help healthy companies grow and troubled companies get back on track. With offices that have grown throughout the United States and internationally, their mission has not wavered for more than 25 years as they have continued to deliver high-impact results for clients.
CTL Global
www.ctlglobalsolutions.com
CTL Global is a woman-owned logistics, technology, and transportation company trusted by some of today's most recognizable brands. The company works with clients in retail, financial, marketing and consumer packaged goods industries.
Devbridge Group
www.devbridge.com
Devbridge Group is an international software design and development company that builds comprehensive, custom solutions for enterprise mobile and Web applications, SaaS mobile platforms, multilingual CMSs, complex eCommerce websites and highly scalable cloud apps.
Dialog Tech (formally IfbyPhone Inc.)
www.ifbyphone.com
Ifbyphone automates business phones by providing virtual phone features–such as advanced call routing and tracking, interactive voice response, and voice broadcasting–to help small and medium size businesses generate leads, track marketing ROI, and reduce costs.
Donlen
www.donlen.com
For more than 40 years, Donlen Corp. has been delivering innovative solutions for vehicle fleet leasing and management for corporations, and is one of North America's fastest growing fleet management companies.
Edlong Dairy Technologies
www.edlong.com
Edlong Dairy Technologies is the global food industry's most comprehensive resource for dairy flavor technologies. Founded in 1914, the company assists customers at every stage of product development, offering technical collaboration, formulation expertise and customized solutions. It also develops and markets cheese, butter, milk, cream, cultured, sweet dairy and masking and mouthfeel flavors.
EMKAY Inc.
www.emkay.com
EMKAY is a premier fleet service provider. Since 1946, EMKAY has supplied corporate America with lease financing, fleet management and service. They are employee owned by the people managing fleets, which provides strong motivation to satisfy client needs. EMKAY is committed to being the best service provider in the fleet industry.
Enesco LLC
www.enesco.com
Enesco LLC distributes products to a variety of giftware, and home and garden décor retailers. With more than 44,000 customers worldwide, Enesco distributes to retailers, mass-market chains and through direct mail, too.
Flexco
www.flexco.com
Founded in 1907, Flexco is a leading manufacturer of conveyor belt fasteners and related products that increase belt conveyor productivity. Flexco provides efficient, safe products, services, and solutions for mechanical splicing, cleaning, slippage, spillage and belt tracking. Flexco markets worldwide under the brand names including Flexco, Rockline, Mineline, Eliminator, Alligator, Clipper and Novitool.
FlexPrint Inc.
www.flexprint.com
FlexPrint is the nation's leading, privately owned enterprise for managed print services. FlexPrint is a national company providing IT services in all 50 states.
Flex-Weld Inc.
www.flex-weld.com
Flex-Weld manufactures flexible metal hose assemblies, bellows and other expansion devices serving a variety of markets including HVAC, marine, and exhaust.
FONA International Inc.
www.fona.com
Founded in 1987, FONA International creates and manufactures flavors for many of the largest food, beverage, nutraceutical and pharmaceutical companies in the world. FONA, with offices in the Europe and Canada, supplies flavorings for a wide range of markets, from beverages, grains and health care to candies, dairy and desserts. They have 200 workers at their Illinois site.
Framework Communications
www.frameworkcommunications.com
Framework Communications provides support for Telecommunications, IT and Carrier Needs, voice and data services, and small business IT support. From monster-sized IT problems to routine tasks that simply can't fit in the schedule, Framework Communications' crew keeps your business moving.
Fusion OEM
www.fusionoem.com
Fusion OEM streamlines production floors providing outsourced manufacturing solutions including capital equipment assembly, control panel building, CNC machining of high-volume parts, legacy manufacturing, product design engineering, control design engineering and prototyping services.
Geneca
www.geneca.com
Custom software development company Geneca helps clients meet business challenges by bringing predictability to the software development process. Geneca is best known for Getting PredictableSM, its pioneering approach to driving the definition of clear success criteria, and a culture that exemplifies making and honoring commitments.
Genesis Technologies Inc.
www.gentechol.com
Genesis Technologies is one of the nation's most notable managed print services providers specializing in workflow assessment and infrastructure optimization. For more than 22 years, the company has helped clients understand the total cost of ownership, device utilization and patterns along with continuous improvement initiatives.
Getty Images
www.gettyimages.com
Getty is the leading provider of digital media worldwide, creating and distributing a range of assets – from royalty-free stock photography and editorial images to footage, music and multimedia – that help communicators around the globe tell their stories and make them available in the most accessible and usable way.
Ghafari Associates LLC
www.ghafari.com
A well-known industry leader in the adoption and application of advanced technologies, Ghafari recognizes the value of synchronizing data and work flows across supply chain partners. As a full-service firm, Ghafari's multi-disciplined team can lead a project through any and all phases of the development process, from planning through start-up and commissioning. Regardless of project size, scope and complexity, they deliver innovative design solutions that synergize building systems and operations.
GiveForward
www.giveforward.com
GiveForward is one of the top online fundraising websites and easiest ways to help a loved one in need. Its online fundraising pages empower friends and family to send love and financial support to patients navigating a medical crisis.
Grand Prairie Services
www.gpsbh.org
Grand Prairie Services (GPS) is a not-for-profit behavioral health care provider with more than 63 years of experience providing mental health services for children, adolescents, adults and seniors in the 32 municipalities of Bloom, Bremen, Rich and Thornton townships.
Greeley and Hansen
www.greeley-hansen.com
Greeley and Hansen is a leading national niche firm specializing in practical engineering, architectural, and management solutions for complex water, wastewater and infrastructure challenges.
Green Key Resources
www.greenkeyllc.com
Green Key Resources is a full service executive search and temporary and contract staffing firm. The firm fills positions in Pharmaceutical and Life Sciences, Office Support, Accounting and Finance, Alternative Asset Management, Financial Services, Health care, Information Technology (IT), Human Resources, Hospitality, Embedded Technology and Legal Support.
Guardian Electric Manufacturing Co.
www.guardian-electric.com
Guardian Electric Manufacturing manufactures and supplies a broad range of Electromagnetic and Electromechanical Components. Founded in 1932, its flight control grips, solenoids, custom encapsulated coils, switches, relays and value-added assemblies provide intuitive control functionality and high reliability in various applications throughout a wide range of technologies.
Harley Ellis Devereaux
www.harleyellisdevereaux.com
Harley Ellis Devereaux is an award-winning, full-service organization offering a complete range of planning, architecture, engineering, interior architecture, landscape architecture and construction services with offices in Los Angeles, Chicago, Detroit, San Diego and San Francisco.
HRS Home Health
www.healthrs.net
HRS Home Health (HRS) is an accredited high tech nursing and therapy home health agency providing quality health care to thousands of individuals residing in 11 counties throughout the Chicagoland area.
HealthScape Advisors
www.healthscapeadvisors.com
HealthScape Advisors is a privately held management consulting firm focused on assisting clients in navigating the evolving health care environment. Its team of leaders is comprised of highly talented and diverse professionals with proven success, deep health care industry knowledge, and extensive consulting experience.
ID Media
www.idmediaww.com
ID Media specializes in identifying and delivering media solutions that maximize ROI, across TV, digital, mobile, print and radio mediums. The company provides extensive research assets and a cutting-edge ROI calculator for true metrics. It also offers media planning, media investing, multicultural media services, direct-to-consumer health care media services, advanced analytics and business systems consulting.
Impact Networking LLC
www.impactnetworking.com
Impact Networking is an integrated technology solutions company that helps businesses create, distribute and manage documents with distinct business units to handle Creative Marketing Services, Document Management, Scanning and Conversion, Networking & Telecom and Digital Office Equipment.
InRule Technology
www.inrule.com
A Microsoft Certified Gold Partner, InRule Technology has been delivering InRule, the premier .NET Business Rule Management System for the Microsoft platform since 2002. InRule Technology helps users turn business rules into measureable IT and business results by making it easy to align the logic of core applications with ever-changing marketplace and customer needs.
Instant Technology
www.instanttechnology.com
Instant Technology is a leading technology staffing agency that specializes in the placement of IT experts in contract, contract-to-hire, and permanent positions. The company is part of Instant Alliance, offering payroll services, staffing, RPO, consulting, education and executive search functions.
International Contractors Inc.
http://www.iciinc.com/
ICI is a family-owned construction firm that has completed award-winning projects through general contracting, construction management and design/build project delivery. Projects range from small build-outs to large-scale multi-million dollar construction projects on a nationwide scale.
IT Supplies
www.itsupplies.com
IT Supplies, your source for Epson, Canon, and HP inkjet and digital photo printers, offers professional inkjet, fine art, wide format, photo paper and other products for printing.
JumpForward
www.jumpforward.com
JumpForward provides an enterprise software platform fully customized for college athletic departments. The company also provides custom software solutions for specific users within the athletic department including: coaches, compliance, camps, business, equipment managers, student-athletes, tickets, marketing, financial aid and development.
Kaleidoscope
www.thinkkaleidoscope.com
Kaleidoscope started as a brand imaging and prototyping company in 1995. It evolved to become a solution provider for product and packaging design challenges. Today, Kaleidoscope employs brand strategists, industrial and graphic designers, implementation and mock-up artists and other specialists who work together to solve brand strategy, design and realization challenges.
Kforce
www.kforce.com
Kforce is a professional staffing services firm, providing flexible and direct hire staffing professionals in technology, finance and accounting. The formal name is KnowledgeForce, and the company has more than 60 offices, two national recruiting centers and 2,000 staffing specialists.
KPMG
www.kpmg.com
KPMG LLP, an audit, tax and advisory services firm, operates from 87 offices with more than 23,000 employees and partners throughout the U.S. with 162,000 people working in member firms globally.
Kutchins, Robbins & Diamond Ltd.
www.krdcpas.com
Kutchins, Robbins & Diamond Ltd. (KRD) is a Chicago-based, mid-sized public accounting firm that provides financial advice and business advisory services in addition to traditional accounting.
Lake Forest Graduate School of Management
www.lakeforestmba.edu
Lake Forest Graduate School of Management is an independent, not-for-profit business management education enterprise dedicated to improving the competence, confidence and ability of working professionals and organizations to make significant business contributions that lead to outstanding and measurable results.
LaSalle Network
www.thelasallenetwork.com
LaSalle provides staffing solutions, utilizing a team-based approach to recruiting and staffing. Founded in 1998, LaSalle aspires to not only be a provider of staffing solutions, but a partner in achieving client company visions as well. LaSalle recently opened its first office in San Francisco.
LYONSCG
www.lyonscg.com
LYONSCG is a premier ecommerce Digital Agency dedicated to helping businesses maximize their online potential. They serve brand, retail, and B2B organizations with a full range of eCommerce consulting services, including design, implementation, hosting and support.
Mattersight
www.mattersight.com
Mattersight's mission is to help brands have more effective and effortless conversations with customers, using a suite of innovative personality-based software applications that can analyze and predict customer behavior based on the language exchanged during service and sales interactions.
Maven Wave Partners
www.mavenwave.com
Maven Wave Partners provides business consulting, technology delivery, and outsourcing services to companies that seek exceptional business advancement through transformation. A commitment to the core problem solving disciplines that were central to their founding in 2008, proves again and again their value in weak markets and in strong ones.
Mavens Consulting
www.mavensconsulting.com
Mavens Consulting is the Life Science industry's premier salesforce.com implementation partner focused exclusively on delivering game-changing Salesforce1 and Veeva solutions to pharmaceutical and medical device companies.
McGladrey LLP
www.rsmmcgladrey.com
McGladrey is the fifth largest U.S. provider of assurance, tax and consulting services with 7,000 professionals and associates in nearly 90 offices. McGladrey on Oct. 26 will unite with fellow firms in its global network, RSM International, under a common brand name – RSM.
Milhouse Engineering and Construction Inc.
www.milhouseinc.com
Milhouse Engineering and Construction is a professional full service engineering/architecture firm that practices "Constructing Quality from the Ground Up" while providing services to private, municipal and governmental clients.
Mortenson Construction
www.mortenson.com
Mortenson Construction has served Chicagoland for two decades and has established a reputation as a leader in the health care, municipal and higher education markets. They are inspired by their compelling purpose: Building structures and facilities for the advancement of modern society.
MotherG
www.motherg.com
MotherG was founded on the belief that small and mid-sized organizations should have problem-free, stable, secure computing networks. The company believes technology should work just like a light switch: Flip it, and it goes on.
Mutual Trust Financial Group
www.mutualtrust.com
Mutual Trust Financial Group provides whole life insurance products that give policyholders and their beneficiaries peace of mind and financial security.
National Futures Association
www.nfa.futures.org
National Futures Association (NFA) is the industry-wide, self-regulatory organization for the U.S. futures industry.
Navigate Research
www.navigateresearch.com
Navigate Research helps clients understand the impact and value of marketing investments throughout sports and entertainment. Based in Chicago, Navigate has measured the impact and ROI of hundreds of sponsorship deals and has valued billions of dollars in sponsorship transactions on behalf of brands, properties, universities and agencies.
NCSA Athletic Recruiting
www.ncsasports.org
NCSA is the leading provider of college athletic recruiting technology, data, and education for more than 40,000 college coaches and more than 200,000 of the nation's top prospects.
Nimlok Chicago
www.nimlok-chicago.com
Nimlok-Chicago has been a leading exhibit provider and driving force in the trade show industry since 1970. Nimlok-Chicago offers a wide range of solutions including custom and modular trade show exhibits and display systems in every size and configuration. They also stage corporate events and design dramatic, branded permanent environments.
Nitel
www.nitelusa.com
Nitel is a facilities-based provider of reliable, secure telecommunications network services. Nitel's nationwide network leverages last-mile access from over 130 providers to achieve ubiquitous coverage, optimum network design and pricing for its clients.
NogginLabs Inc.
www.nogginlabs.com
NogginLabs builds custom e-learning, bringing teams closer to the creative process, and changing the way learning is viewed in companies. When you partner with NogginLabs, you're signing on for a collaborative, creative process that results in a learning experience that your audience actually wants to take.
NOW Foods
www.nowfoods.com
Established in 1968, NOW Foods is an industry-leading manufacturer of more than 1,500 natural health products, committed to its mission of providing goods and services that empower people to lead healthier lives.
NVISIA
www.nvisia.com
NVISIA is a software development partner with a 24-year track record of transforming important ideas into great software. Its collaborative execution model ensures that clients are equipped to independently support their new platform for 10 or more years.
Omron Automation and Safety
www.omron247.com
Omron Automation and Safety is a global manufacturer of quality sensing and control equipment for automating machines. Established in 1933, Omron now has more than 37,000 employees in 36 countries working to provide products and services to customers in a variety of fields, including industrial automation, electronic components industries and health care.
One Chicago (formerly Infinite)
www.myinfinite.net
One Chicago is one of the fastest growing outsourced consultative sales and marketing firms in the Midwest, specializing in new client acquisition, customer service, and retention for Fortune 500 clients.
Otterbase Inc.
www.otterbase.com
OtterBase is one of the fastest growing supplemental staffing companies in the country with a rapidly expanding list of Fortune 500 clients. Their proprietary PeopleSmart recruiting process quickly and systematically identifies consultants to meet your unique needs.
Pangea Properties
www.pangeare.com
Pangea Properties is a private REIT that specializes in urban, scatter-site workforce housing in Illinois, Indiana and Maryland. Founded with a goal of providing safe, comfortable and affordable housing, the firm acquires and rehabilitates distressed rental communities that serve as a catalyst for future development in the underserved neighborhoods the company serves.
Paylocity Corp.
www.paylocity.com
Since 1997, Paylocity has been providing innovative payroll, human resources and time and attendance software solutions to employees and businesses across America.
PBD Worldwide
www.pbd.com
PBD Worldwide is the leading fulfillment services provider for more than 100 recognized associations, non-profits and corporations covering a diverse product range – from educational resources to e-books to membership premiums.
Pepper Group
www.peppergroup.com
Pepper Group provides direct marketing, brand messaging, design, event/trade show, mobile, video/animation and web/digital services for a variety of clients. Their team of seasoned professionals works with the perfect mix of discipline and fun, delivering outstanding results for each project and every client.
Plexus Corp.
www.plexus.com
Plexus is a global contract design and manufacturing company, delivering optimized product realization solutions through a unique customer focused service model that seamlessly integrates product conceptualization, design, commercialization, manufacturing, fulfillment, and sustaining services to deliver comprehensive end-to-end solutions.
PowerReviews Inc.
www.powerreviews.com
PowerReviews helps global brands and retailers collect and display ratings and reviews on 5,000 websites. An essential resource for consumers as they search and shop online and in-store, ratings and reviews drive relevant traffic, increase sales, and create actionable insights to improve products and services, PowerReviews' mobile-friendly rating and review and Q&A software is fast to implement and simple to customize, making it easy for brands and retailers to generate more authentic content that is seen by more consumers.
Prominence Advisors
www.prominenceadvisors.com
Prominence Advisors is an innovative consulting firm dedicated to helping health care providers gather business intelligence, execute strategic goals, increase operational efficiency, and implement Epic's electronic medical record software.
Protiviti
www.protiviti.com
Protiviti is a global business consulting and internal audit firm composed of experts specializing in risk, advisory and transaction services.
PSC Group LLC
www.psclistens.com
PSC Group is an information technology and business consulting firm that has been delivering high value solutions since 1990. PSC creates seamless, collaborative business solutions that elevate organizations to new levels of success while staying within budget and delivering a return-on-investment .
Punchkick Interactive
www.punchkickinteractive.com
Punchkick exists to wildly improve the conversation between brand marketers and their audiences through user-centric mobile experiences that create a profoundly meaningful impact. They are full-service, never-outsourced, eating-sleeping-breathing user-experience, mobile-marketing experts.
Red Frog Events
www.redfrogevents.com
Red Frog Events is an event production company offering event staffing, development, creative and entertainment services. A pioneer of the experiential entertainment industry, the company has developed brands including the Warrior Dash obstacle race series, Firefly Music Festival, and American Beer Classic.
Resolution Media
www.ResolutionMedia.com
Resolution Media, an Omnicom Media Group company, is one of the largest performance media agencies in the world. The company manages more than $1.2 billion in media investments, with more than 1,350 specialists in 60-plus offices worldwide. Resolution's international network delivers digitally-integrated, full-service solutions in the areas of search, social, local, mobile, behavioral and content marketing.
Retrofit
www.retrofitme.com
Retrofit's mission is to deliver the most personalized, effective and sustainable weight management solution, helping people improve health, happiness and performance. Their goal is to help you live the life you love.
Rise Interactive
www.riseinteractive.com
Rise Interactive is a digital marketing agency focused on traffic generation and Web analytics, using an investment management approach to digital marketing that leverages custom reporting to enable quantitatively minded individuals to best allocate budgets and maximize ROI.
Robbins Schwartz
www.robbins-schwartz.com
Robbins Schwartz is a boutique law firm committed to serving public and private sector entities by building strong relationships through preventative counseling, identifying and resolving legal issues before they turn into costly litigation.
sales-i
www.sales-i.com
sales-i is sales performance software designed to make sales calls more personal and profitable. sales-i allows sales professionals to clearly identify and target high-quality sales opportunities within their current customer base.
Sandstorm Design
www.sandstormdesign.com
Sandstorm is a highly collaborative, analytical, and nimble company offering design (UX), digital marketing, and Drupal Web development services. They leverage technology and creativity to multiply digital marketing effectiveness.
Savills Studley
www.studley.com
Savills Studley is the leading commercial real estate services firm specializing in tenant representation. Founded in 1954, the firm pioneered the conflict-free business model of representing only tenants in their commercial real estate transactions.
Sears Hometown and Outlet Stores Inc.
www.shos.com
Sears Hometown and Outlet Stores is a national retailer focused on selling home appliances, hardware, tools and lawn and garden equipment. The company operates through two segments – the Sears Hometown and Hardware segment and the Sears Outlet segment.
SEI – Service Express Inc.
www.seiservice.com
SEI is a leader in delivering customized service solutions for on-site data center maintenance, focusing on mainframe, midrange and Intel based servers for IBM, DEC, HP, Sun, Dell, as well as EMC and STK storage.
ServerCentral
www.servercentral.com
ServerCentral is a private, Chicago-based company providing data center services since 1999. The company hosts and manages IT infrastructure for small businesses and Fortune 500s.
Shop Smart LLC
www.bradsdeals.com
Shop Smart publishes deals and coupons from national retailers across a network of sites. The flagship, Brad's Deals, is the largest editorial-driven deal site with more than 5 million monthly unique visitors.
Shure Inc.
www.shure.com
With a history of audio innovation spanning more than 80 years, Shure makes great microphones and audio electronics, used by Grammy winners and legendary recording acts. It all began in 1925 when S. N. Shure founded Shure Radio Company a one-man company selling radio parts kits before factory-built radio sets were marketed.
Sikich LLP
www.sikich.com
Sikich is a public accounting firm providing a full range of financial services, management advisory and technology products and support. Sikich is one of the country's 100 largest CPA firms and is a Microsoft Gold Certified Partner.
Skender Construction
www.skender.com
Skender Construction specializes in building structures and installations with a record of innovations and problems-solved. Their team is recognized for quick responses, custom solutions and personal relationships that last beyond any project duration.
Slalom Consulting
www.slalom.com
Slalom Consulting brings business and technology expertise together to help companies drive enterprise performance, accelerate innovation, enhance the customer experience, and increase employee productivity. The firm delivers award-winning solutions in areas such as business intelligence, mobility, and cloud through a national network of local offices across 10 cities.
Smart Resources Inc.
www.smartstaffing.com
Smart Resources began offering administrative and executive assistant placement throughout the city of Chicago and the western suburbs in 1994. Today, the company provides staffing services for administrative positions throughout Chicagoland.
SOCIALDEVIANT
www.socialdeviant.com
SOCIALDEVIANT is a full-service content marketing agency focused on building successful brands. Everything they do is designed to drive their clients' business— never content for the sake of content, never social for social's sake.
SoCore Energy
www.socoreenergy.com
SoCore Energy develops and builds low-cost, high performance solar installations for clients including Fortune 500 companies, Real Estate Investment Trusts (REITs), Utility Co-operatives, municipalities and academic institutions.
Sonoma Partners LLC
www.sonomapartners.com
Sonoma Partners provides technology and business process consulting services to enterprise and mid-sized companies throughout the United States and Canada, with a focus on the Microsoft Dynamics CRM product.
Spot Trading
www.spottradingllc.com
Spot Trading is a proprietary trading firm specializing in equity and index options, in a variety of disciplines including equity research, trading, financial engineering, and technology.
Starcom USA
www.smvgroup.com
Ranked one of the largest brand communications groups in the world, Starcom MediaVest Group encompasses an integrated network of human experience strategists, investment specialists, content creators, digital experts and beyond
Stout Risius Ross Inc.
www.srr.com
Stout Risius Ross (SRR) is a financial advisory firm specializing in Investment Banking, Valuation & Financial Opinions, and Dispute Advisory & Forensic Services. Since its founding in 1991, they have grown at a rapid pace, with offices in Atlanta, Baltimore, Chicago, Cleveland, Dallas, Denver, Detroit, Houston, Los Angeles, New York, Tysons Corner and Washington, D.C. and clients throughout the world – from Argentina to Vietnam.
StratEx
www.stratex.com
StratEx is a provider of human resources services and software, helping companies manage the entire employee lifecycle all online, through its proprietary software, eStratEx.
Redwood Logistics (formerly Transportation Solutions Enterprises)
www.redwoodlogistics.com
Redwood Logistics is a strategically integrated logistics provider, providing a diversity of services and data-driven network solutions.
Suncoke Energy
www.suncoke.com
Through continuous innovation and industry-leading technology, SunCoke Energy has become the largest independent producer of high-quality metallurgical coke in the Americas and has more than 45 years of metallurgical coke production experience.
SWC Technology Partners
www.swc.com
SWC Technology Partners is an award-winning provider of IT solutions to midsize organizations. For more than 30 years, SWC has excelled at delivering technology solutions that optimize productivity, strengthen customer relationships, enhance data sharing and drive profitability.
Swoon Technology Resources
www.swoontech.com
Swoon Technology Resources is a technology and professional recruiting firm, led by individuals who wanted to evolve the recruiting industry. Individuals are placed in IT and technology positions as well as creative services and marketing, finance and accounting, and human resources.
Takeda Pharmaceuticals
www.takeda.com
Takeda seeks to bring innovative products to patients through a pipeline that includes compounds in development for diabetes, cardiovascular disease, oncology, gastroenterology, neurology and other conditions.
Tasty Catering
www.tastycatering.com
Tasty Catering, the caterer for business, provides quality food, décor and entertainment, as well as exceptional staff and customer service to help create the perfect company event.
The Carlson Group Inc.
www.carlsongroupinc.com
The Carlson Group incubates, builds and sustains smart custom programs that deliver value across consumer retail experiences.
The James Hotel
www.jameshotels.com
One of Chicago's most celebrated boutique hotels, The James is renowned for its signature blend of intuitive service, warmly modern design and liberated touches.
The SMB Help Desk Inc.
www.thesmbhelpdesk.com
The SMB Help Desk is an IT solutions company with a Cloud-First focus. The company aims to be a reliable, intelligent partner for small and medium-sized businesses, providing enterprise grade cloud-based solutions and services.
The WFC Group
www.thewfcgroup.com
The WFC Group is an industry leader in workforce management, providing unparalleled, tailored consulting services across all verticals and throughout all stages of the project lifecycle. From needs assessment to implementation to technical services, the company helps to improve the efficiency of a client's workforce.
ThoughtWorks Inc.
www.thoughtworks.com
ThoughtWorks helps people and companies achieve social change through software and technology, content and events, and other development tools. Their mission is to better humanity through software and help drive the creation of a socially and economically just world.
Thresholds
www.thresholds.org
Throughout its 50-year history, Thresholds has remained one of the nation's most successful and respected mental illness service providers by creating innovative programs that honor and respect people with mental illnesses and provide them with tools to create a meaningful life.
Total Quality Logistics
www.tql.com
Total Quality Logistics is a third-party logistics firm that brings customers who need freight shipped together with the available trucks to carry the shipments.
Tovar Snow Professionals Inc.
www.tovarsnow.com
Tovar Snow Professionals is a snow and ice removal company catering to commercial properties throughout Illinois, with some service in Wisconsin and Indiana.
TransTech IT Staffing
www.trans-tech.com
TransTech IT Staffing is a leading provider of contract, contract-to-hire, and direct hire services of IT professionals. The company is also expert at working within Vendor Management System (VMS) models.
Trilogy Behavioral Healthcare
www.trilogyinc.org
Trilogy Behavioral Healthcare is a community-based mental health organization with 44 years of experience serving more than 1,900 people with mental illness and mental illness with co-occurring substance use disorders in the city of Chicago and its surrounding communities.
True Partners Consulting
www.tpctax.com
True Partners Consulting is a tax and business advisory firm that helps large public and private enterprises navigate complex tax and financial regulations without the Sarbanes-Oxley created conflicts inherent in offering both tax consulting and audit services.
Turner Construction Co.
www.turnerconstruction.com
Turner has been a leading builder in the Chicago area since 1924 by providing full-service resources to clients and completing over $500 million worth of construction volume annually.
Undertone
www.undertone.com
Undertone provides high quality cross-screen digital brand advertising at scale. Its innovative technology platforms deliver attention-grabbing ads on every device through traditional and programmatic methods while aggressively protecting advertisers from digital ad fraud.
UrbanBound
www.urbanbound.com
UrbanBound is a web-based Relocation Management Software that helps companies offer a comprehensive platform to their newly hired and transferring employees, resulting in lower costs and higher employee satisfaction.
Vapor Bus International
www.vapordoors.com
Vapor Bus International is the nation's leading supplier of doors and door actuation systems for public transit buses. The company offers complete automatic door systems as well as individual components such as actuators, door controls, door panels, seals, and door accessories.
Verizon Wireless
www.verizonwireless.com
Verizon Wireless, a joint venture of Verizon Communications and Vodafone, is a leader in wireless voice and data services.
Wheels Inc.
www.wheels.com
Wheels, Inc. (www.wheels.com), pioneered the concept of auto leasing in 1939, and currently manages more than 300,000 vehicles; providing a full range of specialized services to help corporations manage their vehicle fleets.
Wine Sergi
www.winesergi.com
Wine Sergi & Company is a full service independent insurance agency specializing in commercial property & casualty, risk management and personal lines.
WOW Internet Cable and Phone
www.wowway.com
WOW offers Digital Cable, HDTV, DVRs, high-speed Internet, and local and long distance phone service. Their philosophy is simple: Deliver an employee and customer experience that lives up to their name in all of their dealings, no matter how great or small.
Zeigler Auto Group
www.haroldzeigler.com
The Harold Zeigler Auto Group owns and operates 16 retail automotive dealerships, three finance companies, a leasing firm, insurance firms and a real estate portfolio located throughout Southwest Michigan, Northern Indiana, and Illinois. The Harold Zeigler Auto Group also owns and operates three JD Byrider franchises, which offer used vehicle sales, service and financing programs.