The elite winners clearly raised the bar  in Atlanta's 2015 Best and Brightest Companies to Work For awards. These companies are focused on employees and creating corporate cultures that motivate and inspire them to innovate and grow.
The Best and Brightest Companies to Work For competition identifies and honors organizations that display a commitment to excellence in their human resource practices and employee enrichment. Organizations are assessed based on categories such as communication, work-life balance, employee education, diversity, recognition, retention and more.
In Atlanta, companies turned out for the June 30 awards ceremony and networking event at the Marriott Northwest Galleria. The gathering culminated with the Best of the Best Small Business Award and the Best of the Best Overall Business Award. Here are their stories: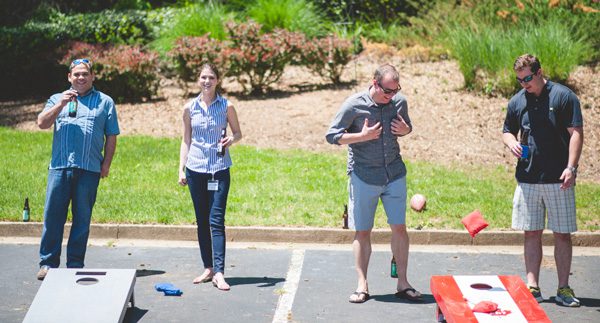 Atlanta's Small Business Best of the Best: Adcap Network Systems
It's a pretty interesting thing for a company devoted to setting up Cisco networks in large organizations like hospitals and universities to say that its main product is its people.
But that's the party line at Adcap Network Systems, followed up by a second motto, "A place where you get treated like an adult but have fun like a kid."
The annual Christmas party features a casino night. Employees are invited to play volleyball at summer barbecues, families welcome. Top performers last year were whisked away to Mexico, and their spouses were invited along. Families are included in day-long outings at Lake Lanier, and employees enjoy "West Coast benefits" like free snacks, drinks, catered lunches, quarterly raises and four hours every month to pursue community engagement, says Bradford Wilkins, vice president, talent management and HR services.
The theory behind the boatload of fun available to Adcap's dedicated staff, most of whom only began to arrive in 2008, is that if you want high accountability, you have to take care of your people, Wilkins says. "It's very much like a family. My fiancé once said that was 'cheesy,' but one year as we were walking out of the Christmas party, she turned to me and said, 'That is a big old family.'"
In fact, Adcap was founded by a husband-wife team who dreamed they could create a place where they liked to go to work and where other people might, too. Rolf and Christine Versluis, with Christine's brother Matt Waring, created Adcap in 2002, bringing Rolf's experience working for Cisco, Christine's experience in sales and marketing and Matt's finance expertise.
Parents to four kids, Rolf and Christine started the company with no outside funding, using only personal credit cards to build "a great place to work and support their families," Wilkins says. "They never had any audacious goals."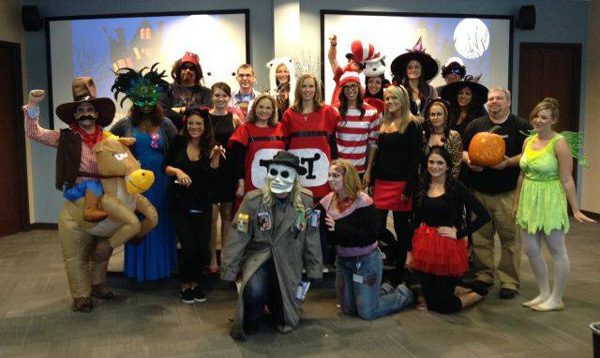 Today, Adcap employs 75 people, all but three of whom work in Georgia. Revenues in 2014 were $52 million, more than double the $24 million pulled in the year prior. Adcap offers the only entry level Cisco engineer program in the country, and promotes company leadership entirely from within existing ranks.
"Our people is our number one asset here," Wilkins insists. He was hired in 2013 to find ways to evaluate talent beyond the traditional "what was your major and where did you go to school" criteria. "We look at what someone can do versus what have they done," Wilkins explains. "That opens up a whole wide range of people who wouldn't typically get an interview at a technology company but instead have become top performers."
While the company's name came from Rolf's experience in the armed forces – he's a Naval Academy graduate and former nuclear submarine officer – perhaps it was foreshadowing for the way the company would set the benchmark higher than anyone could have anticipated. The MARK-48, also known as the MK48 or ADCAP, is an advanced capabilities torpedo created by the American military in the 1960s to match advances in Soviet submarine technology. The weapon was created to sink deep-diving nuclear-powered submarines as well as high-performance surface ships.
It's been in operation since 1972 as a main weapon of U.S. Navy submarines. Continual impressive upgrades to the weapon over the years have maintained its status as a prime armament for the Navy; it is used on Canadian, Australian and Dutch submarines, too.
Since Adcap Network Systems has been honored as one of Atlanta's fastest-growing companies, the metaphor set by its namesake is impressive. ADCAP torpedoes can be guided from the submarine base, but they can also use their own sensors to fulfill their mission.
"If you asked [the founders] about being a $50 million company 13 years later, they would say it wasn't their goal," Wilkins says. "It was to be as good as they can possibly be."
Atlanta Overall Best of the Best: T-Mobile USA
When diversity, family time and professional development are three of the top priorities of the company, it's no wonder that T-Mobile employees are pretty happy to keep working at this publicly-traded company that was the first to do away with annual service contracts for its customers.
The fact that T-Mobile is proud to operate outside the box for customers mirrors the way it cares for its employees in an out-of-the-box way. "We're in the changing-the-phone-company business," says Monique McKenzie, senior communications manager. And as such, "our people are the lifeblood of T-Mobile and represent everything it means to be the Un-carrier."
How do they do it?
With regard to diversity, "our philosophy is that employees with diverse ideas and backgrounds bring innovations that serve our customers, communities and teams," McKenzie says. It's one thing to say it and another to make it happen. T-Mobile does it through Diversity & Inclusion Networks, also known as Employee Network Groups.
Every group has a specific focus – access for disabilities, military honor and support, multicultural, multigenerational, pride and allies, women's leadership are but a few. The groups sponsor events internally at the company and externally in the greater community throughout the year.
"We work in a culture that celebrates the differences that each individual brings to the team," McKenzie notes. That's one reason the company has received nods for Best Place to Work for LGBT Equality by the Human Rights Campaign and was ranked number 71 on the list of the top 100 military friendly employers.
There is also a recognition that you're not just an employee; you're a person with a full life outside of the workplace and that should not suffer because of demands from your work.
T-Mobile provides paid parental leave for new parents, including adoptive parents, surrogates and domestic partners. Plus, Paid Time Off (PTO) is one lump category, thanks to input from employees. T-Mobile offers employees sick and vacation paid days off plus eight paid holidays every year, all to be used at the employee's leisure, no questions asked.
Every six months, T-Mobile offers employees the opportunity to choose a new schedule, one that suits their personal lives. Plus, employees can flex their hours within an established framework, often relying on a Facebook page to connect employees in cases of urgent schedule changes. Flexibility is a key to pretty much everything – as well as the reason behind the company's contract-less customer service and its devotion to making life livable for the people at the brand's frontlines.
The company recognizes that career development is essential and helps employees advance. McKenzie says you can be hired in at entry level and work your way up into a variety of positions to truly build a career at T-Mobile.
"Employees with ambitions to become people managers have the option of taking leadership training," McKenzie says. "Those who want to increase their skills as individual contributors are encouraged to take in-house training to boost their competency. All employees have the option of pursuing outside classes that relate to current or future jobs at T-Mobile with the help of the Education Reimbursement Program," where the company covers between $2,500-$5,250 in tuition every year per person who seeks further education.
But even more than an opportunity to advance one's own education, there has to be a stake in the work to keep people engaged. T-Mobile does this in so many ways, McKenzie says, involving employees in product launches and new product release parties, making the workplace a fun place to be with picnics, game rooms and other shared activities, and awards, rewards and other forms of recognition for great service.
Ultimately, the key word for T-Mobile's focus on what it means to be the Best of Best is its focus on the frontline. That frontline refers to how customers are cared for as well as how employees are nurtured and encouraged. Everything happens on the frontline, like a domino effect, amounting to a company-wide success that just can't be faked.
For a company this big, the success is real. And impactful. In 2014, T-Mobile employees devoted 8,600 volunteer hours to community improvement, contributed more than $90,000 from employees to help children's afterschool programs, served more than 7,300 children across the country and served 55 million customers across the country. That's a very big deal.
Join us in celebrating Atlanta's 2015 Best and Brightest Companies to Work For:
1Source International
www.1sourceinternational.com
1Source makes conferencing solutions simple and affordable. From the smallest collaborations to the largest white-glove events, this Roswell, Ga.-company offers reliable and cost-effective audio, Web, video, and event conferencing solutions.
3C Software
www.3csoftware.com
By focusing on the needs of finance and operations leaders and practitioners, 3C Software has become a leading provider of cost and profitability solutions to some of the world's most recognizable brands. Its platform, ImpactECS, gives companies the tools to expand their modeling and analysis capabilities beyond traditional ERP offerings while avoiding the pitfalls of unwieldy spreadsheets and custom-built systems.
Adcap
www.adcapnet.com
Adcap Network Systems focuses on improving the data technology and communications infrastructure of mid-size organizations. Founded in 2002, the Adcap team of more than 75 employees has many years of experience in planning, deploying, and supporting business technology solutions.
Alimera Sciences
www.alimerasciences.com
Alimera Sciences (NASDAQ: ALIM) is a pharmaceutical company that specializes in the research, development and commercialization of prescription ophthalmic pharmaceuticals. The company is focused on diseases affecting the back of the eye, or retina, because these diseases are not well treated with current therapies and will affect millions of people among aging populations.
ALL4
www.All4inc.com
ALL4 is a nationally recognized consulting company shaping environmental responsibility and creating distinction for clients, employees, and partners. The company was founded on expertise in air quality consulting, which remains the core service offering. The ALL4 team is comprised of engineers, scientists and meteorologists who are committed to understanding and shaping the environmental regulatory landscape by active participation in regulatory and policy decision-making groups.
American Fueling Systems
www.americanfuelingsystems.com
American Fueling Systems (AFS) is a national leader in the alternative fueling industry, providing alternative fuel such as Compressed Natural Gas (CNG) and Liquefied Natural Gas (LNG) to the transportation and energy sectors. The company offers services that range from delivering LNG to portable power generators to operating fueling stations that provide CNG to fleet users. In addition, AFS provides design/build services, equipment sales, and a consulting team for municipalities and Fortune 500 companies on the costs and benefits of adopting an alternative fueling strategy.
American Global Logistics
www.americangloballogistics.com
American Global Logistics has more than 70 years of combined experience in international shipping, domestic transportation and supply chain logistics industries. The company team is composed of top ranked logistics executives who offer a combined skill-set ranging from ocean and air inbound and outbound logistics to warehouse and distribution and supply chain management.
Amerisure Insurance
www.amerisure.com
For more than 100 years, Amerisure has provided a comprehensive array of property and casualty insurance products to protect businesses as well as the health and safety of employees. The company is an A.M. Best "A" (excellent) rated company and services mid-sized commercial enterprises focused in construction, manufacturing and health care.
Arby's
www.arbys.com
Headquartered in Atlanta, the Arby's Restaurant Group Inc., is the franchisor of the Arby's brand of restaurants, which have fed Americans since 1964. The Arby's brand purpose is "Inspiring Smiles Through Delicious Experiences." Arby's Fast Crafted restaurant services feature a blend of quick-serve speed combined with quality and care.
Armedia
www.armedia.com
Armedia provides technology services to help organizations translate their strategic business agendas into IT initiatives and solutions that measurably improve performance. From training and consulting, to hosting services and customer support programs, Armedia helps enable businesses to become more responsive to market opportunities and threats. IT services include CIO support and governance, cloud and virtualization, mobile computing, software development and integration, records and information management, operations and maintenance, and UX design and usability testing.
Ashton Staffing
www.ashtonstaffing.com
Founded in 1995 by Melissa Hulsey, a veteran of the staffing industry, Ashton provides personalized staffing services to a wide variety of businesses through its three divisions: Ashton Staffing, The Ashton Group and Ashton Medical Staffing. The company provides temp-to-hire programs, temporary placement services, direct hire and contraction position fulfillment and a variety of support services for companies seeking strategic staffing solutions.
Ashton Woods
www.ashtonwoods.com
Ashton Woods is a homebuilding company dedicated to blazing new trails in design, personalization and possibilities to build homes that reflect the unique people who live in them. Ashton Woods' team of designers blend experience and inspiration with the visions and dreams of its clients for truly unique results.
AWD Management Services
www.awdms.com
AWD provides backroom administrative support to allow customers the freedom and peace of mind to concentrate on meeting mission objectives. Outsourcing administrative needs to AWD's team of managers and subject matter experts who are adept at establishing on-site operating procedures and management practices ensures smooth-running offices.
Axis Teknologies
www.axisteknologies.com
Axis Teknologies plans, designs, implements and optimizes wireless networks. Axis provides effective, laser-focused wireless solutions for deploying new infrastructure technology in Core and Transport Networks, Small Cell and DAS, and Data Centers. Axis helps companies understand the big picture, improve operational efficiencies and speed-to-market.
BDO USA LLP
www.bdo.com
BDO is the brand name for BDO USA LLP, a U.S. professional services firm providing assurance, tax, financial advisory and consulting services to a wide range of publicly traded and privately held companies.
BlueFletch Mobile
www.bluefletch.com
BlueFletch has been building quality mobile apps since 2008 by a team of passionate, knowledgeable, and experienced developers. They leverage their expertise to guide clients from the early phases of projects (analysis, design, architecture) through the crunch time phases (QA, testing, deployment, training, and triage).
Buckhead Business Consulting Inc.
www.bbusinessconsulting.org
Buckhead Business Consulting Inc., a sales and marketing firm, is known as one of the top outsourced sales and marketing firms in Atlanta, based on their ability to show profitable growth and superior marketing services.
Cardinal Web Solutions
www.cardinalwebsolutions.com
Cardinal Web Solutions is a creative group of marketing professionals, versatile designers and expert developers skilled at leveraging traditional and innovative mediums to build emerging businesses and national brands.
City of Atlanta
www.atlantaga.gov
With the world's busiest passenger airport and more than a dozen Fortune 500 companies, Georgia's capital city of Atlanta drives the economic growth for the Southeastern region. As the largest municipality in the state, the city of Atlanta government has more than 7,000 employees with a general fund budget in excess of $500 million.
Clinical Resources
www.clinicalresources.com
Owned and operated by health care professionals with more than 100 years of combined health care experience, Clinical Resources is an executive search and talent management firm, placing experienced professionals in temporary and permanent positions in long-term care, skilled nursing facilities, assisted living facilities, hospitals, health care systems, school systems and affiliate organizations nationwide.
Comcast
www.comcast.com
Comcast is a far-reaching communications company that innovates by bringing together cutting-edge media and technology to create entertainment and online experiences.
Connectivity Wireless Solutions
www.connectivitywireless.com
Connectivity Wireless Solutions offers consulting, engineering, project management, installation and staffing services to wireless carrier and enterprise customers who need in-building wireless (DAS) solutions.
Conway MacKenzie Inc.
www.conwaymackenzie.com
Conway MacKenzie is a restructuring and financial advisory firm for the middle market – across industries nationwide. Conway MacKenzie delivers hands-on financial, operational and strategic services that help healthy companies grow and troubled companies get back on track.
Core Benefit Solutions
www.corebenefitsga.com
Core Benefit Solutions is focused on offering tailored employee benefit programs to companies of all sizes. With more than 50-plus years of combined experience, the company is comprised of individuals from varied backgrounds.
Cousins Properties Inc.
www.cousinsproperties.com
Cousins Properties Incorporated (NYSE:CUZ) is a fully integrated, self-administered and self-managed real estate investment trust (REIT) based in Atlanta. Founded in 1958 by Tom Cousins, the company has extensive expertise in development, acquisition, leasing and property management.
Crane Worldwide Logistics
www.craneww.com
Crane Worldwide is a full-service air, ocean, trucking, customs brokerage and logistics company. Crane Worldwide is dedicated to becoming the industry's premier global provider of customized transportation and logistics services by delivering innovative, efficient and cost effective solutions.
Crowe Horwath LLP
www.crowehorwath.com
Crowe Horwath LLP is one of the largest public accounting and consulting firms in the United States. Crowe uses its deep industry expertise to provide audit services to public and private entities.
CTS Inc.
www.askcts.com
CTS is a privately held, regional IT consulting firm that provides business intelligence, quality assurance, application integration, software development, and portals and collaboration consulting services to enterprise clients.
Daugherty Business Solutions
www.daugherty.com
Daugherty Business Solutions combines insight, talent and technology to make companies run better. From IT strategy to business operations and technology, the company helps its clients address changes and market challenges.
DigitasLBi
www.digitas.com
DigitasLBi is a global integrated brand agency that builds active brands for some of the leading companies in the world. They help brands embrace the digital age and all the creative and technological changes revolutionizing their business.
DMC Atlanta Inc.
www.dmcatlanta.com
DMC Atlanta Inc., specializes in direct marketing and customer acquisitions for companies in the cable and satellite, retail and telecommunications industries. Efforts focus on a face-to-face, relationship-based approach to marketing, to increase brand recognition and increase customer loyalty.
Dodge Communications
www.dodgecommunications.com
As part of Myelin Communications, a family of agencies serving the health care and financial services sectors, Dodge Communications was founded in 2001 with a vision that health care companies of all sizes need clear, sustainable messaging platforms; comprehensive communications strategies; expert content development; and creative, ongoing outreach programs to become leading suppliers of health care products and services. Dodge has worked with more than 250 U.S.-based health care companies that deliver products and services to hospitals, physician practices, payer organizations and vendors.
EasyCare
www.easycare.com
EasyCare is the leading independent brand of automotive benefits specifically created to enhance the vehicle buying and ownership experience. EasyCare provides vehicle service contracts (frequently referred to as extended warranties), paintless dent repair, key replacement coverage, maintenance, and more. Since 1984, EasyCare has served more than 7 million customers.
Eclipse Web Media
www.eclipsewebmedia.com
Eclipse Web Media helps clients establish their company's brand and presence on the Web, through Web design, development, content generation and SEO. They are committed to giving their clients the resources necessary to succeed online.
Emerald Data Networks Inc.
www.emeralddata.net
Emerald Data Networks, Inc., provides certified engineers, project managers and experienced business professionals who work with customers' internal IT staff. Emerald's goal is to make sure client technology is helping them serve their customers better and compete more effectively.
Emory Healthcare Inc.
www.emoryhealthcare.org
Emory Healthcare is the largest and most comprehensive hospital system in Atlanta and the state of Georgia. High quality health care provided in a safe, patient- and family-centered environment is the foundation of Emory Healthcare's mission.
Equity Prime Mortgage
www.equityprime.com
Equity Prime Mortgage is a national lender whose operations extend to more than 42 states. The company provides a variety of mortgage products with certified underwriters on staff who process applications quickly.
EventSphere LLC
www.eventsphere.com
EventSphere produces large events like tradeshows and conventions, offering comprehensive services, cutting-edge technologies, and strategic partners in order to execute seamless events that people will talk about and be impacted by.
Every Woman Works Inc.
www.everywomanworks.org
Every Woman Works Inc. Learning Center is a safe, therapeutic and supportive environment where women who are homeless, recovering from alcohol and drug dependency, in transition from the penal system, recovering from domestic violence or living in poverty will have an opportunity to develop solid, transferable work skills, to strengthen their confidence and obtain financial independence.
firstPRO Inc.
www.firstproinc.com
firstPRO is an executive search, professional placement and traditional staffing firm. Established in 1986, firstPRO has grown to more than $30 million in annual revenue and is now one of the fastest growing independently owned firms in the country.
Force Marketing
www.forcemktg.com
Force Marketing provides automotive direct mail and digital marketing services for a vast array of clients across North America. Their proprietary Forcetelligence data aggregation tool collects data from more than 600 sources allowing them to access more than 250 million consumer vehicle ownership, credit score and online buyer behavior records.
Futurewave Systems
www.futurewavesystems.com
Founded in 2006, Futurewave Systems provides staffing and technology placement and support. They are a global network of proven industry professionals demonstrating the fastest fulfillment rate of high tech professionals for Fortune 500 Companies.
Gables Residential
www.gables.com
Gables Residential is a real estate company specializing in the development, construction, ownership, acquisition, financing and management of multifamily and mixed housing developments. Gables manages about 31,000 apartment homes and 500,000 square feet of retail space and has received national recognition for excellence in development, management, sales, marketing, training, benefits and corporate accommodations.
Gwinnett Environmental and Heritage Center
www.gwinnettehc.org
The Gwinnett Environmental and Heritage Center is a unique partnership among the Gwinnett Environmental and Heritage Center Foundation, the University of Georgia, the Gwinnett County Board of Education, and the Gwinnett County Board of Commissioners. The Center's mission is to transform the concepts of science and history into interactive, learn-by-doing experiences that encourage visitors' natural curiosity and sense of wonder.
H2O Overgroup
www.overgroup.com
H2O Overgroup is a software-as-a-service company that develops innovative billing, CRM and management solutions. Founded in 2002, their mission is to be the best billing and back-office software company in the world by providing innovative solutions and extraordinary service.
Hall Booth Smith P.C.
www.hallboothsmith.com
Hall Booth Smith, P.C. is a full-service law firm with nine regional offices in Georgia, Florida, Tennessee, South Carolina, and the country of Georgia.
HealthLink Dimensions
www.healthlinkdimensions.com
HealthLink Dimensions has core competencies around multiple source database management and data integrity services, becoming a leading provider of health care data.
Hitachi Consulting
www.hitachiconsulting.com
With decades of business process, vertical industry, and technology experience, Hitachi Consulting delivers practical business strategies and technology solutions and services to help clients quickly realize measurable business value and achieve sustainable results.
HR Partners Inc.
www.my-hrteam.com
The goal of HR Partner, a certified woman-owned enterprise, is to provide HR services that allow clients to focus on their core business, engage and retain employees and provide HR strategies and best practices that positively impact the bottom line.
IDology
www.idology.com
IDology offers real-time and on-demand identity verification and fraud prevention solutions for organizations operating in a customer-not-present environment. They provide an end-to-end authentication solution that streamlines processes, increases customer acquisition
and improves the overall customer experience.
Incentive Solutions Inc.
www.incentivesolutions.com
Incentive Solutions provides incentive, reward and event management products designed to maximize motivation and move businesses toward their objectives. Founded in 1994, Incentive Solutions designs, implements and supports points–based online rewards programs, debit and gift card rewards programs, group travel rewards programs and delivers meetings and events services.
InfoMart Inc.
www.infomart-usa.com
InfoMart opened in 1989 with a vision to use cutting-edge technology, combined with uncompromising personal service, to provide a fast, simple, cost-effective and accurate system to screen potential employees. InfoMart has become one of the nation's premier applicant-screening companies.
IST Management Services Inc.
www.istmanagement.com
IST is a national facilities management company providing on-site mail and copy services as well as electronic document management software solutions. Founded in 1997, the company operates in more than 30 cities. Its Web-based proprietary software, IST Suite, provides ground-breaking advances in managing on-site facilities.
iVision
www.ivision.com
iVision is an IT consulting and engineering support services firm that collaborates with clients to architect, transform, and effectively operate IT infrastructure platforms. Their mission is to gain a deep understanding of clients' business, use technology to solve business problems and build clients for life.
J Smith Lanier & Co.
www.jsmithlanier.com
As one of the oldest insurance brokerage firms in the United States, J. Smith Lanier & Co. leads the industry by specializing in the management of business, alternative risk, employee benefits and personal insurance needs.
Jabian Consulting
www.jabian.com
Jabian Consulting is a strategic management and technology consultancy serving mid-market and Fortune clients across multiple high-growth industries. They "Tackle tough issues. Integrate business and technology. Drive growth. Manage change. Get stuff done."
JDC Group
www.jdc-group.com
JDC Group specializes in technology recruiting and staffing, using a consultative approach to build lasting relationships with clients and consultants. Founded in 2005, JDC has been on the Inc. 5000 list of fastest growing private companies for two years.
Kingdom Fortunes Development Group
www.rashidbrown.com
Kingdom Fortunes Development Group is a privately-held corporate leadership and executive development learning consultancy. The mission of the company is to provide organizational support, staff development, and personal/professional development in urban and rural markets.
LGS Staffing
www.lgsstaffing.com
Founded in 1999, LGS Staffing is a staffing and employment services firm. LGS Staffing Agency offers employers strategic and flexible contingent workforce solutions, regardless of the size of the organization.
Macquarium Intelligent Communications
www.macquarium.com
Macquarium Intelligent Communications is a digital marketing company that provides end-to-end service offerings by drawing deep insights from customer research and macro trends. They are based in Atlanta and have business operations in Washington, D.C., Houston, and San Francisco. They work with clients across the United States and the world.
Medicus Solutions
www.msinc.com
Medicus Solutions provides IT outsourcing and management services throughout the Southeast United States. They have leveraged their extensive health care informatics consulting experience and their position as a leading health care IT consulting provider to serve clients across other highly-regulated industries.
Mom Corps
www.momcorps.com
Mom Corps is a professional staffing company. Mom Corps, a certified women-owned business, was founded in 2005 with the goal of providing flexible work opportunities to professionals who were raising young families. Since that time, they have come to realize that the key to recruiting, retaining and engaging any talent is what work-life satisfaction.
One Vision Productions LLC
www.onevp.org
One Vision Productions provides graphic design, photography and video services. Their mission is to provide a one-stop shop that combines a client's vision with the creative work of their production team.
OxBlue Corp.
www.oxblue.com
OxBlue provides construction clients with project management solutions via innovative, Web-based camera technology backed by focused customer service. OxBlue camera systems have been used on more than 10,000 projects and come complete with all the hardware, technology, and services needed.
Pacesetter Steel Service Inc.
www.teampacesetter.com
Pacesetter Steel Service Inc.'s mission is to be the recognized leader in the steel industry. They believe in servicing customers above and beyond processing and supplying flat rolled steel – they want to be their solutions provider.
Paramount Software Solutions Inc.
www.paramountsoft.net
Paramount Software Solutions provides IT resourcing, consulting and software development. The company plans, implements and manages networks and business solutions.
PBD Worldwide
www.pbd.com
PBD Worldwide provides distribution and inventory management as well as integrated technology services. From its experience in distribution and inventory management to the integrated technology that facilitates it all, PBD offers a complete fulfillment solution. PBD ships in excess of 4 million packages for its clients each year.
Phoenix Integrated Store Consultants
www.wearephoenixatl.com
Phoenix Integrated Store Consultants plans and executes marketing strategies that connect clients with their ideal customers. Their mission revolves around generating client, company, and customer solutions that improve life for everyone.
PrimeRevenue Inc.
www.primerevenue.com
PrimeRevenue delivers solutions for financing the supply chain to bring buyers, suppliers and financial institutions into a common trading environment across borders, using multiple languages and multiple currencies, securely accessed over the Internet.
Protiviti
www.protiviti.com
Protiviti is a global business consulting and internal audit firm composed of experts specializing in risk, advisory and transaction services.
Pursley Friese Torgrimson LLP
www.frieselegal.com
Pursley Friese Torgrimson works with businesses and real property owners, applying strategic insight to achieve meaningful results for businesses and the real estate community. This law firm specializes in resolving challenges that are transactional or involve litigation at trial or alternative dispute resolution.
QGenda Inc.
www.qgenda.com
QGenda provides Software-as-a-Service that automatically generates optimized physician work schedules to accommodate complex business rules and accurately schedule the appropriate medical provider based on their skill level, specialty, availability and preferences.
Quest Group
www.qgsearch.com
Quest Group is a global search and consulting firm dedicated to developing strategic partnerships that maximize clients' human capital and talent acquisition needs. Quest Group maintains offices in New York and Atlanta and holds significant relationships across the Americas, Europe and Asia.
Reliant Technology
www.reliant-technology.com
Reliant Technology simplifies the process of sourcing storage by offering products from trusted manufacturers at affordable prices.
Relus Technologies
www.relus.com
The leadership at Relus is committed to helping IT organizations maximize the life of their IT environment, while empowering and enabling them to realize the benefits of platform, infrastructure and applications as a service.
Rural Sourcing Inc.
www.ruralsourcing.com
Rural Sourcing Inc. (RSI) is determined to "Change the Experience" of Information Technology (IT) outsourcing. Its software development centers are located in lower cost of living areas near universities, so they can provide cost savings to clients.
Satori Interactive
www.satoriinteractive.com
Satori Interactive is a boutique, digital experience agency with a team of leading user researchers, visual designers, and developers who specialize in user experience strategy and design for Web, mobile, and applications.
Savills-Studley
www.studley.com
Studley's multidisciplined specialists provide a variety of strategic brokerage and consulting services that enable clients to achieve business and financial goals.
Search Wizards
www.searchwizards.net
Search Wizards' team of recruiting and sourcing consultants provides expertise in core recruiting functions – internet research, direct / indirect sourcing, building talent pipelines, and screening – providing clients access to the top talent available while controlling recruiting spend, decreasing time to hire, and creating scale.
Service Express Inc. (SEI)
www.seiservice.com
SEI maintains and repairs servers and IT storage, provides OS support and hardware sales and offers data center relocations.
SignatureFD LLC
www.signaturefd.com
SignatureFD is a dynamic financial design firm that is passionate about providing the financial peace of mind necessary to live confidently, fully and purposefully. They design a blueprint that reflects what is important to clients and where they would like to be in the future.
Southern Lighting Source
www.southernlightingsource.com
Southern Lighting Source is a full-service lighting agency representing manufacturers of premium architectural, commercial and industrial lighting and controls.
Sustainable Investment Group
www.sigearth.com
sIG exists to create leaders in resource responsibility, cultivate enriching relationships, celebrate each other's successes, and leave the world a better place than they found it. The company provides LEED certification and training, green building consulting and other technical services.
The Community School
www.thecommunityschool.net
The Community School's mission is to support the developmental and educational growth of adolescents and young adults with Autistic Spectrum Disorders.
The Hilbert Law Firm LLC
www.hilbertlaw.com
Hilbert Law provides skillful representation that is versatile, efficient and personal, achieving results in court and in alternative forums.
The Intersect Group
www.theintersectgroup.com
The Intersect Group offers a combination of consulting capabilities with comprehensive staffing and recruitment services. Their visions is to be the industry leading provider of tailored finance, accounting, and technology professional service solutions driving superior results for clients.
The List
www.thelistinc.com
The List helps agency business development, media sales, sponsorship and advertising technology professionals identify and engage the most relevant advertising, media and marketing decision-makers.
The Renn Wealth Management Group
www.rennwealth.com
The Renn Wealth Management Group oversees the financial affairs of a small group of high net worth families and business owners.
ThoughtWorks Inc.
www.thoughtworks.com
ThoughtWorks is a software company whose purpose is to revolutionize software design, creation and delivery, while advocating for positive social change. Its product division, ThoughtWorks Studios, makes pioneering tools for software teams who aspire to greatness.
TJFACT Inc.
www.tjfact.com
TJFACT has core capabilities in health care, information technology, and program management consulting, focused on resolving the challenges and improving on the successes of the federal government.
T-Mobile USA
www.t-mobile.com
T-Mobile US Inc. (NYSE: TMUS) provides wireless services to businesses and individuals. The company's advanced nationwide 4G LTE network provides approximately 55 million customers with wireless service.
Total Quality Logistics
www.tql.com
Before starting TQL in Cincinnati in 1997, the company CEO worked as a produce shipper. His frustration at a perceived lack of service and integrity in the industry drove him to start his own company. TQL has become one of the largest and most trusted freight brokerage firms in North America, employing more than 3,200 people.
Trevelino Keller
www.trevelinokeller.com
Trevelino/Keller specializes in public relations, social media and brand marketing. Headquartered in Atlanta with a presence in San Francisco, Orlando, FL and Charleston, SC, Trevelino/Keller specializes in public relations, social media and brand marketing.
VDart Inc.
www.vdartinc.com
VDart is an IT Solutions organization, headquartered in Alpharetta, Ga., with operational presence in the U.S. and India. One of the leading IT service providers in the nation, VDart has augmented its staff with highly qualified and trained consultants who are experienced and certified with the latest technologies.
VeriStor
www.veristor.com
VeriStor provides customized, performance-enhancing virtual infrastructure and enterprise storage solutions and services to enterprise and mid-market companies.
Veritas Inc.
www.veritasatlanta.com
Veritas provides outsourced customer acquisition, establishing channels of marketing communications between clients and their customers.
Vert
www.vertdigital.com
Vert is an innovative digital advertising and marketing agency, connecting brands with consumers by leveraging the reach, targeting, and interactivity of the digital and social Web.
Wolverton & Associates Inc.
www.wolverton-assoc.com
Wolverton & Associates is a full-service website design and Web development firm providing Web design and application development, graphic design, branding and support for both traditional and new media marketing campaigns.
XINNIX Inc.
www.xinnix.com
XINNIX, The Mortgage Academy of Excellence, provides the mortgage industry proven and effective sales development programs. While companies choose XINNIX for a variety of reasons, all have one thing in common: the desire to foster a unified sales culture among leaders and loan officers that will directly impact the bottom line.
Your Design Online
www.yourdesignonline.com
Your Design Online is a full-service website design and Web development firm. Everything they do meets a direct need for a specific client, and specifically addresses their requests. They offer a mix of exceptional talent, technical expertise, boutique customization, and competitive pricing.
Zifty.com
www.zifty.com
Zifty.com is an online delivery company that partners with restaurants and brand to bring their goods to customers' doors.