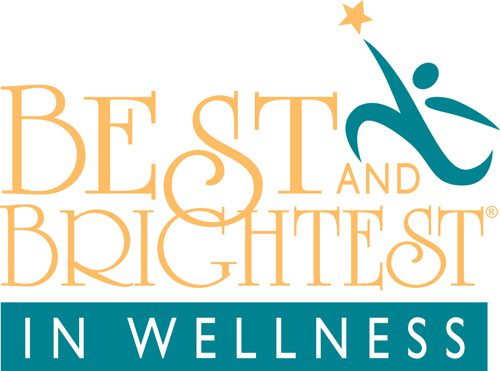 If the people who count themselves part of an organization are among its greatest assets, it certainly makes sense that wellness would count among the strategies key to preserving the value.
This year's wellness standouts demonstrate the truth of that premise.
While the industries and missions represented on our list are varied, one of the consistencies is the attention to detail, making sure that health of body and mind are given the attention they deserve.
At Altair Engineering for example, something as simple as planting an organic garden that provides fresh vegetables for employees stands out. That company has also integrated a variety of initiatives and policies in an effort to encourage wellness among its employees and has recently hired a part time physical therapist available to employees during the workday.
Or at Carson Health, where the wellness strategy includes an annual health risk appraisal/personal health evaluation for members of its team, followed by a report with follow-up recommendations.
At Danboise Mechanical employees are encouraged to get and stay fit through walking challenges it organizes and coordinates online. The company also subsidizes health tracking devices and Weight Watchers programs and pays for onsite health screenings and offers healthy choices in its vending system (no soda pop or candy bars), with free fresh fruit and water provided daily.
While the wellness of the body is obviously important overall, so is the mind and soul. So says Experi-Metal CEO Valiena A. Allison. "We brought in a yoga instructor to provide classes on site to give employees the opportunity to achieve and maintain good physical and mental health and spiritual harmony," says Allison.
Or at Gentex, where encouraging employees to stay healthy includes helping to remove any financial barrier there may be to being physically fit (the company has an on site wellness center with high-quality equipment available to everyone).
Even at Keith Elementary School the idea of wellness—in mind, body and spirit—is woven throughout the goals and educational process, says Phillip Pittman, who serves as its principal. "We understand that an important way to help students succeed is to be sure they get the proper nutrition, so we offer high-quality, nutritious meals to all students at an affordable price."
At Metro Health, which serves more than a quarter million patients from its base in West Michigan, a LEED-certified hospital—one of the first in the nation—is at the heart of a 170-acre Metro Health Village, which brings a community of support services and retail.
And while not every organization out there has a "healthy mission," the MSU Federal Credit Union does: "To support and encourage a culture of health and wellness by providing resources, choices, and programs while motivating employees to secure ownership over the health, success, and balance in their lives."
Even a strictly financially oriented organization like Quicken Loans offers a wide range of programs to keep team members healthy and improve their quality of life. Those initiatives include disease management, smoking cessation (with 100 percent coverage for prescription drugs) and weight management. The company also offers the services of an site nutritionist, physician-led lunch and learns, tours of grocery stores, and multiple weekly on site exercise classes.
And yes, churches like Detroit's Third New Hope Baptist Church have embraced wellness, with several innovative initiatives that include helping its members focus on healthy eating.
The wealth of activities, the persistent attention to helping those who need and want to live healthier in their day-to-day activities, is more than encouraging.
It's among the qualities of life that help make us a community in the truest sense. Winners of the Best And Brightest in Wellness awards were honored at a gala Oct. 2 in Dearborn, Mich. Here are their stories.
Aijalon Baptist Church
Aijalon Baptist Church
Detroit
Clearly, there's a distinct spiritual component to the work done by those who call Aijalon Baptist Church home. But one shouldn't confuse "Mission" for something less than taking an interest in the health and wellness of those who seek out the church and what it has to offer. Indeed, as Sister Kim Lee explains, the Mission Ministry is the backbone of Aijalon. "Combined with the Outreach Ministry, these ministries devote endless hours to providing health and wellness opportunities to those in need. These include annual Back to School Fairs which provide the youth with necessities needed for the upcoming school year and we offer free nutritious meals during the fair." The church opens its doors to various health care, wellness, and other community resource vendors during those events. The Mission Ministry has also hosted a wellness screening with free health care prevention tests (for glucose, cholesterol, and blood pressure). "One of our very own members had diabetes and wasn't even aware," notes Lee. "Her blood sugar was so high they immediately transported her to the hospital were she was stabilized and released." The Mission Ministry also holds a monthly feeding program, with meals always made from scratch using nutritional food groups. A cooking class is also held through the Youth Ministry to show children early on the importance of eating healthy well-balanced meals. The children learn to cook from simple recipes so they're ready to replicate the lessons when they leave. Physical fitness goes hand in hand with eating healthy. "Promoting physical fitness is something that the Aijalon Baptist Church actively engages in," adds Lee. "We think it's important to find new and creative ways to stay active and stay fit and there are plans to add a fitness ministry to attract our older crowd while showing them very versatile exercises for any age."
Altair Engineering
Altair Engineering
Troy
www.altair.com
In addition to its on site clinic, formally called Altair Health Services, Altair Engineering, with the help of employees, has planted an organic garden and uses the fresh vegetables from the garden to have a salsa party with employees at its Troy office. It has also continued its "Altair Biggest Losers" challenge by adding a team component. Altair also pays for annual mammograms for its employees and holds annual health fairs, which include health-screening activities. Altair has also integrated a variety of initiatives and policies in an effort to encourage wellness among its employees and has recently hired a part time physical therapist available to employees during the workday. It has also incorporated fresh-food vending options as well as a local farmers market that is available on site once a week for employees interested in organic foods. There is also an in-house exercise facility that employees can access 24 hours a day seven days a week.
Altarum Institute
Altarum Institute
Ann Arbor
www.altarum.org
Altarum Institute, an organization focused on providing both objective research and client-centered consulting services, combines work-life balance with an innovative wellness program designed to attract, retain and engage talented employees. The organization's approach to work-life balance includes providing flexible work schedules and hours, flextime and telecommuting options. From a health insurance perspective, Altarum offers employees two options for high deductible health plans along with a Health Savings Account that it partially funds. The contributions help employees offset out–of-pocket expenses, with Altarum encouraging all employees to become educated consumers for the health care they seek. In addition to the health care coverage, Altarum organizes a variety of wellness programs throughout the year and employees are eligible to receive incentives for wellness challenge participation, biometric screenings, smoking cessation courses, disease management programs, annual preventive health visits and healthy lifestyle coaching programs.
Baudville
Baudville
Grand Rapids
www.baudville.com
Baudville is the place for daily recognition. The name was created by combining the computer term "baud" (from the company's origins in software development) with the exuberant theatrical name "vaudeville." Put it all together and you have Baudville— a place where more than 80 employees enjoy working and more than 200,000 customers come to receive a stellar performance. Baudville makes a zillion different kinds of recognition products and tools that are fun and easy to use. From note cards to pins to the whole kit and caboodle, its inventory of recognition products is an affordable way to recognize anyone for just about anything—any day of the week. Baudville says it is passionate about daily recognition. It knows it works. The people there have seen the value in day-to-day recognition and watched its customers transform their cultures by simply expressing gratitude in a frequent and meaningful way. Baudville knows day-to-day recognition works, and wants it to work for others.
Beaumont Health System
Beaumont Health System
Troy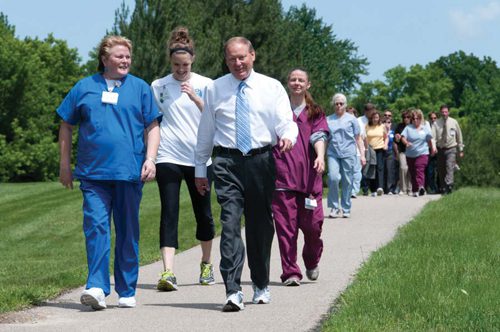 www.beaumont.edu
Beaumont Health System offers a wide variety of health, wellness and fitness programs to support employees and their families, including physical activity tracking using devices such as Fitbit, nutrition campaigns to promote healthful eating, and stress reduction programs such as Mindfulness Based Stress Reduction. Giving employees a menu of options from which they can choose is among the keys to Beaumont's philosophy around wellness. In short, participants are able to choose what would be most helpful for them. Beaumont Health System remains committed to offering benefit-eligible employees and spouses comprehensive health care benefits while remaining committed to the need for personal responsibility and accountability.
BizStream
BizStream
Allendale
www.bizstream.com
At Bizstream, engagement is a big part of what drives its priorities when it comes to wellness. From informal surveys of employee goals, challenges, and interests to quarterly wellness "challenges" that may include weight maintenance, weight loss, exercise, and healthy eating, the idea is that everyone is encouraged to participate. Even as the company grapples with how to effectively measure its success in the wellness arena, a key point is how integrated the approach is to its day-to-day existence. As CEO Mark Schmidt explains: "We're too busy working on being healthy and doing our jobs to document and formalize a lot of what we do." Still, BizStream has built a lot into its wellness culture, specifically talking about wellness and ways team members can benefit. Being a software development firm, it's no surprise that BizStream has a technological component to its drive for wellness. It's called "Wally"—a program whose primary job is to manage the flow of customer requests and "announce" what's going on. But Wally also helps keep team members stay healthy, becoming something of a virtual wellness coach. Periodic announcements such as "BizStream are you ready for a workout?" are often followed by requests for pushups, squats, lunges or similar exercises. And while it can lead to odd looks from visitors when employees get out of their chairs and drop to the floor, the important thing is that it works. Add to that the four or five times a day that someone calls out for a walk—followed by a five-minute break for a stroll around the building and you begin to see this could be a very catchy part of a wellness culture. BizStream has also installed height adjustable work surfaces and even "walking desks" combining treadmill technology. There's also a room dedicated to fitness. BizStream is also incorporating group events such as golf outings and bike rides (some overnight). It's also paying for genetic testing through www.23andme.com, a service that helps identify inherited conditions and traits that may help an employee's health team focus on preventive steps that could help along the way. "We want our employees to use all means reasonable to be as healthy, happy and as productive as possible," notes Schmidt.
Carson Health
Carson Health
Carson City
www.carsonhealth.org
Carson Health has an integrated approach to improving the wellness of its team, including reducing sick leave (2 percent annually) and embracing online tools to help staff meet their personal health and fitness goals, all the while reducing the cost of health care as it improves productivity in a smoke-free environment. With an Associate Wellness Clinic (staffed by a nurse practitioner) available at no cost to staff, Carson Health's wellness strategy also includes an annual health risk appraisal/personal health evaluation for members of its team, followed by a report with follow-up recommendations. An annual summer wellness program is also part of the ongoing initiatives at Carson Health. Teams of four compete for weekly prizes, with points awarded for healthy living activities. Plans for an even more robust wellness program are under way, with an emphasis on group activities and various health events.
Center for Financial Planning
Center for Financial Planning
Southfield
www.centerfinplan.com
A wide range of activities designed around wellness has those who work for the Center for Financial Planning looking and feeling good. Among those initiatives are the "Souper Thursday" events, when staff members rotate in bringing the hot stuff in every other Thursday (their colleagues donate for a bowl with proceeds going to various charities). There are also educational guest speakers for lunch and learns and the kitchen is stacked with health snack options—all complimentary. Staff also plan social events, lunches and various fitness challenges, all with overall wellness in mind. The company offers flu shots in the office and there are quarterly massage sessions in the office, especially designed around higher stress periods. There's also a "quiet room" where employees can go to anytime to decompress and flex time, plus flexible spending for health care.
Chapel Hill Baptist Church
Chapel Hill Baptist Church
Detroit
www.chapelhillmbc.org
Compuware
Compuware
Detroit
www.compuware.com
Compuware has an award-winning wellness and work-life program designed to enrich the lives of its employees. The initiatives include having a dedicated team of wellness specialists who support Compuware employees worldwide, helping them create an effective balance between their careers, their health and their home lives, promoting overall employee satisfaction, well being and engagement. Through a strong educational platform, the Wellness and Work Life department is able to educate Compuware employees about health and wellness on a global level. Compuware continually cultivates partnerships with the very best health providers and learning institutions in order to deliver the most accurate and current information regarding health management and overall wellness. The wellness specialists oversee the daily operations of Compuware's 40,000-square-foot, state of the art headquarters Wellness Center.
Consumers Credit Union
Consumers Credit Union
Kalamazoo
www.consumerscu.org
When Consumers Credit Union implemented its first formal wellness program in 2012, CEO Kit Snyder says it did so because it was the right thing to do. "We focused on implementing a program focused on helping employees find the intrinsic reason why being 'well' was important to them," says Snyder. "We wanted to help them improve their quality life and their satisfaction, not only at work, but in life overall." Snyder says the investment was strategic. "We are a mission driven member service organization and we know that healthy satisfied employees provide higher levels of member service to our members." That said, the various initiatives have made a big difference in the overall quality of life for employees. "We have seen real results in changing behaviors," says Snyder, pointing to a lowering of claims loss ratio from 90 percent to 60 percent since the program was launched. "While financial results were not the focus of our program, the results align with our corporate belief that if you do the right thing, while doing things right, the numbers will follow."
Cornerstone Health + Technology High School
Cornerstone Health + Technology High School
Detroit
www.cornerstonecharters.org
The school, which is part of Cornerstone Charter Schools, has partnered with the Detroit Medical Center and Beaumont Health Systems to give students opportunities to experience careers in health care. "Our attempt is to meet employees where they are," says Cornerstone CEO Tom Willis. "With that said, it is important to allow a space for employees to engage in health and wellness initiatives." The new school, which opened this fall, is providing an innovative curriculum. Its teaching methods "have shown to be quite successful for our current students, and we look forward to welcoming our new students," says Willis. The school will host a salad bar to allow students nutritious eating options. The salad bar, donated by Dole Food Co. and Meijer, features a wide array of fresh fruits and vegetables, to boost new choices for students at breakfast and lunch. The donated bar is part of First Lady Michelle Obama's broader Let's Move! initiative to end childhood obesity in a generation.
Danboise Mechanical
Danboise Mechanical
Farmington Hills
www.danboisemechanical.com
Danboise Mechanical encourages employees to get and stay fit through walking challenges it organizes and coordinates online. The firm also subsidizes health tracking devices and Weight Watchers programs. It also pays for onsite health screenings and offers healthy choices in its vending system (no soda pop or candy bars), with free fresh fruit and water provided daily. There are also courses in heart health, stress management and even meditation provided. "One of the things we strive to do is to extend the reach of our wellness program by involving spouses and loved ones in wellness competitions, on site health screenings and trainings," says CEO Mike Gendjar. "We try to maintain a constant message of health and wellness and make wellness a focus of meetings." The company takes a proactive approach to health and wellness. "We have found that this approach has helped employees to be more in touch with their well-being and, in turn, has helped them catch health problems before they became larger issues," adds Gendjar.
Digerati Inc.
Digerati Inc.
Detroit
www.digerati.co
Advancing the cause of wellness at Digerati is part of the creative approach the firm takes. "We look at things differently because our team is different," says CEO Brian Balasia. "We are not just engineers. We focus on the choreography of people, technology and process to increase efficiency, maximize production, improve quality, and enhance customer experience." As far as wellness is concerned, that translates into widely promoting health and well-being in the workplace, encouraging staff to eat healthy, exercise and reduce stress at work and home, and encouraging wellness by equipping staff with tools to foster digital wealth. An outside resource—www.mymentalspace.com—is part of that strategy. Digerati also belongs to the Compuware Wellness Center.
Diplomat Specialty Pharmacy
Diplomat Specialty Pharmacy
Flint
www.diplomat.is
In any given week, Diplomat Specialty Pharmacy has dozens of activities that help employees take better care of themselves. Among those are daily 10-minute yoga breaks designed to help employees reconnect mind and body, find better perspective and bring more energy and creativity into the workday. "If you visit our headquarters, you'll always find employees walking our lengthy hallways," notes CEO Phil Hagerman. "At Diplomat, four laps add up to a mile; we call it the 'Diplomat Mile.'" The firm, which is the nation's largest privately owned specialty pharmacy, offers more ways to help employees with their health goals, including Weight Watchers diet plans, courses designed to help participants quit smoking, "mini massages" that help relieve stress and fitness groups led by personal trainers. Diplomat also hosts annual events tied into the seasons and competes with area companies for top awards in a fitness challenge. "It's our job to improve the health of our patients and it's just as crucial that we strive to do the same for our employees," adds Hagerman. "We believe happiness is key to good health and everyday success and we aim to make the most of every change to improve our employees' experience."
Domino's Pizza
Domino's Pizza
Ann Arbor
www.dominos.com
It's part of the culture at Domino's to provide team members the opportunity to "know their numbers" – to better understand their health from a clinical perspective. The company's focus is on the five measures that make up metabolic syndrome. In addition to awareness, Domino's provide access to many different programs that can assist team members in maintaining good health or improving health to a more optimal level. Whether a Domino's team member would like to quit smoking, lose weight, learn to create healthy meals, or better control their glucose levels, there is a resource that can help. Providers reach out directly to team members or team members can locate providers on the company's benefit portal, making it easy for team members to take action so they can see results and make improvements where needed.
Easter Seals Michigan
Easter Seals Michigan
Waterford
www.essmichigan.org
CEO Brent Wirth acknowledges that plans to move the Easter Seals Michigan organization from a participation-based wellness plan to one that would focus on outcomes is getting a "rethink" based on the Affordable Care Act and plans by Easter Seals' health care insurer to drop that particular option. "We're going to be taking a harder look at imposing smoking surcharges as well," notes Wirth. But encouraging employees to make better lifestyle choices and become more educated consumers of health care services is still very much the plan. Indeed, from the very beginning of the hiring process, staff hears just how important wellness is to Easter Seals. With weekly publications devoted to the issue, on-site classes in yoga and Zumba, and organized walks and a yearly race event, the message is getting through. Easter Seals also hosts on-site chair massages. The organization has also built in a feedback system that encourages employees to let management know whether the specific efforts are working.
Experi-Metal Inc.
Experi-Metal Inc.
Sterling Heights
www.experi-metal.com
CEO Valiena A. Allison says she considers wellness at Experi-Metal to be all encompassing, one reason the firm addresses each component, including body, mind and soul. "We brought in a yoga instructor to provide classes on site to give employees the opportunity to achieve and maintain good physical and mental health and spiritual harmony," says Allison. "We bring in a different speaker each quarter for a lunch and learn session and talk about ways to have a strong and healthy body through nutrition and exercise." Experi-Metal also offers the services of a financial planner, who comes on site every month to help employees gain peace of mind regarding their financial future. The company also encourages employees to give back to the community through a once-quarterly outing to Gleaners. "We strongly believe that when you give back it is good for the soul," says Allison. The CEO also believes the key to engagement is education and action. "We provide information via company bulletin board, newsletter, etc. and then our Wellness Committee members reinforce it to team members and show ways to apply it to their lives." Allison is a strong proponent of healthy living and is seen to be a cheerleader for the team. When it comes to health care coverage, the company's approach has always been, and continues to be, providing the best possible coverage at affordable rates to help employees maximize their benefits.
Express Employment Professionals
Express Employment Professionals
Grand Rapids
www.expresspros.com
Being a small business, the Grand Rapids office of Express Employment Professionals has aggressively approached and embraced wellness as part of its culture, says CEO Janis Petrini. That includes providing health coverage at no cost to employees as well as putting in place a wellness committee made up of team members who meet throughout the year, their goal being to ensure that the firm's wellness initiatives are engaging to the team. The firm has also hired OnSite Wellness to handle its wellness program. That supplier tracks progress and provides wellness coaches, challenges and education to meet the firm's wellness needs. "We survey the team to get ideas for what would truly matter to them in a wellness program and try to include all aspects of wellness including mind, body, spirit, and financial," adds Petrini. "With our program we discovered that the number one thing that motivated our team would be extra day of paid time off. So we designed our wellness program to be able to earn extra time off each quarter. We also will do competitions through the year with various prizes and incentives to motivate team members to participate."
Farbman Group
Farbman Group
Southfield
www.farbman.com
Having a team that is able to enhance Farbman Group's mission of excellence in all facets of real estate services requires one that embraces wellness and this firm has put such a strategy in place. Helping to increase awareness of the benefits of a healthy lifestyle comes through corporate support and endorsement of the wellness program. Farbman has also added benchmark outcomes and folded in overall wellness topic into its "Farbman University" training environment, with as many as half a dozen classes on the curriculum. An annual (free) onsite flu shot clinic is another welcome tactic and the firm's health and wellness committee coordinates walking contests between individuals, teams and other companies. Pedometers are given to each participant and a healthy luncheon is provided at the end of the contest.
Fellowship Chapel
Fellowship Chapel
Detroit
www.fellowshipchapel.org
Rev. Dr. Wendell Anthony, who leads Fellowship Chapel, says the church provides innovative health and wellness programs that include taking preventative measures, education, and allowing the congregation members to take actions to avoid major complications. "We encourage congregation members to exercise their bodies daily, eat good quality nutrient foods and hydrate their bodies with water," he says. Fellowship Chapel encourages its members to exercise, taking advantage of programs such as aerobics, yoga, chair yoga, Tai Chai, Zumba, and other types of exercise. It also holds health fairs, health screenings and seminars focused on dementia and other health-related issues.
Flexco
Flexco
Grand Rapids
www.flexco.com
In its quest to become a leader in its field—conveyor belt systems are its specialty—Flexco understands just how important employee health and wellness is to that mission. With elements that include ways to help nurture mind, body and generous spirit, the firm's wellness program includes on-site biometric screenings that lead to even better results. A wellness library, online through its Intranet site, is a welcome resource for advice on healthy eating, weight management physical activity, diabetes management, prevention and self-care. Insurance providers (health and general) have added their own resources to the mix and Flexco offers a variety of onsite resources to help engage employees on a number of wellness topics. Regular lunch and learn events on a variety of wellness topics are also scheduled. Through an onsite fitness facility, Flexco offers weekly group fitness classes ranging from Cardio Bootcamp to Pilates, all with consistently high participation.
Flowery Mountain Baptist
Flowery Mountain Baptist
Detroit
Among the key wellness initiatives of Flowery Mountain Baptist Church is an annual community day during which the church conducts health screening. But there's more: the church also hosts an exercise class and its program that supports the efforts of people associated with Flowery Mountain to quit smoking has made a big difference in the overall wellness of those who attend. The pastor also takes his leadership role in encouraging wellness, speaking regularly about the responsibility of taking care of the body and encouraging members to get healthy. For six years, the church has had a food kitchen, which it uses once a week to serve a full course meal to homeless in the area. From walking, juicing fruit and vegetables and adopting low sodium diets, initiatives by the people of Flowery Mountain Baptist Church are making a difference in the overall wellness of the people who attend.
Gentex Corp.
Gentex Corp.
Zeeland
www.gentex.com
How do you improve wellness at work? One sure way is to have employees "own" their health and well-being. With a variety of initiatives undertaken since the Gentex program was transformed starting in 2007, CEO Fred T. Bauer has seen dramatic changes. Encouragement is part of the strategy but so is removing any financial barriers there might be to becoming physically fit. One example? An on-site Wellness Center fully stocked with high-quality equipment available to everyone. The company has also forged partnerships with local medical groups, again removing barriers to preventive health care and increasing workplace accessibility. Gentex is also targeting specific areas of concern, notably diabetes, with a voluntary initiative available to insured employees who either have the disease or who may be at risk. And through participation in the "Right Stuff" program, active participation in healthy activities can mean hundreds of dollars in premium savings for employees who take advantage of a wide variety of wellness initiatives.
Grand Rapids Label Co.
Grand Rapids Label Co.
Grand Rapids
www.grlabel.com
Simplicity is at the heart of initiatives that the Grand Rapids Label Co. uses to keep employees engaged. So says William Muir who adds that ease of tracking is also a tool that the firm uses to encourage wellness. "We realize that we need to speak to our audience and the majority of workers here are very tenured. Suggesting a run won't work for us." What does work is supporting efforts to increase wellness with resources like an in-house gym, on site wellness presentations and cooking demonstrations. The company also provides health assessments and flu clinics.
Hastings Mutual Insurance Co.
Hastings Mutual Insurance Co.
Hastings
www.hastingsmutual.com
An ongoing expansion of its on-site fitness center has employees looking forward to even more sessions with personal fitness trainers at Hastings Mutual. The company also offers an innovative "Why Weight" program for employees as well as group fitness classes, on site biometric screenings and flu shots. There are also nutritional choices in the cafeteria, including vegetarian options and fresh fruits and vegetables. Employees who participate in the company's wellness program benefit from reduced monthly health care premiums. They also reduce rebates on various wellness programs when they maintain their weight loss. And Hastings brings its wellness coaches back on a monthly basis to meet with employee clients, helping to keep them engaged and motivated. Hastings continues to review the design, contribution rates and alternative health care plans as it works to offer choices that best suit employee lifestyles. It also encourages employees to make healthy lifestyle choices in an effort to improve its medical claims experience. The company tries to provide employees with resources to help them make those choices through its on-site wellness programs.
Herman Miller
Herman Miller
Zeeland, Mich.
www.hermanmiller.com
Management at this worldwide designer and manufacturer of high quality office furniture understands the power of a workforce that embraces health and wellness. It's why CEO Brian Walker and his team remain committed to giving employees and families every opportunity to get and stay healthy. "We want our employees and their families to have the resources available so they can become as healthy as they want to be," notes Walker, who realizes the importance of education in that quest. "We've worked hard over the past several years to educate our employees on the importance of their health. Not just so they remain healthy and can be around for a long time for their families—which is most important—but also for the sustainability of the company." Indeed, making sure employees understand the link between things like a reduction in health care claims and a quarterly bonus can be a key learning point. But so is storytelling. "We feel this is one of the best and most powerful tools of communication—sharing successes," adds Walker. The use of a company Intranet to share those stories through blog posts and other forms of social networking is part of the mix. But so is the digital signage in most areas of the company, tools that allow for reminders to those who may not sit at a computer. "We've also recently began to use videos to tell more stories and promote programs, which have been very successful," says Walker.
Historic Little Rock Baptist Church
Historic Little Rock Baptist Church
Detroit
www.historiclittlerockbc.org
Historic Motor City Missionary Baptist Church
Historic Motor City Missionary Baptist Church
Detroit
www.motorcitychurch.org
The church has developed a health and wellness ministry whose mission can be summed up by one objective: to create a healthy and fit Christian congregation. The church leadership, including Rev. Johnny Lowe and Veronica Petty, coordinator of the health and wellness ministry, uses a variety of methods to encourage wellness. These include a health fair, encouraging healthy cooking, "health Sundays," and exercise and fitness classes. "We work to implement health incentives and initiatives with our membership," notes Petty, referring to "Biggest Loser" campaigns as one example.
Holy Cross Missionary Baptist Church
Holy Cross Missionary Baptist Church
Detroit
As anyone involved with a faith-based organization will attest, you quickly learn how to use resources in the best possible way. And one of the greatest resources of Holy Cross Missionary Baptist Church is its people. When Rev. Dr. Lorenzo Edwards Sr., pastor of the church, began looking for ways to get and keep his congregation healthier, he turned to a group of retirees, many of them having had successful careers in catering, as dieticians and even at least one hospital chef. This culinary committee now purchases and prepares food that's served as part of the church mission in an on-site kitchen at Holy Cross. But that's just the beginning of the wellness program. A "Fitness Crusade"—founded by the church's Nurses Ministry—organizes blood drives and health fairs. A newsletter continues to capture important information and "spread the word" throughout the congregation. One of those stories is how seniors have been gently drawn out of their homes to participate in various wellness activities, including a future community garden. Faith and work go together to help produce a healthier Holy Cross Missionary Baptist Church family.
JARC
JARC
Farmington Hills
www.jarc.org
A variety of wellness initiatives help to make JARC a winner as far as keeping its employees healthy. Those initiatives include on-site free yoga classes, lunch and learn sessions about health and wellness, diagnostic tests and flu shots as well as a variety of wellness resources JARC offers employees. The organization tries to make the workplace as healthy as possible, including by providing affordable health care coverage, says CEO Rick Loewenstein. "We have a low premium, high deductible plan and an affordable premium and no deductible plan as part of our health insurance offerings." Loewenstein says employee awareness is a key factor for JARC's approach to the Affordable Care Act. "We provide the tools to understand what's offered, understand their costs if they declined coverage and turn to the exchange, and what coverage is best for each employee and their family."
Keith Elementary School
Keith Elementary School
West Bloomfield
www.wlcsd.org
The idea of wellness—in mind, body and spirit—is woven throughout the goals and educational process of Keith Elementary School, says Phillip Pittman, who serves as its principal. "We understand that an important way to help students succeed is to be sure they get the proper nutrition, so we offer high-quality, nutritious meals to all students at an affordable price." This past year, Keith Elementary also began sponsoring a "Giving Garden Club," a child-friendly area adjacent to the school building. Studies have shown that children involved in gardening make healthier food choices and are more apt to try vegetables and fruit. The students are the primary caretakers of the garden and each classroom manages all aspects of their section. A variety of other initiatives include an annual volleyball challenge, a "Daddy-Daughter" dance and numerous opportunities. "Research shows that volunteering can be linked to better physical and mental health while also developing children's commitment to giving back to the community," adds Pittman. The school also offers annual hearing testing, vision testing, and head lice checks to help uncover and address issues that may impact a student's ability to learn.
Lacks Enterprises Inc.
Lacks Enterprises Inc.
Grand Rapids
www.lacksenterprises.com
Lacks Enterprises Inc. encourages wellness through its Choose Well, Live Well program by promoting healthy lifestyle decisions in all aspects of wellness to employees and family members. It does so by offering financial services, free mental health and family counseling services, a free Primary Care Clinic, opportunities to become involved in the community, and nutritional and physical challenges to attract employees and keep them satisfied and engaged. The company encourages employee engagement by offering a higher employer deposit into employees' Health Savings Accounts if they show a commitment to the company wellness program. It capitalizes on its atmosphere of team camaraderie by offering plant challenges at its many locations to encourage wellness through peer support. the program promotes a culture of wellness within the company to further motivate employees to stay engaged and improve their health. The implementation of CareATC has allowed employees to easily and affordably take charge of their health. The on-site clinics allow employees, family members, and dependents to establish a relationship with a primary care physician and receive care and medications at low to no cost. Lacks Enterprises Inc. is able to balance employee's need for health care benefits with the organization's drive to control health care costs through its partnership with HCMS and KnovaSolutions. This service provides quality information, provides a professional to listen to employee health concerns, and supports the employee with developing a health plan. Employees can then make informed decisions to manage costly health events and improve their health while reducing medical and health insurance costs. It also educates and encourages employees to make healthy lifestyle decisions and eventually develop healthy habits to reduce health care costs.
Lambert, Edwards & Associates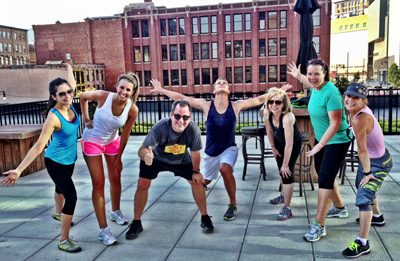 Lambert, Edwards & Associates
Grand Rapids
www.lambert-edwards.com
CEO Jeff Lambert, who leads Lambert, Edwards & Associates, says the firm looks at its wellness program as a culture builder as well as a tool to be used for both recruitment and retention. Those initiatives include offering Zumba and other classes, which are open to employees as well clients, vendors and even the general public. It's working: overall the company has seen a net decline in body mass index among its staff and two employees lost more than 40 pounds each. The firm also hosts a firm-wide fitness competition to encourage teamwork and healthy living.
Lambert, Edwards & Associates has a corporate membership at the YMCA, which offers education programs for employees, and provides tips on nutrition as well. The company has also hired a third-party fitness expert who conducts annual biometric testing and offers individual fitness programs for employees. It also provides cash reimbursements for wellness activities. "We take a more positive and proactive approach to health care versus mandates or negative reinforcement," says Lambert, referring to the impact of the Affordable Care Act. "Our wellness program provides incentives for a healthy lifestyle, which impacts positively our health insurance costs over the long term."
McKinley Inc.
McKinley Inc.
Ann Arbor
www.mckinley.com
Having an on-site corporate fitness center is one of the key initiatives taken by McKinley Inc., a real estate investment and management company with some 1,600 employees in 34 states nationwide. The Ann Arbor fitness center, which is open to all staff, has a fitness director, personalized wellness programs, personalized fitness training, blood pressure monitoring, nutrition counseling, group exercise and fitness instruction and various fitness challenge programs. The company emphasizes ongoing regular communications and a "high touch" relationship management approach to keeping team members informed and engaged. "McKinley has always believed and been a proponent of health and fitness," notes CEO Albert M. Berriz. "We have always paid for smoking cessation programs and weight management programs for our team members as part of our benefits plan long before the introduction of the Affordable Care Act." The company now offers an additional incentive for team members to participate through the Healthy Blues option for those who meet certain health criteria.
Meijer
Meijer
Grand Rapids
www.meijer.com
You would expect a company as big as Meijer to be attuned to the importance of employee wellness, and you won't be disappointed. The organization, led by president J.K. Symancyk (who reports to a co-CEO team, one of whom is a Meijer), has a variety of initiatives on its plate, including a weight loss challenge available to some 60,000 team members in five states. "Our goal of providing simple solutions to make healthy living easier has always extended beyond our customers to our team members, but this contest will help us take it to a new level," said Amanda Senecal, a wellness program specialist at Meijer. Access to a health portal maintained by a wellness vendor gives team members the opportunity to track their physical activity, join team challenges and win prizes such as T-shirts and gift cards. The company's success is being noticed by at least two external organizations: the National Business Group on Health, which calls Meijer one of the "Best Employers for Healthy Lifestyles," and the American Heart Association, which says Meijer earns its nod as a "Fit Friendly Company." Ongoing initiatives such as offering healthy alternatives in cafeterias and vending machines, encouraging employees to take walks near their stores are all part of the wellness package at Meijer.
Metro Health Hospital
Metro Health Hospital
Wyoming
www.metrohealth.net
Serving more than a quarter million patients from its base in West Michigan, Metro Health provides a comprehensive suite of inpatient and outpatient health care services, including the fastest emergency department in the region, cancer and cardiac care, robotic and traditional surgery, family practice, sports medicine and others. A LEED-certified hospital—one of the first in the nation—is at the heart of a 170-acre Metro Health Village, which brings a community of support services and retail. And everywhere a culture of sustainability is evident. "Our everyday actions, work and interactions take place with a culture of sustainability as a back drop," notes CEO Michael D. Faas, who adds that bringing that culture to the patients is one of the keys. "Our patients and community see that we make sustainability a priority. We tell them it's part of how we care for them and ourselves and focusing on sustainability helps us create an environment of care that focuses on all aspects of wellness. " At the same time, Metro Health continues to make a real impact on the local community and in broader environments. "We don't think twice about our sustainability efforts, such as recycling," notes Faas. "By making these efforts a part of the culture, we believe we are encouraging employees and patients to make them part of their daily lives also. "
Midwest Energy Cooperative
Midwest Energy Cooperative
Cassopolis
www.teammidwest.com
Midwest Energy Cooperative is a company that aspires to meet, and exceed, the expectations of its members and customers by providing first-in-class service in all it does. The organization is guided by four Core Values—Integrity, Passion, Innovation and Community—and expects all members of its employee family to embrace and actively live these values as they strive to provide excellence in service delivery on behalf of its members and customers. Midwest provides innovations and solutions and challenges members of its employee family to take pride in their individual roles to affect positive change in the lives of those it serves. Midwest actively seeks individuals who are committed to a culture of excellence as defined by its values. Midwest offers a comprehensive and generous benefit program that includes Medical and Dental Insurance options, Flexible Savings Accounts, 401(k) and 410(k) Roth options, Life and AD&D Insurance, Long-Term Disability, Employee Education, Employee Assistance Program (EAP) and a clothing allowance for all employees. It offers non-productive time benefits, including paid time off for vacation, sick, personal, holiday, jury duty and funeral leave. It also extends leaves of absence for Family & Medical Leave (FMLA), Personal and Military.
MSU Federal Credit Union
MSU Federal Credit Union
East Lansing
www.msufcu.org
Not every organization out there has a "healthy mission," but MSU Federal Credit Union does: "To support and encourage a culture of health and wellness by providing resources, choices, and programs while motivating employees to secure ownership over the health, success, and balance in their lives." One way to achieve that is by making healthy lifestyle goals and dreams attainable for employees by offering a variety of wellness programs and options. The result: employees who are better motivated, engaged and happier in all facets of their life, including in their careers at the Credit Union. And it gets better. By investing in the health and well-being of employees, those same team members will invest in the credit union and make their own positive impact. But let's get down to the practical. MSU Federal Credit Union offers healthy eating and weight management options through the reimbursement of half the cost of a monthly membership to Weight Watchers and participating in a co-op for Door-to-Door organics, where employees can have boxes of organic fruit and vegetables delivered to their office or home at a discounted rate. It's also made an effort to offer healthy food options at meetings and at an on-site café. And there's a fitness facility at the headquarters location, complete with treadmills, ellipticals, bikes and weights, as well as a walking/running trail around the building. In partnership with its health insurance provider, there's also a wellness portal where employees can take a health risk assessment and set health-related goals based on their personalized needs, tracking exercise, food,and weight—either on the site or from a mobile app.
New Haven High School
New Haven High School
New Haven
www.nhav.misd.net
The good news when you're designing a wellness program for a high school is that there are lots of opportunities to make a difference. The challenge, of course, is there are a lot of people who need attention. But New Haven High School is running on all cylinders, thanks to an attitude of inclusion—bringing not only students, but also staff and parents together in a united front that is having a positive impact on the overall health of the school community. From a school café run by the school's business classes and serving nutritious food, and a partnership with St. John Health System, which provides Web-based www.mynutratech.com software to track progress, the school is also identifying opportunities for improvement for its students and staff. New Haven has also instituted a yoga class, found to be a remarkably successful initiative. There's also a team building class led by those at the nearby Selfridge Air National Guard base. Awards are a big part of New Haven's wellness program, with a banquet for athletes and family celebrations as part of an ongoing initiative supported by local business. Students also get elective credit toward graduation when they complete the President's Physical Fitness Challenge. Another plus to the wellness program is the partnership New Haven is enjoying with its neighboring district in Anchor Bay, with relationships developing among first responders, the health system, and even the faith-based community.
North Central Michigan College
North Central Michigan College
Petoskey
www.ncmich.edu
Let's start with the basics. A smoke-free campus. Filtered water fountains. Workday exercise breaks. North Central Michigan College is clearly taking the steps necessary to emphasize wellness as a core value. There's also an educational component to the school's initiatives, including lessons on osteoporosis, diabetes, obesity and nutrition. Plus worksite vaccinations and healthy snacks served at meetings and even a free running track for the entire community. An active wellness committee is in place, making sure information goes to all employees on health and nutrition, including sending healthy recipes by e-mail. The college even reaches out to the local farming community, providing fresh products with a low carbon footprint. And lest anyone think the school's leadership isn't adopting the changes, there's also a series of "Beat the President" challenges in place at the fitness center.
Oakland County
Oakland County
Pontiac
www.oakgov.com
Oakland County offers a wide range of wellness programs to appeal to a diverse workforce employed in a variety of occupations. The assortment of programs also keeps wellness in front of employees with daily announcements and program offerings. From an attraction and retention perspective, the OakFit wellness program is one of the programs that has helped Oakland County stabilize its health care costs for the past seven years (program funding started in 2007). This, in turn, allows Oakland County to continue to offer a rich benefit package to new and existing employees. In a recent survey of its workforce, the employee benefits package was rated as the number one reason individuals sought work (recruitment) with Oakland County and the number one reason employees cited for continuing to work (retention) with Oakland County. While the cornerstone of the OakFit program is the yearly Biometric Screening & Health Risk Assessment, there are several other wellness program offerings, including "Brooksie Way Couch to 5K" (a walking/running training program), "Fitness Unleashed" (a partnership with animal control and pet adoption to provide a lunch hour dog walking program), and a Wellness Fair, an annual event that receives broad support from community vendors and Oakland County's health care providers.
Orthopaedic Associates of Michigan
Orthopaedic Associates of Michigan
Grand Rapids
www.oamichigan.com
Any employee who elects a medical benefit through Orthopaedic Associates of Michigan can participate in the firm's free Alternative Program if they do not pass in one of the five criteria (blood pressure, BMI, blood sugar, cholesterol or tobacco). Under those programs they get a 17 week Weight Watchers program or can choose among two fitness facilities the organization has partnered with, each of which offer one-on-one coaching and training as well as nutritional expertise, advice which comes free of charge to employees. Once the employee chooses one of the above programs, they will also be issued a pedometer free of charge that will allow them to track steps and nutrition. The initiatives provided to all of the organization's employees include participation in various events designed to emphasize healthy living, notably the Stress Management Month held in July, yoga week, and a month of discounted massages for any employee or family member that occurred during July. During August, which was Social Wellness Month, the firm held a companywide garage sale with the $10 proceeds from each booth going toward help in purchasing prescriptions for employees. The human resources department also sponsored a lunch grill-out at all the firm's locations, an initiative that was seen to be a way to promote interaction among employees. There was also a family outing to a game by the Grand Rapids Whitecaps, a local baseball team. Orthopaedic Associates also organized a "Random Acts of Kindness Week" where employees could buy a flower for $1. They then teamed up with another employee to write a note and deliver the message.
Peckham Inc.
Peckham Inc.
Lansing
www.peckham.org
Peckham's innovative health and wellness programs include a smoking cessation program as well as a "Be Well at Work" initiative that is provided in association with Sparrow Health System. The Peckham Wellness Team covers the cost of the nicotine replacement therapies and/or prescription medications needed to reach the employee's goals. The "Be Well at Work" health portal is an innovative tool that helps employees easily plan fitness, dietary and health goals to achieve an active and healthy lifestyle. Key features of the portal include health assessments, individualized meal plans and food logs as well as physical activity trackers and more. Employees are also able to keep track of their physical activity and earn points to receive up to $100 every quarter just by staying active. The programs provide employees with both the financial and emotional support needed to reach personal wellness goals. The strategy has had a positive impact on Peckham's health care costs, says Peckham CEO Mitchell Tomlinson. "Offering our employees the incentive to stay healthy is one way to drive them away from negative behaviors that would increase insurance costs. We do this by offering discounts on health insurance for healthy levels of cholesterol, BMI, blood pressure and fitness."
Quicken Loans
Quicken Loans
Detroit
www.quickenloans.com
Quicken Loans offers a wide range of programs to keep team members healthy and improve their quality of life. Those initiatives include disease management, smoking cessation (with 100 percent coverage for prescription drugs) and weight management. The company also offers the services of an site nutritionist, physician-led lunch and learns, tours of grocery stores, and multiple weekly on-site exercise classes. Quicken Loans also has hundreds of wellness-based discounts that it has negotiated. CEO Bill Emerson says Quicken has found that offering an online portal helps keep team members actively engaged. "We offer more than 200 wellness activities per year for team members to participate in and earn wellness credits," says Emerson. "We also work closely with our internal communications team to ensure that our messages are targeted and delivered to our team members in a way they will consume and act on." Emerson adds that Quicken Loans' priority continues to be the health of its employees, with costs being a distant second. "We offer many programs that target lifestyle risk and give team members a constructive route to correct and prevent these issues."
Ramco-Gershenson
Ramco-Gershenson
Farmington Hills
www.rgpt.com
Ramco-Gershenson, a fully integrated, self-administered, publicly traded real estate investment trust, owns and manages multi-anchor shopping centers in metropolitan markets. From a wellness perspective, the company recommends and administrates annual health reviews and biometric screenings as well as assists employees with their health goals. It provides written educational materials, on-site healthy cooking programs, health webcasts, wellness consortium meetings as well as a smartphone app. "We motivate employees by rewarding them for their measure of health engagement," notes CEO Dennis Gershenson. Employees receive points for viewing online webcasts and attending a physical activity. They are rewarded through recorded Fitbit activity and for taking part in online discussions and heathy cooking demonstrations. The points are recorded and used to reward employees monthly. "It is a priority at Ramco-Gershenson to provide employees with a comprehensive and enjoyable wellness program," adds Gershenson. "We strive annually to improve the program and feel it is better this year than last year."
Reliance One Inc.
Reliance One Inc.
Auburn Hills
www.reliance-one.com
From having fresh fruit available twice a week, complimentary fitness classes, and a quarterly draw for $100 gift cards for employees visiting a doctor, dentist or eye doctor for the first time, it's clear that Reliance One is serious about its wellness initiatives. The company recently purchased Fitbit trackers, which it offered to employees at a discounted price. The company runs a free flu clinic every fall and organizes a spring walk to benefit the National Kidney Foundation of Michigan. Reliance One has a committee that creates wellness and fitness initiatives, introducing different challenges every quarter, with a drawing at the end of each quarter. CEO James Beath says the focus on wellness is nothing new for the company. "We have always wanted to have a healthy work environment. We have created a healthy environment for many years by offering flu clinics, wellness challenges, healthy snacks, team building at local walks/races and a personal trainer that comes on site each week."
Rhonda Walker Foundation
Rhonda Walker Foundation
West Bloomfield
www.rhondawalkerfoundation.org
One way the Rhonda Walker Foundation helps focus its efforts toward changing forever the lives of inner city teen girls is through an annual 5k/10k walk-run, the culmination of the health and wellness activities around its Girls into Women program. That five-year comprehensive wellness program focuses on physical and mental health for inner city teen girls, with incentives built into its structure. Those incentives are designed to reward girls for reaching personal goals, the organizers knowing that development of healthy habits in teen years tends to lead to a lifetime of healthy choices. "Whether it's academic preparation, career development, mentoring, personal health, financial literacy, self-defense, public speaking, community service and outreach, self-esteem, or etiquette, we strive to positively affect the lives of the girls who are part of our family," the foundation says.
Rockford Construction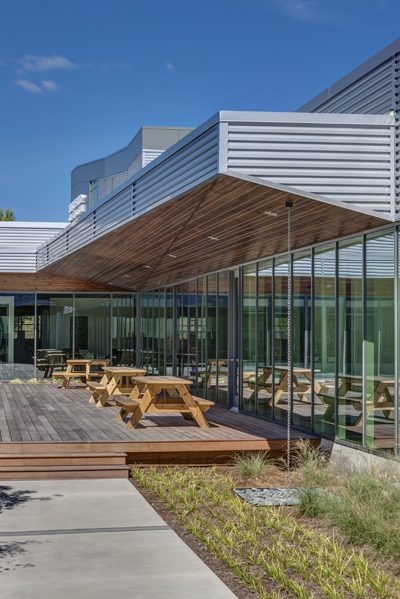 Rockford Construction
Grand Rapids
www.rockfordconstruction.com
From free on-site bike rentals, on-site yoga demonstrations and classes and a new on-site fitness room to be set up, Rockford Construction is well on its way to integrating a healthy workplace. It has also set up a points-based system where team members are eligible for participating in wellness activities such as group exercise classes, wellness-specific lunch and learn presentations and health screenings. Rockford Construction also publishes a companywide monthly newsletter that highlights wellness subjects. It is also planning innovative ways to incorporate its wellness activities on construction job sites around the country. The company has also selected a new workplace-training program through the Centers for Disease Control. "Work@Health" is providing Rockford Construction with the tools needed to build its own wellness program on a much more solid foundation, says CEO Michael VanGessel. "Through this training, we have learned that employee engagement and increased participation require the incorporation of a wide variety of communication methods in delivering health and wellness information. Channels such as e-mail, our company's intranet, newsletters and bulletin boards, all promoting both on and off site activities are all part of our new wellness rollout plan."
Roosevelt Primary
Roosevelt Primary
West Bloomfield
www.wbsd.org
Schupan & Sons Inc.
Schupan & Sons Inc.
Kalamazoo
www.schupan.com
CEO Marc Schupan says Schupan & Sons offers an inclusive wellness program designed to broadly appeal to employees. The company also encourages participation from all full-time and part-time employees. "Critical to our wellness program are our Wellness Champions—employees who play a role by providing feedback, communicating wellness initiatives and encouraging others to participate," says Schupan. In addition to cash and prize awards for participation, the company provides weekly yoga and Tai Chi classes at two different facilities, both at a 50 percent discount. Last year, wellness advocates visited all 10 company facilities to make sure employees understood the program and how to take advantage of the numerous benefits offered. Some of those benefits include reimbursements for gym memberships, entry fees, smoking cessation and exercise classes. The company says motivating employees to stay engaged has become a somewhat creative endeavor, which includes the targeting of specific conditions and behaviors throughout the year and, through an ongoing communication campaign, attempting to drive behavioral changes through education and incentives. "Recognition is a great motivator," adds Schupan. "In our company newsletter, we recognize our quarterly wellness winners for their participation and dedication to improving their health."
Seco Tools
Seco Tools
Troy
www.secotools.com
Seco is always looking for new wellness sources to provide to employees. New in 2013 is a partnership with Vitality, a wellness vendor. Employees who attend Seco sponsored wellness events, use online programs for options on how to eat healthy, how to get started in exercise, calculators on their risk for a heart attack, and how to deal with stress. They can also participate in other healthy lifestyle choices such as annual physicals, walking, working out, going to dental check-ups, getting vaccinations, or signing kids up for sports leagues, all while earning points redeemable for prizes from an online store. Seco continues to publish an annual Wellness Event Calendar that highlights quarterly health topics and at least three-to-six events each month, either on-site, webinar or after-work events. Employees are supported in their efforts to adopt healthier behaviors by a no-smoking policy, healthy vending choices and fitness challenges. Progress is recognized and supported through celebration and incentives. A five-year benefit strategy plan that incorporates wellness initiatives has resulted in increase benefits at a decreased cost, putting Seco well ahead of industry trends.
Secure-24 LLC
Secure-24 LLC
Southfield
www.secure-24.com
You might expect a company that has at its heart the discipline inherent in computer code (the firm is a premier provider of managed IT operations, hosting and cloud services) to be on the ball when it comes to developing a top-notch wellness program. Indeed, that's the case at Secure-24: Its wellness program is entirely employee driven, says CEO Mike Jennings. It's just that it's relatively new. Having acknowledged these early days, Jennings and his team aren't standing still. "Employee motivation and engagement are key to the initiative, which focuses on education and events to engage employees." Still, there are lots of things going on to support the wellness strategy, including a free gym and free fruit placed next to vending machines (providing an easy and healthy switch). Expect that kind of thinking to continue, says Jennings. "We've always maintained a strong focus on employee wellness for both mental and physical health. Today we continue that tradition by taking into account employee feedback and ideas in creating a program that works for everyone."
Smith Chapel AME Church
Smith Chapel AME Church
Inkster
www.smithchapelame.org
Smith Chapel African Methodist Episcopal (AME) Church is being led by the Rev. Dr. Cecelia Evelyn GreeneBarr, who is the first female pastor of the church. The church's spiritual foundation informs its social participation and directs its communal voice. Among its core values are strengthening the family unit, an obvious connection with wellness. Pastor GreeneBarr has spent years encouraging members of her congregations to exercise healthy eating and to make healthy choices when it comes to thinking about what they put in their mouths. That includes reading labels on foods before they go into their shopping carts. "If you can't pronounce what's on the label, there's a pretty good chance it's not going to be the best choice for your body," said GreeneBarr. She takes that kind of philosophy to events that the church holds where food is a part of the gathering. "We make sure we stay away from foods that are fattening and we avoid artificial sweeteners in drinks that we serve." Smith Chapel gatherings have menus that are well-planned with the help of one of the members who has training in culinary arts. Fasting for spiritual purposes is part of what Smith Chapel encourages, but it can also be done as a physical cleansing, says GreeneBarr. "Some people think that they can't fast, but if they were in a hospital and had nothing but an IV attached to them, they wouldn't have a problem with that," she notes. Mostly, Smith Chapel encourages people to eat in ways that are going to make them healthier. "We also suggest people get some form of exercise, whether that is walking or even lifting a gallon of milk at home."
SmithGroupJJR
SmithGroupJJR
Detroit
www.smithgroupjjr.com
SmithGroupJJR's wellness strategy for employees began five years ago with a push to see improvements in the overall health of its employees. That effort, which now includes spouses as well as employees, has reached 90 percent participation levels, with 80 percent of the employee group reaching established goals. Achieving those goals results in a discount to the employee amounting to about 10 percent of health care premiums. SmithGroupJJR uses a third-party company to provide screening and assessment of its employees, gathering data on cardiovascular health, reading blood pressure and measuring levels of glucose and triglycerides. The company also conducts on site biometric screening.
Southwest Michigan First
Southwest Michigan First
Kalamazoo
www.southwestmichiganfirst.com
CEO Ron Kitchens says the organization, a group of privately funded economic development advisers, has a holistic approach to wellness. "We emphasize the importance of physical, spiritual, financial and personal health or as we sometimes refer to it as the five 'Fs' being fitness, finance, faith, family and food." Kitchens says regular coaching of the team is also part of the strategy. "We make sure that there are healthy snacks in the office at all times, including fresh fruit, low-fat yogurt, cheese and crackers and granola bars." The organization also promotes a personal passion for wellness, including providing up to $300 per team member each year to be used toward personal wellness initiatives, including a gym membership, group fitness classes, personal training fees or entry fees for races. In spite of the fact that space limitations would make an on-site fitness facility difficult (the offices are located in a remodeled space in downtown Kalamazoo), Southwest Michigan First has arranged for a deeply discounted rate at a gym next door. And all team members get full family health care and dental benefits immediately upon joining the organization.
Third New Hope Baptist Church
Third New Hope Baptist Church
Detroit
www.thirdnewhope.com
Third New Hope Health Ministry has several innovative initiatives to promote its health and wellness programs. To guide members toward making healthier food choices, it provides members with Heart Smart food items on its weekly breakfast menu, including oatmeal, turkey sausage, fresh fruit cups, baked chicken, brown rice and bottled water. A fruit and vegetable market is held every third Sunday to provide a variety of fresh fruits and veggies to members and an 'Eat Healthy Be Active Workshop' where members get an opportunity to participate in a workshop that teaches them ways to make healthier food choices and engage them in a workout session is also part of Third New Hope's wellness strategy. To engage the senior population in physical activities, the church conducts chair aerobics and stretching exercise. Along with the different exercise opportunities and nutritional education, it also conducts blood pressure checks to bring the health and wellness message full circle. Engaging members is also a challenge for Third New Hope Health Ministry that it takes seriously. The church employs a variety of wellness initiatives in an effort to gain member participation, among those the annual "faith walks," weekly group walks, Zumba, yoga, hustle and aerobic classes. They also organize bi-weekly conference calls to share successes and to provide encouragement. Members participate in Third New Hope's Annual Health Fair, where guest speakers are invited to discuss nutrition, chronic illnesses and other issues involving health and wellness. The greatest motivation, however, comes from its senior pastor, Dr. E.L. Branch, who provides support for the initiatives and who leads by example.
Thomson-Shore
Thomson-Shore
Dexter
www.thomsonshore.com
With an on site fitness center, Thomson-Shore makes it easy for employees to get and stay fit. It offers healthy vending and will soon be offering a fresh market as well. On site preventative care options, including biometric screenings and flu shots, are also part of the overall wellness strategy. Thomson-Shore CEO Kevin Spall says the company strives to reach out to all genders with different options for fitness. There's even a basketball hoop set up outside the firm's offices and a walking trail. Thomson-Shore also provides education on health and wellness issues through brochures, e-mail and the company intranet. The company has responded to changes resulting from the Affordable Care Act by investing in resources for people to manage their health, including offering of flu shots, physicals and cardiograms in addition to the fitness center. "We have found that our claims expense has gone down when people participate in the wellness initiatives we make available," says Spall.
True Rock Church
True Rock Church
Southfield
www.truerockchurch.org
Communication is a key way True Rock Church is able to unify its community around wellness issues. But sometimes it's the little things that make the biggest impact, like the T-shirts used to promote a free fitness class. That activity provides not only a physical workout but also provides a social outlet for passing information to members. The church has also set up a table in the lobby that provides general information as well as blood pressure checks. The focus is to be in touch with the needs of the congregation and then cater to the service area. Being a faith-based organization, True Rock uses the pulpit to disseminate information, whether that be a tidbit in a sermon or as a general announcement. Statistics as well as accolades are given; even gross demonstrations of what to do and what not to do. Small rewards, incentives, competition challenges, and listening to what the congregation really needs are always good processes to use for engagement. Pastor Darryl L. Redmond says lifestyle changes are the mantra of the church. "We realize that our congregation has many needs intertwined and some are very diverse and unusual. However, our approach is to meet their needs as best we can by seeking out low-cost or no-cost benefits to assist with health care."
Uniform Color Co.
Uniform Color Co.
Holland
www.uniformcolor.com
Uniform Color partners with an area gym to provide membership discounts and has revamped its break rooms. It has also brought in a new vending service that offers fresh food daily, not packaged or preservative-filled food options. It has also partnered with a local organization to offer employees weekly delivery of organic fruits and vegetables at a discount through payroll deduction. Uniform Color believes its employees are more attracted to companies that value and appreciate them. With that in mind, the firm has designed a wellness program that is interactive and gets people involved in not just quarterly challenges but weekly wellness challenges. The weekly challenges give people the opportunity to see other employees they don't typically get to interact with as well as add an additional network of support. It also holds an annual family friendly wellness fair and invites local health and wellness businesses/vendors to educate employees on various topics such as nutrition, exercise, stress management, healthy cooking demos, health behavior education, as well as outdoor activity education (trails, equipment rentals etc). Uniform Color also surveys employees to hear what they would like to see and get out of their wellness program. There is also a nutrition center to demonstrate how to cook on a healthy budget, lose weight or maintain weight. Uniform Color holds a lunch and learn series that covers various health related topics, including reducing cholesterol, controlling diabetes, weight management, stress management and as well as healthy cooking demos. The company has several employees that have made lifestyle changes and are on the right track to improving their overall health.
Walbridge Aldinger Co.
Walbridge Aldinger Co.
Detroit
www.walbridge.com
Early wellness offerings by Walbridge Aldinger centered on robust health care benefits, a well-planned work environment to foster wellness activities and a lecture series on ways to improve emotional and physical well being, notes Terry Merritt, the company's senior vice president. Now, things have changed. "We realized our one-size-fits-all education plan was ineffective and did not meet the needs of our teams. We brought in professional advisers to tailor an annual learning series, which addressed our most serious health threats, now, defined by assessment scores. We embraced smaller class sizes, based on different interests and introduced the challenge series to provide team members with physical activities to help achieve their personal health-care goals and celebrate their success." Merritt says the personalization of the wellness initiatives gives team members the confidential tools to track their individual progress. "Our approach to health care has changed because of its impact on the lives of our team members. Now in its third year, our health assessment program saved the lives of two team members when test scores identified life-threatening conditions."
Yeo & Yeo CPAs
Yeo & Yeo CPAs
Auburn Hills
www.yeoandyeo.com
Yeo & Yeo says that while the firm "doesn't overdo it" with incentives, it does use initiatives such as jeans day, reductions in health care premiums, promotion of healthy foods and prizes for stress management to keep staff interested in wellness issues. One of the biggest initiatives is a 50 percent reduction in health care premiums available to those who make a routine, annual medical visit plus do an annual health risk assessment. The company also communicates on wellness topics, tips and best practices at least quarterly. The focus, say officials at Yeo & Yeo, is to help employees make real changes in their health and lifestyle behaviors. The firm also educates all employees about health and wellness and creates activities that will promote wellness at work and home. It also emphasizes behaviors that will promote overall well-being. The firms also provides free flu shots and health coaching and smoking cessation strategies (also free to employees). The company pays a large portion of health care premiums, helping to keep costs low for employees. Yeo & Yeo has a 97 percent participation in its wellness plan/health care premium reduction incentive.