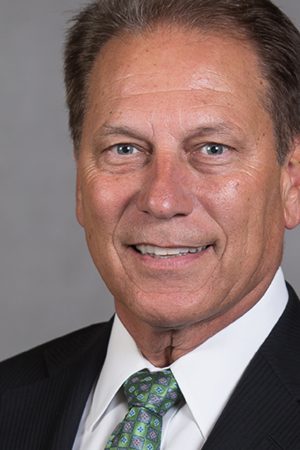 Tom Izzo has tasted the sweet if not fleeting moments of success that define a life – after all, he is in the "fraternity" of basketball coaches who have won NCAA championships.
But the celebrated Michigan State University Men's Basketball coach believes success in life, business and coaching has a lot more to do with balance, hard work, good listening and building relationships than reveling in momentary events (even events as massive as a national championship).
For non-sports fans, some background. In his 20th year directing the Spartans, Izzo has compiled an impressive list of accomplishments, including the 2000 NCAA National Championship, seven regular-season Big Ten Championships, four Big Ten Tournament titles, six Final Four appearances, eight National Coach of the Year awards and a Big Ten-best 17 straight NCAA Tournament appearances.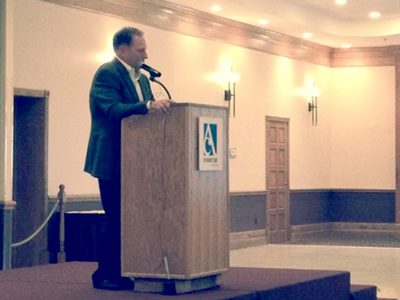 Izzo's speech Thursday to the Adcraft Club of Detroit was a well-rounded look at how people define success and how Izzo sees it. Here are some highlights:
• Izzo is a huge fan of the Detroit turnaround that is happening right now. "Until we get this area back on its feet, we're not going to be the state we need to be," Izzo told the crowd of about 400 attendees. He credited area business people for making that happen and said he looks forward to playing games in the city because of the energy there.
• He says he never minds taking photos with people. "They always ask me: 'Don't you get tired of it?' I tell them, 'No.' I don't want to forget from where I came from. I remember when people didn't want my picture!"
• He believes in showing up early and staying late at events. "I always get more than I give" out of the places he goes and the people he meets there, Izzo said. On this morning, he stayed at least an hour past when he finished his speech, taking pictures with MSU alums and talking to the media.
• Izzo told the group of advertising execs of all stripes to avoid fads. He said if he kept a collection of the ties he wore over the years, some of them would be way out of fashion. The same goes for women's clothing. Stay with the tried and true, he noted.
• He also advocated against what he called "quick fixes." "I think quick fixes are fraudulent," Izzo noted. You have to do things the old-fashioned way, he added. That means you have to "Work for it. Earn it. Deal with it." Offering people consistency and longevity is more important than just getting to the quick fix of it all. "You've got to let people grow. You've got to let them learn the process."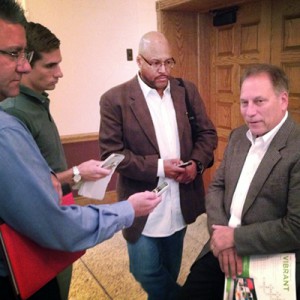 • Success comes as you learn and go through the process of learning, Izzo said. He felt the system of learning to be a coach was very important to his own growth. He called it "rewarding, enjoyable and educational." He could have been a coach earlier, but he wouldn't be the coach he is now as a result. "I would not give up my years as a general assistant. I learned a lot and I think it is benefitting me now."
• Izzo said he advises his players to dream big – but he cautions them to enjoy the journey of reaching that dream. Just completing a goal isn't enough, he said. You have to do what is right along the way. When he selects a hire or a player, "I look for someone that's driven," he said. But you don't impress him by working alone – if you're part of team, you have to work as a team.
• He believes that Twitter and other forms of social media are troubling for his student athletes and others. He prefers one-on-one communication in all cases. "The greatest thing I do as a coach is spend time with my players," Izzo said. And those players need to spend time with one another to become top notch. "Elite players make other players great," he added.
• Izzo feels his background as an educator makes him a better leader for his team. He notes that the power of observation, listening and communicating brings players, employees and others together. "I value people," Izzo said. "I'm an observer. I'm a listener."
•  Finally, he advised the crowd to be not only self-motivated ("The best compliment I can give is 'You're never satisfied.'") but also to develop the skill of being a good self-evaluator. He frequently brings people into his team practices to look at what he's doing and what he's missing on the court. "If you can do those two things, you will be fabulous," Izzo said.