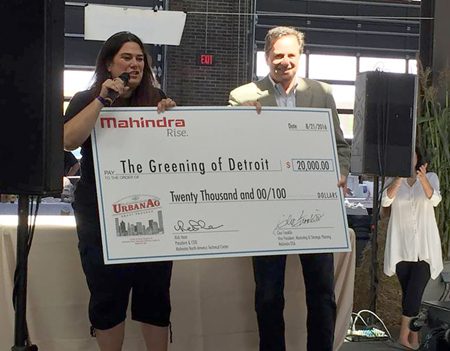 New companies understand the importance of organic growth – they want to see their bottom line increase along with their impact on employees, clients and the community.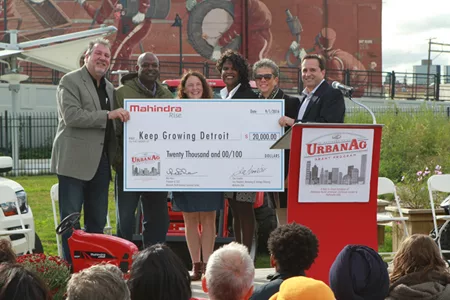 That is why the Mahindra North American Technical Center (MNATC) selected and invested in Detroit's urban agriculture movement. Recently, the Troy-based company announced both a new round of donations to the city's urban gardens as well as an employee service project at a key partner, The Greening of Detroit.
"It's humbling to play a role in improving access to nutritious and affordable fresh food within the city limits," Richard Haas, president and chief operating officer of MNATC, said in a statement. "Our decision to offer grants to urban farming programs in Detroit for a second year was an easy one to make, given the outstanding results the first round of Mahindra Urban Agriculture Grants produced."
This second round of grants totaled $75,000 to six non-profit organizations. This supplements the $100,000 in grants and equipment donations MNATC and Mahindra North America provided in 2015, the inaugural year of the program. In 2015, those grants yielded 550,000 lbs. of fresh food for city residents, seeds, garden beds, training and more.
Additionally, the 2015 grants provided 85,000 seeds and seedlings to nearly 1,400 individual Detroit gardens, approximately 200 new garden beds, training and technical assistance for hundreds of urban farmers and a garden storage shed for use by 60 developmentally disadvantaged teens.
This year's event also included a service project at The Greening of Detroit's Detroit Market Garden. The service project brought more than 70 MNATC employees out of their offices and into the Great Outdoors, the company said. These volunteers took a break from their normal business routines and helped prepare beds for winter, harvest fall crops and transplant hundreds of seedlings in preparation for the spring planting season.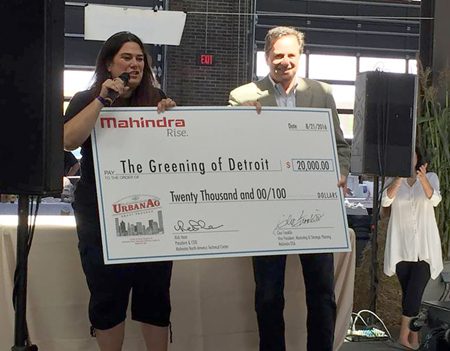 The 2016 Mahindra Urban Agriculture Grant recipients and the programs supported by the monetary awards are:
· Capuchin Soup Kitchen – Earthwork Urban Farm Agriculture Training Program ($12,500): to support a nine-month program to train urban farmers and food entrepreneurs.
· Full Circle Foundation ($7,500): to fund development of the entrepreneurial Friends and Flowers Program for developmentally delayed teens and adults. (2015 grant recipient)
· The Greening of Detroit ($20,000): to support the Build-A-Garden program that provides assistance to home gardeners across the city of Detroit. (2015 grant recipient)
· Keep Growing Detroit ($20,000): to establish its fifth Resource Hub in Southwest Detroit to provide tools, training and other support to area gardeners. (2015 grant recipient)
· Neighbors Building Brightmoor ($5,000): to fund a Public Allies AmeriCorps intern to expand the Community Kitchen, which was opened in 2016 under the leadership of a Mahindra-funded AmeriCorps intern. (2015 grant recipient)
· Northend Christian Community Development Corporation – Oakland Avenue Farm ($10,000): to develop a water catchment and storage prototype, working with University of Michigan architects, engineers and designers.
Four of the 2016 grant recipients, as noted above, also received Mahindra grants in 2015 when a total of $100,000 in cash grants and equipment donations were made through a collaboration between MNATC and Mahindra North America, the company's Houston, Texas-based tractor and farm equipment subsidiary.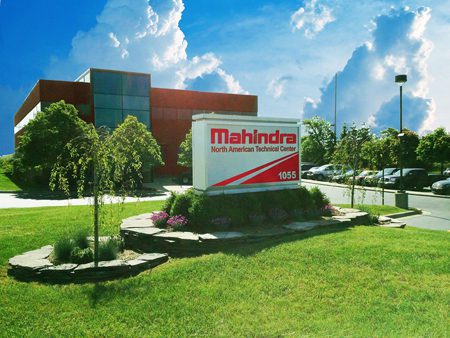 The Mahindra North American Technical Center, which opened in Troy in 2013, is the company's first U.S.-based technical center and is a key part of Mahindra's neural network of innovation that links automotive facilities in India, Korea and Europe. The Technical Center is a key element in Mahindra's growth plans to develop and market world-class vehicles globally.
A USD $17.8 billion multinational group based in Mumbai, India, Mahindra employs more than 200,000 people in over 100 countries. Mahindra operates in the key industries that drive economic growth with a leadership position in tractors, utility vehicles, information technology, financial services and vacation 3 ownership. In addition, Mahindra has a strong presence in the agribusiness, aerospace, components, consulting services, defense, energy, industrial equipment, logistics, real estate, retail, steel, commercial vehicles and two-wheeler industries.