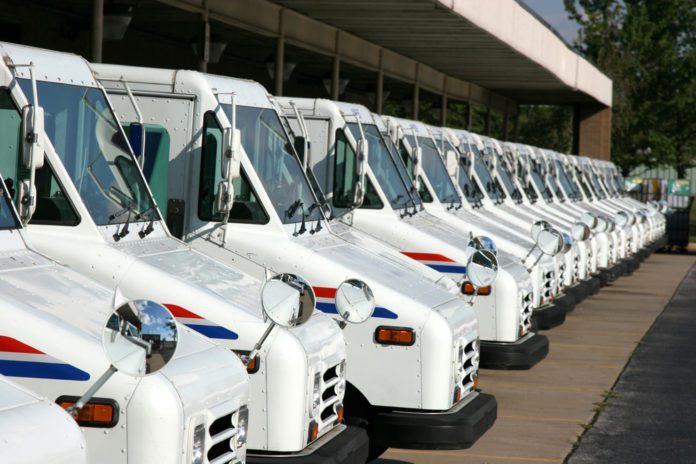 As the national Presidential election draws nearer, debate continues around the U.S. Postal Service, its funding and its service levels as Republicans and Democrats consider the hows, whens and whys of voting by mail amid coronavirus as well as during one of the most contentious political seasons in U.S. history.
In recent days, Democrats including Speaker of the House Nancy Pelosi has called out President Donald Trump for opposing additional funding for the U.S. Postal Service per its request. Pelosi also has asked the House to return to Washington to discuss these issues and quiz newly appointed Postmaster General Louis DeJoy about his policies.
During a Aug. 13 interview on MSNBC's "Morning Joe," Pelosi said: "Here's the thing. In the legislation, we have $25 billion. That is the number that is recommended by the Board of Governors of the U.S. Postal Service, a bipartisan Board of Governors one hundred percent appointed by Donald Trump. They recommended $25 billion. Earlier, in earlier COVID bills, the President has stood in the way of any money for the Postal Service. If the President read the Constitution, he would say that the Postal Service is memorialized there and Congress has a role in all of this."
In a statement issued last week about increases in some postal services, the U.S. Postal Service noted that it has "has some of the lowest mail postage rates in the industrialized world and also continues to offer a great value in shipping," but the service has not addressed these bipartisan concerns in any kind of media or press release.
Struggling service
On Aug. 7, the U.S. Postal Service issued a press release on its financial results for third quarter of its fiscal year 2020, (April 1, 2020 – June 30, 2020) "as the COVID-19 pandemic continues to have an unpredictable impact on the economy and the Postal Service," its statement said.
"Quarantines, stay-at-home orders, and travel and logistics restrictions in connection with the outbreak have affected retail and commercial customers, as well as suppliers and mail service providers," the statement said. "The Postal Service relies on the sale of postal products and services to fund its operations and is significantly impacted by factors including, but not limited to, overall customer demand, the mix of postal services and contribution associated with those services, and the volume of mail and packages processed through its network.
"As a result of the pandemic, and to a lesser extent, secular mail declines, the Postal Service's sales from mail services, its largest sales category, continued to significantly decline during the third quarter," the statement said. "Meanwhile, the Postal Service's sales from Shipping and Packages experienced substantial growth as a result of the surge in e-commerce driven by the COVID-19 pandemic, and we expect this surge to abate as the economy opens. However, the package volume increases drove substantial increases in workhour and operating expenses."
Mail-in ballots
One of the biggest issues is whether the service is ready for the influx of voter ballots that are likely to flood the system as more Americans look to vote by mail rather than in person. Many of these voters say they are concerned about the coronavirus spread and want to limit their exposure to voting places – especially because states including Michigan are not mandating mask wearing within their polling locations.
While the political wrangling is intense, the bottom line for most Americans is that the U.S. Postal Service regularly delivers 400 million pieces mail daily and employs people devoted to getting that mail to its destination, said Brian Quist, the founder and president of Grand Rapids-based Kent Communications Inc., developer of TrackMIBallot, which is working with local election officials to add accountability to the vote-by-mail process. In that context, these ballots are just a drop in the overall bucket, Quist said.
"But the other challenge is with standard class mail," especially amid a pandemic and a key election, Quist noted. "Its volume has been low at the moment but we expect that kind of mail (which includes political candidate mailers) to increase from late August to late October. The amount of candidate mail is likely to be astronomical. The question is how will the (U.S. Postal Service) deal with that influx of volume."
The U.S. Postal Service also is struggled with DeJoy's practices, including reductions in overtime, delivery practices and other items. DeJoy, who started the job in June, has no professional experience within the postal service, something that is unique to his work there. Democrats have said they believe DeJoy is deliberately slowing voting by mail to shift the outcome of the Presidential election, which will take place Tuesday, Nov. 3.
President Trump added comments to the debate last week about his concerns that the mail-in ballots may not make it to their destinations from U.S. residents to election workers in time, causing Democrats and others to content that he is claiming voter fraud as well as limited ballot access for citizens, according to national media reports.
Government officials immediately responded.
"The Postmaster General and top Postal Service leadership must answer to the Congress and the American people as to why they are pushing these dangerous new policies that threaten to silence the voices of millions, just months before the election," Democratic leaders, including Pelosi and Senate Minority Leader Chuck Schumer, said in a statement announcing the hearing they want to have next week with DeJoy, who has supposed Trump financially with campaign donations.
"Sorting machines between now and Election Day will not be taken off line," White House chief of staff Mark Meadows told CNN's Jake Tapper on "State of the Union" on Sunday. CNN and other news organizations reported Friday that the postal service has reduced operating hours in several states and was removing letter collection boxes from some neighborhoods, according to union officials.
The agency also said Sunday that it will stop removing collection boxes until after late November, citing "recent customer concerns" over the decisions.
CNN added that "the concession came after the USPS warned almost all 50 states and Washington, DC, that mail-in ballots may not be received by election offices in time to be counted.
Democrats respond
Voting rights will be front and center at the Democratic National Convention when Michigan Secretary of State Jocelyn Benson and her colleague, California Secretary of State Alex Padilla, address the issue before a nationally televised audience Thursday evening.
Benson and Padilla's remarks, which will encourage viewers to exercise their right to vote safely in November, will follow the party's tribute to the late Congressman John Lewis.
In pre-recorded remarks Benson will offer the following:
"Let's be clear. There is absolutely zero difference between voting by mail and voting absentee. Millions of Americans vote absentee and have for decades. Donald Trump, his family, his staff: they all vote by mail. In fact, states like Colorado, Utah, and Oregon have been voting by mail for years. Republicans and Democrats agree that it's safe."
Benson has been on the forefront of encouraging citizens to exercise their right to vote safely by mail or in person, particularly in the face of the COVID-19 pandemic. The right to vote by mail – otherwise known as absentee voting – was cemented in the Michigan Constitution under the Promote the Vote ballot proposal overwhelmingly approved by voters in 2018.
To ensure voters know their rights Benson mailed absent voter ballot applications to every registered voter in the spring, which resulted in record-breaking numbers of voters casting ballots from home in the August Primary. Later this month, Benson's office will mailing postcards to the 4.4 million active, registered voters who are not on a permanent absent-voter list and have not already applied to have their November ballot mailed to them.
"As the country prepares to vote this fall amidst a global pandemic, it is critical that every citizen knows how to exercise their right to vote and ensure their ballot is counted," Benson said.