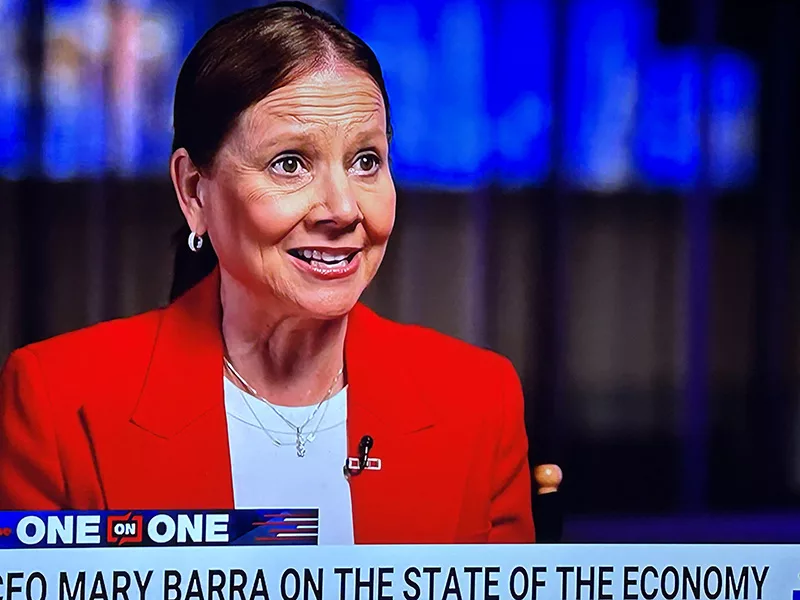 General Motors CEO Mary Barra used a national television interview to reaffirm her company's commitment to electric vehicles, call for a "level playing field" in the economic struggle between the U.S. and China and suggest a national energy policy would be good for the country.
In an appearance on MSNBC's The 11th Hour With Stephanie Ruhle Wednesday, Barra said her industry is going to weather the storm of whatever economic situations are headed toward the U.S. economy after surviving the Covid pandemic.
"I'm seeing a very strong demand for our vehicles … I do believe this talk that there was a recession (coming), and then that it was going to be a mild recession, I think we're going to move through that," Barra told Ruhle. "As we look and see what's happening, we're seeing strong demand, we're seeing pricing hold … we're seeing a little bit of softening, but we're well above where we were from a Covid perspective."
Barra pointed out that many economic reports show a softening or lessening of economic stress in various areas, but not – at least for now – in the auto industry.
She said that was because of a "pent-up demand" caused by the pandemic and because of the national semiconductor (chip) shortage.
"If you think about it, we had Covid, where we were down for several weeks, then we had the semiconductor shortage where we couldn't make vehicles for awhile," Barra said. "So we've still had pent-up demand."
Ruhle brought up the supply issues and the chip shortage the U.S. in general – and the auto industry specifically – endured.
"One of the big problems during Covid was the supply chain," Ruhle said. "The fact that we do not manufacture chips here held things up for all sorts of industries, but especially yours. The CHIPS Act was enacted a year ago. How has that changed your industry. Has it helped at all?"
Barra said it's probably too soon to know for sure.
"I think it's too soon to see the results, but I think it's vitally important," Barra said. "One of the things we learned is we need more supply chain resiliency. The ability of the CHIPS Act to bring chips here is going to help in the latter part of the decade.
"(GM) changed our whole strategy on semiconductors to standardize on three families of semiconductors," she added. "We're working with many of the companies who will be recipients of the CHIPS act to get those chips built in this country."
Ruhle asked how the bipartisan infrastructure act signed by President Biden is impacting the auto industry. Barra touted the bill's effects on the electric vehicle industry.
"One of the most important things if you look at EV adoption in the bipartisan infrastructure act is the provision for charging," Barra said. "At GM, we now have new vehicles coming out almost every quarter. People want to know there's a robust charging infrastructure. As part of the act, there are provisions to do charging."
With GM's commitment to electric vehicles, Ruhle asked Barra for a glimpse into the future.
"We clearly see an all-electric future … We're the only full-line manufacturer to commit that our light-duty vehicles in the U.S. will be all-EV by 2035," Barrar said. "We're putting the plans in place. At GM, we see it as a growth opportunity. We think with the right electric vehicles, we can continue to grow share and continue to earn customers."
In addition to her role at GM, Barra also sits on the board for the Disney Corp., which has been embroiled in a culture war with Florida Gov. Ron DeSantis.
Ruhle asked how those types of battles impact her ability to do her jobs.
"I think always as you make business decisions you think about your stakeholders, but also … you're guided by the values of the company and doing what you believe is right," Barra said. "As we move forward, if we can look and say we're doing things because it's consistent with our values … I don't think companies need to be talking about everything going on in the world, but when it impacts your business you want to be doing the right thing guided by your values."
Asked by Ruhle if there was "one policy" that could help her industry, Barra's answer came quickly.
"We've come a long way with the issue of climate change, but I think having a national energy policy," she said. "Whatever your opinion is, it's going to be good for the company if we have a national energy policy and we know where we're headed. That would be something that would move the country forward."
With political and economic battles heating up between the U.S. and China, Barra said finding common ground in business-appropriate areas would benefit both countries.
"We've said to both governments that we feel if the U.S. and China can find a way to work together in the areas where it's appropriate to work together it's going to strengthen both economies," Barra said. "We firmly believe that. We advocate for a level playing field in the technologies and industries where we're going to compete, and then it's the best company wins."