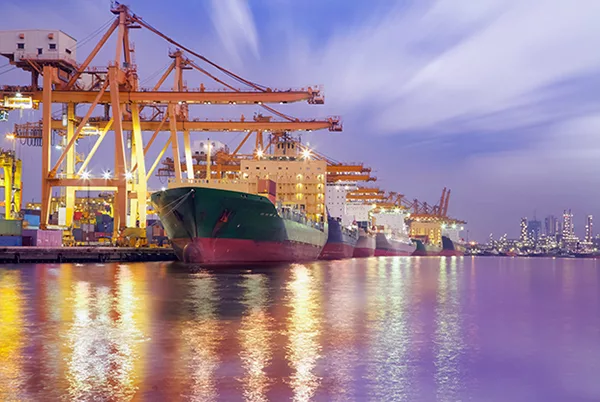 The trade deficit widened again at year-end, rising to $67.4 billion in December from $61.0 billion in November. Exports fell 0.9% in December, mostly due to lower shipments of gold and petroleum products, while imports rose 1.3% on higher purchases of consumer goods and foreign autos and parts.
The trade deficit in 2022 increased by 12.2% to $948 billion, equivalent to 3.7% of GDP, after a deficit of 3.6% of GDP in 2021. By comparison, the trade deficit averaged 2.9% of GDP in the 2010s. Exports surged 17.7% in 2022, the second-fastest annual growth in data going back to 1992, led by a sharp increase in shipments of petroleum products to the European Union (EU).
Those higher energy exports helped narrow the U.S.'s trade deficit with the EU, which fell 6.8% to $203.9 billion. U.S. trade deficits with other key trading partners, however, widened last year: Versus Canada, up 63.1% to $81.6 billion; Mexico, up 20.7% to $130.6 billion; and China, up 8.3% to $382.9 billion.

Consumer credit growth slowed sharply in December to an $11.6 billion monthly increase, well below the $24.5 billion consensus forecast and down from November's $33.1 billion increase. Consumer credit growth in December was the slowest since January 2021. Revolving credit, mostly credit card loans, rose at an annualized rate of 7.3% and accounted for most of the increase in consumer credit.
Weighed down by a fall in light vehicle sales, nonrevolving credit, mostly student and auto loans, edged up 1.5% annualized. The slowdown in credit growth is due to both demand and supply factors: The Fed's Senior Loan Officer Survey reported tighter consumer lending standards in the fourth quarter and weaker credit demand.
Consumer credit growth is likely to be slow again in January, with many retirees using their increased Social Security benefits after the annual cost of living adjustment to pay down credit card debt; nonrevolving credit growth likely accelerated in January, though, with vehicle sales up on the month.
Consumer sentiment rose by 1.5 index points to 66.4 in February, but remains severely depressed relative to its long-run average of 86.7. Consumers' perceptions of current and future conditions were mixed, with the former rising and the latter slipping marginally. Both current and future subindices of consumer sentiment remain well below their historical averages.
Year-ahead inflation expectations rose by 0.3 percentage points to 4.2% in February, but are well below the 5.0% average recorded last year. Five-year-ahead inflation expectations held steady at 2.9% for the third consecutive month and are roughly in line with their pre-pandemic average.
Bill Adams is senior vice president and chief economist at Comerica. Waran Bhahirethan is a vice president and senior economist at Comerica.