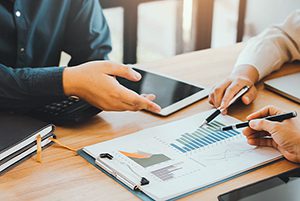 The Consumer Price Index (CPI) rose 0.1% in May, matching Comerica's forecast. CPI was up 4.0% from a year ago, down sharply from April's 4.9% to the lowest since March 2021.
Core CPI, excluding volatile energy and food prices, rose 0.4%. On an annual basis, core CPI eased slightly to 5.3% from 5.5% in April and was the slowest since November 2021. Energy prices fell 3.6% on the month and 11.7% from a year earlier, the primary contributor to slower overall inflation. Food prices rose 0.2% following two consecutive months of no increases.
Food away from home (restaurants etc.) rose by 0.5% while food at home (i.e. groceries) rose a modest 0.1%. Shelter costs, accounting for about a third of the CPI index, increased by 0.6% and were up 8.0% from a year ago. Rental inflation, while still elevated, is moderating from red-hot increases in the second half of last year. Median inflation expectations for the year ahead in the University of Michigan's Consumer Sentiment survey fell to the lowest since March 2021 in the June preliminary release, a sign CPI inflation will likely slow further in the next report.
The Fed held its policy rate target steady at a range of 5.00%-to-5.25% at its June 14 decision but toughened forward guidance to indicate the June decision is likely just a pause and not the end of rate hikes. The Fed's June dot plot shows a majority of Federal Open Market Committee members think two more quarter percentage point rate hikes will be appropriate by year-end. Comerica forecasts for the Fed's next decision on July 26 to be a quarter percentage point hike.
Initial jobless claims surprised to the upside in the week ended June 10, unchanged at 262,000 with the prior week's level revised up 1,000 from 261,000 in the prior release. The four-week moving average of claims, which filters out week-to-week volatility, was the highest since November 2021.
Retail and food service sales rose 0.3% in May and core (control) sales rose 0.1%; retail sales in March and April were revised down modestly. Industrial production fell 0.2% in May, with production in March and April revised up an offsetting 0.2%. Manufacturing rose 0.1% in May, mining fell 0.4%, and utilities output fell 1.8%.
The motor vehicle assembly rate rose to 11.43 million at a seasonally-adjusted annual rate (SAAR) from 11.37 million in April and was the highest since July 2020. Auto manufacturing and sales continue to be a bright spot for the U.S. economy. Now that the chip shortage is resolved, higher inventories and pent-up demand are supporting sales. Over the next few quarters, higher interest rates and other effects of tighter monetary policy will soften demand for new vehicles and align it with rising supply, slowing the increases of car prices and cooling core inflation.
Bill Adams is a senior vice president and chief economist at Comerica. Waran Bhahirethan is a vice president and senior economist at Comerica.