Whether it is a small business pivoting to offer online classes or take-home art kits to huge Fortune 100 companies coming up with creative new product lines or retooling to make vital healthcare products, businesses across the nation are adapting and helping their communities through the COVID-19 crisis.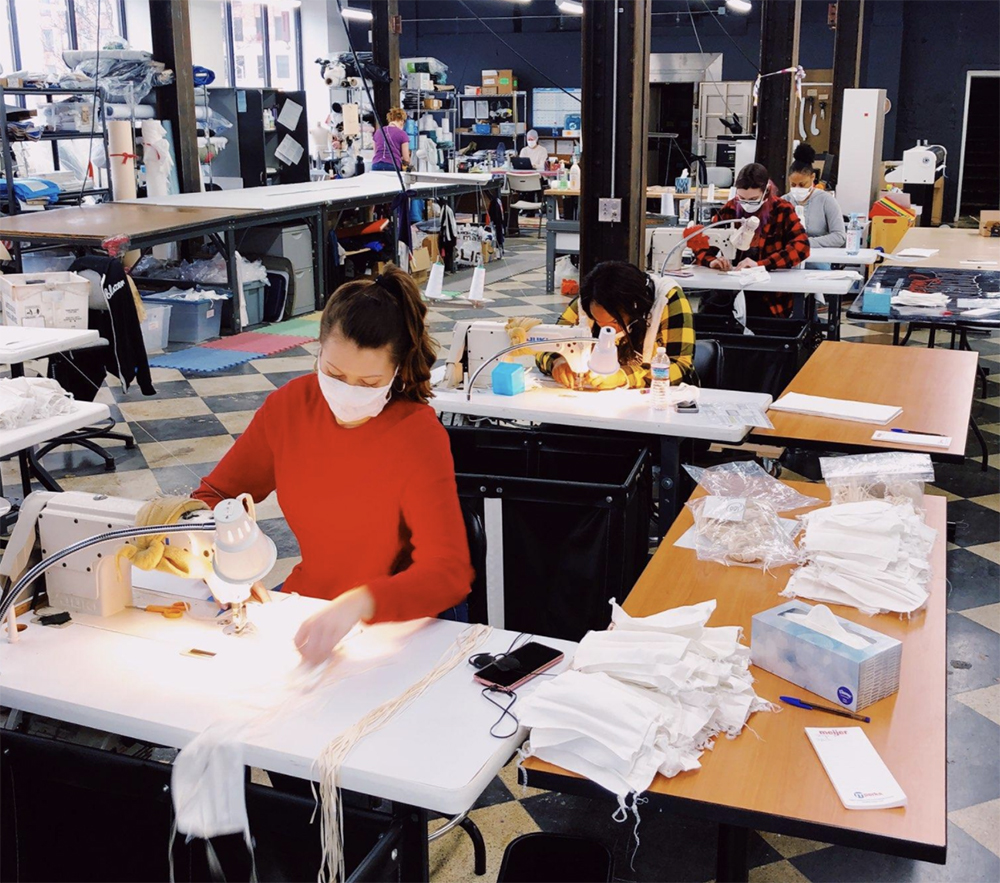 Detroit Sewn, a Pontiac-based sewing program and business, has shifted to producing both hospital-grade masks and coordinating volunteers who are making these masks at home for distribution in local communities.
Recently, Detroit Sewn reported it has a 75,000-unit order from Livonia-based Trinity Health that operates in 22 states. Detroit Sewn can currently produce about 10,000 masks in a week but is working to double its production capacity. Corporate and individual sponsors are being recruited to allow rapid nationwide rollout.
Karen Buscemi, CEO of Detroit Sewn, said the work is huge but they are getting the job done safely and with community support.
"The first week is intense, as we are ramping up, getting in supplies, machines, you name it," Buscemi said.
Plus, Detroit Sewn recently opened its volunteer command center next door to accept homemade masks that small groups can come in and pick up for free and deliver to those in need. The volunteer masks will be shared with first responders, senior centers and other non-medical operations. The kits are delivered curbside by volunteers in proper safety gear.
Energy efficiencies
Across Michigan, DTE Energy is working with its business customers to ensure these important companies are aware of programs such as the Paycheck Protection Program, also known as PPP, and other financial lifelines now available. DTE also is helping these companies lower their costs by showing them how to reduce their energy usage, which will lower their energy bills during the pandemic.
"We want businesses to know that DTE cares about them at this critical time, and we want them to stay safe throughout the crisis, as well as weather the financial challenges it has brought," Jerry Norcia, president and CEO of DTE Energy, said in a statement. "We'll get through this crisis together as strong partners ready to power growth and prosperity as Michigan recovers."
Carryout crusaders
In Detroit, Ford Motor Co. and the Southwest Detroit Business Association created a pilot program that provides support to participating area restaurants through free delivery service to local customers. Ford and the SDBA is coordinating the delivery to people's doorsteps, keeping those restaurants cooking and maintaining a food lifeline as well. Pilot restaurants include El Asador Steakhouse, Flowers of Vietnam, Hygrade Deli and Rincon Tropical.
"We appreciate Ford Motor Company for stepping up to assist our restaurants in Southwest Detroit whose business is limited to carryout and delivery services under the current COVID-19 lockdown," SDBA President Robert Dewaelsche said in a statement.
"The SDBA has identified many restaurants that do not have relationships with the well-known independent delivery services. And Ford's offer of its idled shuttle vehicles and drivers fills an immediate need and helps our businesses keep their staff working and able to serve their customers in a safe and efficient way," Dewaelsche said.
Essential workers
Grand Rapids-based Meijer is also communicating with consumers and team members to ensure everyone stays safe and healthy during essential shopping trips. The retail chain is asking its customers to limit the number of shoppers who come on each grocery trip to as few as possible. Each Meijer store also is limiting how many people can shop at one time in its locations to support social-distancing practices.
Moreover, Meijer and other stores such as Kroger are adding protective plexiglass shields at all checkout lanes and in its pharmacies. Chains such as Target have said as well that it is limiting customers to a certain number per square feet of space in the store.
Additionally, Meijer officials said there is new signage to show the proper six-foot distance between customers and staff. Meijer said it is doing daily health screening and temperature checks on its employees as they arrive at the store for their protection and for the public.
"We continue to look for additional ways to ensure the safety of our customers and team members in the face of this difficult challenge," Meijer President & Chief Executive Officer Rick Keyes said in a statement. "By working together, we can reduce the spread of this virus and help keep our communities safe."