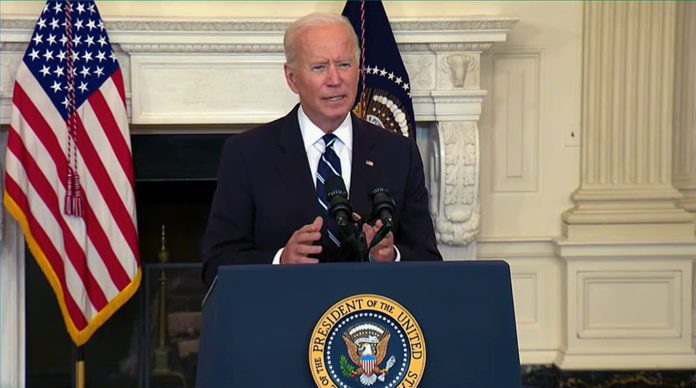 President Joe Biden was surely aware he was stepping into a bit of a hornet's nest when he came to Howell to push his $1.2 trillion infrastructure plan and his $3.5 trillion spending plan Tuesday.
He lost to Donald Trump 61% to 38% in Livingston County in 2020, and Trump beat Hillary Clinton by an even wider margin in 2016. And he was greeted by hundreds of protesters on his arrival Tuesday.
Biden, making his fourth trip to Michigan since his January inauguration, was in town to push the bipartisan infrastructure plan, but also to hype the larger spending plan, which has been described as a "human infrastructure" plan. That bill includes things like child care, housing, higher and pre-kindergarten education and climate change.
"These bills are not about left versus right or moderate versus progressive or anything that pits Americans against one another," Biden said. "These bills are about competitiveness versus complacency. They're about opportunity versus decay. They're about leading the world or continuing to let the world pass us by, which is literally happening."
While maintaining that both programs are right for the country, Biden also talked about Michigan-specific affects the spending could have. He talked about the severe flooding that has plagued the state lately, and tied it to the $50 million of spending on fighting climate change.
He also talked about how the spending would reduce child care costs for about half of most low- and middle-income people in Michigan, according to The Detroit News.
"All of it would be one-half of 1% of our economy each year, and it's all paid for, and they don't increase the debt, because they're paid for by asking the very wealthy to begin paying their fair share," he said, according to The News.
During a speech on the trip, Biden said both components of his Build Back Better agenda are "essential to the country's economic growth, particularly to support middle-class and working families.
"We risk losing our edge as a nation. Our infrastructure used to be the best in the world, literally not figuratively," Biden said, according to CNN. "Today, according to the world economic forum, we rank 13th. … All those investments that fueled a strong economy, we've taken our foot off the gas. The world has taken notice, by the way, including our adversaries and now they're closing the gap in a big way."