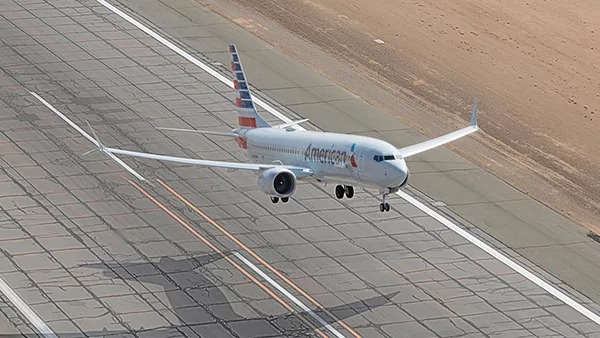 FORT WORTH, Texas — American Airlines Group Inc. reported its second-quarter 2023 financial results, including:
Record quarterly revenue of $14.1 billion, a 4.7% increase year over year.
Second-quarter net income of $1.3 billion, or $1.88 per diluted share. Excluding net special items1, second-quarter net income of $1.4 billion, or $1.92 per diluted share.
Generated operating cash flow of $1.8 billion and free cash flow of $1.2 billion in the second quarter.
Ended the quarter with $14.9 billion of total available liquidity.
Raising full-year adjusted EPS2 guidance to between $3.00 and $3.75 per diluted share.
Credit rating upgraded two notches to B+ by Fitch.
"It was another fantastic quarter for American, driven by the hard work of our team to deliver a reliable operation for our customers and the continued strong demand for our product," American's CEO Robert Isom said in a release. "Our operation is performing at historically strong levels, and we have worked to refresh our fleet and build a comprehensive global network, all of which helped to produce record revenues in the second quarter.
"We will build on this momentum the rest of the year and continue to prioritize reliability, profitability, accountability and strengthening our balance sheet," he added.
There are still some bumps coming. The Associated Press reported that American recently agreed with union negotiators on a new labor contract that would raise pilot pay by more than 41% over four years.
However, the two sides are now renegotiating that contract after pilots at United got a better deal.
Isom said American will match the United contract terms, according to the AP.
American said third-quarter earnings would be 85 cents to 95 cents per share. The airline now expects to earn between $3 and $3.75 per share for the year, up from a previous forecast of $2.50 to $3.50. Analysts have been projecting $3.12 per share, according to a FactSet survey.
American earned $1.92 per share in the second quarter.
Isom called it a "fantastic quarter" and said the airline will focus on profitability and improving its balance sheet, which saw an expansion of debt during the pandemic.