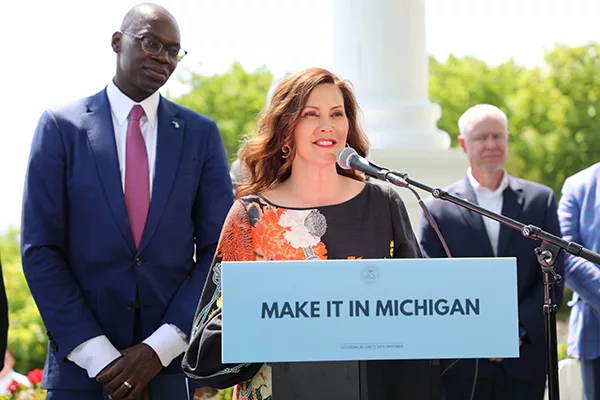 LANSING, Mich.— Governor Gretchen Whitmer signed legislation this week designed to power economic development in communities across Michigan by "unlocking new tools" to finance affordable housing and setting up the Transformational Brownfield Fund to convert vacant land and other abandoned property into productive space.
"Today, we are taking a solid step forward on our Make it in Michigan strategy to help more people, businesses, and communities 'make it' in Michigan," Whitmer said. "Whether it's renovating the old bank or theater on main street or building affordable housing on abandoned land, Michigan communities are on the move, open for business, and showing the world how much we have to offer. These bills will create good-paying jobs, grow the economy, and lower costs for businesses and families looking for affordable housing options. Let's keep our foot on the accelerator and work together to ensure anyone can make it in Michigan."
Senate Bills 129, 130, 131, and 132 unlock new economic development tools for affordable housing development projects through the state Brownfield program. The bills allow tax revenues captured through local brownfield redevelopment authorities to fund affordable housing costs with the approval of the Michigan State Housing Development Authority, making it easier and more affordable to build affordable housing in Michigan.
"Affordable housing is a national crisis, and Michigan is no exception," said State Senator Sam Singh (D-East Lansing), sponsor of SB 129. "It's critical we take action to address the needs of residents in communities across the state to ensure they have access to stable and affordable housing. These bills will give our local communities more tools, and incentive, to invest in affordable housing projects, signaling the commitment to addressing this crisis head-on."
"We're not just removing eyesores, we're removing barriers to transform literal and economic landscapes," said State Senator Kristin McDonald Rivet (D-Bay City), sponsor of SB 130. "I'm proud to help give local governments this option to redevelop blighted properties for residential purposes because it will improve our environment, revitalize neighborhoods and increase affordable housing."
Senate Bill 289 would establish the Transformational Brownfield Fund to help convert underutilized, vacant, or abandoned property in communities across Michigan into productive space ready for business investment and community revitalization projects.
"There is no other program designed for, or capable of, supporting brownfield redevelopments of this scale and impact, putting obsolete vacant land back to proper use," said State Senator Jeremy Moss (D-Southfield), sponsor of SB 289. "It's a tool that will help keep and attract talent here, grow our population, and create the kind of vibrant locations that people want to live in—while retaining the local input and control that communities are looking for. This legislation is called 'transformational' for a reason, and is another key piece to Michigan Democrats' holistic, comprehensive approach to economic development."
"This legislation amplifies our Make it in Michigan economic development framework that focuses on people, places, and projects. It will allow us to win more for Michiganders by accelerating our ability to impact where people and businesses call home, including accessible housing and attractive physical places," said Quentin L. Messer, Jr., CEO of the Michigan Economic Development Corporation. "Prosperity must be widely shared for our state to thrive, and whether it is increasing affordable housing projects in the state, or transforming unproductive spaces into economic drivers, these programs build momentum for our efforts to create economic opportunity for all Michiganders."